Best Forex Brokers for small accounts
Traders have varying financial muscles. Fund managers run large accounts worth millions of dollars. On the other hand, novice traders, often young, are trying to cut a career in forex trading. This means they have a small trading capital. Even if you have massive capital, you wouldn't want to risk it before your strategy can guarantee results, right?
The most common advice for starters is to use a demo account. However, demo accounts are devoid of trading emotions like fear and greed. Therefore, you might want to fund a small amount to get real-life trading experience.
What Small Account Entails
Typical small accounts require a minimum deposit of less than $100. Some brokerage firms accept as low as $5.
Why would you consider opening a small account?
You can start a small and grow your account gradually as you learn the ropes of forex trading.
A suitable way to test your strategy or any forex signals.
You will only suffer small losses if the trades go south.
It is a great venture to familiarize yourself with a forex broker. For instance, you can identify all trading-related fees and decide whether you want to continue trading with the broker.
The biggest advantage is that the account allows you to venture into trading with the minimum deposit you can raise.
You can take advantage of the leverage margins to open relatively big positions with small capital.
Allows you to diversify your positions. For instance, a position that would otherwise take one lot on a standard account can accommodate ten positions with a 0.01 mini lot.
Ideally, small account forex brokers offer mini, micro, and nano accounts.
Mini Account
As the name suggests, the mini account allows traders to open a position with a mini lot. This lowers the risk and potential losses significantly. However, you can access all trading benefits and tools such as customer support and charts as other accounts.
With mini accounts, you enter the trade in lots of 10 000 units. Therefore, a pip change represents $1. If current trades move from 1.0685 to 1.0695 the profit is 10 pips, translating to $10.
1.0695-1.0685 =0.0010
0.0010 x 10000 = 10
If the account supports a 1:30 leverage, $100 can control $3 000 trades.
Micro Accounts
A popular choice among beginner traders, micro accounts are ideal for traders without significant investment. They have lower requirements than mini accounts and allow traders to speculate on highly capitalized instruments. The micro-lots are 1000 units of the base currency. It is ideal for traders who want to test trading robots and algorithms. This means you reduce the risk significantly and can diversify the portfolio over a wide range of currencies.
How to trade profitably with a small account
Many traders dream of opening huge positions and making a killing in the forex market. But that might not be possible with a small account. These low-capitalized accounts call for patience to make huge profits.
So how can you use a small account to make substantial profits?
Focus on enhancing your trading strategy. Since you are less susceptible to the psychological threat of big accounts, train to stick to your strategy.
Pay attention to the percentage returns over cash figures. If you can maintain positive returns and reduce drawdowns, you will build your account and attain financial success.
Trade with a long-term plan
When choosing an excellent small account, ensure;
It allows you to trade on leverage and has a reasonable margin requirement.
Top institutions regulate it, including CySEC, FSCA, and ASIC.
It offers a range of trading instruments, including currency pairs, metals, and oil.
Now there are a dime a dozen small account brokerage firms. Choosing the best from thousands of firms out there can be overwhelming. Luckily, we have pared down the five leading brokers.
XTB
XTB is yet another solid brokerage firm for a small account. They don't have set a minimum initial deposit amount so you can deposit whatever small capital you can raise and start trading right away. For the standard account, the spreads start at 0.9 pips. The account supports a mini lot and micro lot in transaction volume. This means that you can start trading at a minimum of 0.01 lot.
You can trade over 2000 instruments at a minimum spread of 0.5 and zero commission on all instruments. You can make the deposit using various methods, including Paysafe, bank transfers, credit cards, and debit cards.
78% of retail investor accounts lose money when trading CFDs with this provider.
Exness
Exness is known for instant withdrawals and fast and reliable execution with free VPS hosting. It is also friendly to newbies who are starting to trade with a small account. The brokerage firms offer standard cent accounts. The minimum deposit on this account is $10, depending on the deposit method, which includes mpesa, mobile money, skrill, bank card, and bitcoin.
One cent lot is equal to 100000 cents ($1 000). A minimum training volume of 0.01 cent lots equals $10. It is therefore suitable for practising while reducing the risk significantly. The spread on the cent account starts at 0.3, and you can trade various instruments, including stocks, indices, cryptocurrencies, metals, and forex.
The cent account has a minimum lot size of 0.01, but you can open a maximum of 200 lot sizes and 1000 positions. A margin call occurs if the account falls below 60% and stops the trade at 0%. You diversify your portfolio in over 36 currency pairs with a cent account. The account supports six account currencies US cent (USC), EUC, GBC, CHC, AUC, and CAC.
Remember that forex and CFDs available at Exness are leveraged products and can result in the loss of your entire capital. Please ensure you fully understand the risks involved.
XM.com
When it comes to catering to the welfare of the small accounts traders, only a few brokers come near XM. It has both a micro and mini account. Micro accounts accept 11 base currencies, including USD, EURO, ZAR, and JPY, with a minimum initial capital of $5. Each lot is equal to 1000 units, unlike a standard account where a lot is equivalent to 100000 units. The minimum trade volume is 0.1 lots on both MT4 and MT5. You can, however, open a maximum of 300 positions. Each ticket should strictly have a maximum of 100 lots.
The ultra-low account is pretty much similar to the micro account, apart from
 the fact that it supports six base currencies, and the spread can go as low as 0.6 pips. In general, XM.com accepts a minimum deposit of $5 except for a share account.
IQ Option
Traders wishing to trade with a small account will want to take a look at IQ Option. The broker also offers a demo and VIP account (available outside of EEA) for seasoned big whales. IQ Option allows you to trade over 33 forex pairs. The best part? You only need a $1 minimum investment to start trading. However, you will need to make a deposit of $10 (10 EURO, 10 GBP, 700 RUB) which is still fairly low.
IQ Option allows you to trade on various platforms such as mobile, Mac OS, Web, and desktop windows on which you can trade CFDs on forex, stocks, cryptocurrencies and also other investment tools depending on your country of residence. If you can't raise the $10 immediately, you can start trading with a free practice account of $10000.
AvaTrade
Avatrade caters to small traders by allowing them to open positions at zero commissions and raw spreads starting from 0 pips. You only need to deposit 100 USD on the standard or raw account and start trading with a minimum of 0.01 lot, a mini lot.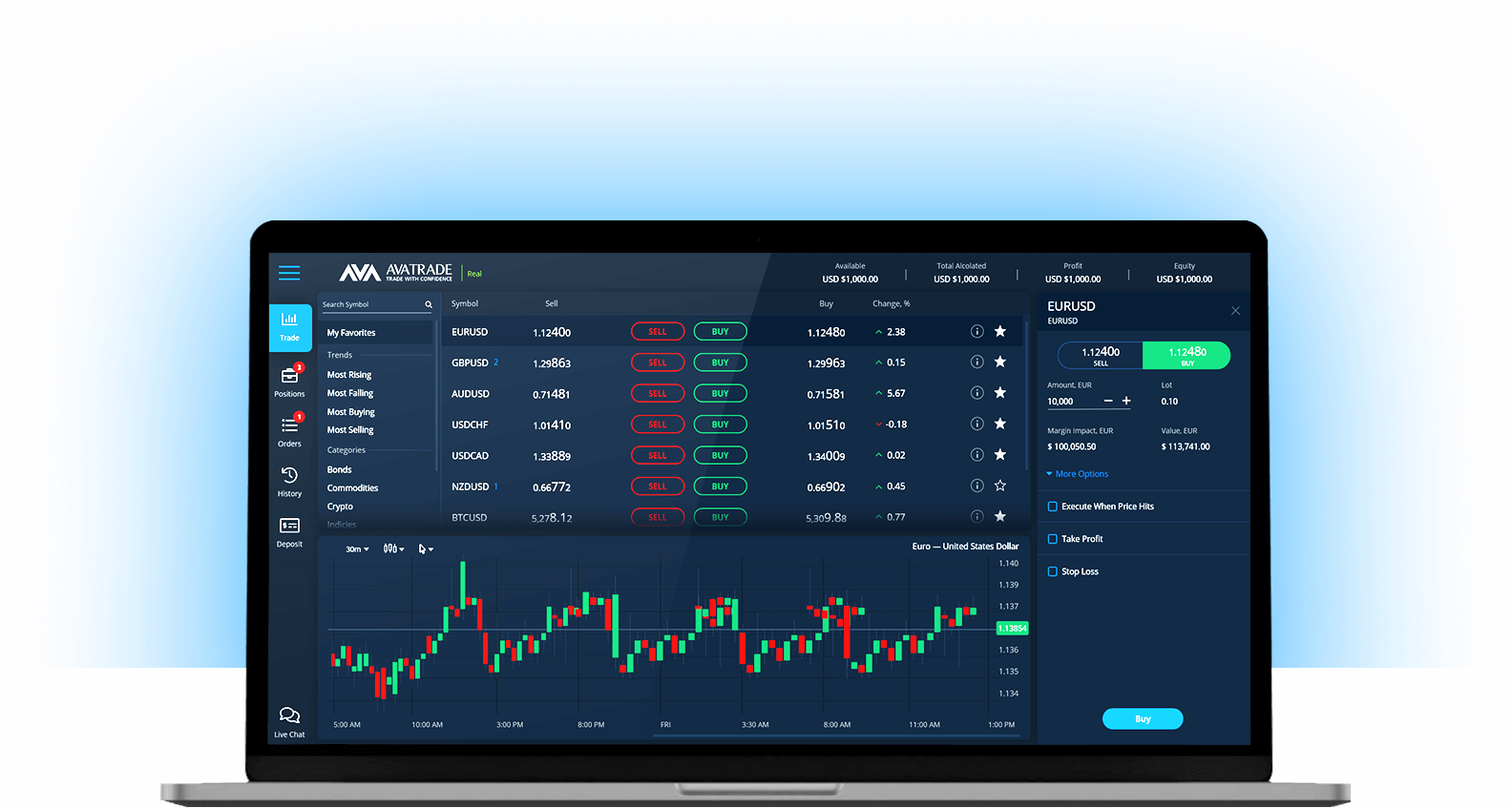 With the small account, you can take advantage of the numerous trading instruments spanning currencies, indices, stocks, crypto, commodities, bonds, and metals. This means that you can diversify your portfolio and grow your account. The trading platform supports Expert Advisors, a mobile app, and VPS to ensure you grow your trade seamlessly and faster.
76% of retail investor accounts lose money when trading CFDs with this provider.
Honourable Mentions
Forex.com
Forex.com has a standard account that allows you to start trading with a minimum initial deposit of $100. Unlike other brokers mentioned in this article, this company is licensed in the US and therefore accepts US traders. They have tight spreads starting from 1 pip.
81% of retail investor accounts lose money when trading CFDs with this provider.
Parting Note
We all start from somewhere. If you are a beginner trader, you might want to try out your trading strategy with a small account and polish it up. Even if you are a seasoned trader, you might not have enough capital to open a big account. In this case, you will want to trade with a small account and grow your account significantly. Ensure you choose a broker who offers a small account with suitable features. You might find a suitable broker in the list above.
Regulated Brokers
Ad Disclosure
?
The table below contains links to 3rd party websites of our top partners from whom we receive compensation at no additional cost to you.