Best Brokers For Large Accounts
The trading market has levels. There are beginners and seasoned investors. We could also classify the traders according to the account size they manage. Some investors manage small accounts, while others run accounts worth thousands of dollars. The latter are usually fund managers and big whale investors.
The forex market is the biggest in the world and accommodates everyone. But the various brokers have unique features designed to appeal most to a certain client base. In this article, we'll focus on large accounts.
Getting Started With a Large Account
Suppose you plan to trade with big capital. You will definitely want a broker who accepts a high maximum deposit, can process massive, multiple withdrawals and accepts deposit and withdrawal methods that transact huge amounts. The fees and commission should not include deductions that negatively target big trading capital.
So how do you choose a good broker with a big account? Before we check the major considerations, let's get a few things out of the way.
What is a Large Account?
There is no clear marker on what constitutes a big account. But $100 can't be a big account; that is common sense. Arguably, anything above $100 000 could be considered a big account. For instance, $1 million is definitely a big account. But the definition of a big account can be for everyone a bit different.
Top Considerations When Choosing a Big Account Broker
Trading with a big account requires doing due diligence and scrutinising various platforms. You want to check if the brokerage firm provides the best tools and services to help you manage your big account and trade with ease. Below are vital things you should consider in detail.
1. Check Accounts Offered
Choose a firm that allows you to maintain huge funds on their platform. Ensure they have special benefits for big accounts. Top brokers have customised accounts for fund managers. They even extend special offers and bonuses. This is mutually beneficial, including to the broker, because you are giving them business.
A good forex brokerage should offer Direct Market Access (DMA), enabling you to connect with liquidity providers and big institutions such as banks through ECN platforms. This feature enables you to trade in real-time, eliminate the risk of price manipulations and boost transparency.
2. Trading Costs
When choosing a big account broker, ensure you understand inactivity, subscription, and annual fees. If a broker has additional fees and commissions for big accounts, you should look for alternatives. These deductions can eat into your trading fund. In addition, check whether they allow you to make big withdrawals without problems. Moreover, you will want to ensure the account can accommodate your capital. Your trading funds should be within the allowed limit.
While you can't avoid fees, ensure they are manageable. For instance, you should be comfortable with the commissions and/or spreads the broker charges as these are the biggest fees you will have to pay. Additionally, trade execution should be fast to prevent high slippage, which could add up the cost. As a high volume trade, expensive charges can impact the overall profitability. A VPS can be of help to ensure the fastest execution time possible.
3. Regulations
The importance of using regulated brokers when trading can't be over emphasised. Using unregulated brokers puts you at risk of losing your hard-earned money. If the broker vanishes with your funds, you will have nowhere to run to. The need for regulation is even more important when trading with a big account. 
Ask for licensing proof and ensure reputable institutions in your region regulate the broker. This means going to the regulator's official website and verifying the information. You will also want to check the reviews and testimonials from various forums to ascertain whether they offer a good trading experience.
4. Capitalisation
When doing your due diligence, you should not leave anything to chance. Being regulated by top institutions and offering special accounts for large fund managers is not enough. The broker should have enough liquidity and funds to cover losses from the economic crisis.
Here is a real-life experience to help put this into perspective. In 2015, many brokers came a cropper because of low capitalisation during the Swiss currency crisis. Therefore ensure you check the broker's financial condition and crisis mitigation strategies. If you have challenges choosing a good large account broker, the list below will help you. Let's delve right in.
Best Brokers for Big Accounts
Here is a list of some of the top considerations when looking for big broker accounts.
IQ Option
IQ Option is an award-winning trading platform that enables you to invest in over 300 popular assets, including CFDs on Crude Oil, Gold and S&P 500. IQ Option has a VIP account that requires you to make a deposit of at least $1 900. However, the VIP account is subject to availability (it is not available to traders from the European Economic Area). The account enables you to receive increased profitability of up to 3% for currency pairs and up to 21% for stock shares.
[gallery link="file" size="medium" ids="5335,5334,5336"]
Additionally, you get a personal account manager to assist you on your trading journey and faster withdrawals, typically within one day. The VIP also gives you free entry to any tournament. The maximum amount you can invest per trade is $20 000, which is pretty much big. There are no limits on withdrawals.
Remember that forex and CFDs available at IQ Option are leveraged products and can result in the loss of your entire capital.
Please ensure you fully understand the risks involved.
AvaTrade
Avatrade is a Dublin based broker with regulation almost in all regions from the European Union to South Africa and the Middle East. These regulating institutions include the Central Bank of Ireland, ASIC, Financial Service Agency (FSA), and Financial Regulatory Service Authority (FRSA), Israel Security Authority (ISA).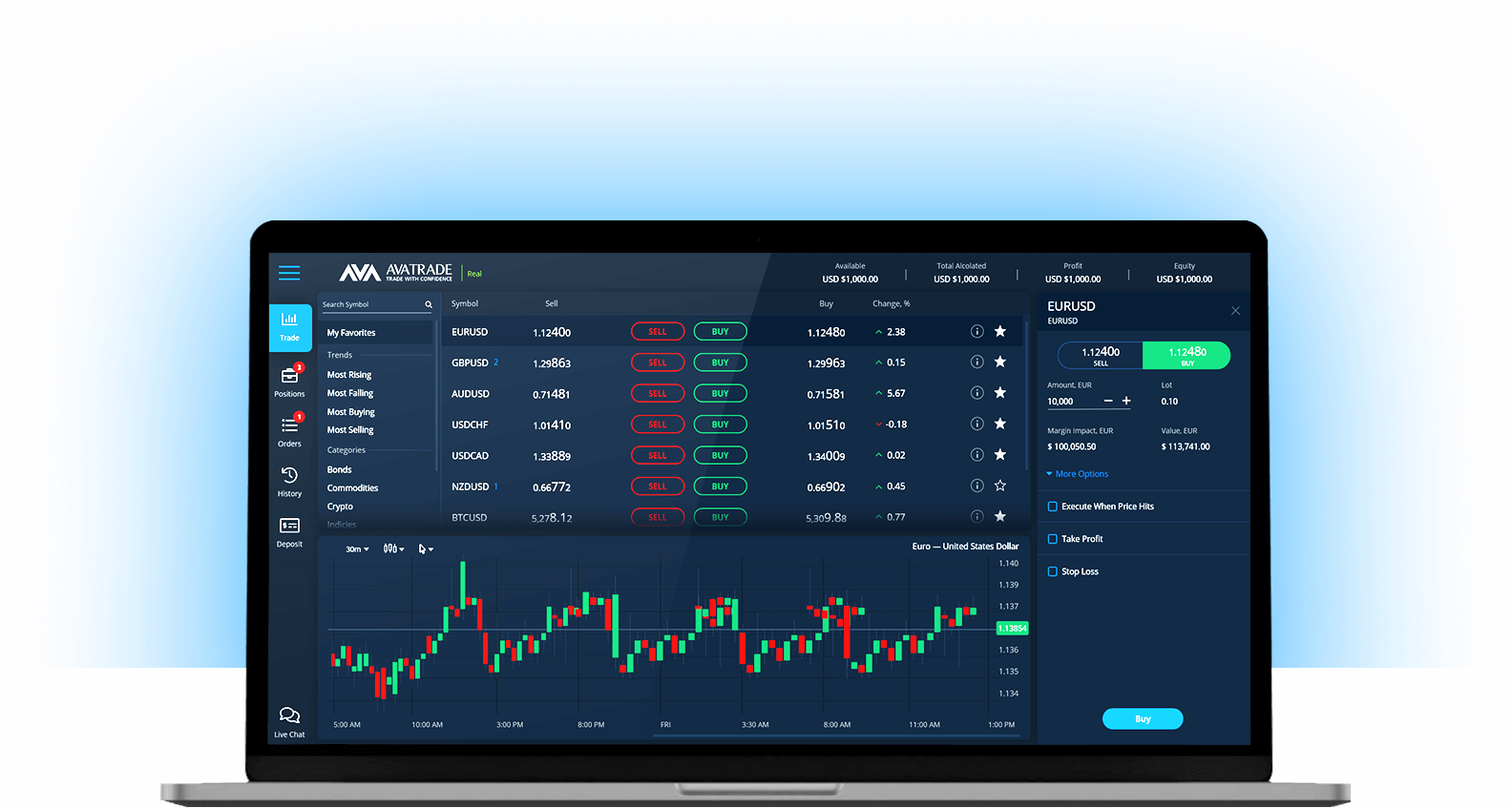 The broker offers a professional account for traders well-versed in the risks and opportunities in the highly leveraged trading environment. These traders are not bound by the guidelines and restrictions meted on novice traders. It has a convenient margin requirement and is hence more flexible. To qualify, you need to prove relevant experience in the financial sector, sufficient trading activity in the past year and have a portfolio of over €500,000.
76% of retail investor accounts lose money when trading CFDs with this provider.
Exness
Exness is a reliable forex trading brokerage firm known for its reliability. It allows traders to withdraw funds automatically 24/7. In addition, Exness is authorised by FSC, FSCA, and CBS. The forex brokerage firm has professional accounts for large volume trading designed for experienced brokers. You get some of the lowest spreads starting from zero with a fixed commission per lot. These accounts are suitable for scalpers and Algo traders. With Exness, you can deposit up to $16 000 per transaction and a maximum withdrawal of $10 000.
Remember that forex and CFDs available at Exness are leveraged products and can result in the loss of your entire capital.
Please ensure you fully understand the risks involved.
eToro
eToro is one of the biggest trading platforms. It gives you access to the stock market, cryptocurrencies and CFDs. Perhaps the most pronounced feature is the copy trading feature which allows novice traders to copy successful traders. Essentially, you can automatically simulate the orders of the top-performing traders.
The broker is regulated by the FCA, Cysec, and ASIC. The trading account supports big deposits idea for big-volume traders. It allows $40000 per transaction using a debit card, $10000 using online banking and a whopping $1 million per transition using wire transfers.
76% of retail investor accounts lose money when trading CFDs with this provider. You should
consider whether you can afford to take the high risk of losing your money.
Forex.com
Forex is a popular platform, especially in the USA (unlike other brokers mentioned in this post, this broker does accept US clients). It offers investors access to a wide variety of markets to diversify their portfolios. The broker also has a VPS hosting feature that allows you to trade flawlessly without hindrances of power or connection problems. If you are a forex trader, it gives you access to over 80 currency pairs. Forex.com comes with a superior regulatory framework and trade executions. Forex.com offers STP Pro account for big boys (and girls) who demand deep liquidity and the control to take advantage of rapid price opportunities. The minimum investment to open a trade on this account type is 100k.
72.5% of retail investor accounts lose money when trading CFDs with this provider.
Conclusion on Best Brokers For Large Accounts
A big trading account helps make big profits. However, it also comes with its risk. Slow execution after opening big positions could mean big losses due to slippage. There is also a bigger risk of the company going under with your account. It is therefore prudent to do due diligence when choosing a suitable firm. The aim is to ensure they are in a financial position to protect your funds. What's more, Ensure reputable institutions regulate them. Which broker suits your trading goals?
Regulated Brokers
Ad Disclosure
?
The table below contains links to 3rd party websites of our top partners from whom we receive compensation at no additional cost to you.