Forex.com Review – What to expect from the broker

The following review introduces a popular international broker Forex.com. We will review the company's trading conditions, offer and background including its regulatory status.
Forex.com was founded in 2001 and has over 20 years of experience making it one of the oldest brokers in the market. Traders can invest using award-winning trading platforms and have access to thousands of market instruments. Notably, Forex.com is one of the fastest order execution brokers in the market today.
In this Forex.com review, we are going to look at various features offered by the broker. Specifically, we will look at its regulations, trading fees, trading instruments available, and other trading conditions. Let's get to it.
General Risk Warning: 81% of retail investor accounts lose money when trading CFDs with this provider. You should consider whether you understand how CFDs work and whether you can afford to take the high risk of losing your money.
Basic Information About Forex.com
Website Address: forex.com (For traders outside the US) forex.com/en-us/ (For US-based Traders).
Instruments: Instruments: CFDs in forex, stocks, indices, cryptocurrencies, commodities, and precious metals. (For traders outside the US) and Forex, stocks, gold, silver, and futures and futures options. (For US Clients)
Minimum Deposit: $100
Demo Account: Yes, with $10,000 in virtual funds.
Trading Platforms: MetaTrader 4, MetaTrader 5, TradingView, Forex.com Trader.
Methods of Deposit and Withdrawal: Wire transfer, Credit/Debit cards, and Skrill, Neteller.
Trading Platforms of Forex.com
Forex.com offers a variety of trading platforms that are market standard and suitable for both advanced and new traders. The lineup includes the MetaTrader 4, MetaTrader 5, TradingView and Forex.com Trader. MetaTrader 4 is the most used trading platform in the world. It offers an advanced trading solution packaged in an intuitive interface. MetaTrader 5 is the newer version of MetaTrader 4 for a more streamlined trading experience.
Notably, both of these platforms have an array of extensive tools to help give a user greater control and flexibility in their trading strategy. Clients can also access features like charting tools, automated trading, expert advisory, and many more. Further, traders have two more top-notch trading platforms, TradingView and Forex.com Trader. TradingView is a well-recognized technical analysis tool with over 70 different technical indicators. On the Forex.com broker site, traders can place orders straight from the charts. Finally, Forex.com Trader is the proprietary trading solution of the broker with great functionality. The three top features of this trading platform include professional analytical tools, integrated trading strategies, and advanced charting features.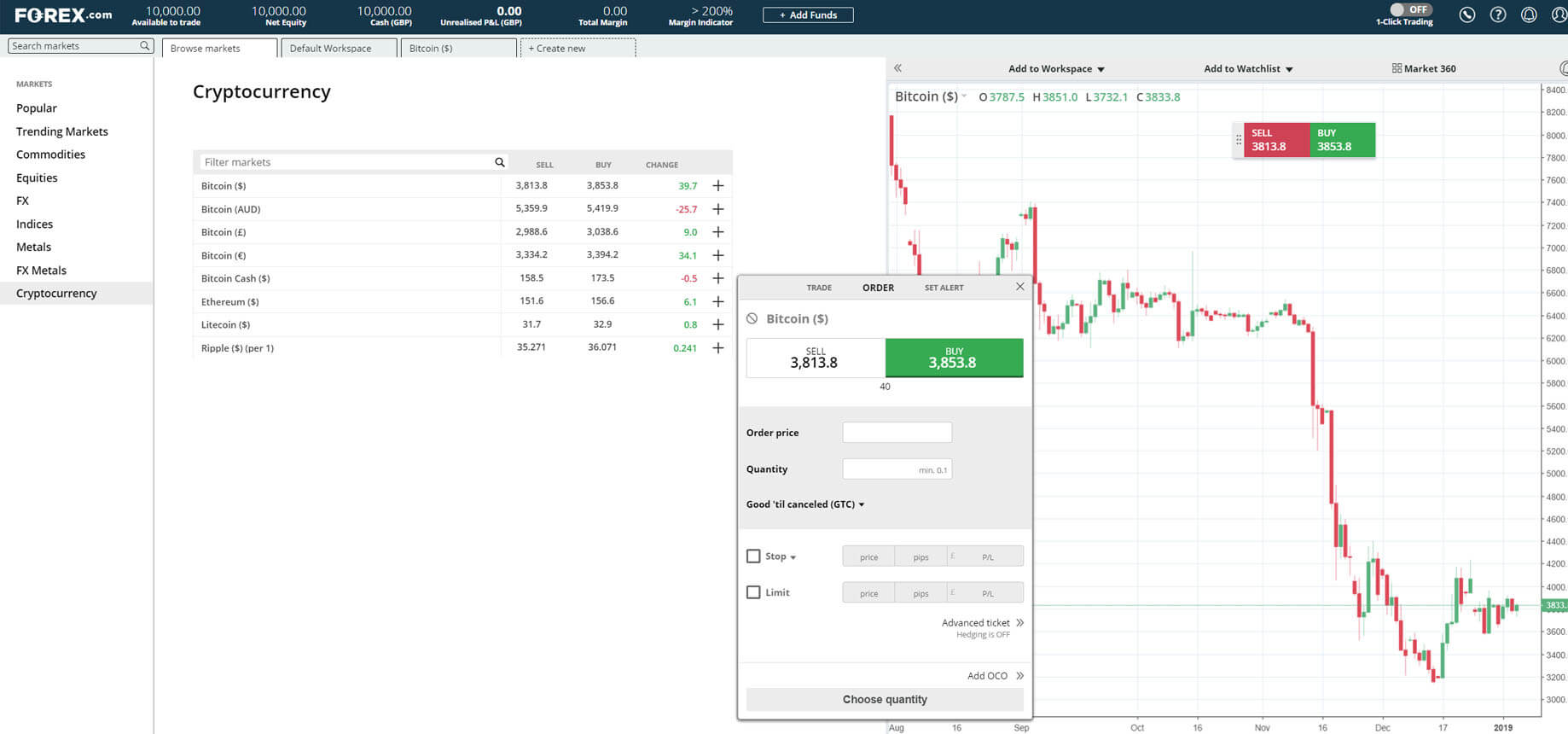 Assets Available On Forex.com
Forex.com provides clients with up to 5,500 market instruments including 80+ forex pairs on Forex.com. However, the assets that a trader has access to depend on the place they are from. Specifically, traders from the US have access to a different set of assets compared to clients outside the US. Traders outside the US can trade the following instruments:
Forex: Traders can trade over 80 currency pairs on the most traded market in the world. These include AUDUSD, EURUSD, EURGBP, USDCAD, GBPJPY, and many more.
Commodities: Forex.com allows traders to diversify their investments in the commodities market. A trader can trade popular commodities such as oil, coffee, gold, cotton, and more.
Indices: Here, investors can trade over 15 different types of indices including UK100, Germany 40, and many more.
Stocks: Additionally, people can trade stocks from around the world including countries such as the US and the UK, among others. A few examples of company stocks available include Amazon.com, Netflix, Tesla, Barclays, and many more.
Cryptocurrencies: On this broker site, traders have access to a variety of cryptocurrencies including Bitcoin, Litecoin, Ripple (XRP), and Ethereum.
In contrast, traders from the US cannot trade CFDs as they are illegal in the country. As such, the markets available to US clients on Forex.com include:
Forex: Like traders in other regions, US clients have access to over 80 different currency pairs.
Stocks: Traders can buy real stocks of companies from all around the world.
Gold and Silver: These two are the most popular precious metals for traders worldwide. With Forex.com, investors can dip their foot in this market.
Futures and futures options: Traders can diversify their earnings through trading of futures and futures options.
Forex.com Spreads and Fees
The spreads and fees that traders pay on Forex.com depend on the region they are trading from. In the US, traders can choose between two main trading accounts that determine the prices they pay. These accounts include the standard account and the raw account. The standard account has spreads from as low as 1.0 pips for major currency pairs with no commission paid.
On the other hand, the raw account features spreads from as low as 0.0 pips with a fixed commission of $7 per $100k traded. For traders outside the US, there are three trading accounts to choose from. These include the standard account, the raw spread account, and the Direct Market Access account (DMA). The variety of the account enables traders to choose the account that best suits their trading style. The standard account features only spreads with no commissions. The spreads on this account start from as low as 1.0 pips for major currency pairs. In contrast, the raw spread account features both spreads and commissions.
The spreads start from as low as 0.0 pips and the commission sits at $5 commission per 100K traded. Finally, the DMA account allows traders to place orders within the top of book spreads. The spreads are as low as 0.0 pips and the commission depends on the trading volume. A trader with a trading volume of between $0M-$100M pays a commission of $60 per $1 million traded. Another fee that applies is a rollover fee charged on positions held overnight. This fee varies depending on the asset and the size of the position held. All the charges that apply are available on the pricing tab found on the website.
Forex.com Demo and Cashback Rebates
Forex.com offers a free demo account to its traders. The demo account gives traders a risk-free environment to help them hone their skills and allow traders to improve their trading strategies. Traders can also access various perks on the demo account that include customizable charts, and indicators. The demo account is equipped with $10,000 in virtual funds to help a trader test out the service offered by the broker.
Further, the demo account offered by the broker lasts for 30 days after signing up. Afterwards, you will not be able to log in using the Demo account credentials or renew it. On another positive note, Forex.com volume traders can earn cashback rebates and one-on-one professional support when they qualify. At the end of the month if a trader makes a minimum of $1M worth of trade the client will automatically receive cashback rebates. Both new and existing clients can earn rebates. Note that the offering is a little different for US clients and for clients outside the US. You can visit the rebates page on either branch of Forex.com to find out how much cashback rebate you can earn.
API Trading
API Trading is one of the most important tools on a broker site. Particularly, it is essential for traders who want to automate part of or the full trading process. Fortunately, traders on Forex.com have access to API trading that allows traders to connect their trading portfolios to external programs. The external programs can be simple EAs or automation programs based on a number of Algorithms. As such, API trading on Forex.com makes the broker perfect for algo trading. Moreover, traders can benefit from increased speed, accuracy, and better risk management on the platform.
Forex.com Order Execution Policy
Financial markets are some of the fastest-moving markets in the world. Prices update in mere seconds on these markets. Consequently, brokers with fast order execution always stand out as they put their traders at an advantage. Luckily, Forex.com has some of the fastest execution speeds on the market at an average of 0.02 seconds.
Notably, 99.73% of trades are executed in less than a second. Further, these fast execution speeds help traders save money when the price moves in their favour. 52.36% of all limit orders are executed at a better price than the requested price.
Forex.com Education Section
We always insist on the importance of an education section on a broker site. There are a lot of new traders entering the market each day. A broker that provides educational material puts such traders at an advantage as they can arm themselves with knowledge before hitting the live market. Consequently, this helps them save both time and money. Moreover, experienced traders can always come to this section to learn new trading strategies.
Notably, Forex.com has a rich education section that traders can access at any time. Specifically, the broker provides trading courses customized for beginner, intermediate, and advanced traders. The courses cover a number of trading themes including trading concepts, managing risk, technical analysis, and more.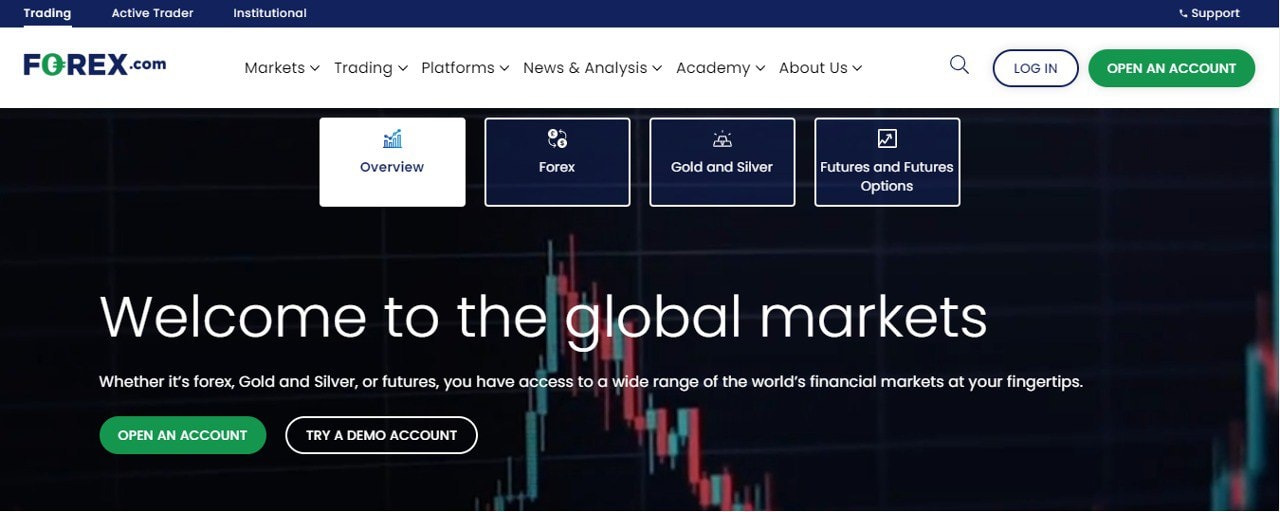 Forex.com Credibility
To determine the credibility of a broker, we usually look at two main aspects. These include the regulatory status and the online reputation of the broker. We will start with the regulatory status. Well, in this category, Forex.com does not disappoint. This is one of the most heavily regulated brokers in the market today.
In the USA, the broker is registered with the CFTC and is a member of the NFA. Therefore, it is subject to the NFA's supervision and examination. Outside the USA, the broker has regulatory licenses from the CySEC in Cyprus, the ASIC in Australia, the IIROC in Canada, and the FCA in the UK. These are some of the most reputable regulators in the market and the broker must follow strict rules to have licenses from them. Further, Forex.com enjoys some rave reviews from customers online.
On Trustpilot, the company has a 4.4-star rating out of 5, which is impressive. Looking at the individual reviews, it is safe to say that the majority of the feedback is positive. Even so, the customer support team takes time to reach out to every individual who issues a negative review in an attempt to provide a solution.
Closing Remarks
Forex.com has a lot of experience in the financial market. In the time that the broker has been in the market, it has built a great reputation among traders. There are several reasons for this. Firstly, the broker offers deep liquidity to its clients from some of the largest banks and institutions. Secondly, the broker has some of the fastest order execution speeds and market-standard trading platforms. Further, the broker offers some of the tightest spreads in the market. Its regulatory status is yet another feature the company can boast about. With its variety of market instruments, traders can greatly diversify their portfolios. While there are certainly drawbacks, the majority of the reviews online are positive.
81% of retail CFD accounts lose money
Regulated Brokers
Ad Disclosure
?
The table below contains links to 3rd party websites of our top partners from whom we receive compensation at no additional cost to you.