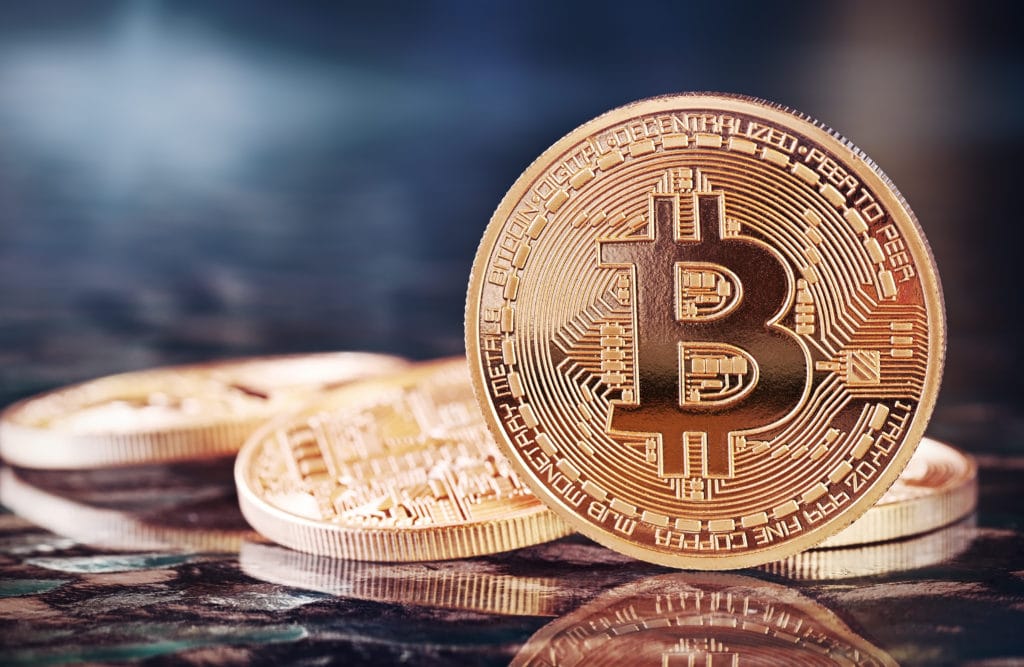 Cryptocurrency trading is more popular than ever and a huge number of investors are looking to jump on the crypto hype to make an easy money. But it is very important to understand that crypto trading is no get-rich-quick scheme as most people think.
Cryptocurrency beginner trader has to do his own research to be confident about the cryptocurrencies he chooses to invest in. You most definitely do not want to put your money in something that you do not believe in. I will show you all the necessary steps which you should take as a crypto beginner in this article, still, you are the one who has to take them. But first, let's start with some basic facts about the cryptocurrency market.
Cryptocurrency market is open 24/7
Unlike fiat currencies, cryptocurrencies can be traded 24/7. The difference in trading volume varies during the day as traders from different countries enter the market in different time, these changes are, however of a very low significance.
Crypto market is very volatile
The cryptocurrency market can skyrocket or fall down even by dozens of percents in a matter of minutes or hours. It is completely different from stock or classic forex market and we have to realize that when investing in cryptocurrencies are capital is at a high risk. Cryptocurrencies are probably the most welcoming market, even for beginners. Nevertheless, you still need to understand that the huge price spikes that cryptocurrencies experience on a regular basis do not always bring to investors a great profit but they can also have devastating consequences on their capital. We will try to teach you steps how to significantly reduce the risks, but you still have to always take into account that the crypto market is very volatile.
1. Find a broker where you can trade cryptocurrencies
Searching for the best crypto broker is no easy tasks. There are many crypto companies that offer distinctive offer. The main aspects on which you should focus are following:
If you come from a European country, the broker should be regulated by the CySEC, a regulatory body which oversees all broker's activities. They also insure your deposits in 100% range up to 20 000 dollars. Investors from Australia should be looking for brokers with ASIC license.
The less you pay in fees the more you can earn. So it's only logical to find a broker with the lowest possible fees. Most brokers charge for a spread for opening a position. Spread is the difference between what you pay for a cryptocurrency coin and between what you get when you decide to sell it again to the broker. Apart from spreads, quite a good number of brokers charge for a swap when you stay in a position overnight. Such brokers are usually best for day trading cryptocurrencies and brokers with no swaps are best for long-term holding.
Cryptocurrencies you want to trade
If a broker does not offer cryptocurrencies you desire to trade, there is no point in creating an account there. Check if the company you have chosen has all the cryptocurrencies you plan to trade.
Leverage can help you benefit from small price movements of cryptocurrencies. Leverage is a very powerful tool in the hands of professionals, but in the hands of beginners, not so much.  That is why you should use it only with a great caution or not at all. Cryptocurrency market is volatile enough to make a good profit even without it.
Top-Rated Cryptocurrency Brokers on our web
| | | | |
| --- | --- | --- | --- |
| Plus500 | Real trading from 100$ | The most competitive spreads, unlimited demo | Read Review |
| IQ Option | Real trading from 10$ | Best for long-term investing, no swaps | Read Review |
| Markets | Real trading from 100$ | Tight spreads | Read Review |
2. Select your cryptocurrency
If you haven't picked the cryptocurrency you want to trade, now is the time. Selecting a digital coin with the highest potential is a very important step. You do not want to choose a cryptocurrency in which you don't believe in. When you do your own research about cryptocurrencies, there are several aspects in which you should look into:
Infrastructure (App development, Cloud storage, Virtual Private Networks, funding, etc.)
Technology (Quick transaction process, firm and easy to use UI that is easy to adopt, etc.)
Development team (Skilled and experienced, solid amount of developers, etc.)
Growing popularity (Rising demand for the cryptocurrency, more people using it, media coverage, etc.)
These are the most important general rules when determining a cryptocurrency's potential. Some of them are more important than others, but the cryptocurrency you select should meet at least 3 of these criteria.
3. Determine where is the price? Is it low or high?
Is the price now at its 45-week low? Or is it at its maximum price? You probably know the saying "buy low, sell high". And this is what we are going to try here. Let me show a great example of what I mean on the Ethereum chart which displays the price movement from the beginning of the year 2017 to 12.6.2017.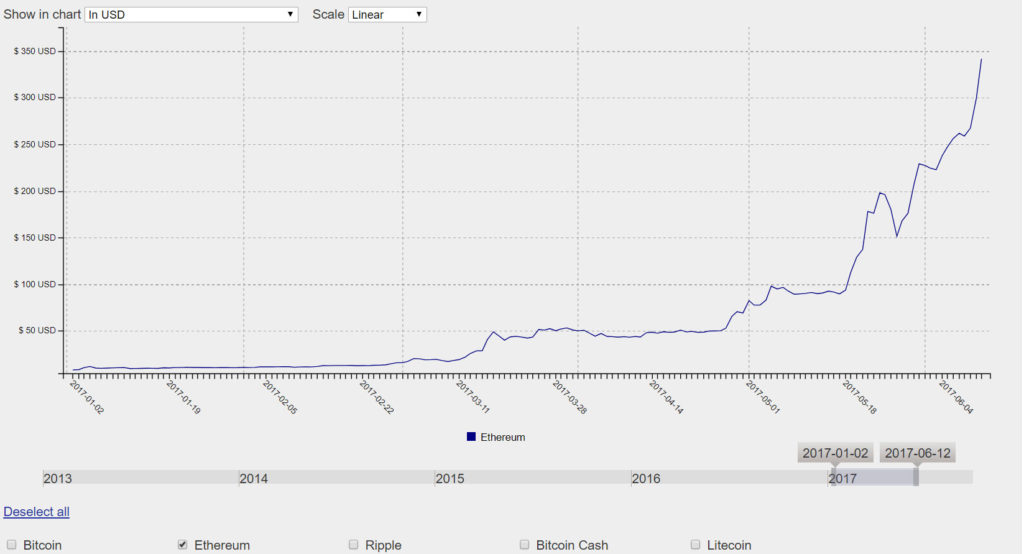 Wow, that looks really great, doesn't it? That seems like a really good investment to make…Until…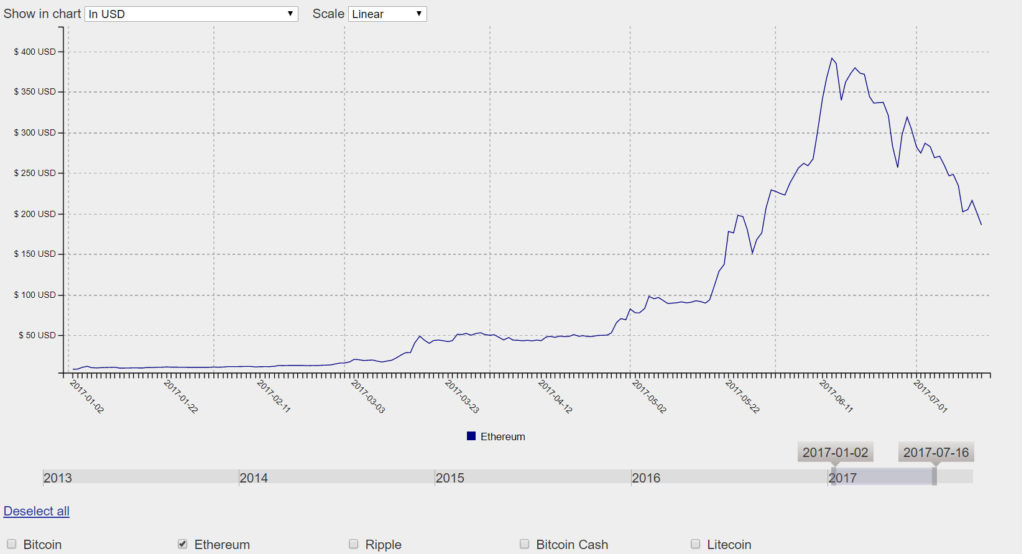 The price went in a one-month time literally to a half. Yes, it is true that there might be situations when certain cryptocurrency with good technology, funding and media exposure will rise for a very long time period. Such investments are, however, for beginner traders very risky because it is hard to determine how far yet can the price grow. We most definitely do not want to end up chasing highs and go with fake optimism that is the only thing pushing the price up.
4. The best way to approach your crypto trades not only as a beginner
One of the best investors of all time, Warren Buffett once said:
Be Fearful When Others Are Greedy and Greedy When Others Are Fearful
And this is a great way to approach the cryptocurrency market. Are others dumping coins for a relatively low price? Great! It might be a good time to buy them. Is the market in a fake optimism? Good, now might be a good time to lock in those profits and safely get out of the trade.
5. What is my target price to sell?
We buy coins of a certain cryptocurrency when we consider it's price to be low. Now, once you are in a trade and the price goes in your direction you have to think about the best time to get out of the trade, you do not want to hold onto it until the end of days. The best time is when the prices are going too high and the investors are getting carried away. One way to determine this moment is by asking yourself "Do I believe the coin is worth more?". If you think that there is currently no more space for the cryptocurrency to grow, it is time to get out of the position.
6. What can affect the price of cryptocurrencies
There are dozens of fundamental news that can drive the price of cryptocurrencies in a downtrend or an uptrend. The main of them are as follows:
Whenever any government makes a public statement about the regulation of a cryptocurrency, the price always reacts to it. Do you remember when China banned ICOs? The price of Bitcoin and other cryptocurrencies rapidly dropped down. It is very important to keep an eye on such events, even when you are no longer a beginner in cryptocurrency trading.
Media exposure and other influencers
Cryptocurrencies gain their value when they receive a positive media exposure, simply because more people are interested in buying the coins. We also can not forget about individual influencers that can drive the price of cryptocurrencies. Such people are usually extremely well-recognized in the field of finance and investing. So when for example the CEO of the biggest American bank J.P. Morgan – Jamie Dimon publicly stated that he thinks that Bitcoin is a fraud that will eventually blow up, the Bitcoin market took a big hit. Because of this statement, J. Dimon harvested many negative comments, implementing on the fact that he wants to manipulate the price of Bitcoin by his allegation.
Wider Mainstream Acceptance, New firms backing up the project
Did just Amazon, eBay or other huge international firm announced that from now on they accept payments in Bitcoin? Great! You probably know what that means for the market…Simoutainsly if big companies like Microsoft, Intel or others lend to a cryptocurrency their name and finance, it is another reason for the price to climb up.
Technological Changes and Innovations
With every new technological change, there is a high chance that it might significantly affect the price of a cryptocurrency. So, for example, if a new security protocol is scheduled to be released that will make the cryptocurrency even more reliable, secure and scalable, it might mean a positive sentiment for the market.
It should be no surprise that cryptocurrencies react also to a behaviour of other markets. When other markets collapse, cryptocurrencies had in the past a positive tendency to raise up. Gold and Japanese yen are no longer the only instruments categorized as the safe havens investments.