IQ Option review - What to expect from the broker
This material is not intended for viewers from EEA countries. Binary options are not promoted or sold to retail EEA traders.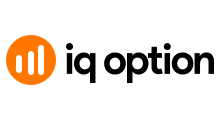 We have tested one of the world's fastest-growing online trading platforms, IQ Option. Keep reading to find out everything there is about the broker!
IQ Option offers a unique in-house built trading platform for binary and digital options and CFDs on forex, cryptocurrencies, stocks, commodities and ETFs. The broker that allows real trading starting at $10 appeals to new and existing clients mainly with its ultimate trading platform, and competitive fees (spreads). New traders can set up a FREE Demo trading account at any time.
General Risk Warning: The financial products offered by the company carry a high level of risk and can result in the loss of all your funds. You should never invest money that you cannot afford to lose
Basic information about IQ Option
Website: https://iqoption.com/
Trading instruments: Binary and Digital options, CFDs on forex, cryptocurrencies, commodities, stocks, ETFs.
Minimum deposit: $ 10 (or other account base currency)
Minimum investment: $ 1
Demo account: Yes, free of charge, reloadable. No deposit is required.
Deposit and withdrawal methods: Bank transfer, Credit/Debit cards, Skrill, Neteller, WebMoney
Additional deposit and withdrawal methods: Advcash, Mobile Money and Perfect Money (Rest of the world)
Unlimited Free Demo Account in 5 seconds
The most frequently used account when first trading on the IQ Option platform is the demo account. It allows you to test whatever you need - the platform, strategies, etc.. This account is cost-free, the broker does not require any initial deposit. Once you establish your demo account you will be provided with $ 10 000 play money to trade with for as long as you need since the demo account is not time-limited. You are also granted access to the broker's extensive educational centre.
Real Account can be opened with as little as $10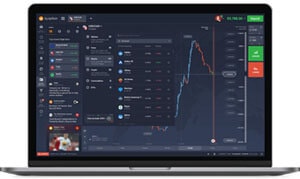 The IQ Option real account requirements are slightly different in comparison to the accounts of other brokers. The minimum deposit is as low as it can get - $ 10. The lowest possible investment is $ 1, so if you wish to trade with small amounts you are free to do so here. The advantage of these very precisely adjusted investments is that you can easily follow your money management strategy which is very hard to do using other platforms that usually require a minimum deposit of $100, $200 or more.
International support, account currency, prohibited countries
IQ Option is an international company that opens its doors to traders from nearly all corners of the world. They provide support in the 14 following languages - English, German, Spanish, Portuguese, Thai, Hindi, Arabic, French, Italian, Chinese, Korean,  Turkish, Urdu and Norwegian. As an international broker, IQ Option supports also different account base currencies, which means your real account can be held not only in USD, GBP, or EUR, but also in: Brazilian Real, Malaysian Ringgit, Chinese Yuan, Indonesian Rupiah, Vietnamese Dong, South African Rand, Philippine Peso or Thai Baht.
IQ Option is available to clients from nearly all countries with some exceptions like the USA, Canada, Australia, Israel, Palestine, Japan, Syria, Iran, North Korea, the Russian Federation, the United Kingdom, Belarus, Gibraltar, and Ukraine.
IQ Option Trading Platform – Basic information
The IQ Option trading platform offers a very fast, clear and modern solution for its clients. The trading platform can very well stand alone as the only tool for your analysis as it features all the things a trader needs to have at his hand. That includes all the popular indicators (RSI, BB, Stochastic, etc.), graphical tools (trend, horizontal and Fibonacci lines...), historical quotes and of course a multi-chart layout. To stay up to date with the news, traders can use on the platform volatility alerts, market updates, stock screeners, calendars and newsletters.
Currently, there are over 110 video tutorials that traders can use to understand how certain indicators work or to watch the news. The broker also offers an Android/Apple application very similar to the computer version that you can download to your smart device. Regarding the leverage and spreads, they both differ depending on the traded asset.
Assets you can trade on the IQ Option platform
The IQ Option trading platform features a wide variety of trading instruments, these include Binary and Digital Options and CFDs on forex pairs, cryptocurrencies, stocks, commodities and ETFs. The number of tradable assets tends to change as the broker frequently adds new ones to the platform. As of now, there are over 10 cryptocurrencies, 30 Forex pairs, 190 Stocks, 20 ETFs and 3 commodities which can all be traded as CFDs + 53 digital and binary options.
IQ Option Chart analysis – Indicators, templates, lines
The IQ Option platform is one of the most sophisticated platforms for fundamental analysis out there. It features nearly 90 indicators and oscillators for you to use on the charts. They are fully customizable, allowing you to change anything from the period (the number of candles/bars on which is the calculation of the indicator based on) to the colour and even thickness of the lines. Some of the available popular indicators also include text or video guides on how to use them when trading.
Once you set to your indicators the setting you want to frequently use, you can create a template. By doing so, you will be able to quickly apply the template to any chart whenever you want.
In total, there are 4 chart types to choose from, the one that is set on default is the line chart. However, there is an option to switch to bars, Heikin-Ashi or to our favourite candlestick chart. Indicators and good-looking charts have their place in fundamental analysis. However, on the foundation of fundamental analysis stand lines that you can use to draw support and resistance levels, trends or other important lines. Fortunately, the IQ Option platform does not forget about graphical tools like basic lines, trend lines, horizontal lines, vertical lines or Fibonacci lines.
Timeframe on the IQ Option platform
To change the time frame of your graphs, you can choose from 18 popular time intervals. They range from 5 seconds to 1 month. There are 3 ways you can set a timeframe of your chart. The first option is to click on a time period that is featured right below your chart.

Selected 1-hour time-frame
The second way to choose your timeframe is to click on the time interval button that is situated on the left bottom of your chart. This option can be chosen only if you have a candlestick or bar graph, it does not work for the line chart. Here, you select what time interval should each candle or bar represent. So, if you choose 5 minutes, each candle/bar will represent 5 minutes of market movement. That means the chart at which you will be looking is going to show you the asset movement of the last 3 hours.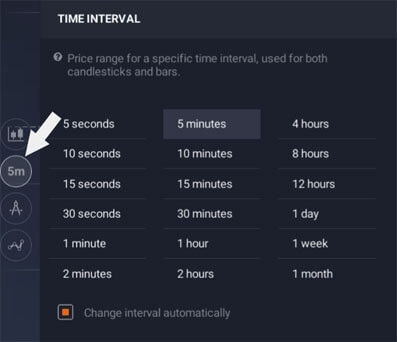 The third option is to just simply use the scroll wheel on your mouse. If you scroll up you zoom in and the time frame gets smaller. Guess what happens when you scroll down :).
Simple way to use multi-chart layouts
In case you want to monitor more than one asset at the same time, you can take advantage of the multi chart layouts that the platform features. Towards this purpose, use the chart layout icon that is situated right next to the IQ Option logo. Once you do that, choose a layout that you wish to use. To change an asset in your multi chart layout, just simply click on its name and select a different one.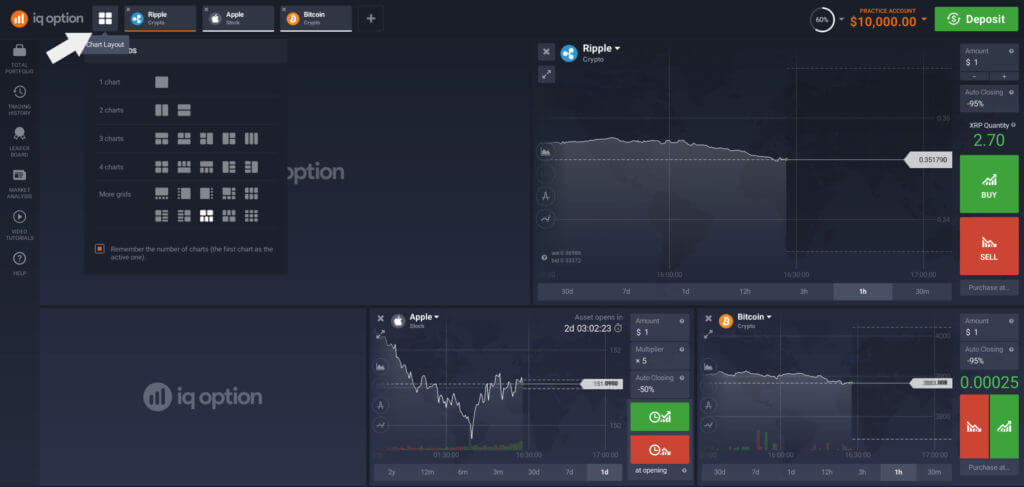 Manage your risk with position auto-closing feature
The position auto-closing feature on the platform works as a stop loss and take profit. This tool can be set to a specific profit/loss amount, percentage number or asset price. When it reaches or drops to the figure you specified, the trade automatically closes itself. By using this feature you secure your positions and you know that you will not lose more money than you are willing (or secure your earnings). Recently, IQ Option also added to the trading platform "Trailing Stop" which makes your stop-loss dynamic. A position with an activated trailing stop moves the stop-loss threshold up (in case of a BUY deal) or down (in case of a DOWN deal) if the market experiences a trend.
Trailing stop explained in a simple example - Let's say you buy a stock (CFD) of a company called ABC for $10 and you activate trailing stop with a 10% stop loss. In case the value of the stock dips by 10% the position will close itself and IQ Option returns you $9. If, however, the stock goes up to $20, the trailing stop will come up along with it. This means when the stock price is at $20, the stop-loss will trigger once the value of the asset is below $18. I would recommend trying this wonderful feature to anyone as it helps you to manage your risks even better than just simple SL.
Market analysis – News, Forex & crypto & earnings calendar
Doing your fundamental analysis is also possible with IQ Option as they feature breaking news and important announcements right on the trading platform. To access them, head to the left menu and click on market analysis. The news is sorted into 4 main categories and comes from highly authoritative sources like Investopedia, Yahoo Finance, Forbes, CoinSpeaker and many others. By using this feature, you will never miss important news about the forex, stock, crypto or commodity market.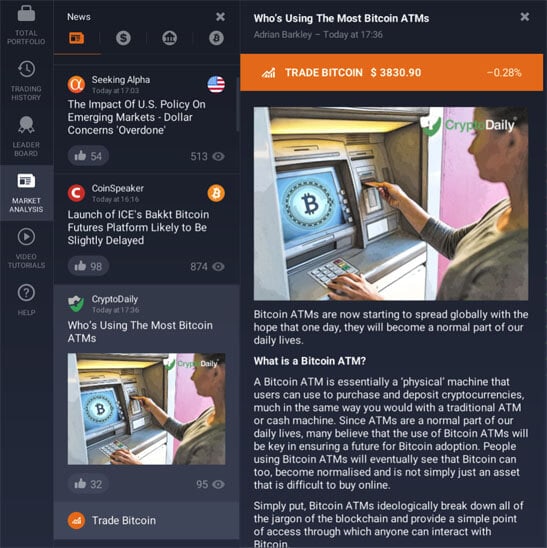 Leaderboard & Live chat with other traders
If you want to compare your success to other traders on the IQ Option platform, you can. The feature that allows it can be found in the left menu of the trading room and is called "leaderboard". Here, you will see the gross profit that traders made over the week, the metrics include transactions executed only on real accounts.
A great thing about the stats is that you can monitor your worldwide position as well as the position you have in your country. Unfortunately, the feature shows only the gross profit which means you have no idea how much money the traders lost while achieving their rank. I, therefore, don't find any special or deeper use for the IQ Option ranking system. It's just simply a comely feature to look at for fun.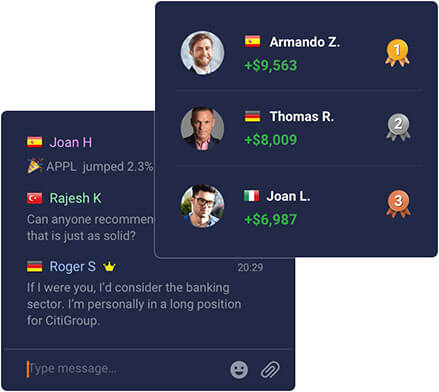 To connect traders on the IQ platform, the company, also created a live chat where traders around the globe share their ideas and achievements. Live chat with other traders is available to all users who have at least a trading volume of $300. There are few general groups that discuss basically anything, no matter the asset type or sector. Discussions on the theme of specific popular assets like Bitcoin, Microsoft stocks, gold, et cetera. are also held on the platform. Sadly, they just don't have that many participants so don't expect a big queue of pro traders waiting to spread their ideas.
Which is better? IQ Option web platform vs Windows, iOS and Android applications
The IQ Option trade room can be accessed either via the web-based platform or by using applications designed for Mac OS, Windows, iOS or Android. The web-based platform and Windows application look and function exactly the same. The only difference between the two is according to IQ Option the speed of the platform which should be up to 5 times faster in the app.
On mobile devices, it is, however, a different story. While the basic functions like opening and closing positions work perfectly fine both on the web platform and the Android/iOS app, the interface is not especially friendly on the web platform and operating with graphs is at best complicated. So, if you plan to trade on your smartphone I would definitely recommend downloading the IQ Option app, here is a comparison of the web-based platform and Android application.
IQ Option trading hours
Almost no asset is tradable around the clock and some asset types can be actually traded only for a couple of hours during the day. To know exactly when you can trade your favourite asset, I advise visiting the https://iqoption.com/en/trading-hours-and-fees page where this information is disclosed. Market hours of all assets are displayed in the UTC +1 time zone.
IQ Option fees
It is crucial for each trader to understand what fees IQ Option charges. Unlike some other CFD providers, IQ Option has a no-commission policy, which means there are no fees e.g. for the execution of trades. What the broker will most likely charge you with is the spread and in certain circumstances the overnight fee. There are, however, also 2 other fees, the inactivity and withdrawal fee. Now we will closely discuss each, so you can fully understand when the fees are charged and how big they are.
IQ Option spreads (Forex + other CFDs)

close up look
The spread fee is the difference between the price for which you buy an asset and for which you can sell it back. IQ Option spreads are fairly tight. The general rule of thumb is that the more popular asset you trade, the lower the spread is. You can find the spread for each and every forex, cryptocurrency pair or stock... in the menu where you pick a new asset. The spread is there, however, displayed in percentage, so if you want to know how many pips the spread is you have to open the asset and have a look at the left bottom corner of the chart.
| | | |
| --- | --- | --- |
| Major currency pairs | EUR/USD | 1 pip |
| Minor currency pairs | EUR/GBP | 2.9 pips |
| Exotic currency pairs | USD/NOK | 48 pips |
| Stocks | BMW | $0.132 |
| Cryptocurrencies | Bitcoin | $281.22 |
| ETFs | QQQ Trust | $0.348 |
| Commodities | Gold | $1.12 |
The data were taken on 28.11.2018 at 13:13 GMT+1.
The IQ Option spread is based on the current market conditions which means it changes in real-time. The table above is to be used just to give you a general idea of where the spreads might hover.
Overnight fee
The second expense is an ongoing fee and is charged to every position that is opened overnight. This fee is also known as the swap fee and at IQ Option it ranges between 0.01%-0.5%. It is also important to note, that the swap fee is 3 times higher than the normal swap fee from Friday to Saturday. Up-to-date information regarding how big the overnight fee is for all assets and when it's charged can be found on the page https://iqoption.com/en/trading-hours-and-fees.

Inactivity fee
The third fee IQ Option charges whenever a user is inactive for a period of at least ninety (90) consecutive days. The charged amount is €10*. Be aware that they charge this fee each month once the account is not active for the above-mentioned time period. In a situation when there are not enough funds on the account to pay this fee, the inactive fee is not charged as your account balance cannot get into negative numbers. Remember, however, that if your account does not have enough resources to pay this fee and stays inactive for 12 months, they will charge a lower amount to cover administrative expenses and close the account completely.
In case you plan to take a break from trading on the IQ Option platform, I would advise withdrawing your funds, especially when there is no fee for almost all withdrawal methods.
Withdrawal fee
The last, fourth, fee which you can encounter is the withdrawal fee. Clients will be subject to a fixed 2% (two per cent) withdrawal fee upon the clients' second (2nd) withdrawal per calendar month. Consequently, clients can benefit from 1 commission-free withdrawal per calendar month. If you use other payment service providers such as Neteller, Skrill or Webmoney, then no withdrawal fee is charged to your account.
*or the equivalent of this amount in a different currency.
IQ Option leverage (multiplier) explained
Each asset category can use different financial leverage. Here is a table describing the leverage (up to) of each asset category.
| | |
| --- | --- |
| Asset category | Maximum leverage |
| Major currency pairs | 1:500 |
| Minor and exotic currency pairs | 1:500 |
| Stocks | 1:20 |
| Cryptocurrencies | 1:100 |
| ETFs | 1:20 |
| Commodities | 1:50 |
The table was updated on 18.02.2023 for which it is accurate.
Where do I find leverage on the IQ platform? oh, Multiplier!
If you wonder where to find leverage on the IQ Option trading platform, head to the main tab where you select a new asset, here if you choose e.g. forex you will see several currency pairs looking similar to this example:

Now, you might have noticed that there is no such thing as leverage in the picture above, that is because the broker calls it a multiplier, but it is exactly the same tool.
IQ Option deposit & withdrawal methods
IQ Option deposit and withdrawal methods are as follows: Credit and debit cards, Neteller, Skrill, and Webmoney. In certain countries, IQ Option tends to support some additional deposit and withdrawal methods which are popular in that given country (for example Advcash, M-Pesa, Mobile Money and Perfect Money in Africa, South America, Oceania and Asia.)
Remember that the same method you use for your deposit also has to be the same one you use when you request a withdrawal.
I would personally advise using e-wallets for funding your account as there are no fees for both deposits and withdrawals + the deposits are processed instantly. Credit and debit cards are also a good alternative but remember that you will be able to withdraw to the card only the total amount of the deposits you made over the last 90 days. It is so because card withdrawals can be processed only as refunds. That means all amounts surpassing your deposits (i.e. your profit) has to be withdrawn to an e-wallet or via a bank transfer.
How to deposit funds
In order to deposit funds to your real account, you need to first go through the verification process (described in detail below). Once your account is verified you are all set and can deposit your desired amount. The minimum IQ Option deposit amount is 10 USD/GBP/EUR.
IQ Option has no deposit fee policy (no matter what deposit method you use). If you, however, deposit via a bank transfer, make sure you know all the fees that might your bank charge you.
How to withdraw your money
The withdrawal process is pretty straightforward, you just enter the amount you want to withdraw in the banking tab when you are logged into your account. IQ Option charges no withdrawal fees with the single exception of a wire transfer. E-wallet withdrawals are processed in a couple of seconds, wire transfer and card withdrawals are processed within 24 hours.
IQ Option withdrawal limits
The IQ Option minimum withdrawal amount is $2. There is no limit to the amount which can be withdrawn.
IQ Option documents verification
IQ Option must verify the identity of each user before he/she opens a real account.
The good news is that you only do this once, and then all withdrawals and deposits are quick and easy. The broker has to verify your identity, so they ask for the following documents:
Identity card, national passport or driving license (to verify your identity)
In case you have decided to fund your account via a credit or debit card, you also have to submit a copy of both sides of the card. For your own safety, you are free to cover the CCV number (the three numbers situated on the back of your card). IQ Option needs only the first 6 and the last 4 digits of your card number.
The verification procedure takes 3 business days as the IQ Option support needs to check all submitted documents individually.
IQ Option history & When it all began
The founder and CEO of the company is Dmitrii Zaretskii who laid the first stone of the company in October 2013. IQ Option experienced consistent growth in the number of active clients and trading volume ever since. Here is IQ Option in numbers: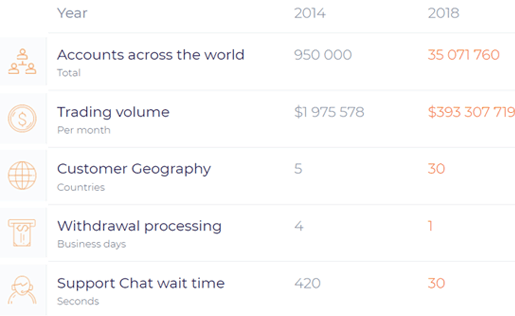 Customer service
In case of any enquiries, you can contact the IQ Option customer service which can be reached out via online live chat (24/7), phone or email. From my experience, I know that the support team replies always very swiftly so you must wait for your answer for a maximum of 5 minutes (usually it is rather around 1 minute). Unfortunately, quite often the first guy that they connect me with is not able to provide me with the answer I am looking for. This means that my questions are either too complex or that the first guy on the live chat is not very experienced. No matter which, I always get my answer even if it means I have to communicate with more people. So, I appreciate that they do everything that is in their power to help me.

The conclusion of our IQ Option review
IQ Option is with over 80 million registered clients one of the most popular, if not the most popular, international brokers out there. As an international broker, IQ Option provides customer support in 14 languages, supports local deposit and withdrawal methods (including AdvCash M-Pesa, Mobile Money...) and allows traders to choose to have an account in one of the 11 supported account base currencies (including USD, ZAR, BRL...). Another big advantage of the company is that their unique platform can be tested on a free practice demo and that real trading is available with a minimum deposit of $10 to anyone.
On the other hand, each brokerage company has its drawbacks and IQ Option is not an exception. To me, that is the number of available stocks which hovers now on the IQ platform around 190. You are going to find here a lot of large-cap stocks from the USA, Europe and Canada, but there are only a very few mid or small-cap stocks.
Final verdict: If you are looking for a safe option with a state-of-the-art trading platform, IQ Option is definitely a choice to consider.
I recommend testing the company at least via a free reloadable demo account that can be created within 30 seconds.
General Risk Warning: The financial products offered by the company carry a high level of risk and can result in the loss of all your funds.
You should never invest money that you cannot afford to lose
Your review can make a difference to other traders, please leave a comment if you have any personal experience with IQ Option.