Forex Broker Scam List - Blacklisted Companies by Regulators
There are many forex brokers in the market today claiming to be legitimate but are really scam operations. At face value, separating these scam brokers from the legitimate ones can be impossible. However, there are a few characteristics that can help traders identify sham brokerage firms in the market.
In this piece, we will look at a forex broker scam list. Specifically, we are going to look at blacklisted companies by regulators. But before that, let's look at some of the ways you can spot a scam broker.
How to Spot a Scam Broker
There are three main things to look out for to identify a scam broker. They include:
Lack of reputable regulations - Generally, brokers who lack regulations or those with regulations from lax regulators are more likely to be scam operations.
No proof of payments - Most scam brokers do not pay out any withdrawal requests. As such, no single customer of such a broker can report a successful withdrawal process.
Falsified information - Most scam brokers will lie about a variety of things. They will lie about their regulatory status, their launch date, and their address. They might also present fake awards on their website.
You should only invest with tier-one brokers that have regulations from world-class organizations. Such brokers have oversight over their activities and are not permitted to engage in criminal activities or they will lose their licenses. As such, the regulatory status of a broker is probably the most important feature to look at on a broker site. Still, regulations alone are not enough. A forex broker still has to demonstrate that it can deliver services in a fair and legal environment.
Now with that, let's look at brokers that have been blacklisted by regulators.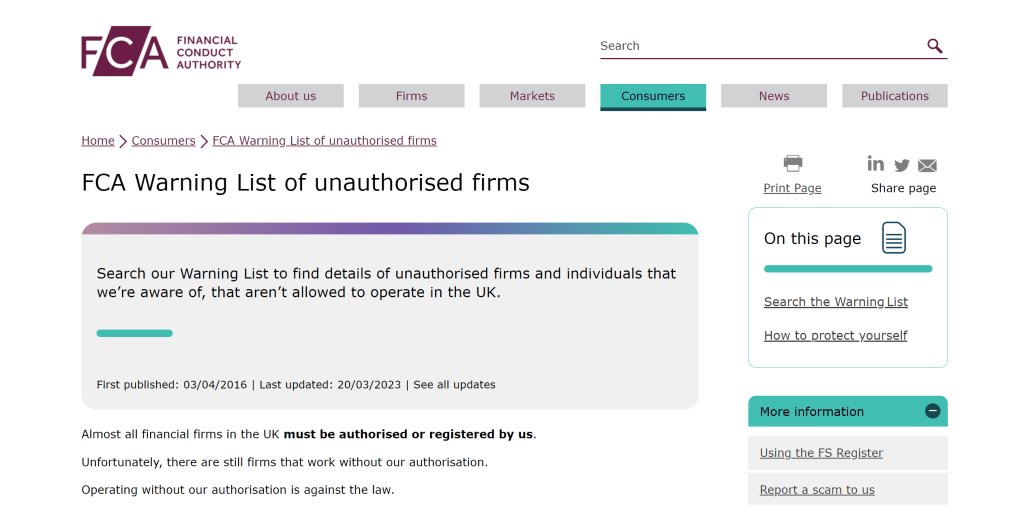 Wayven FX Limited
Wayven FX Limited recently fell on the FCA's Warning List for one of the most egregious crimes by a forex broker. This broker is outright pretending to be another FCA-authorised company by presenting the said company's license as its own. On its website, Wayven FX Limited provides a screenshot of an FCA license purporting that it belongs to them. In actuality, the license screenshot presented belongs to AMT Futures Limited.
Wayven FX Limited is a company that traders should avoid at all costs. When a company lies about its regulations, there is no telling what they are willing to do to steal money from investors. Moreover, the company even lies about their launch date. The company claims to have launched in 2002. However, information from Whois.com reveals that the website only launched in 2023. One must ask what took the founders so long to launch the website. There could be some information missing here.
In any case, the safest bet is to avoid this brokerage firm outright. It does not have a real regulatory license and is imitating a real regulated company. Furthermore, this company's website is very new and is yet to prove its legitimacy in the market.
Spotinvest
Spotinvest claims to have regulations in all jurisdictions that it operates. However, the company does not bother to provide any details about the regulatory licenses it holds. Even worse, the FCA has highlighted this company on its warning list as a clone of another FCA-authorised company. Any forex broker that pretends to be another company should not be trusted by any investor.
The FCA specifically points out that this is a tactic used by firms to try and convince people they work for a genuine, authorised firm. As such, investing with this broker is a risky endeavour and can lead to the loss of people's hard-earned cash. Moreover, such brokers are operating without any oversight and can be lying about just about anything.
There is no evidence of any payouts by this broker. In fact, the company never talks about withdrawals on its website despite covering methods which clients can use to deposit funds. As a safe bet, it is better to avoid this company at all costs. Any broker that is on a world-class regulator's warning list should not be trusted.
Winfxmarkets
Winfxmarkets fell into the FCA's warning list for a different reason than the brokers above. The FCA believes that this broker is providing its services in the UK without authorisation. There are many risks to trading with such a broker. Operating in a jurisdiction without a license from the relevant authority in the jurisdiction shows that a company does not respect financial laws.
This broker claims to allow clients to trade forex, metals, energies, indices, shares, and cryptocurrencies. Additionally, the broker says it provides clients with one of the best trading platforms, MetaTrader 5. While this may be true, providing financial services in any jurisdiction is unprofessional and outright criminal.
The risks associated with trading with an unregulated broker far outweigh the potential benefits. Using such brokers will mean that there is no one to protect you from any unfair dealings. If you lose your funds, you do not have access to the Financial Ombudsman Service and the Financial Services Compensation Scheme protection. As such, there would be no way for you to recover your funds.
OCD Finances
OCD Finances is yet another company that has quickly found itself on a regulator's warning list. This company launched its website in January of 2023 and boasts of having licenses from top regulators including the FCA, the CySEC, and the ASIC. Unfortunately, this is not true. In fact, OCD Finances is already on the CySEC's warning list for operating within its jurisdiction without a license.
This broker claims to offer fast order execution, integration with TradingView, and a collection of popular assets. Among the assets this broker claims to provide are forex, cryptocurrencies, metals, and indices. On a regulated broker, such features would be very attractive.
However, with this broker, lying about having a regulatory license is a serious crime. Proceeding to provide financial services in a jurisdiction without authorisation from the relevant authority is a huge red flag. At the very least, this shows the company's disregard for investor needs and rights. To be on the safe side, you should heed the CySEC's warning and avoid this broker at all costs.
Hycmcapitalmarkets.com
Any seasoned trader that has been trading for a while will find this domain very familiar. Unfortunately, this is not by mistake but rather by design. The company behind this domain is imitating another regulated company that has been in the market for over 20 years. The company being imitated here is HYCM which operates under the domain hycm.com. As such, the clone company's domain has landed on CySEC's warning list.
Unfortunately, hycmcapitalmarkets.com does not stop at just imitating another broker. This company goes as far as presenting regulations that do not belong to it. There is no defence for such an action. Clearly, this broker does not respect the law and would go to extreme lengths to convince unsuspecting traders to invest.
Investing with this broker is a very risky move. As soon as you land on the website, you get a notification that you should only send money to the company's Bitcoin wallet. There does not seem to be any other deposit method supported. Unfortunately, using Bitcoin to make deposits means that you cannot reverse the transaction or trace it. This way, the people behind the company remain pseudo-anonymous making it hard to take legal action against them. Even if you ignore all these red flags, the best action to take is to avoid any broker that falls on a regulator's warning list.
MGM-Markets
MGM-Markets is another company that has appeared on a regulator's warning list. This time, we are seeing a company that is on ASIC's companies to avoid. ASIC maintains a list on a website it manages, moneysmart.org. Here, you can find a list of companies you should not deal with. MGM-Markets specifically fell on this list for impersonating another company that is under the regulation of the ASIC.
Operating without a regulatory license is bad on its own. But pretending to be another company just to fool costumes is an all-time low. Any company that lies about its identity should be avoided as there is no telling what else they are willing to lie about. Moreover, this company is operating without regulations. That in itself is a violation and makes this company risky to invest in.
Among the assets that MGM-Markets promises to clients are forex pairs, indices, and cryptocurrencies. The ability to invest in multiple market instruments at the same time is attractive. However, in this case, there is no advantage that can outweigh the disadvantage of investing with an unregulated entity. Simply put, heed the ASIC's warning and avoid this company outright.
HBC Broker
HBC Broker is yet another broker that promises clients a wide variety of trading instruments. This broker claims to give clients access to assets in the forex and crypto markets. To attract customers, this broker promises welcome bonuses from 50%-100% depending on the account a client is on. Access to multiple markets and welcome bonuses are two very attractive features.
However, these features are not enough for a broker to fully gain the trust of investors. A broker still has to demonstrate its commitment to delivering quality services to customers in a legal and fair environment. Sadly, this broker does not do that. In fact, the broker has seen itself fall on the ASIC's warning list. The ASIC names this broker as one of the companies investors should not deal with.
Specifically, the ASIC notes that this broker is operating within its jurisdiction without a license. Needless to say, this is a criminal offence and any professional broker would know this. This is reason enough to avoid this broker at all costs.
Closing Remarks on Forex Broker Scams List
Unfortunately, there are too many cases of forex broker scams in the market today
. Many companies are coming into the market pretending to offer quality services to investors. As such, many regulators have taken it upon themselves to maintain a list of the most egregious offenders. In this article, we specifically looked at forex brokers that have appeared on the warning lists of the FCA, the CySEC, and the ASIC. But there are other top-tier regulators, like the CONOB, who also maintain a warning list.
To be on the safe side, you should avoid any company that appears on any regulator's warning list. The warning list is ever growing and investors should stay keen to see which brokers are added. Most brokers close shop after they find themselves on these lists and come back under new websites and names. In fact, some of the brokers on this list might have closed their websites already by the time you are reading this and might be preparing to come back under new names. As such, always counter-check a company's regulatory claims against the relevant regulators.
Regulated Brokers
Ad Disclosure
?
The table below contains links to 3rd party websites of our top partners from whom we receive compensation at no additional cost to you.