Capitalise.ai Brokers – List
Founded in 2015, Capitalise.ai is a trading tool that allows investors to automate their trading based on their trading strategies. This tool empowers traders with easy, intuitive, and code-free automation. Notably, the tool is text-based, making it easy to create, test, and automate trading scenarios. As such, it removes technical barriers and opens up new trading opportunities and channels for non-technical traders. Traders with zero technical skills can automate their trading using freestyle text.
In this article, we are going to look at a list of some of the best Capitalise.ai supported brokers. But first, let's take a look at some key Capitalise.ai features.
Capitalise.ai Key Features
Capitalise.ai has a lot of features that clients can use to improve their trading performances and experiences. For starters, this program comes with Dollar Cost Averaging. This allows investors to increase the size of their trades at scheduled time intervals. This is important because it helps investors plan ahead. For example, an investor can set their tool to invest in a certain asset once a month when they receive their salary. Additionally, this trading tool allows for automated TradingView alerts. With Capitalise.ai, clients can create automated trading strategies based on TradingView Alerts. Better yet, they can do all this using plain English without needing to have a technical background. This opens up new possibilities as everything on TradingView can be used to test and automate trading strategies.
Further, Capitalise.ai features both Trailing Stop Loss and Trailing Take Profit. Both Trailing Stop Loss and Trailing Take Profit help an investor manage their risk after placing an order. The Trailing Stop Loss ensures an order closes before massive losses are incurred. Traders set this point to avoid losing more funds than they are willing to. On the other hand, the Trailing Take Profit follows the trend and sets to close the position beyond a specific profit amount and before reaching a predetermined amount of loss. That's not all. Capitalise.ai also comes with MACD Cross, Smart Notifications, Assets Correlation, ATR Indicator, Simple MA Cross Over, and many more features.
Now with that out of the way, let's take a look at some Capitalise.ai Supported Brokers.
Pepperstone
Pepperstone is a reputable forex and CFDs broker with a partnership with Capitalise.ai. Clients of this broker can use this tool to automate and test their trading strategies. The added advantage of using Capitalise.ai is that anyone can code their trading strategies using simple English. This means that traders do not need to have a technical background to utilise this tool.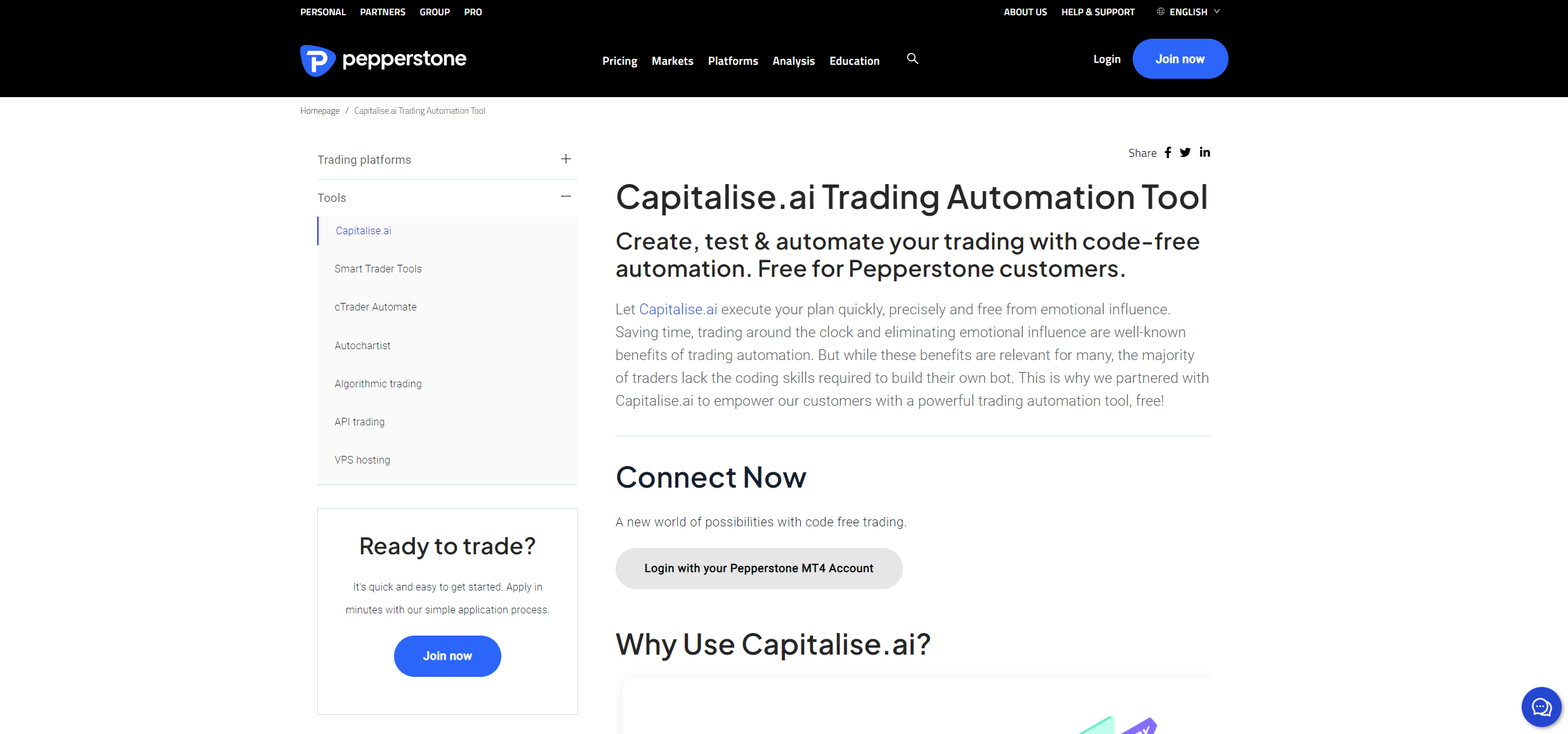 Certainly, Capitalise.ai is an attractive feature of Pepperstone. However, there are other features that attract clients to this broker site. For starters, this broker supports the diversity of clients by supporting all kinds of accounts, including an Islamic account. Additionally, Pepperstone allows clients to diversify their portfolios by featuring a wide variety of asset classes. People can trade CFDs on forex, shares, ETFs, indices, commodities, and currency indices on the Pepperstone site. Pepperstone provides traders with a number of platforms, including MetaTrader 4, MetaTrader 5, TradingView and cTrader. These are some of the best trading platforms in the market, with some of the fastest execution times.
74.6% of retail CFD accounts lose money
Forex.com
Forex.com is currently considered one of the best forex brokers in the market. This is because this broker upholds high standards and provides some of the best trading conditions to its clients. For starters, this broker is regulated in numerous jurisdictions. These include the UK by the FCA, the US by the NFA, Canada by the IIROC, and Australia by the ASIC. On this broker site, traders can automate their trading strategies with Capitalise.ai. However, please note that unlike most other platforms and trading tools Forex.com offers, Capitalise AI is *Exclusive only for US-based clients, retail leveraged spot FX trading. This delivers US clients with a user-friendly auto-trading strategy builder in plain English for all ability levels. It also enables backtesting, trade simulations, notifications and more.
With such a tool, investors might be interested in investing in multiple market instruments to diversify their portfolios. Luckily, Forex.com features trading instruments from a variety of asset classes. With this broker, US investors can trade Forex, stocks, precious metals, futures and options.
In terms of trading platforms, clients pick and choose from four high-level software. These include MT4, MT5, WebTrader, and Forex.com Trader. These are some powerful trading platforms that attract a lot of clients to Forex.com. Moreover, this broker does not charge extravagant fees when trading. The spreads on this broker site go as low as 0.8 pips on major currency pairs on the standard account. They can go even lower on the commission based accounts.
Risk warning: Trading margined products carries a high level of risk.
AvaTrade
AvaTrade probably meets the criteria to be considered a tier one broker among many traders. On the AvaTrade broker site, clients have access to over 700 trading instruments, all of which are CFDs. The asset classes available to clients of AvaTrade include forex, stocks, indices, commodities, ETFs, bonds, and cryptocurrencies. On AvaTrade, clients have access to Capitalise.ai for automated trading and trading alerts. Moreover, AvaTrade in collaboration with Capitalise.ai provides a huge library of high-performance strategies. Here, clients can simply deploy these strategies at the click of a button. Additionally, you can back-test your trading strategies before committing any funds.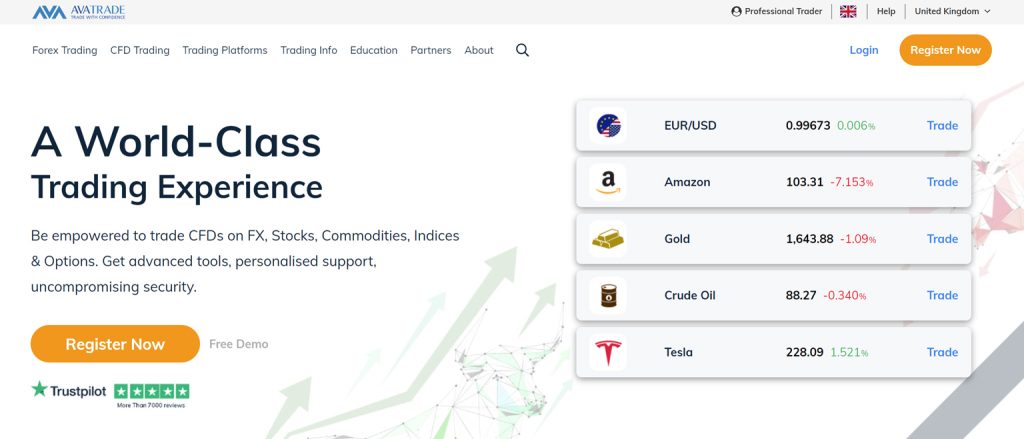 AvaTrade is also a regulated broker in multiple jurisdictions by reputable regulators. These include the ASIC, the Central Bank of Ireland, the FSCA, and the BVIFSC. We always insist that you should only trade with regulated brokers. While regulations alone are not enough, you're much safer with a company under the supervision of world-class organizations. Finally, AvaTrade provides clients with some of the best trading platforms in the market. These include MT4, MT5, and AvaTradeGO. Additionally, clients have access to ZuluTrade and DupliTrade to copy the moves of more successful traders on the platform.
76% of retail CFD accounts lose money
Interactive Brokers
Interactive Brokers is one of the oldest forex brokers in the world today, having launched in 1997. Longevity in the market is always a sign of a company that provides services with professionalism. Moreover, Interactive Brokers is a regulated company. It is regulated by the CFTC and the SEC, the IIROC, the FCA, and the ASIC. These are some of the most reputable organizations in the world. Regulations from such institutions are a plus to the reputation of this company. With this broker, clients can trade CFDs on stocks, options, futures, currencies, cryptocurrencies, US Spot Gold, bonds, and ETFs. They can do this on a single platform provided by Interactive Brokers. The Interactive Brokers trading platform is available on a variety of devices including mobile, desktops, and on the web.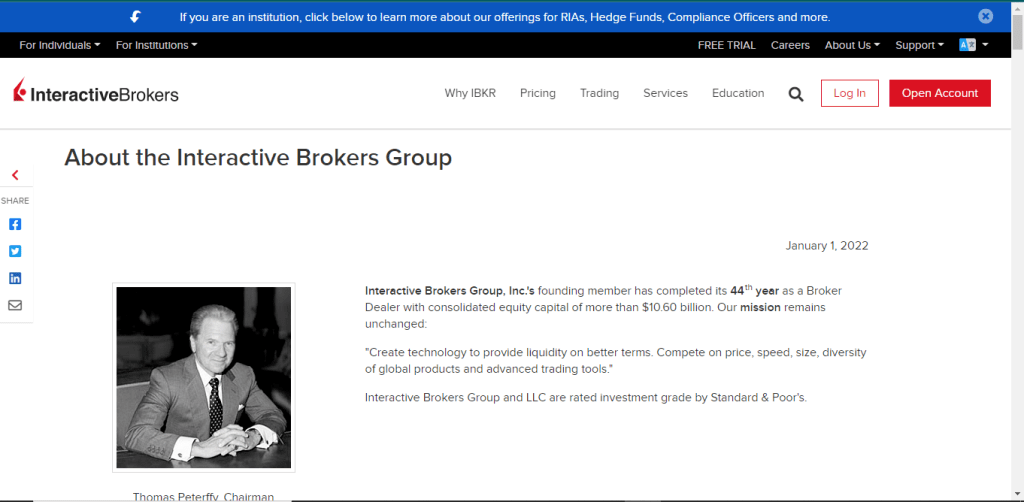 Trading these diverse instruments on Interactive Brokers can be improved with the help of Capitalise.ai. This program will allow you to automate, analyze, and explore the markets to improve your strategy. This means that you can automate a trading strategy quickly, and precisely and one that is free from emotional influence. Moreover, you can backtest your trading strategies before you deploy them.
FXCM
FXCM is a forex and CFDs broker with over 20 years in the market. This company operates primarily from South Africa and is authorized and regulated by the FSCA. The company is also under the regulation of the CySEC, the FCA, and the ASIC. The CySEC, the FCA, and the ASIC have very strict laws and are some of the top regulators in the market today. This company also supports the use of Capitalise.ai to automate trading strategies. All you need to do is plan your trading strategy and let Capitalise.ai execute your plan for you. Additionally, you can gain insights from comprehensive statistics of every trade. You can then edit your trading strategies according to their performance with the click of a button.
Further, this broker supports portfolio diversification by providing a wide range of trading instruments. Some of the trading instruments available on this broker site include forex and CFDs on indices, shares, and commodities. Investors trade these instruments on industry-standard platforms including Trading Station and MetaTrader 4.
Eightcap
Eightcap is a CFDs broker that offers clients more than 800 trading instruments. With this broker, clients can trade CFDs on forex, commodities, indices, shares, and cryptocurrencies. Such a high collection of trading instruments is attractive to traders of all kinds as it allows for diversity.
Additionally, clients of Eightcap can pick and choose the trading platform they wish to use. MetaTrader 4, MetaTrader 5, and WebTrader are all available to use. Additionally, clients on this broker site can use Capitalise.ai to improve their trading experience. Clients can open the library of strategies available and launch them in one click. Better yet, Eightcap has monthly webinars to help get clients more informed on how to use Capitalise.ai. Finally, let's look at the regulatory status of Eightcap. Eightcap is regulated by two top regulators, the ASIC and the FCA. These two regulators have strict rules that companies have to follow. As such, Eightcap has one of the best regulatory standings in the world.
ACY Securities
ACY Securities is a forex and CFDs broker that allows clients to trade forex and CFDs on shares, indices, precious metals, commodities, and ETFs. They trade these assets on various trading platforms including MT4 and MT5. The MetaTrader platforms have superior execution times and come with a plethora of charting and analysis tools.
Additionally, ACY Securities supports the use of Capitalise.ai to test trading strategies and automate their trading. Capitalise.ai continuously monitors the markets 24/7 and provides traders with news and alerts. This ensures that they do not miss out on trading opportunities. The ability to simulate trading scenarios also helps investors polish up their trading strategies. In terms of regulations, ACY Securities is mainly under the supervision of the ASIC. While regulations alone are not enough, it is always a good sign when a company chooses to follow the strict laws of a top-tier regulator like the ASIC.
Final Thoughts on Capitalise.ai Supported Brokers
Using a trading tool to improve one's trading strategy and experience can be a huge advantage. Traders will use anything that gives them an edge in the market. Capitalise.ai is one of the tools that can give traders such an edge. This tool allows investors to automate their strategies using simple English. Additionally, it allows investors to backtest their strategies and even simulate trading scenarios without needing a technical background. As it stands, the tool is completely free but that could change in the future.
Nonetheless, investors still need to couple this trading tool with a forex broker that provides the best trading conditions in the market. Luckily, Capitalise.ai supported brokers are regulated and have reputable backgrounds. On top of that, they provide industry-standard trading conditions to their clients.
Regulated Brokers
Ad Disclosure
?
The table below contains links to 3rd party websites of our top partners from whom we receive compensation at no additional cost to you.