Best ECN Brokers for News Trading
Financial markets are greatly affected by the news. Even weather news can cause a significant shift in market prices. In recent times, we have seen the news about a war and a pandemic greatly affect economies and as such economies. This in turn affects the strength of some countries' currencies causing a shift in the market.
Most seasoned traders understand the significance of staying up to date with news of the world. While you can choose to keep up with the news on your own, some brokers make it convenient for their clients by providing significant news on their sites. Today, we are going to assess some of the best ECN brokers for news trading. Let's do it.
FP Markets
FP Markets is an ECN broker that provides two main resources that help traders in news trading. For starters, the FP Markets research team produces First Light News during the early hours of the European session, ensuring investors have the news they need to start their trading day. Clients can find the First Light News under the company's official Blog, Traders Hub Blog.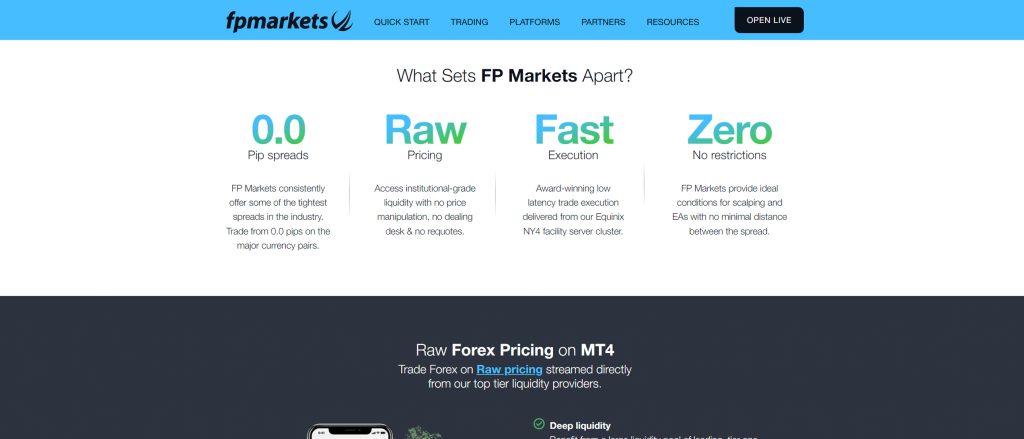 Another important resource for news trading is the Economic Calendar available to all clients of FP Markets. This resource shows major upcoming events that are significant to the market and to traders. It can be holidays or economic events. This helps clients prepare for what is coming down the line. Moreover, they can always look back at previous events and how they affected the market as a way of predicting the future.
Evidently, FP Markets supports the success of its traders in the market. It also supports its clients by availing a plethora of instruments including currency pairs and CFDs on shares, bonds, metals, indices, ETFs, and commodities. Additionally, these instruments are tradeable on great platforms including MT4, MT5, Iress, cTrader, and FP Markets trading App. Further, the spreads on this broker site are low starting at 1.0 pips for major currency pairs on the standard account. Clients can also trade on the Raw account that features spreads starting from 0.0 pips and a commission of $3 per side per lot.
Finally, as we like to only feature regulated brokers, let's look at the regulatory status of FP Markets. The company is authorized by the CySEC, the ASIC, the FSCA, and the FSA.
73.85% of retail CFD accounts lose money
Exness
Launched in 2008, Exness is yet another broker offering an ECN account and supports news trading. Through Trading Central WebTV, clients can watch the latest news directly from the floor of the New York Stock Exchange. The partnership between Exness and Trading Central makes access to financial news much easier for traders.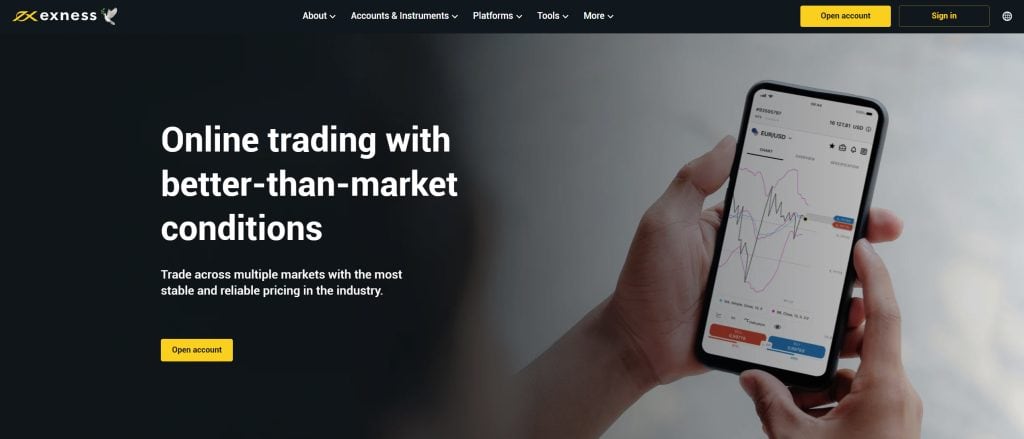 Another feature that supports news trading on Exness is the Economic Calendar. Traders can find this under the tools drop-down menu on the Exness website. As expected, this tool shows future significant events that may affect the market including holidays. This allows clients to have an insight into the future and plan accordingly. These are the two features that make Exness one of the best ECN brokers for news trading.
The collection of trading instruments available for trading on this broker site is pleasing. Clients have access to over 200 assets to invest in. These include trading instruments from 6 main global markets: forex, metals, cryptocurrencies, energies, stocks, and indices. Trading these instruments on the Exness broker site does not incur hefty charges. For example, the spreads are fairly low, starting from 1.0 pips on major currency pairs. The trading platforms available to clients include MetaTrader 4, MetaTrader 5, and WebTerminal.
Today, Exness operates under the supervision of several organizations including the CySEC, the FCA, the FSCA, and the FSC. This regulatory status and its longevity in the market help improve its reputation.
Remember that forex and CFDs available at Exness are leveraged products and can result in the loss of your entire capital. Please ensure you fully understand the risks involved.
IC Markets
Interestingly, IC Markets has also partnered with Trading Central to bring clients trading news via Trading Central WebTV. These news coverages are straight from the floor of the New York Stock Exchange meaning they are current and actionable. With such direct access to news, clients can make moves as soon as new information unfolds.
Moreover, IC Markets also features an economic calendar on its website. This ensures clients stay ahead of some news events like holidays and economic briefings. As such, they can adjust their trading strategies to match upcoming events. The trading platforms available to clients include MT4, MT5, and cTrader.
Particularly, IC Markets allows clients to trade in a variety of global markets. On this broker site, investors have access to assets in the forex, commodities, indices, futures, stocks, and metals markets. In total, there are over 2,200 trading instruments on IC Markets. The spreads for trading forex on this broker sight are reasonable and manageable with major currency pairs having spreads that start from as low as 0.6 pips on the standard account.
On to the regulations of this company. Well, this company has authorization and regulations from various organizations including the CySEC and the ASIC. These two regulations have strict laws that companies have to follow. While regulations alone are not enough, it is a safer bet for investors to trade with regulated brokers.
Pepperstone
On Pepperstone, there is a whole section dedicated to bringing investors market news as they roll out. The news on this page covers any recent and developing event making news trading much easier for traders. This is because they do not have to leave the broker site to find market news. Additionally, Pepperstone avails an economic calendar to its clients. Pepperstone hopes that this tool will help its traders stay ahead of upcoming global events as they plan ahead.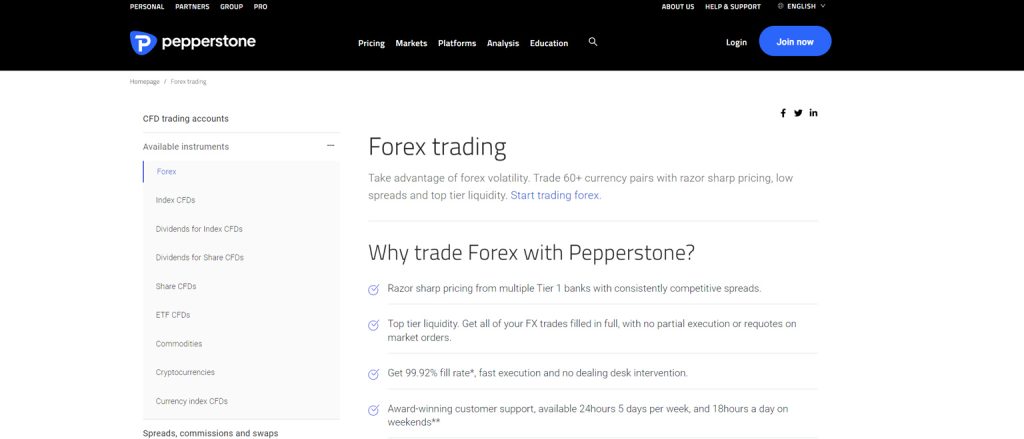 Remarkably, Pepperstone allows traders to invest in over 1,200 CFDs. These fall in six main global markets including forex, indices, commodities, ETFs, shares, and currency indices. This is a great lineup of market instruments that allow investors to greatly diversify their portfolios. Additionally, the company provides multiple trading platforms including MT4, MT5, and cTrader. On top of that, Pepperstone is one of the brokers that support Capitalise.ai, a top trading tool for automated trading.
Further, this broker is regulated by multiple reputable organizations. These include the Financial Conduct Authority (FCA) in the UK, the Federal Financial Supervisory Authority (BaFin) in Germany, and the Australian Securities and Investments Commission (ASIC) in Australia.
Interactive Brokers
Interactive Brokers is a regulated broker that also provides clients with ECN pricing. This broker operates under the supervision and regulation of the CFTC and the SEC, the IIROC, and the ASIC. This regulatory status helps give Interactive Brokers a good reputation among traders. Moreover, this broker has a long history in the forex space while following the rules and regulations of governing bodies.
News trading on this broker site is supported by two main features. Firstly, the company has a news section that brings traders developing events straight onto the broker site. Traders do not have to leave the site to gain insights into market news. Additionally, this broker provides an economic calendar for all upcoming economic and significant economic events.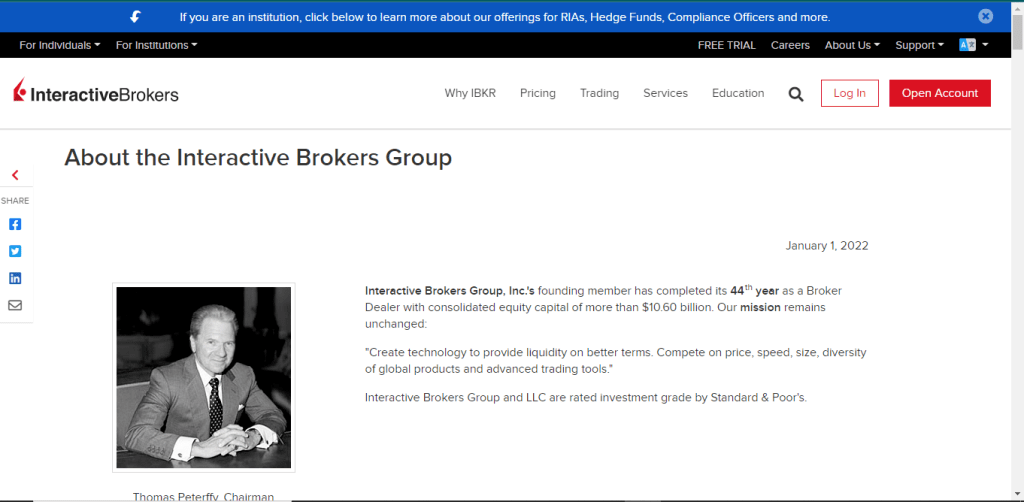 Further, there are a variety of trading instruments available to clients. They can trade CFDs on stocks, options, futures, currencies, cryptocurrencies, US Spot Gold, bonds, and ETFs. These instruments are traded on an industry-standard platform provided by Interactive Brokers itself. Interestingly, Interactive Brokers primarily charges a commission for trading. The commission depends on the market instrument a client is investing in and can range from $16 to $40 per million traded.
Saxo
Saxo Bank runs and operates its subsidiary Saxo Capital Markets which provides brokerage services in 180 countries. This broker allows clients to trade over 40,000 instruments from several global markets including forex, stocks, ETFs, bonds, mutual funds, and cryptocurrencies, among others. Saxo boasts of providing ultra-competitive spreads starting at 0.6 pips on major currency pairs.
Better, Saxo is one of the ECN brokers in the market that supports news trading. On this broker site, clients can easily access the news on the news and research page. Here, clients can read about developing stories in the financial space. This way, they can stay informed and adjust their trading strategies to match trending topics.
Finally, Saxo Capital Markets is regulated by multiple institutions. These include the Financial Conduct Authority (FCA) in the UK, the Australian Securities and Investments Commission (ASIC) in Australia, and the Swiss Financial Market Supervisory Authority (FINMA) in Switzerland. Such strong regulations help win the trust of traders and investors at large.
Final Words on Best ECN Brokers for News Trading
ECN brokers are seen as some of the best brokers in the market as they connect buyers directly to liquidity providers. As a result of this, such brokers can offer cheaper prices and more transparency in the market. Trading with an ECN broker that supports news trading is an advantage on top of that. When brokers provide market news directly on their sites makes it easy for traders. This is because they do not have to leave the site, gather market insights, and then come back to place orders. As such, it can save traders some crucial minutes that can allow them to enter trades earlier.
Nonetheless, traders still need to pick and choose reputable and regulated brokers that suit their needs. While the brokers on this list provide great services, this is by far not an exhaustive list. That is why we always urge our readers to do their own research and select brokers that best serve them.
Regulated Brokers
Ad Disclosure
?
The table below contains links to 3rd party websites of our top partners from whom we receive compensation at no additional cost to you.