Best Crypto Staking Platforms and Sites
When crypto investing is mentioned, the idea that quickly comes to mind is trading digital assets. This means investors buy and sell digital tokens to earn profits. Others buy and hold the digital tokens to sell in the future at a profit.
But did you know you can earn rewards and interest by "hodling" crypto? This is what staking entails.
You might have heard about staking but do not know how or where to start. If you are looking for the best platforms to stake your crypto assets, you have come to the right place. We will explore some of the best staking platforms and sites. But before, let's recap what staking involves, for starters.
What is Staking?
Staking involves locking cryptos in wallets to earn rewards or interests. Validators use these tokens to verify transactions (create new blocks) and generate rewards. The process is known as a proof of stake consensus mechanism. It is akin to mining on proof of work mechanism. But the proof of stake consensus mechanism uses tokens to authenticate transactions.
Investors participate in the staking processes using validator nodes. Alternatively, they can contribute the nodes to a pool where other validators will undertake staking and distribute the rewards. Staking can be a source of passive income. Investors just lock their assets, sit back and wait for rewards. The more assets you lock, the higher the rewards. In essence, staking earnings are like dividends on stocks.
The staking period varies from one month to one year or even longer. The longer the staking period, the higher the annual percentage yield. Long-term investors benefit most especially from compound interest.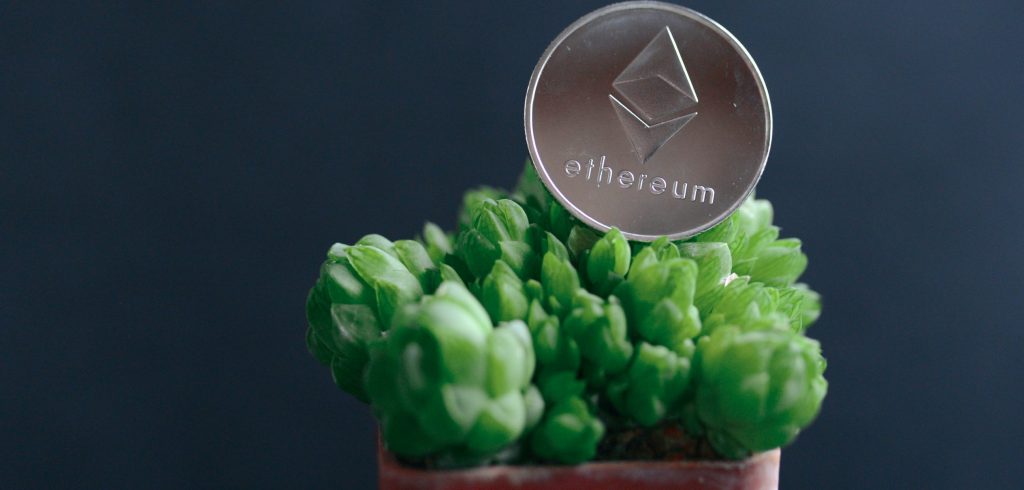 Is Staking Profitable?
Major exchanges have tantalizing returns. For instance, Binance Annual Percentage Yield (APY) can go up to 30%. This explains why investors have locked 19 million BNB on the Binance smart chain worth $7.5 billion. Total locked value, which represents total assets staked on DeFi protocols, is worth $69.43 billion.
You are probably wondering which virtual currencies will give you sweet returns on investment. Some of the most popular cryptocurrencies to stake include Polygon, Ethereum, Cardano, Tron, Chainlink, Polkadot and Stablecoins.
Now let's get to the juicy part. Where can you stake cryptocurrencies? Various platforms that support staking include:
Crypto exchange platforms
Stake as a service platform
Decentralize finance platforms
Wallets or staking pools.
Below are some of the top staking platforms and sites.
eToro
Etoro is a well-established trading platform founded in 2007. It appeals to traders due to top-notch analytical trading tools and low trading costs. But one of the distinctive features is the copy trading feature that allows newbies to copy successful trades from highly seasoned traders.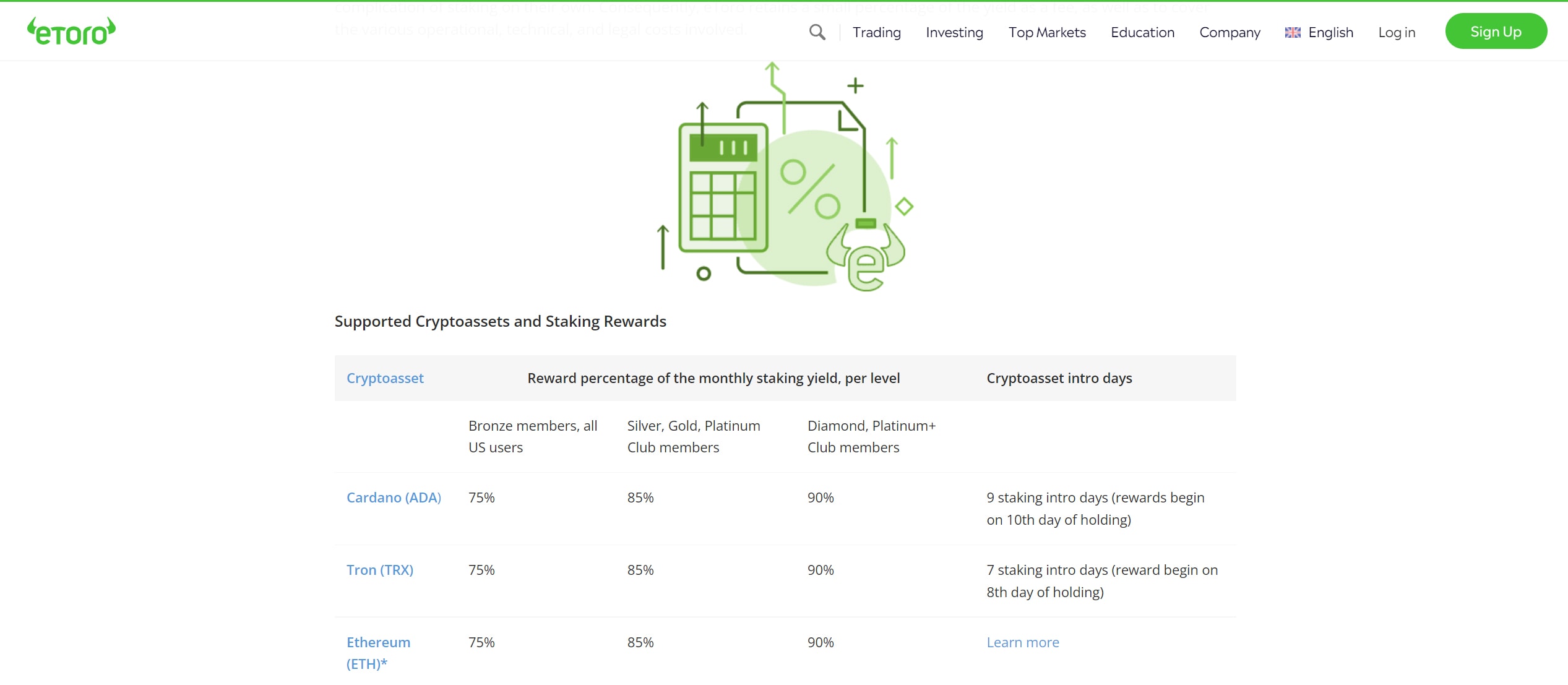 Etoro has a portal that allows readers to stake their crypto holdings. It has automated staking rewards for Ethereum, Tron, and Cardano. The location and membership status determine the profits. Bronze-level investors receive up to 75% of the monthly rewards, while diamond members get up to 90% of the monthly staking yields.
The staking platform allows you to deposit through debit/credit cards, bank wires, and PayPal-like e-wallets free of charge. The minimum deposit amount is $50. The staking rewards and payouts are among the best in the market, going up to 90% of the monthly staking yield. Staking on Etoro means investing in one of the highly regulated ecosystems with licenses from the ASIC and CySEC.
Cryptoasset investing is unregulated in some EU countries and the UK.
No consumer protection. Your capital is at risk.
Binance
Binance is known for listing digital currencies for trading. But did you know you can stake in over 100 digital coins on the platform? And you can stake for as less as ten days. However, if you want a higher yield, you can extend the period to 60 or 90 days. For instance, ASTR attracts 59% interest in 30 days and 69% for 90 days. But the standardized annualized interest rate can go as high as 150%. This means that you get massive incomes for locking assets in a very short time.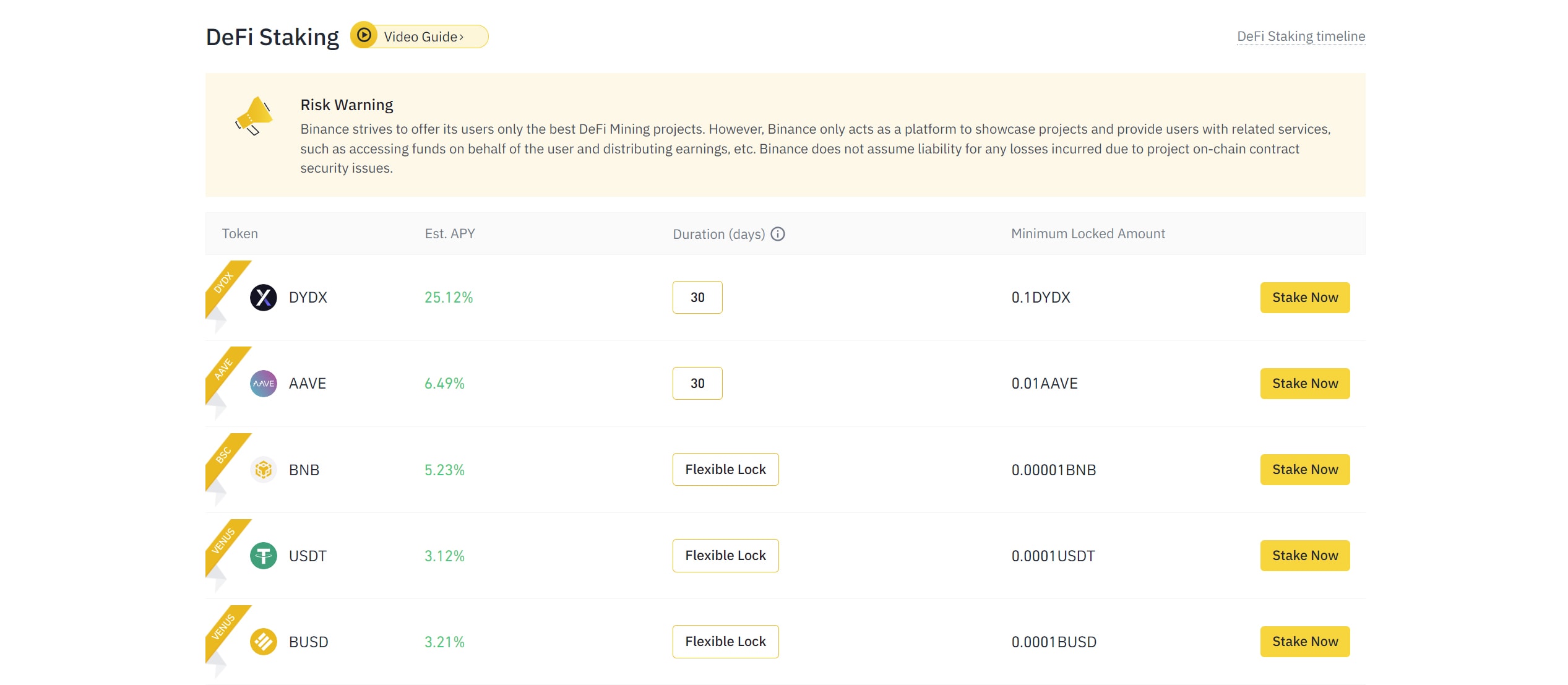 The staking pools have a maximum allocation, which gets taken up swiftly. You should therefore grab the opportunities immediately when they appear. Binance gives you an opportunity to stake, trade, and earn interest on cryptic saving accounts for your idle cryptos.
Your Capital is at risk. (When Trading, does not relate to staking)
Crypto.com
Crypto.com is a cryptocurrency exchange platform that enables investors to stake, trade, and invest in Non-fungible tokens and over 150 cryptocurrencies. Investors who hold CRO, Crypto.com native currency, benefit from staking rewards. It uses the Crypto Earn Facility for staking services.
The crypt exchange prioritizes safety and security by using whitelisting and multi-factor authentication. Besides top-notch security measures, it also conducts compliance monitoring and keeps customer deposits in offline cold storage. Moreover, your investment is protected by insurance or holding of up to $250000.
Cryptco.com lets you earn up to 14% for stable coins and 8.5% for Ethereum and bitcoin. There are more than 40 cryptocurrencies and stable coins to choose from. You don't have to wait forever to receive your profits. Crypto.com pays rewards weekly.
The platform's fees are competitive. CRO, the platform's native cryptocurrency, earns higher APYs. The staking platform uses deposits to create a fund for offering digital assets loans. It then pays investors interests.
Aqru
Aqru gives up to 12% annual interest. The platform has a user-friendly website and mobile apps suitable for newbies and seasoned users. It supports various assets, including fiat currencies and cryptocurrencies. This means you can opt to deposit using Euro, USD, Bitcoin, or Ethereum.
Supported stablecoin attracts the highest income at 12% APY. Ethereum and bitcoin also have attractive yields of 7% annually. These great interest rates make. Better still, there are no withdrawal charges for fiat currencies. However, crypto withdrawals attract a $20 fee; hence not suitable for withdrawing small amounts of cryptocurrencies.
The platform accepts both corporate and individual traders. You only need to make a minimum deposit of just €100. It generates income by lending crypto to wholesale, retail, and institutional investors.
The worry of most crypto investors is sinking investment to fraudulent players. The good news is that Aqru is a regulated Virtual assets service provider (VASp) under Lithuania's legal standards and regulations. They have partnered with Fireblock, a top crypto wallet infrastructure provider, to maintain a high level of security. A $30 million policy is the last line of defense to compensate investors if hackers make away with their assets. You can rest assured that your money is safe and secure.
Blockfi
Blockfi boasts of a million clients and has distributed over $700 million in crypto interests and rewards. It has more than a dozen crypto assets to invest in. The interest rates vary depending on crypto assets which are divided into tiers. Bitcoin rakes in up to 4.5% APY while Ethereum's annual interest is. 5%. USDC attracts 5% APY, while DOT has an even higher rate of 9.5%. AVAX earns the highest interest at 10%.
Another Blockfi appealing feature is crypto loans that use bitcoin holdings as collateral. You can borrow money at a 4.55 APR, which is relatively low compared to financial institutions' charges. In addition, INVESTORS get a platform to trade, buy and sell a myriad of crypto assets at competitive rates.
Besides staking, clients endear the platform thanks to its top-notch support and client services. It boasts a rock-solid foundation with backing from fintech giants like Coinbase ventures, Vlar ventures Winklevoss, and Morgan Creek capital management.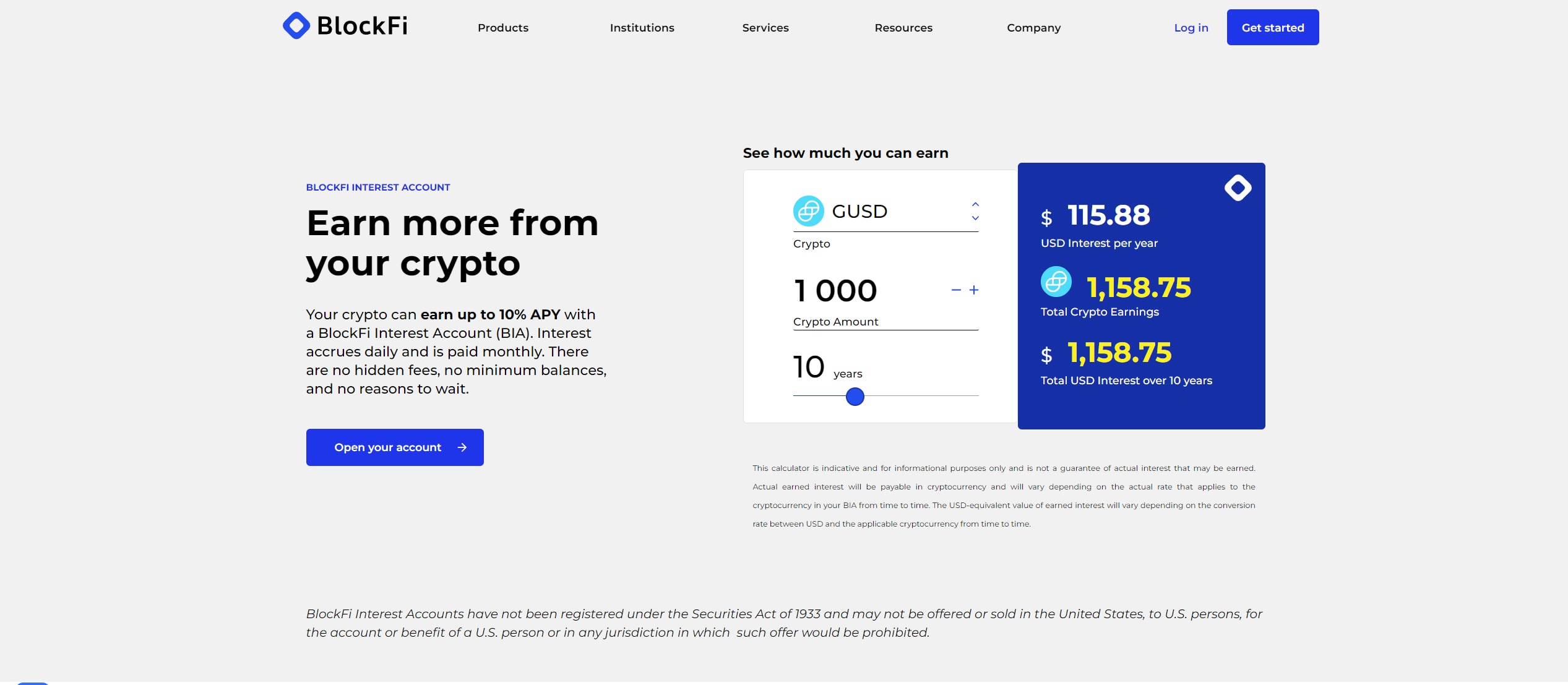 Kraken
Kraken IS A San Francisco-based crypto exchange that enables investors to exchange cryptocurrency for USD dollars and other cryptos. It was founded in 2011 but has made inroads to reach 176 counties. It has a simple and user-friendly interface for tracking cryptocurrencies and educational and informational resources to help traders navigate the market.
The crypto exchange enables investors to grow crypto holding which would otherwise be sitting on a wallet. There are a plethora of digital assets to stake with varying annual interests. For instance, Algorand rakes in up to 1% yearly rewards while Bitcoin earns at least 0.25%. Ethereum has even a higher interest of up to 7%. Cosmos take benefits a notch higher with 12% APY. Kava gives the highest returns with an APY of a whopping 23%.
In general, there are 13 assets to stake with zero fees. Kraken has acquired Staked platform to boost its staking services.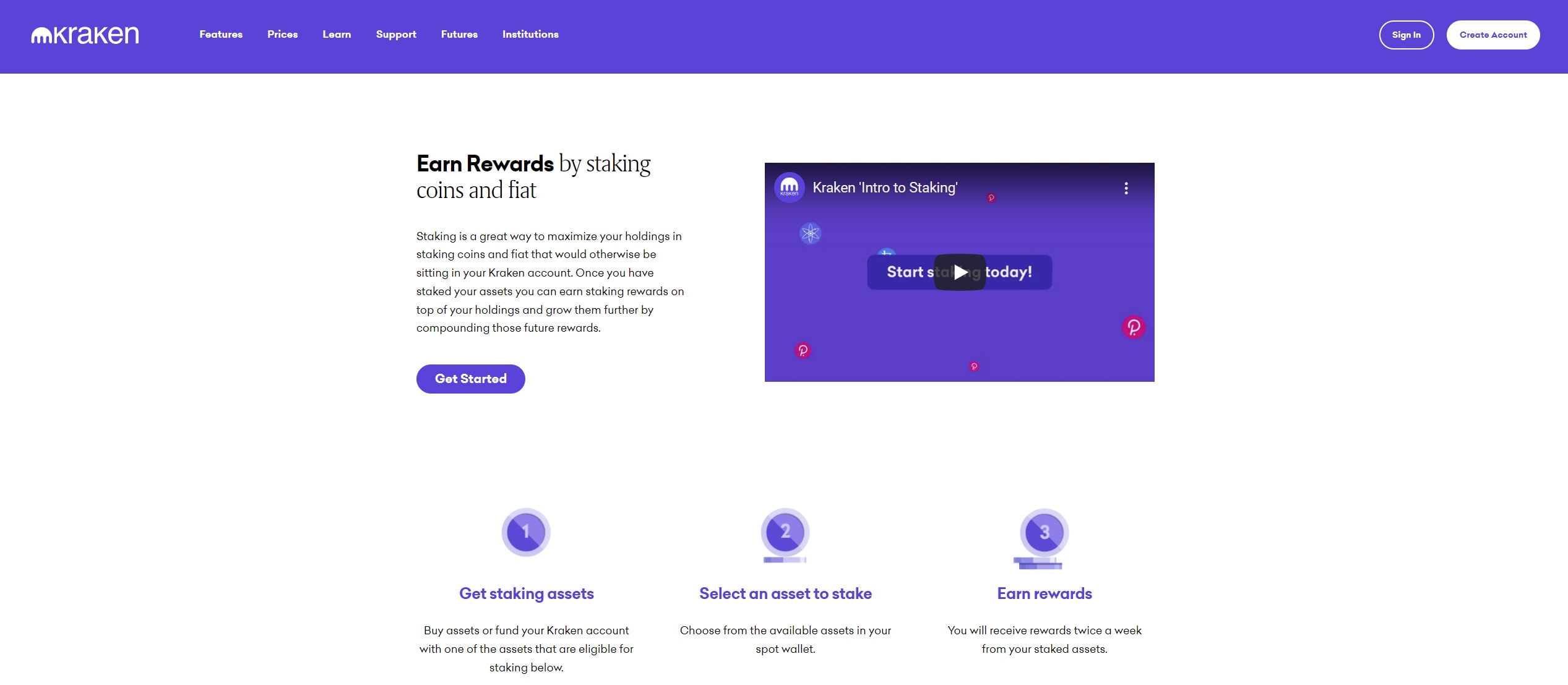 Coinbase
Coinbase is one of the biggest and most popular platforms for buying and selling digital assets. Besides user-friendly features, it is highly regulated. Coinbase allows users to stake in six digital currencies: Algorand, Ethereum, Dai, Tezos, USDC, and Cosmos. USDC has the lowest APYU at 0.15%, while Cosmos attracts the highest yield of 5%. And you don't have to buy cryptos to take on the platforms. Coinbase allows you to transfer digital assets from external wallets. Simply buy using credit or debit cards. However, keep in mind that the card's payment method has a 4% fee. Coinbase is a platform you should consider if you are just starting.
Final Words on the best Crypto Staking Platforms and Sites
Staking means setting aside some of your cryptos to receive rewards after the sting period. The staking rewards vary depending on cryptocurrency and staking platforms. The list above gives you an idea of some of the best staking platforms with great annual interests. Do your due diligence and choose a platform with rewards that match your investment goals.
Regulated Brokers
Ad Disclosure
?
The table below contains links to 3rd party websites of our top partners from whom we receive compensation at no additional cost to you.