December 12, 2017
Posted by:

Michael

Category:

Cryptocurrency trading
Day trading cryptocurrencies greatly differ from a typical long-term investing. And one can not approach it the same. Traders who focus on day trading can earn significantly more since their profits are locked in daily. That means gains are made on prior gains (in addition to a first investment). So theoretically speaking a trading account can balloon tremendously. As a day trader, a big initial investment is not required from you in order to make a good profit. In case of a long-term investing you, however, need to put aside some serious money to make at least something from your investment. Many investors also like the idea to get into a trade, get out and at the end of the day not owning any cryptocurrency they have traded, just a good old fiat currency like dollars or euros. Owing to many traders rather choose to day trade cryptocurrencies. That being said, the risks associated with day trading are rather high, to minimize them we have created the following guide.
1. Open a brokerage account
I don't care what you hear somewhere, but you will always learn the most from practice. That is the truth. And in order to gain experience in day trading cryptocurrencies, you have to open a trading account. It does not have to be a real account if you don't have a trading background, a free demo account will suffice. If you have no idea how to find a solid and reliable company for day trading cryptocurrencies, you can check our article "How to choose crypto broker" where we talk about the most important features that a broker should have. We also compare the most recognised brokers in the industry and their offer so you could pick a company depending on your needs.
2. Learn about day trading cryptocurrencies as much as possible
The cryptocurrency market is probably the most volatile market that there is. Which makes it an ideal place for day trading if one knows how to do it correctly. If we are to understand how it behaves in certain situations we need to start from the basics. We have already created a great cryptocurrency guide for beginners where we summed up the most important features of the market. But you should not just end up only with this guide, there are many other great resources about day trading cryptocurrencies.
3. As a day trader follow the news – Always
As a day trader, the news is a sacred thing for you that you have to monitor and act upon. There are many great resources that write about everything that is related to cryptocurrencies and that could affect their development. I personally use cryptocoinsnews.com and coindesk.com. Both these portals go to great lengths to provide a comprehensive and an up to date information about the crypto market. I believe that there also other great resources about cryptocurrencies, I recommend picking at least two such portals (that write about cryptocurrencies in general) and to visit them regularly. Once you have these websites selected, decide which cryptocurrency you want to day trade. Is it Bitcoin? If that's so you might want to bookmark news.bitcoin.com. Proceed with the same strategy with other cryptocurrencies and find at least one resource that focuses explicitly on your cryptocurrency.
4. Forums – Do not avoid them
Forums are a great place where individual traders and investors meet to freely talk about their trades. Being a member of such community will not only help you to learn from mistakes of others but it will also help you to understand how other see particular trading opportunities. Thoughts and ideas of others might open your eyes from making a stupid decision. One of the most recognised forums is Bitcointalk.org, as the domain name indicates, it is mainly a place for discussions about Bitcoin. But other cryptocurrencies are also covered in different sections of the forum. Very popular is also Reddit forum and its subsection that focuses on cryptocurrencies reddit.com/r/CryptoCurrency/. Here you will find crypto news and open discussions on all subjects related to cryptocurrencies.
5. Entry and exit points – the key to a successful day trading
Day trading is all about getting into a trade in the best possible time when the price of cryptocurrency is low and getting out before it is about to drop. We now know the theory, but what about the practice? Well, it should be no surprise that at the foundation of everything is a solid technical analysis. Each and every trade should be created for a specific analytical reason – i.e. we have identified resistance and support level or we have a clear trend. Once you figure out the potential entry and exit points, do not forget to monitor fundamental news that might shift the price.
6. Time to dump? It might be too soon!
The rule of supply and demand is extremely important and not only in the cryptocurrency market. The price of any cryptocurrency you pick is always very closely linked to the amount of circulating currency. That means if the market capitalization increases so do the price of a cryptocurrency, eventually. So basically the more market cap grows the more grows the price of a cryptocurrency (usually directly proportional). Here is an example of a Litecoin graph so I could prove this theory in practice.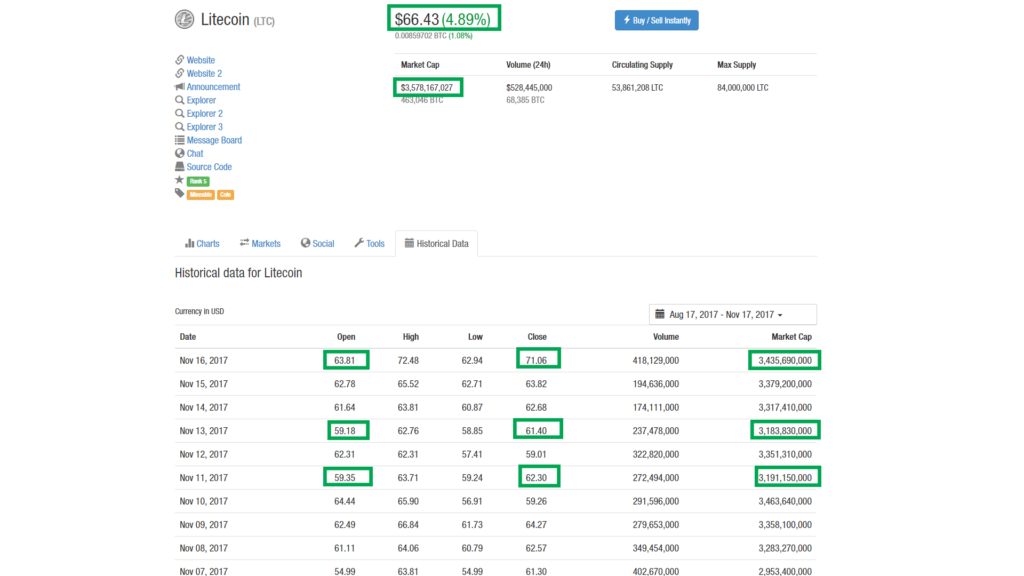 Did you notice that when the market cap on two different days was almost the same so was the price? This might help you to understand what to expect within the day. Check this information before you start again selling in panic when the price drops at a considerably low amount. A very good idea is to create patterns where you write down a market cap and a probable range of a cryptocurrency price. This way you will know where the market is probably heading. And if it's the right time for you to sell or whether the price will bounce back again (if the market cap is high and only the value dropped). You can check the market cap and a price of all cryptocurrencies for each day at coinmarketcap.com, here select a coin you want to monitor and click on the tab "historical data".
6. Set up a stop loss and a take profit
Stop loss is a must for every cryptocurrency day trader. And one should not even trade without it. With the volatility of the cryptocurrency market, it would be basically a suicide mission. That being said, stop loss have to be set up properly so it would not trigger all the time. Think about the lowest price for which you are willing to hold a cryptocurrency, hoping it will bounce back up again. Take profit allows you to lock in the profit at a good price before it goes again down.