Cryptocurrency Exchanges That Accept PayPal
As the mass adoption of cryptocurrencies grows, it is becoming easier to purchase crypto on exchanges. One of the easiest and safest ways to do this is through PayPal. A lot of people already have PayPal accounts which makes the process easier. Furthermore, PayPal processes payments much faster compared to other alternatives. Bank transfers and Credit/Debit card transfers can take up to 3-5 business days to process. This makes PayPal a much-preferred payment method.
The question now is, which cryptocurrency exchanges accept PayPal? And how do you buy crypto using Paypal on these exchanges? Here are some of the best places to buy cryptocurrency using PayPal.
eToro
eToro is most likely the best exchange to buy cryptocurrency using PayPal. eToro was one of the first exchanges to accept Paypal deposits. As such, the company has streamlined the process to make it seamless for the users. Even better, the platform offers a wide selection of cryptocurrencies to choose from. So how do you buy crypto using PayPal?
How to Purchase Crypto on eToro Using PayPal
To deposit funds to your eToro account from PayPal, just click on the Deposit Funds screen. From there, just click on PayPal as your preferred method of payment and enter the amount. The platform will then redirect you to a new page to log into your PayPal account. Once you log in, review the transaction and click Pay. Within minutes, your account will receive the funds and you can now buy crypto.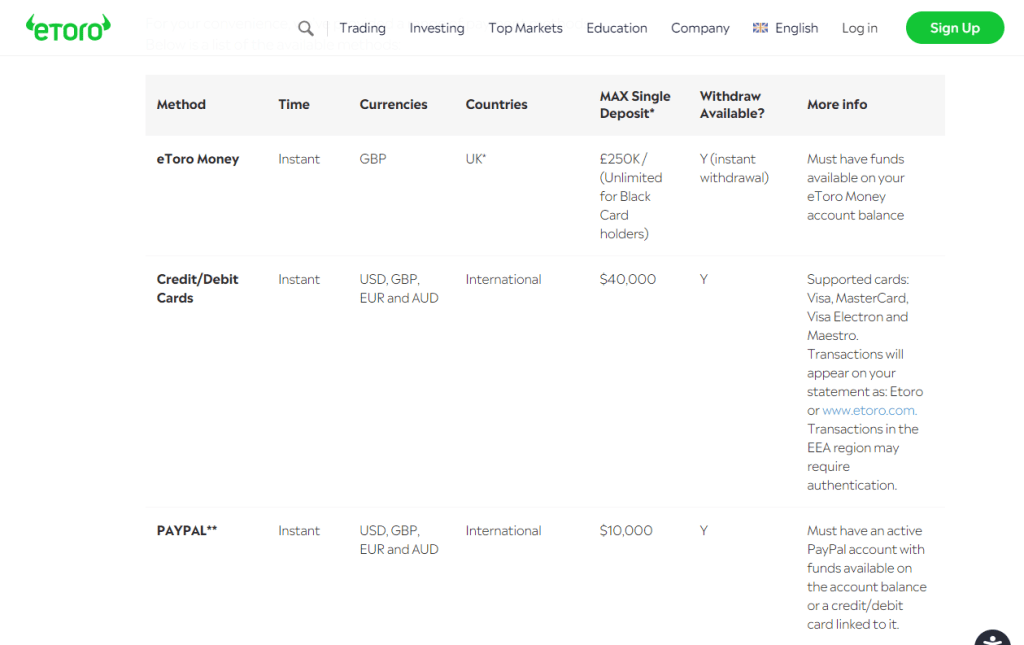 Evidently, this is one of the easiest deposit methods on cryptocurrency exchanges. Even better, eToro does not charge any fees when you deposit in US Dollars. So if you already have US dollars on your PayPal account, there will be no charges on your deposit. The minimum deposit you can make in most countries is $50. However, if you are in the US and the UK you can make a deposit as low as $10.
Is eToro Safe?
eToro is a safe platform for all levels of traders. The company has authorization and regulation from several regulators namely, ASIC, CySec and FCA. This is proof enough that eToro remains committed to protecting traders' funds. Furthermore, eToro stores the majority of cryptocurrency in cold wallets. The company only keeps some crypto in hot wallets for liquidity purposes. Additionally, all payments made to eToro are SSL encrypted making them secure and private. These are some of the reasons that make eToro one of the best cryptocurrency exchanges and why it has been ranked by our site as one of the best European Brokers.
** PayPal is not available in the following countries: Algeria, American Samoa, Antigua and Barbuda, Argentina, Aruba, Belgium, Belize, Bermuda, Bolivia, Brazil, Cayman Islands, Colombia, Costa Rica, Dominica, Dominican Republic, Ecuador, El Salvador, Falkland Islands, French Guiana, Guam, Honduras, India, Malaysia, Mayotte, Morocco, Netherlands Antilles, Northern Marianas, Paraguay, Peru, Puerto Rico, Reunion Island, Saint Lucia, Saudi Arabia, United Kingdom and Virgin Islands. The following countries are not available for first time deposit using this service: Romania, Slovakia, Denmark, Bulgaria, Finland, Hungary.
Coinbase
Coinbase is yet another cryptocurrency exchange that accepts PayPal as a payment method. To do this, you have to link your Paypal account to your Coinbase account. You can only do this once you complete the KYC (Know Your Customer) process on Coinbase. Additionally, if your PayPal email does not match the one on Coinbase, you will need to perform 2-factor authentication.
How to Buy Crypto Using Paypal on Coinbase
To do this, you first select the cryptocurrency that you want to purchase. Then select Paypal as your payment method under Add a Payment Method. Coinbase will then redirect you to Paypal's login page. Once you are logged in, you can purchase crypto worth up to $25,000 a day. However, you cannot do this from your PayPal balance. You can only pay for the transaction using a Debit/Credit card connected to your PayPal.
Unfortunately, only US citizens can buy cryptocurrency using PayPal on Coinbase. All other users can only use PayPal to cash out or sell crypto. For this reason, Coinbase might not be the best option for many users. Furthermore, the platform charges 4% fees on PayPal purchases.
Paxful
Paxful is one of the major peer-to-peer cryptocurrency exchanges. Paxful is also one of the cryptocurrency exchanges that accept PayPal. To purchase crypto using PayPal, you first need to find a seller that accepts PayPal. Here is how you do it.
How to Buy Crypto Using Paypal on Paxful
You will first need to log into your Paxful account. Once there, go to the buy section and select Paypal as your payment option. Here, you will find many offers accepting PayPal as the payment option. All you have to do is find an offer that matches your price range.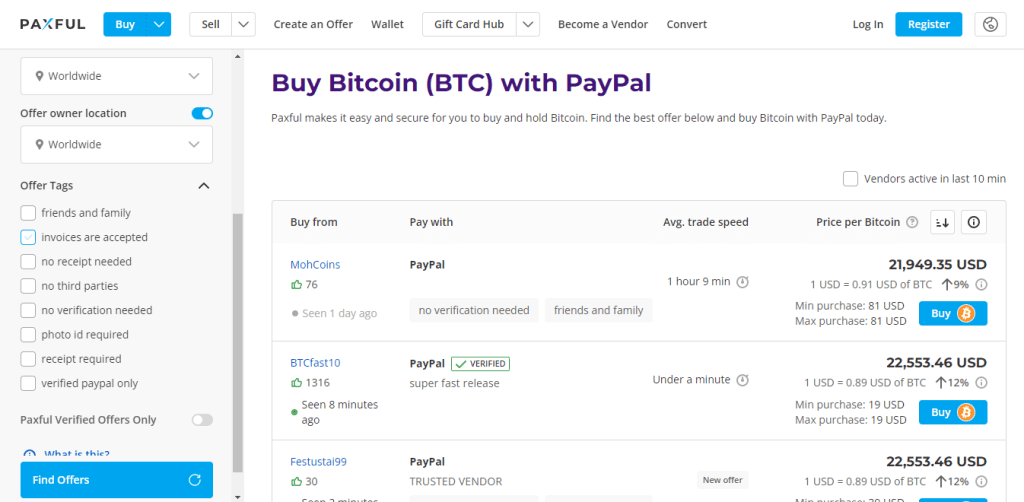 If you don't find one, you can make your own buy offer to attract willing sellers. Once you find a seller that matches what you are looking for, Paxful will facilitate the transaction using escrow. While this process seems smooth, there are some downsides.
There is always the risk of scammers when trading on peer-to-peer exchanges. You might easily lose your funds to people looking to earn a quick buck. This is one reason traders shy away from such exchanges. Always wait for the seller to release the crypto to escrow before you make the payment. Still, Paxful lacks a wide variety of cryptocurrencies to choose from. You can only buy Bitcoin and Ethereum on this platform. The charges on Paxful are also high making it hard to recommend.
LocalBitcoins
LocalBitcoins is yet another cryptocurrency exchange that supports PayPal as a payment option. However, this is another peer-to-peer crypto exchange. Therefore, you will have to find a seller willing to accept PayPal payments. This is how you do it.
How to Buy Crypto Using Paypal on LocalBitcoins
First, you need to log into your LocalBitcoins account. Once you are there, click on the Buy section and select PayPal as your preferred payment option. Browse through the offers until you find one that fits your price range. Then, you initiate the transaction with the seller. However, make sure to wait for the seller to release the crypto to escrow before you pay.
Just like Paxful, there is the added risk of dealing with shady sellers. You might end up losing your funds. Additionally, you can only buy Bitcoin on LocalBitcoins. The fees on LocalBitcoins are also very high.
Final Thoughts
These are just a few of the cryptocurrency exchanges that accept PayPal as a payment option. All the platforms have their upsides and downsides. However, eToro stands out as the best option among these. The simplicity and low charges of PayPal transactions makes it easy to recommend. Furthermore, eToro has many other upsides that will attract traders of all levels.
Regulated Brokers
Ad Disclosure
?
The table below contains links to 3rd party websites of our top partners from whom we receive compensation at no additional cost to you.