Can I Open Brokerage Account With ITIN Number?
Opening a brokerage account is an easy process; that's the general expectation. Simply fill in your personal details, and once the broker verifies supporting documents, you are good to go. But the process gets quite complicated when you are a non-citizen or non-permanent resident. Some brokerage firms restrict membership to US citizens.
The good news is that the Department of homeland security allows non-citizens legally authorized to work or reside in the US to get a social security number. But you could encounter more problems if you are unqualified to apply for the SSN (Social Security number). Fortunately, this is where the Individual Taxpayer Identification Number (ITIN) comes in handy.
Who Can Use ITIN Number
ITIN enables non-citizens or non-permanent residents to open an account with an online broker and buy and sell various financial instruments online. Essentially, the number serves non-citizens and non-residents who don't qualify for the SSN. It, therefore, makes sense if you are an undocumented immigrant without legal status to reside in the US and don't meet SSN eligibility.
Remember, trading financial instruments involves paying taxes. The Financial Industry Regulatory Authority (FSCA) and Security and Exchange Commission (SEC) mandate brokerage firms to report income from trading activities to the IRS. ITIN enables undocumented immigrants to file and pay taxes efficiently. It also helps brokerage firms verify the account application to prevent criminals from accessing trading accounts.
How to Apply for ITIN
The nine-digit ITIN application requires documents showing your foreign status and original proof of identity. In addition, you should provide the IRS with Form W-7 or use an IRS acceptance agent.
Fill in a Form W-7. Instructions are available in English and Spanish.
Unexpired Proof of identity documents that contain your photo
Proof of association with a foreign country
Well-filled federal tax return.
Unexpired passport of your country of origin - serves the dual purposes of photographic proof of identity and showing association with your country.
Remember you must provide original documents. With an ITIN in hand, you can proceed to apply for a brokerage account and a bank account. Depending on the brokerage firm, you might be required to provide additional financial information, employment status, and government issues identification such as a passport or driving license.
With an ITIN, you access US brokers and US-listed financial instruments. When choosing a suitable account, you will need to indicate whether you want to use a cash or margin account and whether a third party will trade on your behalf.
Perhaps the question lingering in your mind is, which brokers accept ITIN?
Here are some of the top brokers that accept ITIN.
Forex.com
Forex.com is a brokerage firm that offers reliable pricing, superior execution, and transparency. The optimized trading platform also has a global research team that monitors the market actively and provides traders with analysis and insight to help them enhance their trading experience. You get guides, articles, and even videos to help you expand your knowledge of currency trading and technical analysis.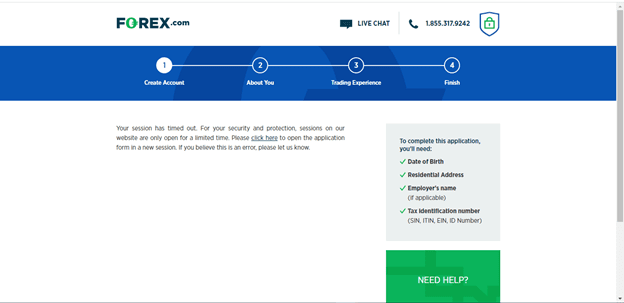 The platforms boast over 500,000 users, with its parent, the StoneX Group Inc, listed on the New York Stock Exchange. To open a Forex.com trading account, you need a national identification card, license, or passport. Additionally, you must submit an address confirmation such as a council tax bill, utility bill, valid driving license or a bank, and credit or debit card statement. The company can ask for additional documents during registration and periodical reviews.
Essentially, the first step is to fill in your personal information. To complete this information, you will need to indicate your date of birth, employer's name, and residential address. In addition, you need a tax identification number. The good news is that Forex.com accepts ITIN, ID number, EIN, and SIN.
All trading involves risk. Only risk capital you're prepared to lose.
Oanda
Oanda is an award-winning trading platform. To enjoy the platform's benefits, you need to open an account by completing three steps.
Complete the application by filling in personal details
Verify your identity
Fund your account
It is worth noting that the platform only accepts US legal residents. This means they ask for proof of identity and address. Therefore, you must be ready to avail your driving license, which acts as proof of identity and address. Alternatively, you can use a government-issued passport or ID card, which acts as proof of identity but should accompany proof of address documents such as a bank statement or utility bill with your name and address.
The scanned document should be valid at the date of application. When filling in the customer application forms, you must provide your social security or Tax ID number. If you don't have one, you can always use your ITIN. Once the documents are verified, you can fund your account and start trading.
All trading involves risk. Only risk capital you're prepared to lose.
IG Group
IG Group is a popular trading account. It doesn't require maintaining a minimum account balance, and you benefit from the low commission, tight spread, and low margins. The platform gives numerous platform options, including web-based, mobile applications, and other superior applications like MT4.
Moreover, IG Group offers reliable executions and access to over 17000 global markets. You also benefit from research and analysis, free educational videos, and expert charting tools. The trading platform is licensed and regulated by ten top financial institutions, including FCA, BaFin, FSCA, CySEC, and FINMA.
To register an account, you only need to complete three important steps.
Fill in the simple form.
Identity verification
Fund your account and start trading
But before you start trading, you will need to verify your account by submitting copies of:
Passport or driving license
Six months' Bank statements, credit card, or utility bill
When filling out the application form, US citizens and tax residents are required to enter the Taxpayer Identification Number. However, you can use ITIN if you are a non-US citizen.
Schwab.com
Schwab.com's trading platform enables investors to buy and sell options, bonds, stocks, and ETFs. It offers unique trading features, such as personalized indexing and StreetSmart Edge. It also comes with a security guarantee covering full losses from unauthorized activities.
Various investment tools include mutual funds, money markets funds, exchange-traded funds, and stocks. Moreover, you get online research tools. All these features come at zero fees.
You can open an account online by phone or physically in their over 300 branches. But the process is pretty simple. Simply choose an account type, complete the application and fund your account to start investing.
To open a trading account with Schwab, you need a tax ID number and social security number. This is where the residents fill in the social security number. If you don't have one, you can always use an ITIN. You will also need to submit a passport or government ID.
The company also requires proof of residency, such as the utility bill and your employer's name and mailing address.
TD Ameritrade
Designed with an intuitive, powerful platform, TD Ameritrade is a commission-free trading platform that provides innovative tools to help you make informed training decisions. It has multiple trading markets, including the forex, ETFs, mutual funds, and futures, to give you a wider range of trading opportunities and help diversify your trading portfolio.
TD Ameritrade also comes with an AI-powered educational tool with content tailored to suit your trading needs and goals. Other benefits include numerous account types to suit your financial goals. For instance, you can choose a standard account, margin trading account, educational account, retirement account, or specialty account. You can also opt to open an individual or joint account.
Opening an individual account requires social security or ITIN. Additionally, Non-permanent residents or US citizens are required to submit a foreign tax ID, passport, and VISA number. What's more, the account application process requires your employer's name, phone number, and address.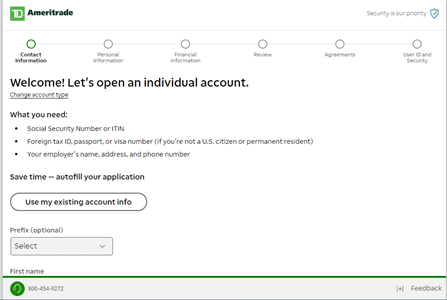 ATC Brokers
ATC Broker is one of the leading STP brokers boasting great leverage, fast trades, and high liquidity. It comes with an ECN platform for an optimal trading environment. In addition, it has a non-dealing agency model to maintain a neutral trading environment and eliminate conflicts of interest that would negatively affect the clients.
The CIMA regulated platform offers a direct API order execution, allowing traders to participate as makers and takers. The broker gives you access to CFD, metal, and FX markets from one account. It also comes with bells and whistles to enhance your trading experience, including the depth of the market, which shows the number of contracts available at different price levels to enable investors to trade efficiently.
Like any other account, you need to fill in your account holder identification, including names and addresses. The next step is a declaration of US citizenship for tax purposes. However, the platform allows non-US tax residents to use the ITIN number.
A final note on opening a brokerage account with an ITIN number
US-based brokers offer access to a wide range of American financial instruments. However, some restrict membership to US citizens and residents, making it hard for non-citizens or no permanent residents to access these accounts. Luckily, some brokers accept ITIN for non-residents who don't have a Social security number. This guide lists some of the top brokers that accept ITIN. You can choose one that suits your trading style and preferences. Remember to use a tested trading strategy to boost your trading results.
Regulated Brokers
Ad Disclosure
?
The table below contains links to 3rd party websites of our top partners from whom we receive compensation at no additional cost to you.