Stock Apps That Accept ITIN
Many of the top-performing companies are based in the United States. It also follows that many brokers listing these companies are domiciled in the same country. The US requires that you provide your Social Security Number during sign-up. This poses a challenge to traders who do not have the Social Security Number.
Luckily, some brokers allow you to register using an individual taxpayer identification number (ITIN) if you don't have a social number. And today, we will look at some of the TOP Stock Apps that accept ITIN. The Internal Revenue Service (IRS) provides the ITIN. You only need to give the IRS the tax proof, foreign status documents, tax return, and W-7.
What is ITIN
The ITIN number covers the legal aspects of trading by ensuring that you are protected for later tax purposes. It is required under federal law to verify you and prevent bad guys from laundering money on the trading apps. The IRS issues the ITIN for tax laws administration. It requires that you fill in the form W-7 submitting your true identity and foreign status. The nine-digit number is available for resident aliens and non-residents.
If you are an undocumented immigrant, non-citizen or non-permanent resident, and you don't have an SSN, you should not worry. ITIN will work for you. Now, which stock apps allow you to register using ITIN? Below are some leading brokers.
eToro
The eToro stock app allows you to invest at a zero commission in myriad assets, including cryptocurrencies, ETFs and over 2 000 stocks. All stocks can be purchased as fractions. eToro aims to provide traders with a better trading environment by offering a social investing platform. Investors can diversify their portfolios, discuss strategies and share ideas with millions of other traders. By joining the conversation, you get an opportunity to grow your trading confidence by building connections. The best part is if you find traders you believe in, you can copy or replicate their trades in real time.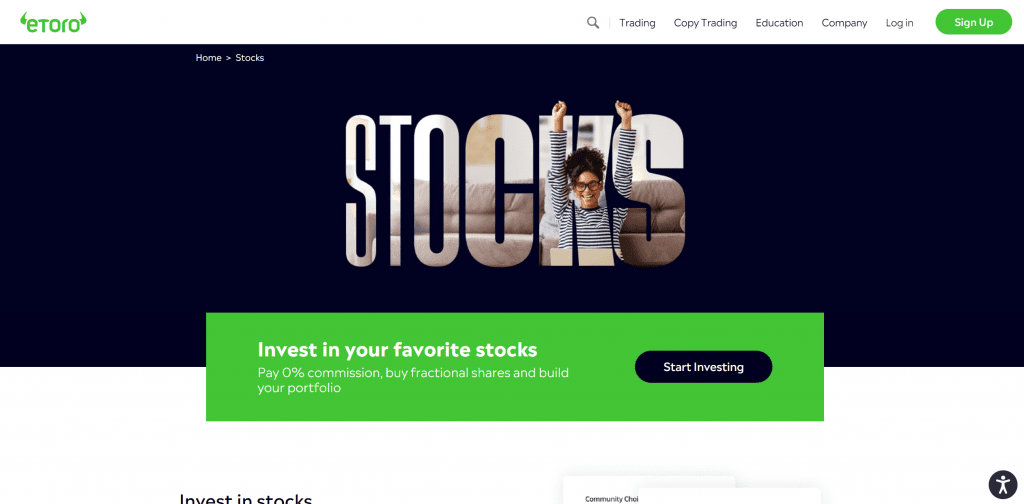 Etoro is available in over 140 countries, including most parts of the US. The minimum deposit in the US is set at as little as $50. However, you must verify your identity and provide proof of address and tax identification number of your tax residency. If you are a non-permanent resident without an SSN,
you can use ITIN.
TD Ameritrade
TD Ameritrade is reputable for offering zero commissions stock trading. You can also trade options when approved. But you can also take advantage of other trading instruments such as bonds, exchange-traded funds, and mutual funds to diversify your portfolio. While US exchange-listed stocks, mutual funds, and ETFs listed have a $0 commission, options attract a $0.65 fee per contract. However, there are no minimum balances or platform fees.
To open an account with Ameritrade, you need to complete a quick form that takes a few minutes and provide a social security number. If you are a non-citizen or non-permanent resident, you will need to provide a passport and foreign tax id. The good news is that Ameritrade accepts the ITIN number.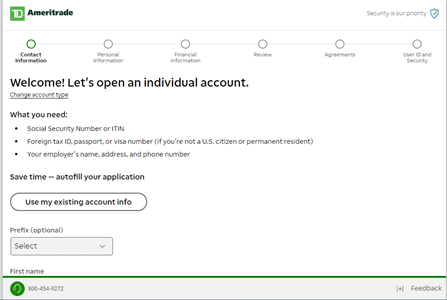 Charles Schwab International
With a market experience spanning over 40 years, Charles Schwab offers intuitive tools and personalized support. As a trader, there are thousands of tools and content to take advantage of to track your assets and help achieve your financial goals. Besides stocks, the broker offers investment products such as exchange-traded funds, ETFs, and options. Essentially, you get access to a wide range of trading and investment choices in the US market at some of the lowest pricing.
This means that you can trade the listed stocks online at zero commission with real-time analysis and analysis from top professionals. You will need social security or tax ID to open an account. The tax identification number can be an ITIN, SSN, or Employer identification number (EIN). You must also submit a passport or government ID and a recent utility bill.
While the broker has no minimum balance requirement, the minimum initial deposit is relatively high at $25 0000.
Interactive Brokers
The interactive broker boasts a collection of awards from Benzinga and Barons. It offers stock trading services to traders spread across 33 countries. IB Smart Routing technology enables you to search stocks across exchanges for the best executions. The stock app margin rates are 66% lower than the industry rates.
In addition, Interactive Brokers offers a unique service where you can lend your shares for extra income. This top quality has enabled the broker to attract over 1.92 million clients.
If you are not a permanent US resident, you can apply for an interactive broker account using your ITIN. This will allow you to take advantage of the excellent bells and whistles, which enhances your chances of making profits on trading US stocks.
First Trade
Founded in 1985, First Trade is an online investment firm that offers a host of investment products designed to help you control your future. In fact, it has membership with SIC and FINRA. In its 30 years of service, the firm has had low commissions starting from zero. Its services include stock analysis reports and market insights.
Opening an account is a breeze. You only need to fill out forms online, including tax documents, statements, and trading confirmations.
Besides a product variety that allows you to diversify your portfolio, the brokers offer account protection. As a non-US citizen looking for global investment, you stand to benefit from tax benefits. A no minimum share per trade allows you to invest a share per trade.
You can apply for a First Trade account via the website by downloading the First Trade app. If you are a non-US citizen or permanent citizen without a tax ID or social security number, you can apply for an international account using an ITIN.
Zack Trade
Zack trades allow you to start trading at $1 and enjoy a margin rate of 5.83%, which goes lower depending on the account balance. With robust tools, it provides powerful charting tools to make it simple to manage and place trades. All this is made possible by using an award-winning tablet and mobile-compatible app.
Besides the competitive commission rates, the platform has no inactivity fees. There is a licensed dedicated representative that offers you support to ensure you get most of your trading.
Non-citizens legally in the US can get an SSN. For non-citizens and non-permanent residents, you can apply for a brokerage account using an ITIN.
Webull
Webull boasts of providing smart tools for smart investing. You can invest in thousands of top companies with just $5. Besides stocks, you get a suite of investment products such as options and ETFs. The brokerage firm goes further to offer you analytics and trading tools to help you develop and manage a trading portfolio.
Essentially, you get an individual brokerage account that allows you to buy and sell assets. However, you can also opt for a Webull traditional account to save for retirement. Free access to a customizable Webull desktop platform allows you to perform analysis on advanced charts, check positions and manage your investment. Opening an account with Webull requires you to provide an SSN. However, Webull accepts ITIN.
Wrapping up on the best stock apps that accept ITIN
If you dream of becoming a profitable stock trader, you should definitely think about having in your portfolio US company shares. A decent amount of the brokers that offer these stocks are based in the US. Despite the fact that many brokerage apps require you to provide an SSN to start trading, there are also luckily some that don't. So if you are not a permanent resident or a non-citizen, for example, an undocumented immigrant, some apps will still allow you to open a stock account with an ITIN number. We have listed some of the best brokers who will enable you to open an account with ITIN.
Regulated Brokers
Ad Disclosure
?
The table below contains links to 3rd party websites of our top partners from whom we receive compensation at no additional cost to you.