Best Unlimited Leverage Forex Brokers
Most traders are attracted to the financial markets because of the ability to trade Forex and other CFDs using the power of leverage. In forex, leverage is simply the extent to which you are allowed to open large trading positions with a small capital called a margin. Leverage makes trading very lucrative, but at the same time, it does come with increased risks. It is similar to placing large trades using your broker's capital while your own small trading deposit serves as collateral. If you have losses that are more than a certain percentage of your trading capital, your broker will place a margin call and eventually stop-out your trades.

On the other hand, leverage can drastically multiply your profits if you use it well. Every broker reserves the right to determine the leverage they provide to their traders in different countries or regions. In simpler terms, leverage is a 'multiplier' and in most cases, there is a fixed leverage number. For example, the maximum leverage of FP Markets is 1:500 but it is limited to 1:30 for all European countries. Since you are reading this blog article, you are interested in forex brokers with unlimited leverage. We have done the research for you and the options available are limited in number. There are very few brokers with unlimited leverage as most brokers put a limit on leverage, even if the available leverage is high.
Now, it is not enough to choose a broker only because they provide unlimited leverage. It is very important to be very certain that your chosen broker is regulated by renowned authorizing bodies and is trusted by clients across the world. As a result, Exness qualifies as the only regulated and trusted broker we found that offers unlimited leverage to some of its trading accounts. There are a few other brokers that offer unlimited leverage but we can't recommend them because we do not trust them.
Exness - Its Unlimited Leverage Accounts
Exness offers five accounts with unlimited leverage which includes two standard and three professional accounts. The two Standard Accounts are called Standard and Standard Cent accounts. The basic Standard account has spread starting from 0.3 pips and no commission is charged for placing trades. The trading platform used with this basic Standard account is MT5. You can trade a wide range of CFDs like Forex, metals, cryptocurrencies, energies, stocks, and indices.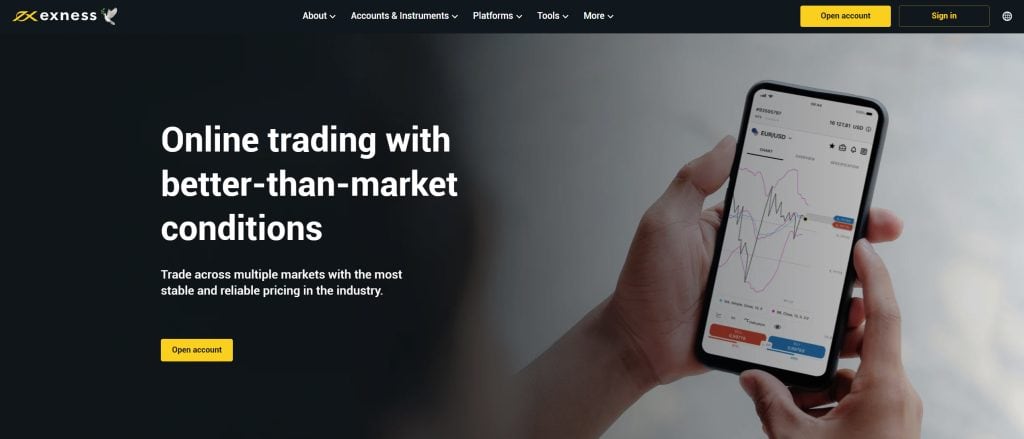 The Standard Cent account also has a spread starting from 0.3 pips and no commission. The trading platform available for this account is MT4. On this account, you have the option to trade both Forex and Metals only. These two Standard accounts are suitable for new traders as they allow micro-lots with stable spreads and no-commission charges. Please note, that Exness does not accept traders from the European Economic Area or the USA.
Remember that forex and CFDs available at Exness are leveraged products and can result in the loss of your entire capital.
Please ensure you fully understand the risks involved.
When trading with Exness, it is easy to deposit and withdraw money via different payment gateways, cryptocurrencies, and your local currency. Also, Exness has three Professional Accounts with unlimited leverage namely Raw Spread, Zero, and Pro accounts. These professional accounts are suited for more experienced traders who are either scalpers, day traders, intraday traders, or Algo traders.
All three professional accounts can be traded using the MT5 trading platform and you have access to many CFDs like Forex, metals, cryptoсurrencies, energies, stocks, and indices. So, if now or in the future you decide to trade more than Forex, you don't have to change your broker. Spread starts from 0 pips on the Raw Spread and Zero professional accounts while it starts from 0.01 on the Pro professional account. On all three professional accounts, the minimum deposit is $500 and you can even place a trade using a micro lot.
Exness is a top-rated broker that is regulated by the following renowned bodies
Financial Sector Conduct Authority (FSCA) in South Africa
Cyprus Securities and Exchange Commission (CySEC) in Cyprus
Financial Conduct Authority (FCA) in the United Kingdom
Financial Services Authority (FSA) in Seychelles
Central Bank of Curacao and sint Maarten (CBCS)
Financial Services Commission (FSC) in BVI and Mauritius
Conclusion on Best Unlimited Leverage Forex Brokers
Leverage is a double-edged sword. It can drastically increase your trading capital and at the same time, it can literarily wipe out your entire trading capital. Every successful trader implements risk management to check the temptation of leverage. The reason many brokers put a limit on leverage is very understandable. You should note that even though Exness gives unlimited leverage on some of its accounts, no professional trader will ever place a large position trade just because the broker allows it. Successful traders know that they must not risk more than a certain percentage of their trading account on every trade.
The forex market can be very tricky sometimes and leverage is sweet when you are experiencing a winning streak. You should note that a losing streak is also inevitable when trading the forex market. This is when most inexperienced traders lose a huge percentage of their trading accounts and in some cases completely blow their accounts to zero. Trade safe.
Regulated Brokers
Ad Disclosure
?
The table below contains links to 3rd party websites of our top partners from whom we receive compensation at no additional cost to you.