Best DOM Trading Platforms - Which are they?
DOM stands for Depth of Market and is simply the measure of the liquidity of a certain asset in the market. This measure helps give traders a picture of the supply and demand of an asset in the market. For traders, this is a useful measure as it gives a picture of things like the support and resistance of an instrument. As such, traders can set their strategies to match how they predict the market to move. 
Fortunately, there are trading platforms that collect market data and help to bring this measure to traders. Today, we are looking at some of the best DOM trading platforms in the market. After we know which they are, we will also look at some brokers that offer such trading platforms. But first, some advantages and disadvantages of DOM trading platforms.
Advantages of DOM Trading Platforms
DOM Platforms allow traders to quickly access multiple important market data at once. These include real-time price updates and market trends.
These trading platforms allow traders to determine which sides of trades have higher liquidity.
DOM data from these platforms is useful for traders who scalp candlestick charts and technical indicators. 
Such platforms show the real-time flow of orders allowing traders to stay up to date with the trend.
Disadvantages of DOM Trading Platforms
These platforms only show present liquidity and market conditions and not what caused the liquidity or market condition in the first place. 
As orders stream in, some spikes in prices might happen. This can lead to a trader changing their strategy out of the fear of missing out which can lead to loss of capital.
Now let's look at some of the best DOM trading platforms in the market.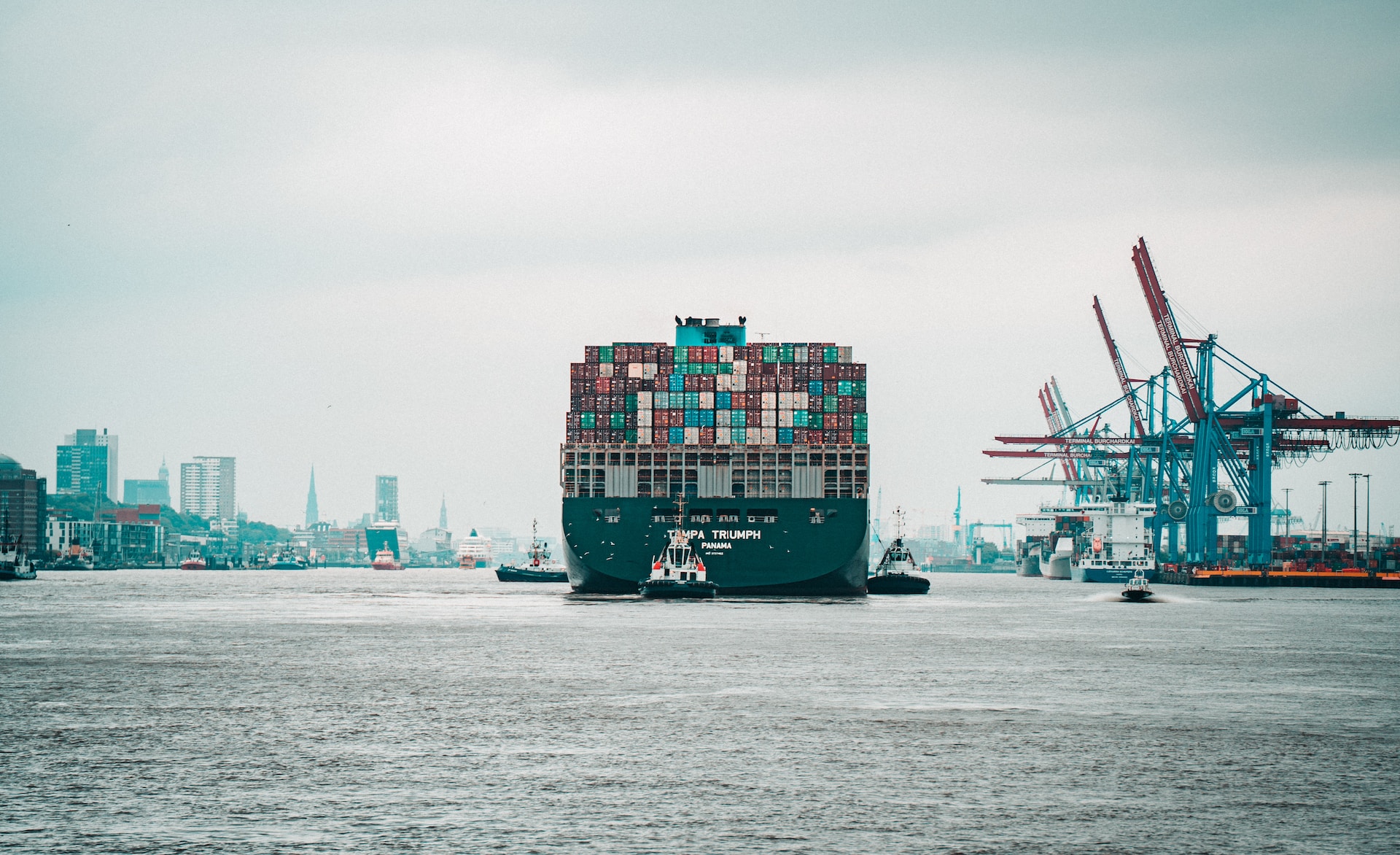 MetaTrader 5
MetaTrader 5 is one of the most popular DOM trading platforms in the world. This platform is a product of the MetaTrader Inc. company that is behind the most popular trading platform, MetaTrader 4. MetaTrader 5 allows traders to access several markets at the same time. For example, traders might invest in forex and cryptocurrencies on the same MT5 account. 
Further, MetaTrader 5 features all the traditional features of MetaTrader 4 in its arsenal. These include 44 different analytical tools, over 100 charts, and 21 different timeframes. It is safe to say that this trading platform is packed with a wazoo of trading tools. This is one of the reasons why the platform is so popular among traders. Moreover, its execution speed is instantaneous giving users an edge in the fast-moving markets.
There are many other functionalities that we are leaving out here. It's almost impossible to say everything that's good about this trading platform. In a nutshell, its intuitive nature coupled with its advanced functionality is what attracts traders to use it worldwide.
cTrader
cTrader was introduced to traders in 2011 and has gradually gained popularity among traders. Most traders are very specific about what they want from a trading platform. As such, it is very hard for them to adopt any new technology that hits the market. The fact that cTrader sees a gradual increase in its popularity with time is a testament to the features it offers to traders. Today, this trading platform celebrates over a million users worldwide.
Just like MT5, cTrader allows traders to invest in a variety of markets from one cTrader account. Investors can trade forex, cryptocurrencies, indices, shares, and more using this trading platform. Positively, the platform streams live price updates so that traders stay current with the trends. Further, cTrader also offers advanced charting tools and automated trading. 
Through its DOM features, traders gain a deeper understanding of liquidity and the dynamics of supply and demand. cTrader has 3 different DOM settings. These include standard DOM, price DOM, and VWAP DOM. Standard DOM just shows traders market depth without the ability to place orders. Contrarily, Price DOM allows traders to view the depth as well as place orders. Finally, VWAP DOM shows the volume weight of each asset and allows traders to place orders.
eToro
The eToro platform is the proprietary trading platform produced by the eToro forex broker. This platform also features DOM trading and allows traders to invest in a variety of markets at the same time. eToro's aim is to provide a platform that is easy to use due to its intuitive nature. As such, it implemented several features to help clients better manage their finances. 
The One-Click Trading feature allows traders to open new positions using ready-made parameters with a single click. This helps new traders get the hang of trading much faster. On the other hand, the ProCharts feature allows traders to compare charts of more than one instrument and different timeframes at the same time.
Further, eToro is one of the best trading platforms for copy trading, thanks to its CopyTrader technology. This technology enables traders to replicate the moves of other top-performing traders. For DOM traders, eToro shows a stream of orders in real time, giving them a picture of the liquidity on each side.
OANDA
The OANDA platform is yet another DOM platform produced in-house by a forex broker. This platform is the proprietary product of the OANDA Group. Its depth of market feature gives traders a picture of price movements and spreads as they change in the market. Moreover, this platform allows investors to make large-size trades on some of the tightest spreads in the market.
The market depth section on OANDA Web allows traders to view order sizes and prices as they stream in. On OANDA Mobile, the feature is available under DOM within an order ticket. Further, there are tons of other features that make trading more streamlined for traders. One-click trading allows traders to open and close positions with a single click. 
The various charting tools offered by the broker allow traders to analyze the market before they place orders. The customizable interface allows traders to set their own default parameters to make the platform best suited for themselves.
Trading Station
With Trading Station, we have another trading platform produced by the in-house team of the broker that provides it. This platform is the product of FXCM, a well-respected broker in the market. Via its market depth feature, traders can view different levels of liquidity at different price points. However, this feature is not available to all traders. It is only available to traders with an Active Trader account. To be part of the Active Trader program, you have to call the company to find out if you qualify.
Nonetheless, traders receive a fast, reliable and easy-to-use platform when using Trading Station. It is packed with charting tools, automated strategies, and a plethora of indicators. Notably, this platform allows traders to trade directly from the charts. The Speculative Sentiment Index indicator allows traders to get a sense of trends. As such, traders can stay ahead of the price movement and adjust their trading strategies accordingly.
L2 Dealer
L2 Dealer is exclusive to clients of IG, a forex and CFDs broker. With this platform, traders get access to more than 17,000 different market instruments across a variety of markets. Traders have access to market depth from a range of exchanges as it is a Direct Market Access platform. As such, traders have the ability to see every bid and offer as they stream into the market.
Further, this trading platform offers traders many other industry-standard tools that help traders on their journey. These include advanced charting tools, customizable alerts, and sophisticated order types. What's best, traders can view the full order book with this trading platform. This means they will see every bid and offer that is made in a market.
Trader Workstation (TWS)
This is the last platform we will feature on this list. This trading platform is the product of Interactive Brokers and features some of the same features we see on the other top DOM platforms on this list. This platform will let traders invest in over 150 different market instruments with a depth of market feature. They can gain a sense of liquidity at different price points.
The TWS Mosaic provides great usability and easily accessible comprehensive trading tools. This includes tools for order management, charting, portfolio tools, and risk-management tools. All these are available in a customizable workspace. Additionally, the platform provides real-time streaming of market news and developments. Couple this with customizable alerts and traders can easily stay current with the market.
Now that we know some of the best DOM trading platforms, let's find out some of the brokers that feature these tools in their arsenals.
Brokers That Provide DOM Trading Platforms
Pepperstone
Pepperstone provides not just one, but two different DOM trading platforms to its clients. On this broker site, traders have access to four trading platforms that include MT4, MT5, TradingView, and cTrader. MT5 and cTrader are the DOM platforms available to traders to use. On the platforms, traders can access over 1,200 different CFDs on forex, indices, cryptocurrencies, commodities, shares, and ETFs. Traders will be glad to know they will be trading with a regulated broker. This is because Pepperstone is under the supervision of the FCA, the CySEC, and the ASIC, among others.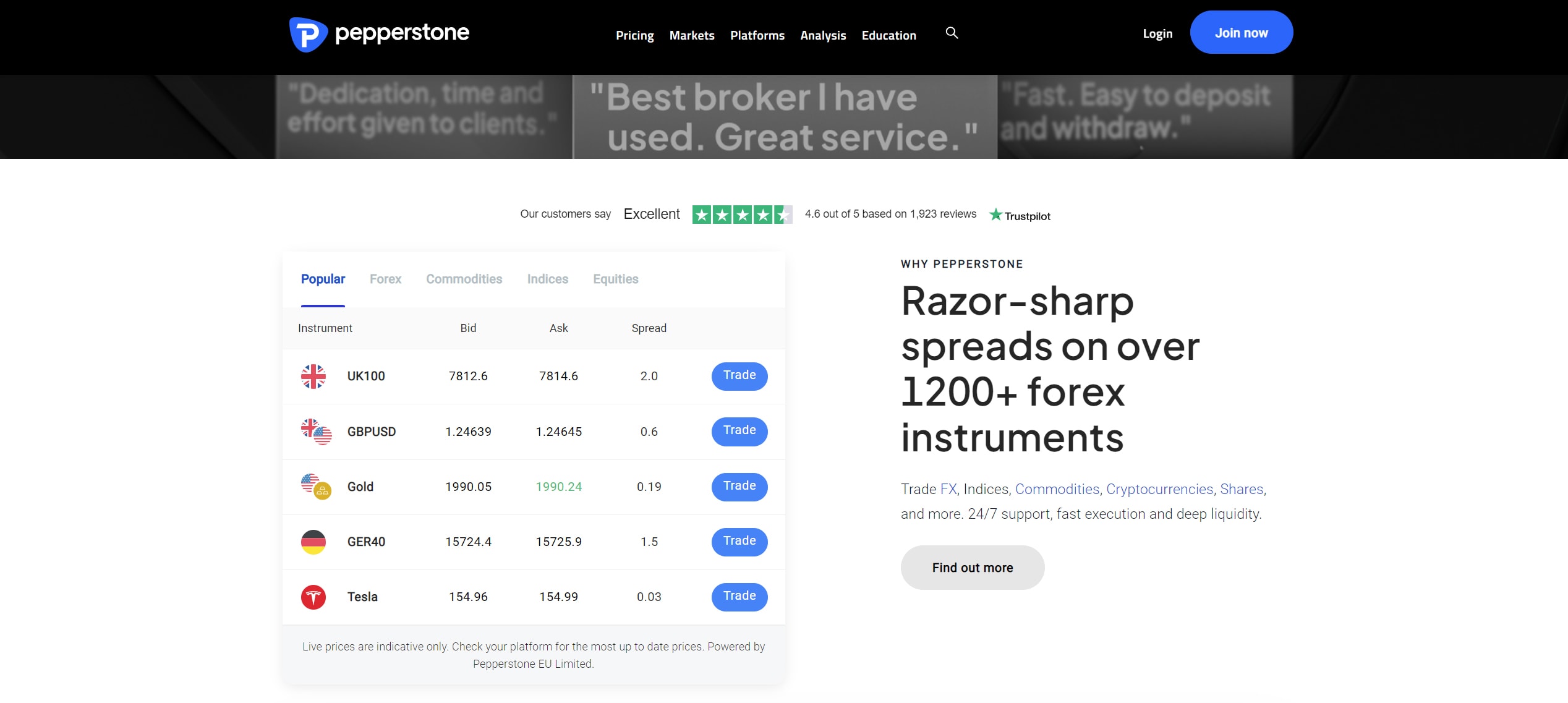 Needless to say, Pepperstone is one of the fastest order execution brokers in the market today. Most orders are executed in under 30 milliseconds or under 60 milliseconds depending on the branch of the broker a trader uses. The spreads on this trading site are competitively low starting from 1.0 pips on the standard account. However, they can go lower on the razor account from 0.0 pips with a commission paid. The commission sits at $3.5 per side per lot for MetaTrader users and $3 per side per lot for traders using cTrader and TradingView.
74.6% of retail CFD accounts lose money
FP Markets
Interestingly, FP Markets also provides two different DOM trading platforms. Just like Pepperstone, this broker provides both MT5 and cTrader to its clients. FP Markets also has great regulations with licenses in several jurisdictions. It is subject to the examination of the ASIC and the CySEC, two of the best regulators in the market.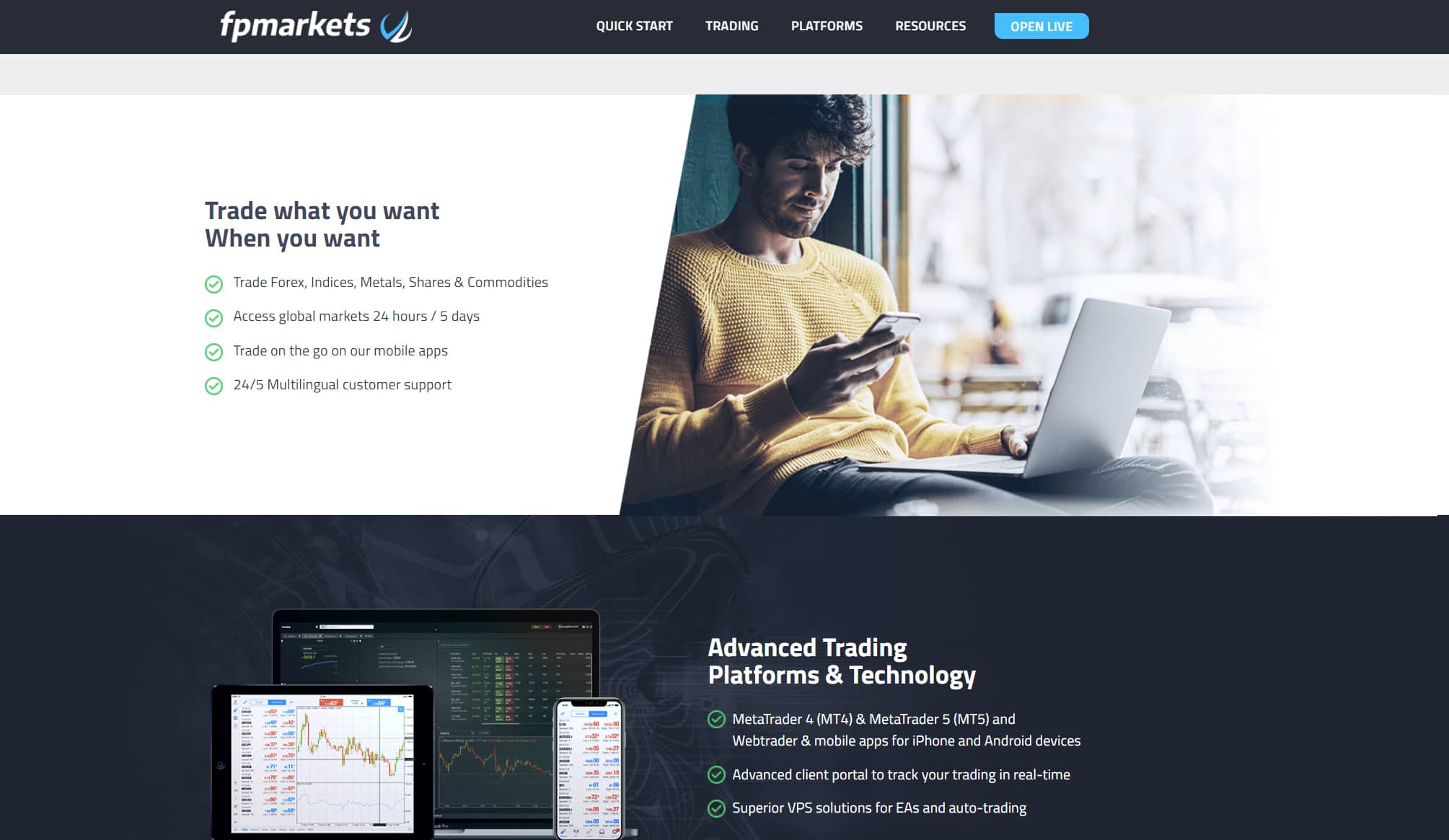 Positively, this broker allows traders to trade over 10,000 different instruments from 8 main markets. Traders can trade currency pairs alongside CFDs on shares, metals, commodities, indices, cryptocurrencies, bonds, and ETFs. The spreads can be as low as 1.0 pips on the standard account and 0.0 pips on the raw account. However, a commission of $3 per side per lot applies to the Raw account. Notably, two other platforms are available to use and they include MT4 and Iress.
73.85% of retail CFD accounts lose money
eToro
eToro is a reputable forex and CFDs broker with years of experience serving clients. It provides its traders with its proprietary software, eToro, which allows traders to trade multiple markets from the same platform. Specifically, investors can trade CFDs on forex, crypto, stocks, commodities, ETFs, and indices alongside real stocks and cryptocurrencies.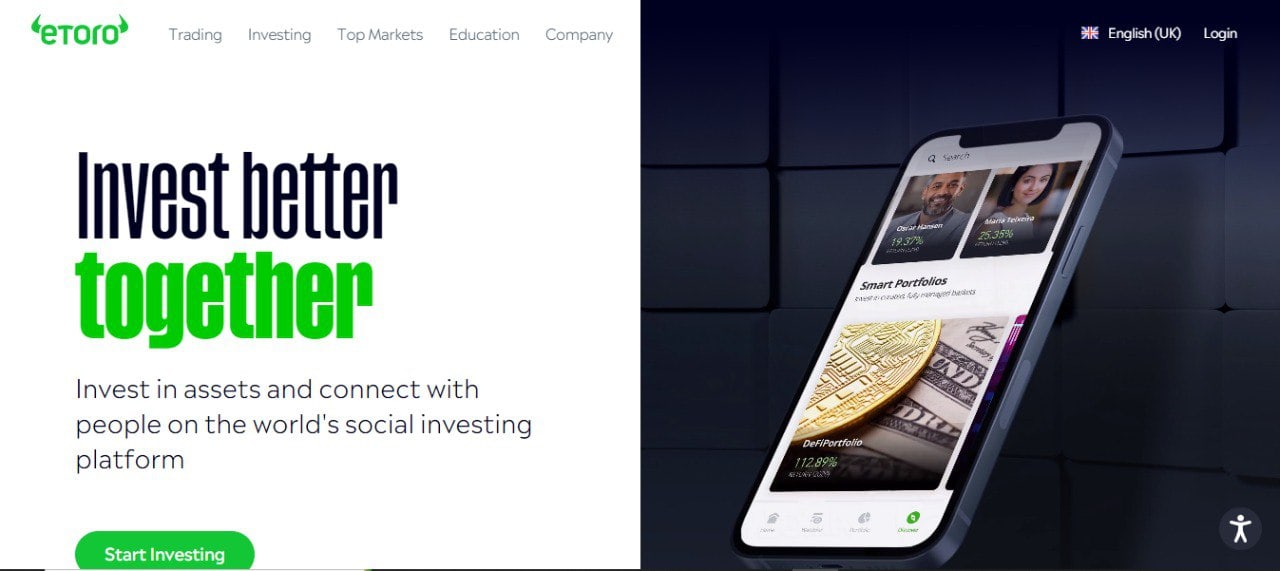 Further, the spreads for trading on this trading site start from as low as 1.0 pips for major currency pairs. On another positive note, the regulatory status of this broker is impressive, to say the least. It is under the supervision of the FCA, the CySEC, the ASIC, the SEC, and the FINRA.
76% of retail investor accounts lose money when trading CFDs with this provider.
Oanda US
Oanda US brings clients in the United States a DOM trading platform that allows them to invest in two major markets. They can trade the forex market alongside the cryptocurrency market. The Oanda platform ensures traders have access to information about market liquidity on both sides. This way, they can make the best-informed decisions.
The spreads for trading on OANDA US are as low as 1.4 pips for major currency pairs. This is affordable for most traders in the US. For traders who prefer other platforms, MetaTrader 4 and TradingView are both available on this broker site. However, these two trading platforms do not have the DOM feature. In terms of regulations, this broker is under the supervision of the NFA and the CFTC in the USA.
FXCM
Some of the trading instruments available to trade on FXCM include forex and CFDs on indices, shares, and commodities. Its proprietary trading platform, Trading Station, provides clients with a DOM platform with advanced functionality. However, traders can also use MetaTrader 4, the most popular trading platform on earth. Unfortunately, MT4 does not have the DOM feature.
Further, the spreads for trading on this site are fairly low sitting at 1.0 pips for major currency pairs. On regulations, this broker has licenses from the FCA, the CySEC, the ASIC, and the FSCA. Couple this with over 20 years in the market and it is easy to see why hundreds of thousands of traders use this broker.
Other Brokers With DOM Trading Platforms
Evidently, we cannot realistically feature all the brokers that have a DOM trading platform in the market. However, we created a small summary table of some other reputable brokers that offer DOM trading platforms.
Closing Remarks
DOM Trading Platforms are very useful to traders, especially those who trade on a short-term basis. Multiple liquidity levels are available at different price points allowing traders to see as the market moves. Notably, these platforms allow traders to see orders as they flow in and price changes as affected by the orders.
While there are several DOM trading platforms in the market, we have listed some that we believe stand out among the rest. Further, we listed some of the best brokers that feature DOM trading platforms. Needless to say, there are many brokers in the market that feature DOM trading platforms. As such, we could not list them all in this article. Therefore, we insist that traders find the broker that best suits their needs whether they are on this list or not.
Regulated Brokers
Ad Disclosure
?
The table below contains links to 3rd party websites of our top partners from whom we receive compensation at no additional cost to you.