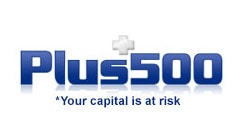 This Plus500 review will introduce you to one of the most known CFD/Forex brokers. The broker fully supports 32 languages, has very tight spreads and offers a free unlimited demo account.
Plus500 is a market leading provider of CFDs which is around for a very long time. This broker first started offering its services back in 2008, since then it has built a huge base of traders from all around the world. It is one one of the biggest brokerages companies out there, you can even trade their stock, the symbol is "PLUS:LN". The company offers a free demo account, a guaranteed stop loss and a very customer-friendly platform which can be appreciated by both beginners and professional traders. 2 000 trading instruments are available at the Plus500 platform.
Detailed information from Plus500 review
Our rating: (4.8 / 5) 1. Place in United States
Website address: www.plus500.com
Leverage: up to 1:300
Instruments: CFDs – Forex, commodities, stocks, indices, ETFs, Cryptocurrencies
Minimum deposit: 100€
Minimum size position: Micro lots from 0.05 lot
Demo account: Yes, unlimited for free
Methods of deposit and withdrawal: Wire Transfer, PayPal, Skrill, Credit and debit cards (Visa/MasterCard)
Chart of the currency pair EUR / USD at Plus500
Trading platform of the broker
The trading platform is very intuitive and it can be accessed by a computer or by a smartphone. In addition, Plus500 offers two ways, how you can trade from your computer. Either you can choose the WebTrader platform to trade directly from the browser, without downloading any software. Or you can use the Plus500 software (Windows trader), which I personally prefer most of the time when I am trading from my computer. In the Windows trader, you will be able to orientate much faster plus I feel like I have all the tools and features at my disposal right away. One of the indisputable advantages that the broker has is a wide range of trading instruments, overall there are approximately about 2 000 instruments to trade.
Plus500 free demo account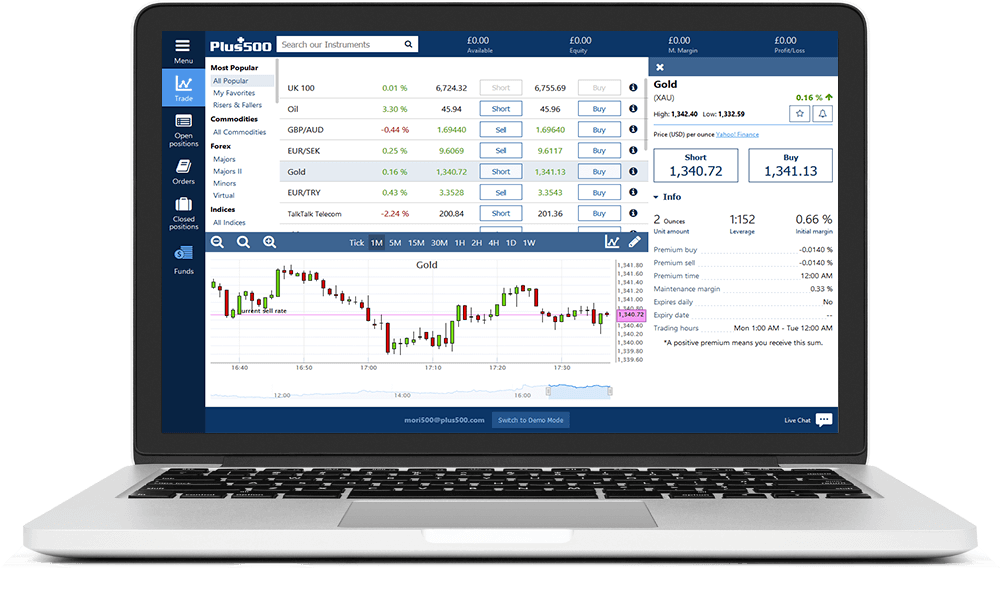 Broker Plus500.com offers an unlimited practise account with imaginary 50 000 money. A demo version works exactly on the same principle as a real account with only one difference that you trade with imaginary funds. As a result of that, you can freely try out Plus500 platform or any strategy without taking any risks whatsoever.
Trade smart – limit your risks (SL/TP) and notifications
At Plus500 traders have access to special tools and features that they can use in order to limit their trading risks. The two most important of them are called a guaranteed stop loss and a take profit which can be set at a guaranteed price level. Once an asset reaches this level, the trade closes itself. This way, you can easily adjust the risk of each and every one of your trades. In addition to the SL/TP, you can also set up alert alarms which will notify you when the price reaches a certain value. Unlike from the stop loss and the take profit, this feature will not close the trade. Therefore, the decision whether a position will remain opened or not depends entirely on the trader. This warning can be set up by clicking on the bell icon in the details of your instrument, after that, a new window will be opened with Price Alert function.
Plus500 fees and spread
Now let's see how Plus500 actually makes money. As you certainly know, nowadays there is nothing for free and even broker must somehow finance its operations. Plus500 makes most of their money just on the spread, i.e. the difference between a bid price and an ask price. That is actually not something we see very often because some other CFD brokers also charge a fee for setting up each position. Plus500 spreads differ from an instrument to an instrument, but overall they are very tight. The only additional fees, with which you could come across are called a night premium and an inactivity fee. A night premium fee occurs only when you remain in a certain position even if the market is already closed.
Is Plus500 a scam?
After my full inspection, I can say without hesitation, that Plus500 is not a scam. There are several things that play in brokers cards which are indicating, that it is a trustworthy company. For start, Plus500 has a huge base of traders from all over the world whom they managed to attract due to high-quality services. (In the year 2016 they all together made trades in the worth of 1042 + billion of $). The broker is also around here for quite some time (since 2008) and therefore if it would be a scam it would be by now certainly exposed by its traders. The company Plus500 is also listed on the AIM section of the London Stock Exchange. Apart from the fact, that we can trade its shares (symbol: PLUS:LN) there are also much stricter rules which are applied to companies that are listed on the London Stock Exchange. So any unethical act is fully excluded.
Plus500 Ltd. is a parent company which is authorised and regulated by three main regulatory authorities. In the UK they are regulated by well-known FCA (Plus500UK Ltd – license number 509909), in Europe by CySEC (Plus500CY -license number 250/14) and in Australia by ASIC (under the name Plus500AU Pty Ltd. – license number 417727). Therefore your funds are insured and safe in case of any problem with the broker (like from insolvency and others).
When trading with real capital, your funds are at risk.
Please rate this company based on your experience