NinjaTrader Supported Brokers - List
NinjaTrader, which was founded in 2003, provides software and brokerage services to active traders. The NinjaTrader platform is ideal for active traders who require a wide range of technical analysis tools. The platform features superior charting, real-time analysis, customizable technical indicators, Chart Trader (a chart-based order entry tool), and thousands of third-party apps and add-ons. The NinjaTrader platform supports a variety of market data and brokerage options, allowing you to trade futures, forex, equities, and more.
The ability to place simulated trades, complete with a fictitious account and profit/loss summary, is a great feature of the platform worth mentioning. Simulation trading can be especially beneficial for newer traders who haven't had much experience trading and dealing with the inevitable mistakes that occur.
To gain access to the platform's premium features such as advanced order types, automated trading, and backtesting, you must lease or purchase the software which can cost $60 per month to lease and a $1,099 one-time payment to purchase. Only a lifetime license is available for the Order Flow+ suite of premium features, which allows you to analyze trade activity using order flow, volume bars, and market depth. Nonetheless, the basic version comes with tons of features that can greatly improve one's trading experience.
In this review, we will look at some of the best NinjaTrader-supported brokers.
FOREX.com
FOREX.com is the trading name of GAIN Global Markets Inc., which is authorized and regulated by the Cayman Islands Monetary Authority under the Cayman Islands Securities Investment Business Law. It is also regulated by top regulators such as the FCA, the CySEC, and the IIROC. FOREX.com provides in most countries access to over 5,500 trading products, including CFDs on forex, indices, cryptocurrencies, stocks, and commodities, at competitive pricing and with high-quality execution. It is important to note that Contracts for Difference (CFDs) are not available to residents of the United States. They can, however, trade forex, gold, silver, futures and futures options. These trading instruments are available on the MetaTrader 4 and MetaTrader 5 platforms. Forex.com offers competitive spreads on currencies that begin as low as 0.8 pips for major currency pairs.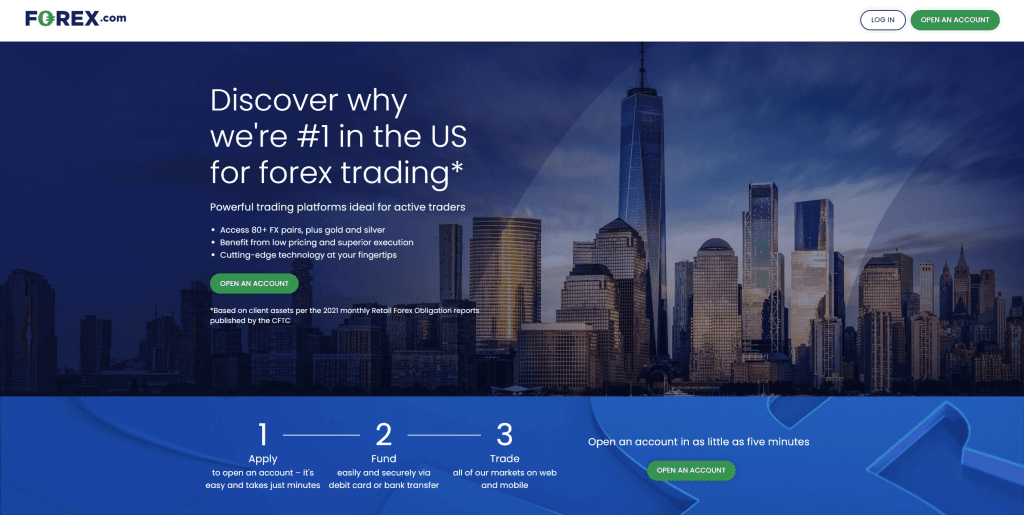 Forex.com supports the use of NinjaTrader on its platform for a better trading experience. There are some caveats to keep in mind. For starters, the chart data on this platform is driven by the current bid price. Any external order or position on a non-defined instrument is not supported and will not be displayed. If this happens, a warning message will appear in the log to notify you. Spread betting and CFDs on futures contracts are not permitted.
72.5% of retail investor accounts lose money when trading CFDs with this provider.
OANDA US
The OANDA group is authorised and regulated by the Financial Conduct Authority (FCA), the Australian Securities and Investment Commission (ASIC), the Investment Industry Regulatory Organization of Canada (IIROC) and the NFA under the NFA ID 0325821.
OANDA provides the MT4 and MT5 trading platforms, as well as a variety of trading tools, including those for market analyses. There are two types of accounts available standard accounts and advanced trader accounts. The standard account spread begins at 1 pip for major currency pairs. There is no minimum deposit amount, and you can deposit up to US$9,000 into your OANDA account (or currency equivalent).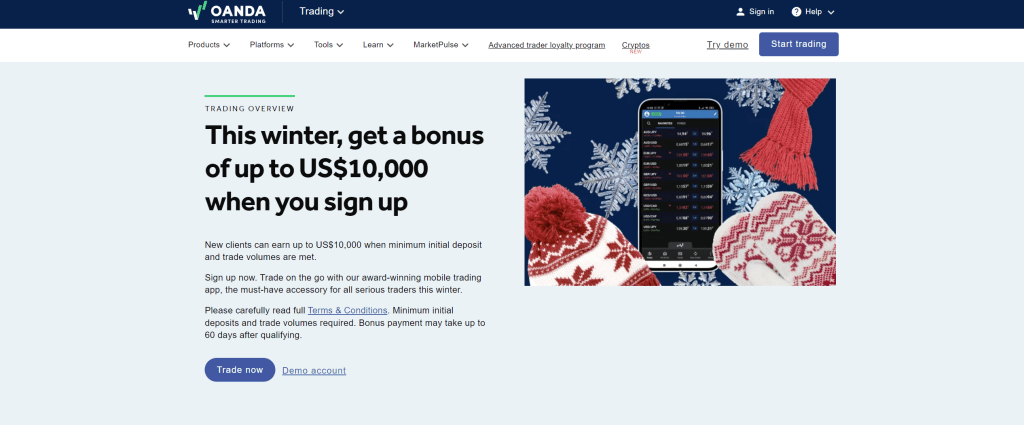 OANDA accounts can only be accessed via NinjaTrader or OANDA's FXTrade platform, but not both. When cancelling orders, keep in mind that working orders within an OCO group will only be cancelled if any order within the group is cancelled directly within NinjaTrader. In all other scenarios, these working orders will continue to function. An OCO group that has an order rejected will not cancel any of the group's remaining working orders. Any outstanding orders will be rejected rather than submitted. Note that there will be a 200ms delay between the submission of OCO-linked orders.
Forex trading involves significant risk of loss and is not suitable for all investors.
City Index
City Index is well-known in forex and CFD trading, as well as a Spread Betting broker (UK only). It is regulated by top-tier regulators including the Cyprus Securities and Exchange Commission (CySEC), the Australian Securities and Investments Commission (ASIC), and the Financial Conduct Authority (FCA).
Some of the tradeable instruments on the platform include CFDs on indices, shares, forex, commodities, interest rates, bonds, options, and cryptocurrency. This can be traded on a variety of platforms, including Webtrader, TradingView, and MetaTrader 4. City Index has four accounts that traders can choose from. These include the standard account, MT4 account, professional account, and corporate account. For the major currencies, the spreads start as low as 0.5 pips. City Index supports NinjaTrader where users can expect consistent pricing as well as industry-leading platform functionality and technical support. However, please note that this is not available for clients in the US.
Interactive Brokers
With direct global access to forex, stocks, options, futures, currencies, bonds, and funds, Interactive Brokers is one of the leading online trading solutions for traders, investors, and advisors. It is authorized and regulated by the Financial Conduct Authority, the Australian Securities and Investments Commission, and the Investment Industry Regulatory Organization of Canada (IIROC). With over 40 years of history, the company is also considered to be one of the oldest forex brokers on the market.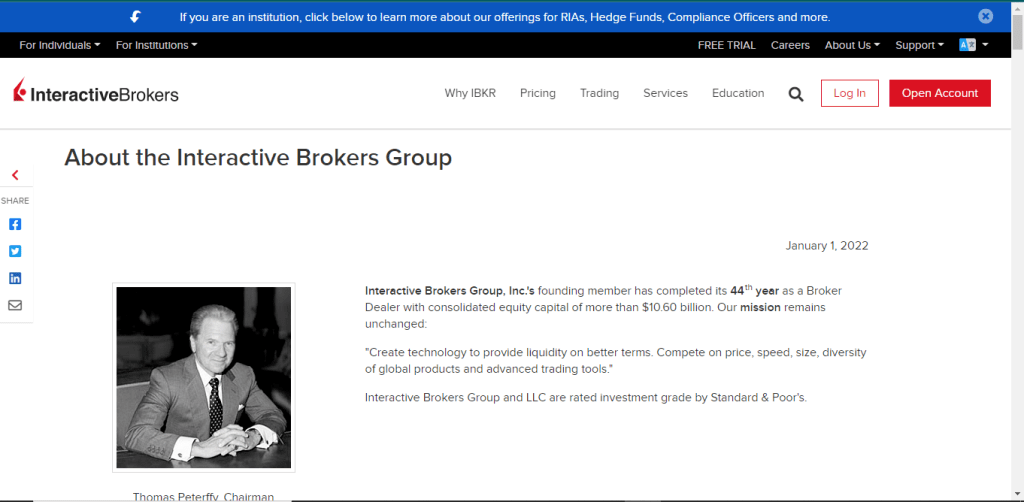 It offers five types of accounts individual, joint, trust, IRA, and UGMA/UTMA. Client Portal, Trader Workstation, IBKR Mobile, natural language IBot, and IBKR APIs are among the trading platforms available on this broker site. Popular trading platforms like MetaTrader 4 and MetaTrader 5 are not available. Nonetheless, the platforms available are industry-standard with fast execution time.
IB Trader's Workstation (TWS) and IB Gateway are the two interfaces that can be used to connect NinjaTrader to an Interactive Brokers account. IB Trader's Workstation (TWS) is a fully featured Interactive Brokers trading application that allows you to view and manage API orders submitted through NinjaTrader. On the other hand, IB Gateway is a lightweight Interactive Brokers interface that provides status updates on the API connection but does not provide an interface to manage API orders.
TD Ameritrade
TD Ameritrade is regulated by the Securities and Exchange Commission (SEC) and The Financial Industry Regulatory Authority (FINRA). Trading fees at TD Ameritrade are low, and its desktop trading platform, Thinkorswim, is highly rated. It offers four types of accounts, standard, retirement, education, and specialty. A standard account allows you to trade stocks, options, mutual funds, ETFs, futures, forex, bonds, and CDs. There is no minimum to open a new account; however, regardless of any promotional offer, a $2,000 deposit is required to be considered for margin and certain options privileges.

TD Ameritrade is NinjaTrader supported, but there are some things you should know. For example, when submitting orders within an OCO (one cancels other order handling) group, the orders must be submitted as a pair, and those orders will no longer be modifiable after submission. To modify an OCO grouped order, it must be cancelled and resubmitted. ATM functionality that alters submitted stops and targets on TD Ameritrade accounts is thus not supported. TD Ameritrade allows you to change the order type of an active order which is not a common occurrence thus, this feature is not supported by NinjaTrader.
FXCM
FXCM is a forex and CFDs provider with over 20 years in the market. The Financial Conduct Authority (FCA), the Cyprus Securities and Exchange Commission (CySEC), and the Australian Securities and Investments Commission (ASIC) all have authority over it and regulate it. FXCM offers three account types namely Mini, Standard, and Active Trader. The minimum deposit to open an account with FXCM Markets is USD 50. It provides trading in the Forex, Indices, Commodities, Single Share CFDs, and Cryptocurrencies. These are available for trading on platforms such as TradingView, Trading Station, and Metatrader 4. For major currencies, there are competitive spreads beginning from as low as 0.6 pips.
Because they share the same API connection, using the same FXCM account in NinjaTrader and FXCM's Trading Station at the same time can cause oddities in both software. If you close an instrument in FXCM's Trading Station, NinjaTrader will no longer receive quote updates for that instrument. NinjaTrader will be unable to determine the order state for any order submitted during a previous trading session if it was filled or cancelled before connecting or during a connection loss on the current session. As a result, NinjaTrader will set this order to "Unknown" if it was filled or cancelled prior to reconnecting. It is your responsibility to contact your broker to find out the current status of this order.
Accounts created for MT4 are incompatible with NinjaTrader and may result in incorrect handling of orders and positions. If you previously used MT4 with your FXCM account, please contact your broker to ensure that your account is compatible with Ninja Trader.
FxPro
FxPro Financial Services Ltd is regulated by the Cyprus Securities and Exchange Commission (CySEC), the Financial Conduct Authority (FCA), and the Financial Sector Conduct Authority of South Africa (FSCA). FxPro offers four accounts, standard, pro, raw, and elite. You can invest in a variety of instruments including Forex, Futures, Indices, Metals, Energy, Cryptocurrency, and Shares. It provides well-known trading platforms such as MetaTrader 4, MetaTrader 5, and cTrader. The suggested minimum initial investment is $1,000 USD. You may, however, fund as little as $100 USD each time. It offers competitive spreads starting as low as 1.2 pips for the major currencies.
FxPro supports NinjaTrader and clients have access to a wide range of trading instruments. This gives traders an edge in the market and the ability to diversify their portfolios.
Conclusion of NinjaTrader Supported Brokers
Brokerages that provide the Ninjatrader platform to their clients provide a number of options for using it. You can use the platform by leasing, purchasing, or paying higher commissions. Another option is to begin trading directly through Ninjatrader's own brokerage. The variety of options for using the platform and selecting a forex broker caters to the needs of all traders. Furthermore, Ninjatrader and its brokers provide excellent customer service, low commissions, and, of course, an advanced trading platform.
The platform is powerful, with numerous tools and resources, and learning how to use all of the features takes some time. NinjaTrader, fortunately, offers free weekly webinars to help you get started. Connecting to data, one-click order entry, how to set up a workspace, basic chart creation, advanced settings, and strategy automation are all covered. Before you begin using the platform, take the time to learn about it.
Regulated Brokers
Ad Disclosure
?
The table below contains links to 3rd party websites of our top partners from whom we receive compensation at no additional cost to you.