IQ Option Affiliate Program Review - Get Lifetime Revenue Share
A popular broker IQ Option offers a generous affiliate program. Today, I am going to review it and tell you a little bit more why affiliates (including me) promote this company. I will start with some basic information about IQ Option and why 41 million users selected IQ Option as the broker of their choice. Then I move to the terms and conditions of the two available affiliate programs. I will also include in this review my personal experience and things that I deal or dealt with as an IQ Option affiliate partner.
Some basic information about IQ Option
IQ Option is a CySEC-regulated broker that has its own in-house built trading platform where clients can trade 400+ CFDs on stocks, forex, cryptocurrencies, indices and commodities. In addition, traders from the European Economic Area also have access to trading FX Options. On the other hand, traders outside the EEA can take advantage of binary and digital options. IQ Option offers a free practice demo and the minimum deposit to start trading with real funds is as little as $10. These features make from IQ Option a popular choice of many traders regardless of their trading skills and likes. If you want to discover more about the company, visit our IQ Option review where we describe it in detail.
How does IQ Option affiliate program work?
The IQ Option affiliate program is straightforward. You bring clients to the broker and if they trade with real money, you earn a commission. A great thing about the affiliate system is that it lifetime revenue share. IQ Option offers two affiliate programs; 40% or 50% rev. share, let's look at how they differ.Which affiliate program is better is very hard to determine. That being said, I opted for the former.
There is also a chance to get 50% rev. share that is calculated for each trader separately. To get it you have to attract at least 21 FTDs over the last 30 days. Once you achieve it, your commissions from new traders start to be calculated on the Advanced Rate basis. This plan is active for 30 days from the last day it was triggered.
How to become an IQ Option affiliate partner
To sign up for the IQ Option affiliate program, visit https://affiliate.iqoption.com/. Once you do that, choose one of the programs described above. In this step, you are going to submit just your email adress and password. When you have done so, a confirmation link to your email mailbox will be sent.
Non-regulated and regulated balance
Once you log in to the IQ Option affiliate system and the dashboard appears, you can see that there are two balances: Non-regulated and regulated balance. The non-regulated balance is for commisions you make from traders outside the European Economic Area while the regulated balance is from traders who reside in the EEA countries.
How to verify the account for non-EEA countries?
Verifying your account for traffic from non-EEA countries is pretty simple - You just state what are your traffic sources. If these sources are not in serious violation of IQ Option marketing guidelines, you can attract non-EEA traders.
How to verify the account for EEA countries?
Getting approval for European (EEA) traffic is a little bit more complex as the rules are more strict.
First, IQ Option has to verify your traffic sources. These sources have to follow IQ Option general conditions, you can find what you can do and cannot do when working with EEA traffic in the affiliate agreement. That being said, the two most prominent rules are that you cannot provide misleading statements and that you have to include risk warnings which state the percentage number of people that lose money when trading CFDs with IQ Option (just as we have them in our IQ Option review and in other pages promoting IQ Option).

Second, you need to complete KYC procedures. KYC (Know Your Customer) is a process of verifying your identity and address. This procedure is a common practice for all regulated financial entities.
Both practices are standard and they apply not only when working with IQ Option, but also with any other CFD broker that is regulated in the EU.
---
2 main reasons why is IQ Option affiliate program so popular
IQ Option affiliate statistics

The screenshot was taken on 04.08.2022
From all brokers for which I have been working as an affiliate partner, IQ Option has by far the best affiliate statistics. Not only that you can run reports that will tell you how much you have earned each day from a different country or afftrack, but you can also monitor how much stats such as your income, number of registrations, number of deposits, number of active traders have changed in comparison to the previous month. All in clear and modern interface.
How are your commisions calculated?
If you chose the 50% lifetime revenue share, then your commissions are calculated in the following way.
2.5% from every binary trade
50% of the spread on FX and CFD trades
50% of the broker's profit from the trading volume on Digital options and FX options
A commission may not exceed 50% of the total amount of net deposits of clients. Before the new ESMA rule that prohibits trading binary options in the EEA, most of my affiliate income came from binary options. Unfortunately, binaries are now available only outside the EEA. That being said, if you have the option to advertise them in non-regulated countries, I believe they bring the best results.
Promotional materials
IQ Option affiliate partners have a number of marketing materials at their disposal, these include landing pages, banners, widgets, videos, registration frames and screenshots. Do you have mostly crypto traffic from Germany? Or forex traffic from South Africa? That is no problem. Generate landing pages, banners and other promo materials that are most accurate to your traffic, all in the language of your customers. Only then you can be sure that your traffic will have a great conversion rate.
Affiliate levels
To motivate affiliates to bring even more customers, IQ Option prepared a 7 level program that provides additional perks. These include support of wire transfer, payments by request, increased sub-affiliate percentage rev.share and much more. At what level you are is determined by how much you have earned in the last 30 days.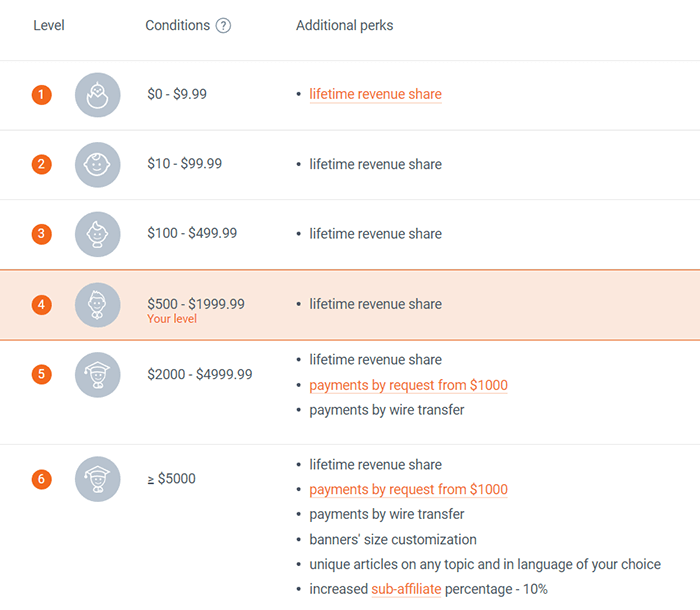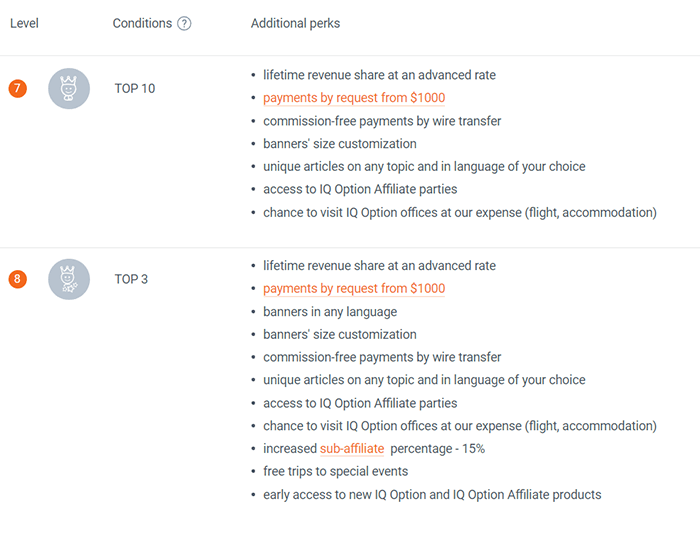 Payments and withdrawals of affiliate commissions
IQ Option processes payments automatically twice a month:
For the first half of the month — within 3 business days after the 15th of each month.
For the second half of the month — within the first 3 business days of the next month.
If you would like IQ Option for some reason to stop sending you automatic payments, you can activate this option. To do this, you need to set your payment method to "Payment method not set" in the Regular payments section for both balances. Once you are ready to receive payments again, set the payment method back.

I pause my payments from time to time as well, so I could withdraw a bigger amount at once to my bank account.
Withdrawal methods
IQ Option supports the following withdrawal methods: WebMoney, Qiwi, Yandex Money, Skrill, ePayments and Neteller. IQ Option does not impose any fees when using these payment methods. The minimum withdrawal amount is $10. All affiliate commissions are paid in USD with the single exception of wire transfer.
Wire Transfer (EUR) is available to affiliates with an income of over $2000 for the last 30 days. The minimum withdrawal amount is $1000. The transfer fee is $50 (affiliates from the TOP-10 are not charged). Be aware that even though all the commissions you make are displayed in the affiliate system in $, IQ Option processes bank transfers in €.
Conversion to EUR takes place at the ECB exchange rate when the request is submitted or when the automatic payment is processed.
How to create an invoice to IQ Option
IQ Option never asked me to send them an invoice, but if you need to create them for your own purposes, here is what information you can put on them.
IQOPTION LTD
Hinds Building, Kingstown
St. Vincent and Grenadines
Company no: 24840 IBC 2018