There are hundreds of stocks on the market which makes it very difficult to choose which ones to watch. For that reason, I have decided to introduce you the web finviz.com, that I use on a regular basis to find interesting trading opportunities. It is a website service where are the main and most important functions free of charge. When you visit the website, you can immediately see few highlighted stocks which are sorted out to Top Gainers, Top Losers, New highs, New Lows and several others. For now, we will not concern ourselves with them and we move to the tab "groups".
How to identify strong sectors – Finviz.com groups
In this part of the web, we will find a development of sectors over a certain period of time. Trading stocks that are in a sector which is doing very well/or very bad will increase our chances of creating a successful trades. That is because if for example, a certain sector is in a very positive numbers, there is a high probability that even the companies in it will be exceedingly blooming. Therefore, this is the place where we will narrow our selection of assets. I find the best results with sectors that are flourishing in all these 3 time periods: a week, a month and 3 months. Sectors that are currently very prosperous are "Healthcare", "Conglomerates", "Technology", "Industrial goods", "Services".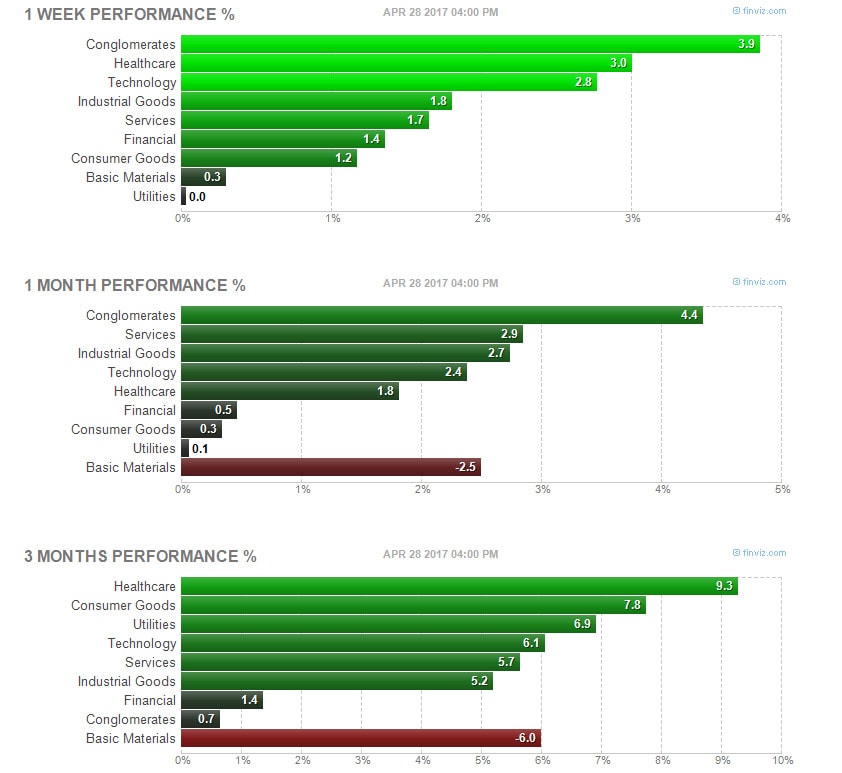 Screener: Time to find interesting stock opportunities – CFD
The screener tab serves us to find interesting stocks opportunities. They can be sorted out by top losers, top gainers, new lows, new highs, most volatile and so on. Once we choose our signal we will still most likely have hundreds of stocks on our list. And that's when other selections come into play. We can narrow the list by choosing market cap., average volume, exchange, country, a price of the option (As we did in the screenshot below). There are numerous criteria from which you can choose. So do not be afraid to play with the tool a bit.
Trading binary options with finviz.com
Unlike CFD trading, where you can trade hundreds or thousands of stocks, our options are a little bit limited with binary trading. However, it is still a great free tool which we can take advantage of even as binary nerds. If your broker does not offer a lot off stocks there is no point in using screener function which would make you list even tighter. That's why you rather want to look at every stock separately, in order of the payouts that your broker offers. Find them on Finviz.com and look from which sector they come from. If it's from the sector your previously reviewed as very good/very bad, you can proceed further.
Once you find your stock, have a closer look at the last performances (week/month). Furthermore, you can have a peek at estimated earnings of the company, real income this year or at a list of interesting articles about this specific stock. Here you will find yourself with the most reputable finance sources which write about the development of this stock, it's not uncommon to find here even 20 articles per day. Another great advantage of charts at finviz.com is that you have already in them pre-drafted support and resistance. If a price development seem interesting to you and you notice a new high, new low or anything else, I recommend looking more closely at the stock in MetaTrader.
Why should you create a free account – Advantages
I definitely recommend creating at least a free account at finviz.com which is a question of about 30 seconds. This will allow you to change timeframes in any manner you need and it will also grant you the possibility to save stocks into your portfolio. Stocks that are saved there can be very quickly monitored from the main panel. Registered members can also change charts types and they can share current price development with the function "publish chart". This tool will screen the chart and make from it image's web address (URL) that you can easily share with whomever you like.