How to get a PRO status on the IQ Option platform
Every trader from the European Economic Area looking to trade binary options, digital options, or CFDs with up to 1:500 leverage on the IQ Option platform (74% of retail CFD accounts lose money.) needs to first acquire the status of a pro trader. In this article, we will explain why the pro status is necessary and how to get one.
Why it is necessary
The European Union financial regulatory institution – ESMA – banned trading options for all the EEA retail traders and placed restrictions on the leverage of CFD instruments. While this is definitely a drawback, it is not the end of the world and clients of the IQ Option platform can still enjoy trading binary options, digital options, and CFDs with high leverage. However, to do so they have to go through a verification process first and obtain a pro trader status which allows them to freely trade the instruments as the ESMA regulation applies to retail traders only. The regulation also stipulates that all websites featuring binary options need to be marked with the following warning: "Binary options are not promoted or sold to retail EEA traders. If you are not a professional client, please leave this page."
The difference between professional and retail account
IQ Option, a CySEC regulated company (Read our IQ Option Review), has to abide by the new ESMA regulation. For that reason, they categorize each trader as a retail client by default. In comparison with the pro status, the following restrictions apply for retail accounts: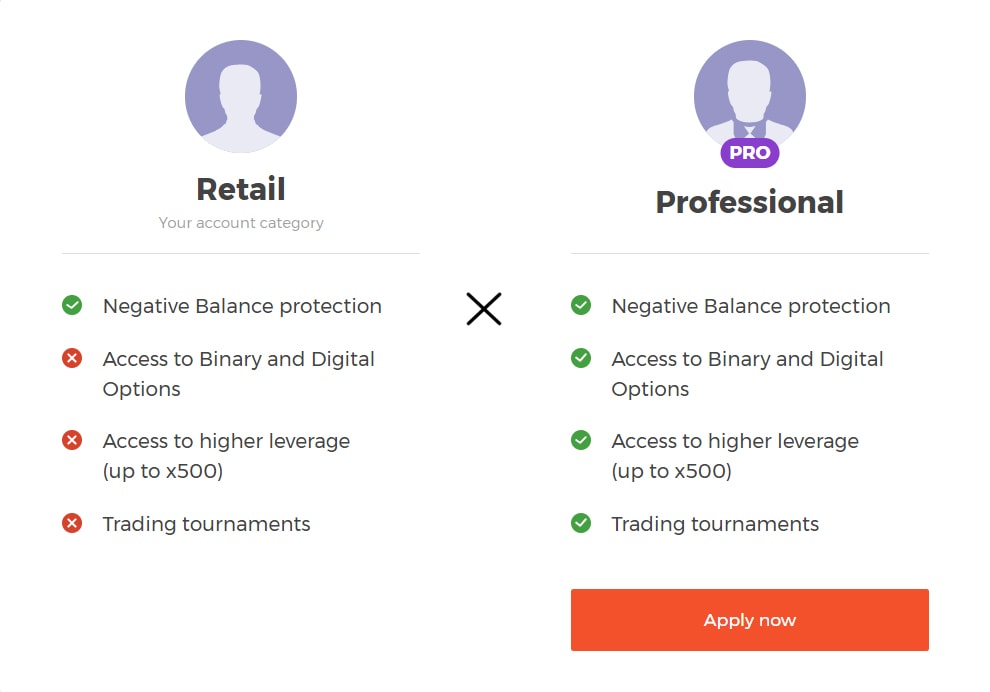 How to join PRO traders on the IQ Option platform
Once a pro always a PRO
- acquiring the status of a PRO trader is a one-time process! Failing the pro-trader qualification survey does not prevent you from trying again and the questionnaire can be taken as many times as you want. IQ Option, however, urges you to fill in all information accurately. In order to pass the test, you have to meet at least 2 of the following 3 main requirements.
Trading volume – You have carried out at least 10 transactions in CFDs or Options (each worth €150 or more) per quarter over the previous 4 quarters
Sizable portfolio – Your financial portfolio — including financial instruments and cash — exceeds €500,000
Relevant experience – You have at least one year of relevant experience working in the financial field
If you are not fit for the PRO Status you can stay on the IQ Option platform as a retail trader and enjoy investing in other attractive investment instruments like Forex, Cryptocurrencies or other CFD instruments (with lower leverage).
How many questionaries are there?
There are 5 questionnaires in total. They are aimed at assessing your experience, financial situation and personal data including information about your present or past job that is relevant to finance. Our team has made screenshots of all of the qualification surveys so no question should take you by surprise. The first questionnaire features the questions above. Sometimes you are also asked to attach screenshots that support your statements, as is the case with the very first question.
To make it easier for you, it is possible to make the IQ Option retrieve the information from your trading history but you can also attach other documents, such as the history of your trades from other companies. In the second survey, you have to fill in the information about your present/past occupation that is relevant to the financial field along with personal data about your financial situation. The other three questionnaires simply test your knowledge.
F.A.Q
Q: How long does it take to get the status of a professional trader on the IQ Option platform?
A: Usually 2 to 3 business days
Q: How does IQ Option know whether I provide truthful information?
A: It is in your best interest to provide accurate information. They review all applications on a case by case basis.
Q: Where can I get more information about the pro status?
A: Directly on the IQ Option website. I recommend visiting https://eu.iqoption.com/ (74% of retail CFD accounts lose money.) - in the top menu head for the section "for traders" >> "client categories". Or from the customer support that is online around the clock on live chat.
Regulated Brokers
Ad Disclosure
?
The table below contains links to 3rd party websites of our top partners from whom we receive compensation at no additional cost to you.