June 29, 2018
Posted by:

Michael

Category:

Binary options guide
Every trader who wants to trade binary or digital options, or CFDs with up to 1:500 leverage on the IQ Option platform needs to acquire the status of a pro trader. In this article, we will explain why this sudden change is necessary and what does it take to change the status of a retail trader to a PRO client.
So, why all of this is necessary?
The European Union financial regulatory institution – ESMA, banned trading options for all EEA retail traders and made a restriction on the leverage of CFD instruments. While this is an unpleasant information it is not the end of the world and clients on the IQ Option platform can still enjoy trading binary, digital options and CFDs with high leverage. But to do so they have to go through a verification process to find out whether they can be classified as PRO traders. Since the regulation that ESMA has carried out applies only to retail traders, PRO traders can still freely trade these instruments. There is also one other fact, due to this European regulator, all pages with information about binary options need to mention this warning: "Binary options are not promoted or sold to retail EEA traders. If you are not a professional client, please leave this page."
The difference between a retail and pro trader
IQ Option, a CySEC regulated company, of course, follows the change that ESMA conducted. They are required to categorize all new as well as existing clients as retail traders. As we have mentioned, this category has the following restrictions: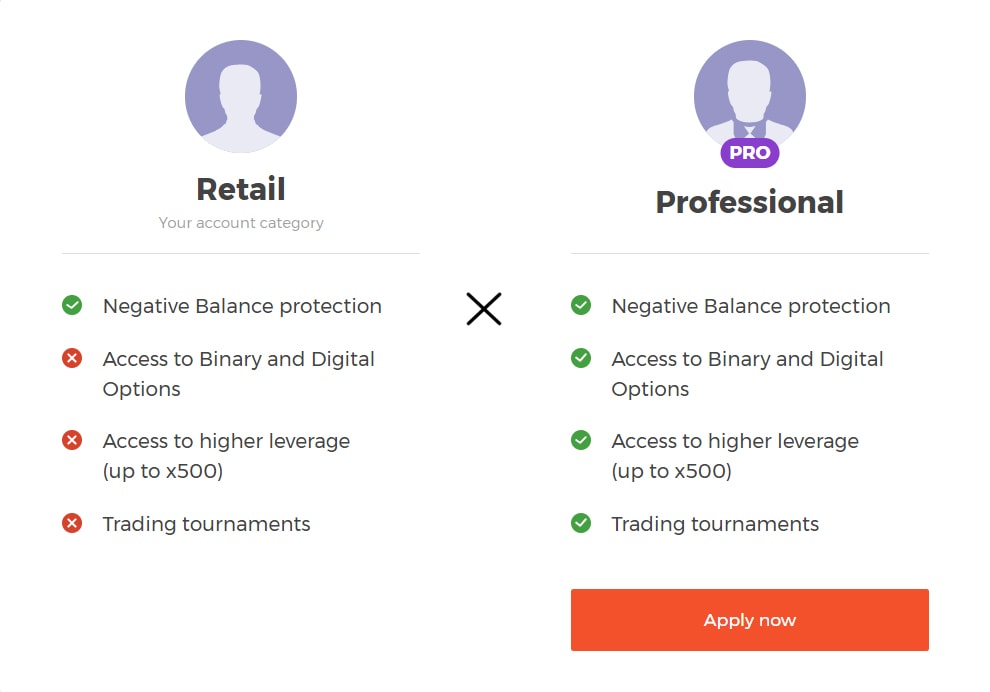 What does it take to get PRO status on the IQ Option platform
Once pro always a PRO, acquiring the status of a PRO trader is a one-time process. The questionnaire that is necessary to accomplish to obtain the PRO status can be taken how many times you want. IQ Option, however, urges you to fill in all information accurately. In order to pass the test, you have to meet at least 2 of these 3 main requirements.
Trading volume – You have carried out at least 10 transactions in CFDs or Options (each worth €150 or more) per quarter over the previous 4 quarters
Sizable portfolio – Your financial portfolio — including financial instruments and cash — exceeds €500,000
Relevant experience – You have at least one year of relevant experience working in the financial field
If you are not fit of the PRO Status you can stay on the IQ Option platform as a retail trader and enjoy the chance of investing in other attractive investment instruments like Forex, Cryptocurrencies or other CFD instruments (with lower leverage).
How many questionaries are there?
There are in total 5 questionaries. They assess your experience, your financial situation and personal data where you worked or currently work. We have made screenshots of all of them so no question would take you by surprise. The first questionary contains the questions above, in some cases, you are also asked to attach screenshots that underlay your statements. That is, for example, the case of the very first question. It is possible to use your history at the IQ Option platform or attach other documents, for example, history of your trades from other companies where you carried out the trades. In the second questionary one has to fill in information about the work where he works/(ed) that is relevant to the financial field along with personal data about his financial situation. The 3 other questionaries are simply a test of your knowledge.
F.A.Q
Q: How long does it take to get the status of a professional trader on the IQ Option platform?
A: Usually 2 to 3 business days
Q: How does IQ Option know whether I provide truthful information?
A: It is in your best interest to provide accurate information. They review all applications on a case by case basis.
Q: Where can I get more information about the pro status?
A: Directly at the IQ Option website. I recommend visiting https://eu.iqoption.com/ – in the top menu head for the section "for traders" >> "client categories". Or from the customer support that is online around the clock on live chat.