Crypto Trading Signals: All You Need to Know to Make Profits in Crypto
News | January 12, 2022, 9:21 AM | The content is supplied by a Guest author
Risk warning: We do not endorse products mentioned in the article. Do your due diligence before investing.
If you're entering the crypto trading market on your own with little or no trading experience, you're bound to lose out unless there's loads of luck on your side. That means you'd have to spend a great deal of time training yourself to trade and often start to trade with very little investments.
This is not the deal for the impatient. But did you know there is a way you can learn to trade while at the same time making healthy profits with your crypto assets? You can get the best of both worlds: learn how to trade crypto like a pro and earn like a pro at the same time. This might sound too good to be true but it can be done with crypto signals.
In this 4-minute read, you'll learn all about what crypto signals are, how to use them to make profits and what are the best crypto signals out there. Let's jump right in.
What are Crypto Trading Signals?
Crypto signals are, in essence, a highly-experienced trader walking you through trades and helping you make profits with a clearly defined set of instructions. Trading signals are usually communicated over a secure platform such as Telegram.
Signal providers send out messages to members on what crypto to buy, when to buy it, when to sell it, and the price at which to stop loss. These signals come from highly-skilled traders who have years of experience in the industry. Signals let you trade just like a professional trader would and learn in the process.
Signals are based on the provider's expertise and research, and since they are pretty well-versed with how the market works, they can give you signals with a very high odds of making a profit.
This is what a signal looks like: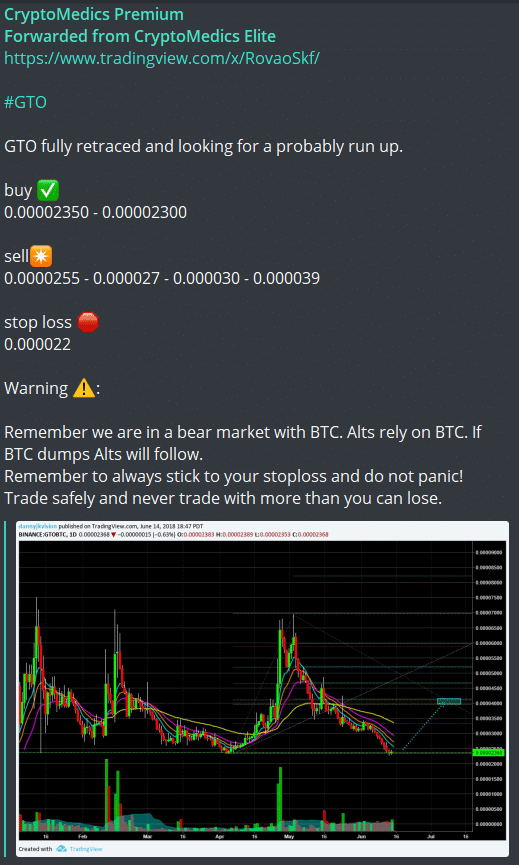 The signal mentions the cryptocurrency that's involved in the trade, the price to buy, and the price to sell at. It also mentions the stop loss which is an automated mechanism in crypto exchanges to minimize your losses in case the crypto does not perform as expected.
The provider gives you instant notifications whenever the target crypto reaches the entry price, if any profit targets are met and if it's time to trigger stop loss. This means you can stay updated with how the market is performing without having to go on the exchange and keep your eyes on the charts yourself. In return for their signals, providers charge a membership fee which can vary between providers and the type of plan you opt for.
How to Choose the Best Crypto Signals
The crypto signals provider you choose depends on a range of factors. The first and foremost would be the crypto exchange you want to use. Note that signals are exchange-specific, which means you can only follow and make profits with signals with the exchange they're intended for.
Most providers will give signals for the most popular exchanges like Binance, Bittrex, BitMex, and Coinbase. You'd also want to look into the communication app they use for signals. Most providers work on Telegram because it has high encryption standards.
To find the best Telegram crypto signals, you'd want to look at the following factors.
Win rate: This is the percentage of signals that turn out to be accurate or profitable. No signal provider is 100% but the best ones maintain a rate of 90%+.
Services: There's a range of services from automated training, investment portfolio management, hidden gem calls, VIP groups, and more offered by different providers.
Membership fee: Every group would have a different membership fee. Some are really expensive while some offer good results at a reasonable price.
Trading methods and duration: Specialist traders may follow one or some of the following; day trading, swing trading, scalping, or position trading. Trades can be short-term, mid-term, or long-term. It's better to determine your goals and choose the right provider.
Fat Pig Signals are known to bring fat and juicy profits to the table. They are not a lot about cosmetics, but all about performance. Big profits all the way. This signal provider offers Binance signals with good risk management, margin trading on Bybit/Bitmex, important updates, and mid and long-term investment portfolio management.
Fat Pig Signals have maintained the top two spots on the monthly signal results chart for many months now. They've maintained a 90+ win rate consistently, and this is mainly because they study the market conditions and Bitcoin movements thoroughly before they enter a trade.
The admins are always around to support members in the chat. There's always someone from the team that's willing to help and answer any questions that you may have.
You can also reach out to them privately for any support you may need. But before you do that, please know that they don't accommodate general crypto queries. You'd need to get familiar with the basics on your own.
What makes them unique is their funny chat that leaves you laughing, and making profits at the same time. You can have a jolly time in the chat while extracting valuable trading information from the admins.
Things to Remember to Make Money with Signals
If you're interested in subscribing to a signal provider, the first thing you must take care of is to not fall for any scam. There are a lot of scams going on in the crypto world where scammers claim to be real signal providers and steal your money. Be extremely careful to reach out to the real Telegram channels and real websites.
It's also essential to bear in mind that not every signal from a provider will end up being profitable. Sometimes a signal can make you a loss too. But in the end, it all comes down to understanding the difference between risk and reward. With a high-quality provider, such as the ones mentioned above, more than 90% of all trades will make you a profit.
Regulated Brokers
Ad Disclosure
?
The table below contains links to 3rd party websites of our top partners from whom we receive compensation at no additional cost to you.