Youhodler Review - What Services Do They Offer?
YouHodler is a Fintech platform with two main offices in Cyprus and Switzerland.  It offers up to 12.3% APR high-yield crypto savings accounts for more than 30 different coins, crypto-backed loans for 30 different coins as collateral. In addition, the platform provides universal crypto to crypto and crypto to fiat conversions and a unique Multi HODL trading tool.
(The whole article can be seen in the following video that has been created with Dukascopy TV collaboration.)
The company supports the following assets:
Four fiat currencies such as EURO, Swiss Franc (CHF), US Dollar, and UK Pound sterling
Stable coins such as Tether (USDT),  TrueUSD (TUSD), HUSD, PAX, DAI, and USDC
Over 30 Cryptocurrencies and tokens, including ETH, DASH, BTC, REP, BCH, LTC, XRP, XLM, and HT.
YouHodler safeguards users' digital assets using Ledger Vault's advanced security options. It is also an active member of the Blockchain Association of Financial Commission. But that is not all. The Swiss-based platform uses Independent Financial Commissions' dispute resolution process to protect customers. The platform comingles conventional financial practices with the contemporary innovation of the digital industry. YouHodler team has expertise in:
CFD, Forex, and commercial trading
Creating eLearning and eCommerce platforms
Blockchain and distributed ledger technology
YouHodler Main Features
The platform features are designed to unlock the potential of crypto-assets value. Below are YouHodler's main attributes.
Crypto Based Loans
The point of investing in cryptocurrency is to take advantage of the future price increase. Therefore, spending cryptocurrency hinders investors from reaping the benefits of growth in asset value. For this reason, YouHodler provides investors with crypto-based loans. In other words, investors get cash for general needs so that they can continue hodling their cryptocurrencies.

All In One Payment Solutions
YouHodler supports credit cards, stable coins, and bank transfers.
User Wallet
YouHodler's mobile and web wallets are easy to use and straightforward. They are great alternatives to crypto wallets.
Trading service
The platform has great trading solutions. It offers investors an opportunity to trade and multiply their assets.
Savings Accounts
YouHodler provides users with a platform to save and earn interest on deposits.
Why Choosing YouHodler is a Prudent Decision
Uses Top-Notch Technology for Crypto Wallet Security
Youhodler uses state-of-the-art technology from the Ledger vault to store its crypto assets securely. Ledger Vault is a security solutions company with a crime insurance pool of $150 million.
The safety of Fiat Money is Guaranteed
YouHodler has accounts in the biggest banks in Switzerland and Europe. Also, they have partnered with reputable financial payment companies.
Seasoned Team
YouHodler managerial and engineering team comprises brilliant minds with extensive experience in technology and fintech development. For instance, the CEO Ilya Volkov boasts 15 years in commercial finance and trading fintech. In addition, he is a member of the Crypto Valley and Blockchain associations. Similarly, Alex Vinny, the head of products, is a former UI engineer of one of the leading trading apps with 2.2 M clients from 110 countries.
Dynamic Development
The platform strives to make users' experience as best as possible by constantly improving their products and adding new coins and features.
Excellent customer support
YouHodler customer support staff is always available 24/7 via live chat on the platform or in the app to provide users with VIP-level customer support. Whether you are a hodler, miner, or trader, they are always ready to help and answer your queries.
Risk control
Thanks to their extensive expertise and experience, they have devised ways to manage currency exchange risk.
YouHodler Products and Services
YouHodler connects brands with high-value customers. It achieves this goal by introducing new coins on its platform. If you would like to grow your tokens' audience, YouHodler is your go-to platform.
YouHodler Deposits and Withdrawals
The process and requirements of depositing crypto and stable coins vary from that of depositing fiat currencies.
How to Deposit Crypto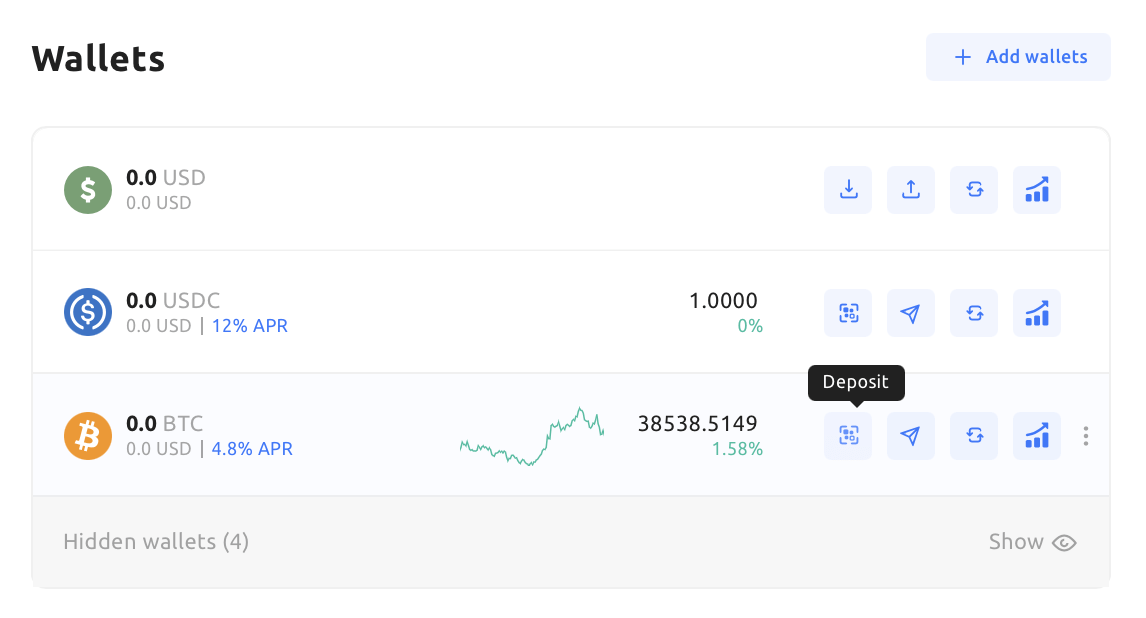 Depositing crypto on YouHodler is pretty much straightforward. You only need to head over to the wallet section, choose the crypto wallet and click deposit. The next step is to scan your QR code or copy your wallet address to ensure the coins go to the correct address. BTC is one of the main wallets, and you can make deposits from all Bitcoin addresses. The best part is that you will receive an email or SMS notification after receiving the crypto funds.
That said, you must ensure the destination wallet for the crypto deposit supports the networks used to make deposits.  For instance, YouHodlers supports two formats of  Bitcoin addresses - Bech 32 and SegWit. Similarly, they support BEP20 network for many coins.
The deposit will appear after two OMNI network confirmations and 10 ERC network confirmations. However, the transaction time varies depending on the corresponding network. Note that the YouHodler is not responsible for wrong deposits caused by a wrong Destination tag or Memo ID.
Withdrawing Crypto and Stable Coins
To make a withdrawal, head over to the wallet page, choose the crypto you want to withdraw, and click the withdraw button. Next, fill in the withdrawal form indicating the crypto amount and the recipient's address. You can opt to get an SMS code or use the Google 2 factor authentication verification app.
Once you get the confirmation code go ahead and click on the withdraw button. This transaction is recorded in the transaction history. Likewise, the withdrawal form on your wallet displays the withdrawal fee. What's more, your account must be verified for the withdrawal to be successful.
Depositing Fiat Currency
YouHodler supports EUR/GBP/CHF and USD deposits. Simply click deposit on your wallet of choice. You can either choose to use a bank wire transfer or the AdvCash. The processing time varies depending on the wallet. For instance, the USD SWIFT takes up to five days while the EUR (SEPA) takes up to 2 days.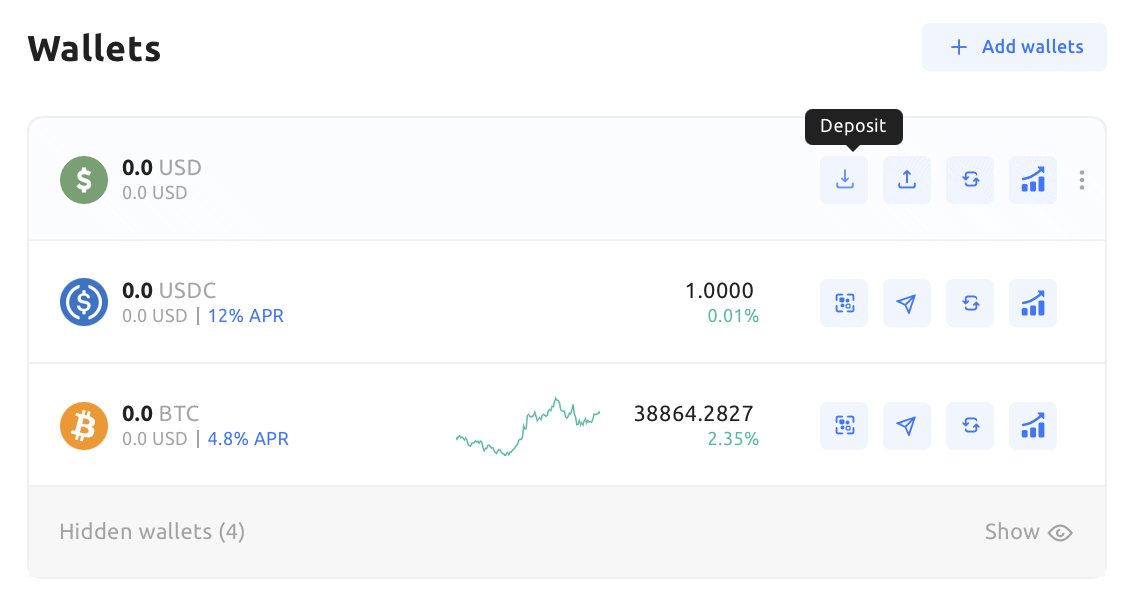 Withdrawing Fiat Currencies
YouHodlers has two options for withdrawing fiat currencies - bank wire or credit card. To use bank wire, go to the fiat wallet panel and click the withdraw panel. The next step is filling in the withdrawal form indicating the amount, account number, and the IBAN. The beneficiary name must match the name provided in the proof of address and KYC documents. The best part is that withdrawal approval is almost instantaneous.
AdvCash Deposit
Making a deposit using AdvCash is similar to other deposit methods. Simply click deposit on the wallet page and choose the AdvCash option. The platform will direct you to the AdvCash website, where you will be required to complete the deposit using the MasterCard, Visa, or AdvCash Wallet.
Converting crypto and Fiat Currencies
You will probably need to convert crypto to different crypto or crypto to fiat for various reasons. Well, the convert option is available on all wallets. Clicking the exchange button will direct you to the conversions form. Fill in the amount you wish to convert and click the convert button. The calculator will show the amount you will receive on the right side. The transaction will appear on the conversion history with a pending status. Once the transition is complete, the actual amount will appear in your wallet.
The conversions are instant for:
Stablecoins to stablecoins
Crypto to fiat and vice versa
Fiat to stablecoins and vice versa
Crypto to crypto and crypto to stablecoins transactions take 5 to 30 minutes. However, the conversion speed depends on the performance of the blockchain network. It is worth noting that YouHodler only supports conversions amounting to a minimum of 30 US dollars. Check the calculator on this page to see the actual exchange rates and commissions.
Crypto Savings
Now, there is nothing better than saving for a rainy day. Well, YouHolder enables investors to earn interest by depositing and hodling crypto assets in their wallets. But how exactly do you start raking in interest profits from your crypto assets? First, you must pass all  KYC requirements. Next, load funds into your wallet and save them by clicking the 'sign saving reward' button on top of the page. A video explaining requirements will appear. Check that you agree with the savings reward agreement. Now sit back and wait for the interest to trickle into the wallet weekly.

General Conditions for Saving on YouHodler
The minimum deposit into the savings account is $100 equivalent, and the maximum interest profit is $100000 equivalent on all assets. Here is where it gets better. The interest is calculated per week. Therefore you earn an annual percentage rate (APR) plus compound interest. This means the profit from interest will supersede APY (annual percentage yield). The interest rates are massive.  For instance, 12.3% for USDT, 12% for TUSD, PAX, DAI and EURS, 6% on ADA, 6.2% on LINK, 5.5% on ETH. Check this page to see all the current rates.
Instant Crypto Loans
You guessed right! YouHodler's Crypto loans use crypto as collateral. The loan is accessible in EUR, USD, GBP, CHF, USDT, and BTC. YouHodler accepts 30 cryptos as collateral, including UNI, Ethereum, Bitcoin, and SUSHI, with up to a 90% loan-to-value (LTV) ratio. In addition, the loan is available for withdrawal instantly in personal bank accounts and credit cards. Simply fill in the loan amount you need, choose collateral and interest you are comfortable with to get the loan.
The minimum loan amount is $100. Check calculator on this page to find the best suitable option for you. The idea behind offering loans is to allow investors to access cash without necessarily selling their digital tokens. Here is an interesting point. YouHodler understands the crypto market is dynamic. Therefore, they can increase loan-to-value (LTV) ratio or simply allow you to get more money without increasing your collateral. In dire situations, they allow traders to extend Price Down Limit (PDL).
Multi HODL Tool
Perhaps one of the best features of YouHodler is Multi HODL. Essentially, the platform enables you to use part of your wallet balance to multiply your crypto assets. Therefore, you can hold a part of the assets in a safe wallet and trade using the other portion. So how does it work? Multi HODL feature is designed to help crypto investors to benefit from price growth and falls. Essentially, YouHodler lends users crypto loans to buy and sell crypto assets. You can use the crypto assets as collateral for the next loans. This loan chain can multiply up to 30 times depending on the multiplier level.
To illustrate, let's assume you want to go long (invest in price increase). YouHodler lends you US dollars and uses crypto assets as collateral. Conversely, Youholder lends you the crypto assets with USD as collateral for the down option. Therefore, you have an opportunity to rake in profits whether the prices of cryptocurrencies go up or down. Now, to trade successfully, you should specify the risk you are willing to accommodate. In other words, choose the multiplier. The multiplier starts from ×2 to ×30.

In addition, you should specify the take profit level. The system sets the margin call by default. Here is the good news. You can edit these two parameters any time. In fact, you can choose high profits, which come with increased risks of margin calls. However, you cannot lose more than the specified amount. The maximum loss is set at 100% of the margin call level. Once you click the start button, the order is set in real-time. Here is another interesting fact. The Multi HODL returns at the end of the transaction should be more than the conversion minimum. Otherwise, YouHodler will refund the balance to your wallet in borrowed currency.
Essentially, the Multi HODL tool combines the features of CFD trading and Crypto exchange into one.  For instance, it offers real execution, which is not available in crypto CFD trading. It also allows you to multiply your funds without physically buying crypto assets. Again, this is not possible in crypto exchanges. What's more, you can trade using savings and earn interest while trading, features that are not available in both crypto CFD trading and crypto exchanges.
To use Multi HODL, simply head over to the Multi HODL menu. Then click the Multi HODL form and fill in with the necessary parameters, such as the currency pair you want to trade. The next step is to specify the investment strategy. For example, do you want to benefit from a price increase or price drop? Once you specify the strategy, choose the wallet of the source of the funds and enter the initial investment amount. Now you are good to go. Check this page for detailed information.
Conclusion
YouHodler
is an all-in-one cryptic service platform. It has all crypto services, including loans, savings, and trading, all under one roof. You don't have to juggle between multiple platforms to access these services; you can use the platform to do all activities. The platform offers crypto loans. Therefore, you do not have to dispose of cryptos to access cash.
Regulated Brokers
Ad Disclosure
?
The table below contains links to 3rd party websites of our top partners from whom we receive compensation at no additional cost to you.