Which Broker Provides Trailing Stop Loss
In trading, we can't emphasize the importance of risk management enough. Every savvy trader understands why they must define their risk and reward well before hitting the open order button. Risk means the amount of money they are willing to lose when the trade does not go according to plan. This can be expressed as pips or an amount.
Setting a Stop Loss
Instead of staying glued on the screen to exit the trade manually, you can always use a stop loss. A stop loss is an order that tells the broker to close the order at a predetermined price with a calculated loss if the trade goes south. While some people opine that you can trade without stop loss, perhaps the market adage " If you don't use stop loss, you will eventually stop trading" explains the importance of stop losses.
However, the stop loss is static. Therefore, even if you run into profits and the trades reverse, the profits fizzle out, and you lose. It won't matter how deep you were into profit. This begs the question:
Can you have a dynamic stop loss that changes according to how the price changes?
The answer is YES. This is what the trailing stop loss entails.
Understanding the Trailing Stop Loss
The difference between the conventional and trailing loss is that the latter moves. It trails the price movement to lock in profits. For example, if you set the trailing stop loss at 50 pips in an uptrend, your stop loss will move 50 pips below the highest price point. The close order is triggered when the price hits the trailing stop loss, effectively closing the order. However, the trailing stop is not affected if the market moves in the opposite direction.
But not all brokerage firms have integrated the trailing stop loss feature in their trading platforms. You should therefore be keen when choosing a trading platform. Below are brokers who have a trailing stop loss feature.
eToro
eToro is one of the most popular trading platforms. It offers thousands of assets allowing you to expand your portfolio. While it is popular for stock trading, it also offers various markets, including currencies, cryptocurrencies, and commodities. You can also stake in the crypto market. Stock traders enjoy a great experience at 0% commissions. But perhaps the most defining feature is the copy trader feature that allows you to replicate trades from successful investors.
When trading, eToro allows you to place a trailing stop loss any time after opening a trade. You only need to locate the TSL checkbox below the Open Trade Window and click on the stop loss. Ensure you enable the TLS so that every time you adjust the stop loss manually, the pip difference between the current price and stop loss also changes accordingly.
76% of retail CFD accounts lose money with this provider. You should
consider whether you can afford to take the high risk of losing your money.
FP Markets
FP Markets is one of the platforms that gives trades access to currencies, US-traded Indices, and other markets. It also has tantalizing 500:1 maximum leverage (in most non-EEA countries), 0 commissions, and spreads starting from zero. Specifically, by signing up to FP Markets, you will have access to over 60 forex currency pairs, Over 10000 stocks, and 19 major indices. You also gain access to speculate on commodities like natural gas and metals such as silver and gold.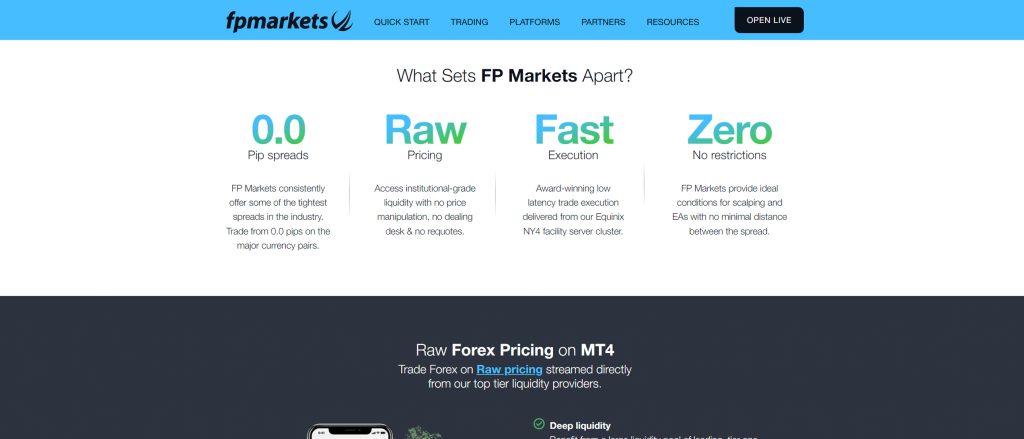 Newbies can take advantage of auto trading and expert advisors to enhance trading results. FP Markets has a mini terminal showing trailing stops on orders and other automated tasks. Set the trailing stop on the mini terminal above the sell and buy buttons. Simply click on the chart marker for each order, and a pop-up window will appear. And you don't have to worry about computing the training loss. The platform comes with an inbuilt calculator.
73.85% of retail CFD accounts lose money.
XTB
With over 2100 global markets spread across indices, commodities, forex, stocks, indices, crypto, and ETF, XTB boasts superior execution speeds and is a fully customizable platform. It also shows the sentiment performance statistics and comes with a calculator. The innovative platform's numerous features make it endearing to over 495 000 customers.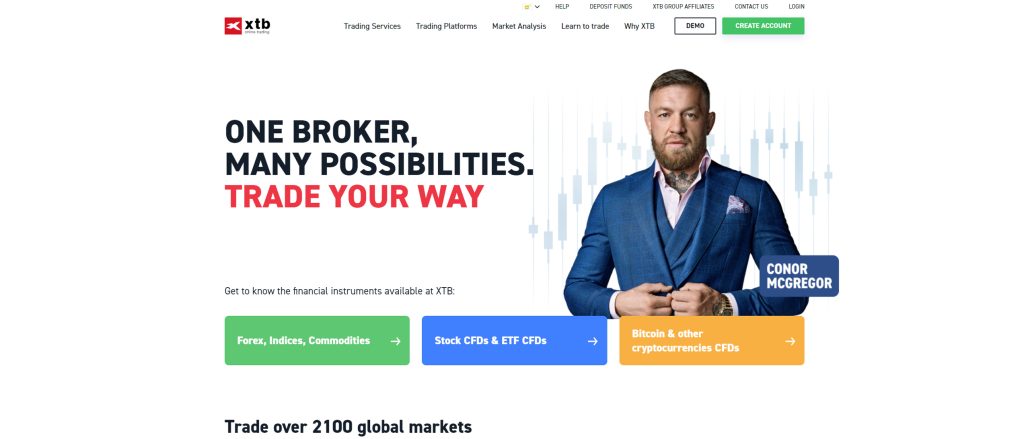 XTB comes with a trailing loss feature to lock in profits and maximize your returns. Simply open the terminal window, specify pips between the current price and take the profit level. The window also allows you to modify and deactivate the trailing stop by clicking the trailing stop box in the trade modification module.
78% of retail investor accounts lose money when trading CFDs with this provider.
Exness
Boasting 12 years of excellence, Exness allows you to invest in currencies, oil, digital currencies, stocks, metals, and indices. Some of the features that stand out include negative balance protection and instant withdrawals (for certain withdrawal methods). You will also enjoy fast execution and competitive spreads. This means that you join over 1.8 million people. And, of course, Exness allows you to use a trailing stop loss to protect your profits.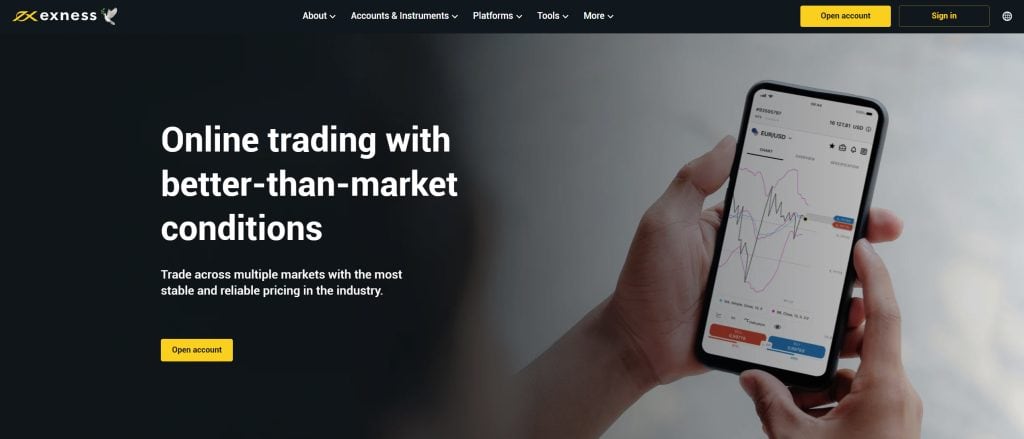 To set a trailing stop, simply right-click the open order on the trade tab and select trailing stop. Then select the number of points by choosing the available options or enter custom points. Note that you can only enter over 15 pips.
Remember that forex and CFDs available at Exness are leveraged products and can result in the loss of your entire capital. Please ensure you fully understand the risks involved.
Forex.com
Endowed with over 500 markets, Forex.com allows you to invest in FX, commodities, and equities on an advanced MT 5 platform. Traders who qualify for the Active Trader feature receive one on one professional support and earn rebates.

But does forex.com allow you to set a predefined number of pips as a loss if the trade goes south? Yes. You simply head over to the MT and select the trade. Finally, right-click the order and select the trailing stop. You can either use the options available or set the points. Remember each pip is equal to 10 points.
81% of retail investor accounts lose money when trading CFDs with this provider.
XM.com
XM also supports trailing stop orders attached to your opened position. However, you must open the terminal to execute the order successfully. But it will be in effect even after closing the MT4. Simply head over to the terminal window and right-click on the open position. Select the trailing stop and set your desired pip value which sets the distance between the current price and pip value. And voila! Your trailing stop loss is in operation. You can also deactivate trailing stop loss by clicking "none" of the trailing stop loss windows. XM has been voted as the fastest-growing broker. It boasts over five million clients.
IQ Option
IQ option provides access to investment opportunities in over 300 markets. The broker has a minimum initial capital of $10, which makes it one of the best brokers for small accounts. The award-winning platform comes with a customizable interface and convenient withdrawal features, which have made it endeared by over 87 million traders.
The trading platform has a trailing stop loss feature that helps manage risks and enhance the trading experience. This means that you lock profits when there is a risk of a potential trend reversal.
To set a trailing stop loss, you will want to fill in "when a loss in'' on the position auto-closing window, which helps manage risks. Below the set pips, ensure you tick in trailing stop loss. The window informs you that the preference will be applied to new positions.
Take away on brokers that provide trailing stop loss
Never make the mistake of trading without a stop loss. Otherwise, if your trade goes against you, it can significantly eat into your capital or even blow the account. It is imperative that you choose a broker who offers a trailing stop loss. The above platform will get you started. Happy trading as you chase the dollar.
Regulated Brokers
Ad Disclosure
?
The table below contains links to 3rd party websites of our top partners from whom we receive compensation at no additional cost to you.