Oanda US Review - What to expect from the broker
Oanda US prides itself on being one of the best forex brokers in the US. This broker offers traders over 68 different currency pairs alongside crypto assets. Notably, this is one of the oldest brokers in the market having launched in 1996. The company promises its clients a powerful and fully automated trading platform.
In this OANDA US Review, we will be dismantling this broker to see what to expect from the broker. We will be looking at its trading conditions, trading platform, availability of trading instruments, and credibility in the market.
General Risk Warning: Trading margined products carries a high level of risk.
Basic Information About Oanda US
Website Address: www.oanda.com/us-en/
Instruments: Forex and cryptocurrencies.
Minimum Deposit: No minimum deposit.
Demo Account: Yes, a rechargeable non-expiry demo account.
Trading Platform: Oanda Mobile, Oanda Web, TradingView, and MetaTrader 4.
Methods of Deposit and Withdrawal: Bank cards, Automated Clearance House, Wire Transfer, Spot Crypto.
Trading Platforms of Oanda US
Traders are always looking to invest with a forex broker that offers them a fast and reliable trading platform. The best brokers always ensure to provide industry-standard platforms to give their clients an edge in the market. Oanda US allows its traders to choose from three main trading platforms. These include the Oanda Web platform, MetaTrader 4, and TradingView. Additionally, the broker offers its clients a mobile application for those who want to trade from their phones.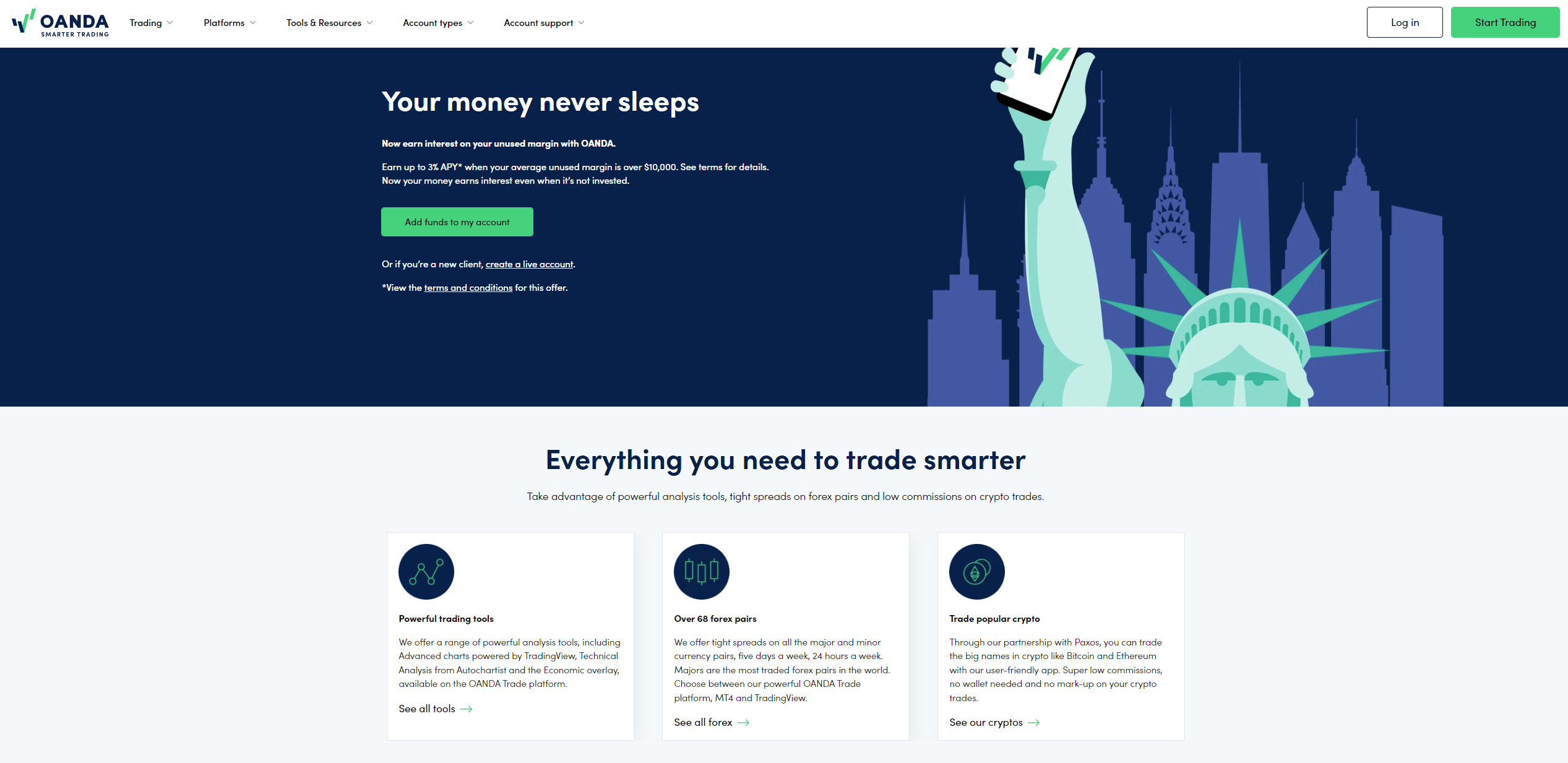 The company believes that its in-house platform is enough for all kinds of traders. It is fast, powerful, and intuitive enough for new traders. However, MetaTrader 4 and TradingView are available for traders who would prefer to use them. Notably, MetaTrader 4 is the most used trading platform in the world due to its functionality and customization. On the other hand, TradingView is the most popular charting tool among traders of all kinds. Therefore, it is safe to say that Oanda clients are spoilt for choice. 
Assets Available on Oanda US
Traders always want to trade with a broker that offers them more than one market to invest in. This allows them to diversify their portfolios and spread their risk of investment. However, forex brokers must follow rules and regulations that may limit the number of asset classes they can offer. Oanda US does a good job of providing only asset classes that are legal for US clients to invest in. Here are the two markets available for clients on the US branch of Oanda:
Forex - Under this asset class, traders can invest in different currency pairs including majors, minors, and exotics. In total, there are over 68 different currency pairs to invest in.
Cryptocurrencies - The other asset class from which investors can trade assets is the crypto market. Oanda US formed a partnership to allow investors to spot trade crypto assets on the itBit exchange. In a nutshell, you will manage everything within your Oanda platform but trading happens on the Paxos itBit exchange. Some of the cryptocurrencies traders can buy and sell here include Bitcoin, Bitcoin Cash, Ethereum, Litecoin, Pax Gold, and others. All cryptocurrencies are traded against the US Dollar.
OANDA US Spreads and Other Fees 
When looking for a broker to trade with, investors will always choose one with low fees. Naturally, the lower the fees traders have to pay, the higher the potential profits. The primary fee charged when trading with Oanda US is the spreads. Luckily, the spreads on this broker site are competitively low, which is always a good sign. Specifically, the spreads start from as low as 1.4 pips for major currency pairs.
Another fee that traders should be aware of is the inactivity fee. The company charges a fee of 10 currency units on an account that goes without activity for at least 12 months. Further, traders have to pay a financing fee for positions held overnight. Oanda US is very transparent about the charge that applies. They even provide a page to show traders how to calculate the financing fee. Notably, Oanda US does not charge deposit and withdrawal fees. However, depending on your deposit method, the sending bank may charge you a fee for funding your account.
Oanda US Demo Account
A demo account is one of the most important resources for traders. New clients can use this account to test out the services offered by a broker. As such, they will only invest once they have some idea of what they can expect from the broker. Furthermore, traders of all kinds can use this account to test their trading strategies before using them in the real market. 
Fortunately, Oanda US has a great offering for its clients. The demo account provided by this broker is non-expiry and traders can replenish their virtual funds at any time. Therefore, people can have this account for a lifetime if they want. However, MT4 sub-accounts are closed after 90 days of inactivity. Once closed, MT4 sub-accounts cannot be reopened. Luckily, clients can open new MT4 sub-accounts if they need one.
Oanda US Tools and Resources
There are several tools that Oanda US provides to its clients to help them on their trading journey. Thanks to TradingView, traders on this broker site have access to an advanced charting tool to help them with technical analysis. Notably, there are 11 different customizable chart types accessible to traders. They can use popular chart types including candles, Renko, point and figure, and Heikin-Ashi, among others.
On top of that, the broker gives its traders access to a variety of other trading tools. These include a spreads calculator, VPSs, Multicharts, and more. Further, the broker has a learning section for traders who want to improve their knowledge of the market and trading strategies. This section contains several lessons covering different topics from basics to more complex lessons like technical analysis.
Oanda US Credibility
When assessing the credibility of a forex broker, there are two main things to look at. These include the regulatory status of the company and the customer feedback about the company. First, let's look at the company's regulations. Well, Oanda US has good standing in this category. For starters, Oanda US is a member of the NFA and is subject to the NFA's regulatory oversight and examinations. Additionally, Oanda US is a registered Futures Commission Merchant and Retail Foreign Exchange Dealer with the Commodity Futures Trading Commission. 
Further, Oanda US has under its belt a plethora of awards showing the reception of traders. Notably, it was voted the most popular broker three years in a row in the TradingView Awards from 2020 to 2022. Generally, it seems that the customers of this forex broker enjoy the services provided.
Final Comments
This forex broker has been serving clients for a long time now since its launch in 1996. As such, it has had time to establish a reputation in the market. Fortunately, as things stand, the customers of this broker seem to enjoy the services that it offers. We can see this in the many awards it has in its collection. Moreover, the trading conditions of this broker are within market standards. The spreads are competitively low and the trading platforms are advanced and fast. 
On another positive note, the regulatory status for this broker in the US does not disappoint. It is a member of both the NFA and the CFTC. It is subject to the NFA's supervision and examinations. As the US has some of the stringest financial laws, it is a good sign for this broker to have licenses in the jurisdiction.
Risk warning: Trading margined products carries a high level of risk.
OANDA CORPORATION IS A MEMBER OF NFA AND IS SUBJECT TO NFA'S REGULATORY OVERSIGHT AND EXAMINATIONS. HOWEVER, YOU SHOULD BE AWARE THAT NFA DOES NOT HAVE REGULATORY OVERSIGHT AUTHORITY OVER UNDERLYING OR SPOT VIRTUAL CURRENCY PRODUCTS OR TRANSACTIONS OR VIRTUAL CURRENCY EXCHANGES, CUSTODIANS OR MARKETS.
Regulated Brokers
Ad Disclosure
?
The table below contains links to 3rd party websites of our top partners from whom we receive compensation at no additional cost to you.