New App Brings DeFi to Indie Film: Mogul Productions Review
News | June 09, 2021, 22:09 PM | The content is supplied by a Guest author
A few short years from now, the finance industry may look at 2021 as the year of DeFi. Investors have been pouring record amounts of money into various DeFi protocols to take advantage of the robust returns provided by borrowing, lending and decentralized trading. The next phase of DeFi, according to Forbes, will be making the DeFi industry "more accessible to everyday users while building even greater trust through better protocol and product transparency that clearly identifies risks to its users."

Enter Mogul Productions, which aims to bring DeFi into the Ivory Tower of the film industry, making investment in film easily available to the everyday consumer through blockchain, NFTs, and a community of dedicated film fans. Mogul Productions officially opened its online doors in February. If you're one of the many people out there fascinated by anything involving decentralized finance — and have a healthy appetite for independent filmmaking — then Mogul could be a  way to engage with aspiring filmmakers while investing in a new avenue for DeFi.
Let's look at the details.
A Token System
The heart of Mogul's business model is a token system that allows film lovers and filmmaking hopefuls to weigh in on film projects and invest in the ones chosen by the Mogul community to get "the green light." Those who want to use the Mogul app must purchase STARS Tokens, which are based on the cryptocurrency Ethereum. If you sign up now, your first STARS Token is free. Once they have purchased tokens, users can submit screenplays that are vetted by Mogul management and other users, vote on what projects should move forward, or buy products.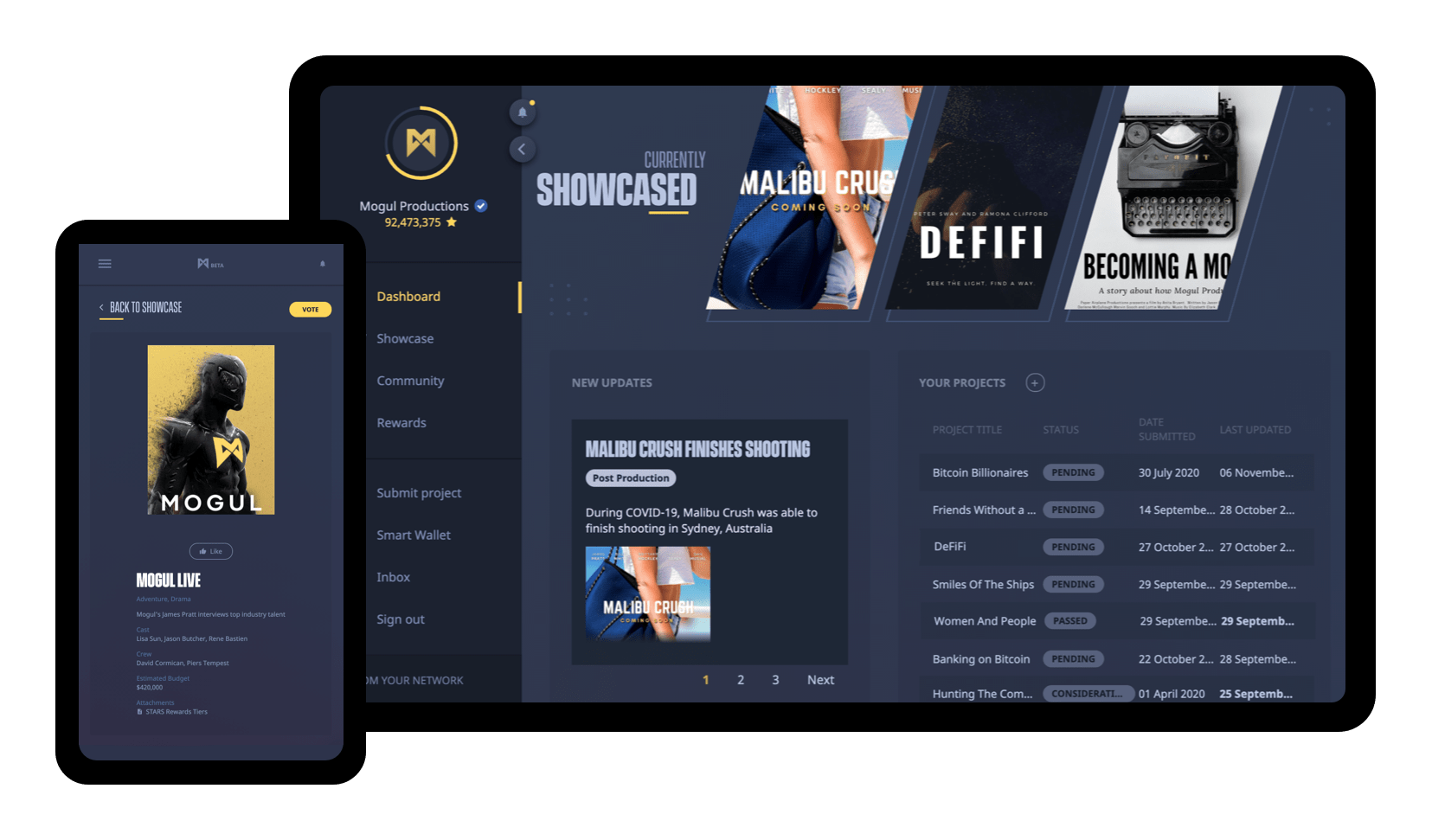 In an interview, Mogul's head of project procurement, Cindy Cowan, said that the film industry has operated with little financial oversight for far too long.
"If somebody doesn't understand blockchain, it's a way to actually protect financers in a way that they haven't been protected before," Cowan said. "Any dollar amount is put into a chain—imagine a gold chain—and whether you put in $20, $200, $2 million, your money comes out at the same time along the chain. So there's no possibility of doing what the old studio systems used to do: kind of hiding money or ripping people off or saying, 'Sorry, all this money went into marketing. There's nothing left.' Because even the marketing money—any money whatsoever—has to go into the chain."
Access Passes
Mogul is also offering "Access Passes," which include a number of perks for those who want to go all in on this new DeFi venture. The site says the Access Passes are a limited time offer, though it's hard to imagine Mogul won't continue offering them if they're successful. Like any business offering access for money, there's four tiers available with different levels of perks: ALL, VIP, Backstage, and Red Carpet.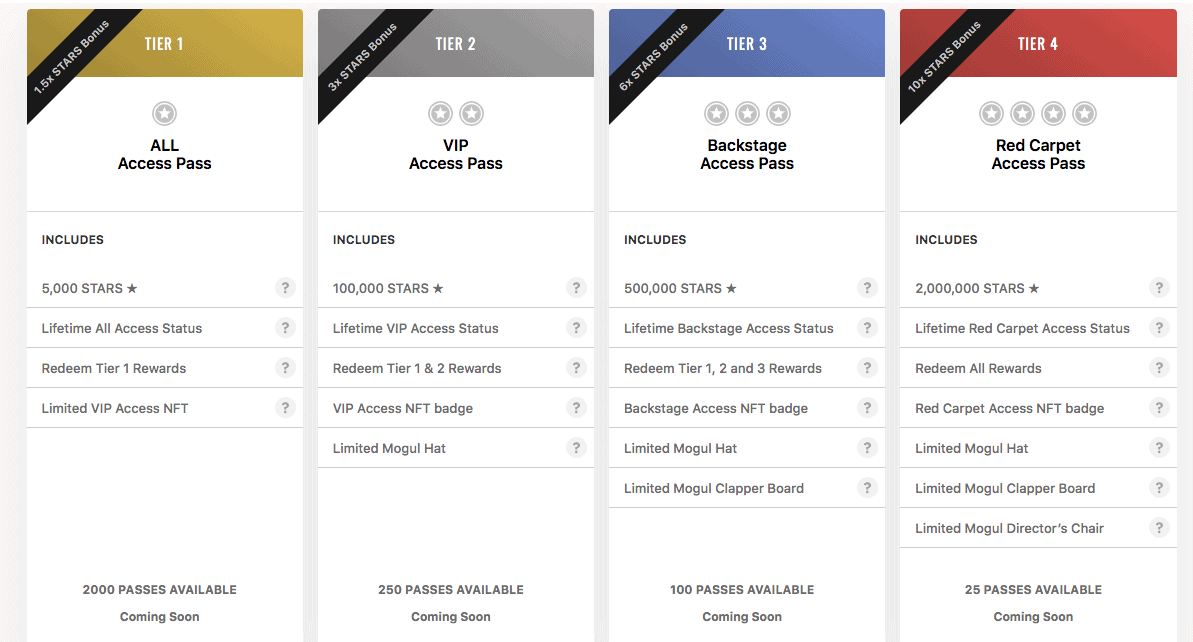 While the bottom level, ALL, grants users movie posters and tickets, upper levels grant more personalized experiences, like dinners with cast members, private screenings, and even an Executive Producer credit for those with the Red Carpet pass.
Movies funded by Mogul will be screened through the app first, allowing users the first look at the film they helped bring to fruition.
NFTs
What would a new DeFi platform be without an option for users to participate in the current frenzy for non-fungible tokens (NFTs)? Access passes also grant "NFT badges," which are displayed on your profile and grant various levels of rewards "curated specifically for badge holders of their respective tier."
It's an interesting approach. The platform is attempting to make film finance universally accessible while simultaneously reinforcing the social stratification that has always been a part of the attraction to the traditional film industry. And they're not afraid to use creative publicity to make their point.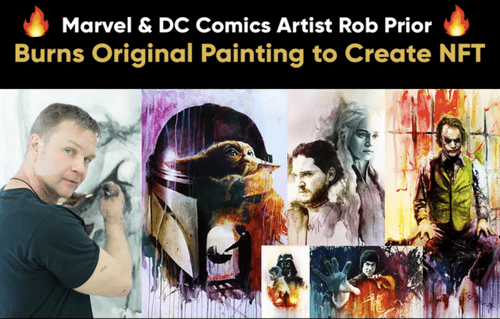 Their most recent marketing strategy was enlisting the help of Rob Prior, an artist for DC and Marvel, to create an original painting only to watch it burn in a Livestream event as it became a digital asset, or NFT. In case you missed the metaphor, Mogul management said the event "signifies the upward trajectory of NFTs as they continue to solidify their transformative value in the entertainment industry."
Conclusion
It would be surprising if Mogul Productions didn't achieve some level of success. The timing is perfect. The news is flooded with stories about blockchain, cryptocurrency, NFTs, and anything DeFi. It's clear that these alternatives to traditional banking have staying power that many people doubted just a year ago.
The thirst is out there, and Mogul Productions offers yet another way that DeFi aficionados can explore this brave new world. Currently, Mogul has started financing its first film, "Bonded," a human trafficking drama directed by Mohit Ramchandani. Inspired by a true story, the movie "follows the journey of a teenager from Mexico whose dreams of becoming a soccer star are shattered when he's smuggled across the border and sold to a sweatshop that makes party dresses in downtown Los Angeles," according to FilmDaily.
If Mogul can deliver on its promise to let movie fans "engage with filmmakers in deeper, more meaningful ways," they may very well become a new kind of player in the film industry. Lovers of popular culture feel more ownership of their favorite brands than ever before, and will likely appreciate a way of expressing it outside of Reddit and Twitter. The rise of streaming and the fall of movie theaters exacerbated by Covid-19 means that the future of the film industry is wide open.
Regulated Brokers
Ad Disclosure
?
The table below contains links to 3rd party websites of our top partners from whom we receive compensation at no additional cost to you.