Is Bitcoins Wealth Club a Scam? Or a legit system
As the price of Bitcoin continues to grow, so does the number of scams that want to rob people. Today we are going to have a closer look at Bitcoins Wealth Club to determine whether it is a scam or not.
Bitcoins Wealth Club is a system created by an individual that calls himself Vitaliy Dubinin. This person says that thanks to him you will be able to have a passive income of up to 0.3+ Bitcoins Per Day with an auto-pilot system that is 100% Free. Firstly, we will look at what should be delivered to us and then we will decide whether such results really are possible. So let's get right to it.
Bitcoins Wealth Club - introductory video
In the first video of Bitcoins Wealth Club we are informed how great cryptocurrencies are and how much would we earn if we had invested in the past in Bitcoin or Ethereum. Most of the information is actually accurate and we have a chance to remind ourselves how much did the price of Bitcoin and Ethereum changed since they were launched. In the video, you will also find famous people who support and invest in Bitcoin. The introductory video actually does not even promises any extreme earning results, that is just yet to come.
What happens when you enter your email
Once you enter your email address a new page will show up and an email from Vitaliy Dubinin will be sent to you. In this email, he wants from you to imagine what would it be like to earn 0.25 bitcoins per day or not to have any boss and be financially independent. He also provides a story how he became such a successful bitcoin trader.
Vitaliy Dubinin - His side of the story
The creator of Bitcoins Wealth Club, Vitaliy Dubinin, spent over 1,300 hours and tens of thousands of dollars to make it very simple for people to earn Bitcoins and grow their wealth. And luckily for us, he gives out his system for free. Sounds good to be true? Well, that might be because this looks like a sign of a scam. Let's be realists here. Who would give you such a system free of charge? If this works, it would mean a collapse of the financial system once a good amount of people were using it.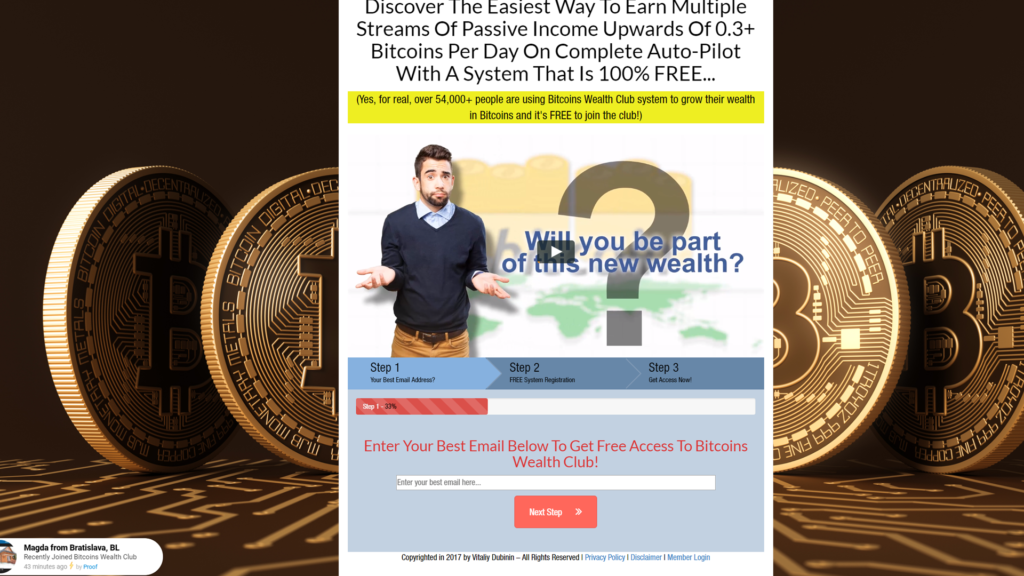 What Bitcoins Wealth Club promises
The system tries not to make many promises and they tend to repeat the same phrases over and over again, starting with what you should imagine. Here is a list of examples that Bitcoins Wealth Club wants us to imagine:
Image what would it be like to make just 0,25 BTC per day
Image what would it be to have a passive income $71,250 per month
Imagine owning just 100 Bitcoins and the price of each Bitcoin is just $10,000 - you'll have a 'liquid cash' worth of $1 Million dollars.
Imagine traveling the world whenever and wherever you want.. earning $1k - $2k a day in passive income TAX FREE..
Imagine real long lasting wealth that will serve you for a lifetime
It is one thing to imagine such things, but second to really trust that Bitcoins Wealth Club system will be able to help you to reach these goals.
Is Bitcoins Wealth Club a scam?
It is up to everyone to come to a conclusion whether Bitcoins Wealth Club really is a scam or not. If you don't completely trust it and want to rather trade with a transparent regulated company that is trusted by millions of traders around the world, check out article Regulated crypto brokers. But there won't be any promises to help people become bitcoin millionaires...
Average rating of Bitcoins Wealth Club
[ecp code="mychargeback"]
Regulated Brokers
Ad Disclosure
?
The table below contains links to 3rd party websites of our top partners from whom we receive compensation at no additional cost to you.