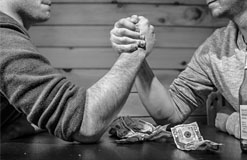 Binary brokers are definitely not a charity. Understand how they make money and top up your game against them.
The difference between your investment and payout you get
Most income which is generated by binary brokers comes from the difference between your investment and the payout they offer to you in a case of a correct prediction. If we demonstrate this on an example it may look as follows. Trader A creates an oil trade in which he predicts that the price will be higher in 15 minutes than it is now. Payouts that are offered on this asset are 80%. Another trader B might predict that the prices of oil will most likely be down in 15 minutes and he opens a put trade. But when the expiry time comes knocking on the door, only one trader can be correct and he will receive only an additional 80% from his investment. From the unsuccessful trader, the broker will collect his full investment (100%). So if both traders invest 50$, the broker will receive 100$ but pays off only 80$ to the successful trader. CFD trading and CFD brokers are different in this, they usually earn money from the spread (which is the difference between what will cost you an asset and what you get when you again sell it back).
Interest from money that clients deposited, investing
Another income source of brokers comes from interests. Even though ordinary people can not make bigger amounts from the interest rate that banks offer, here is the place where brokers have a huge advantage as they handle huge loads of money that clients deposit. The bigger the company is the more additional money it can gain from interests. Every broker that has a CySEC license is strictly restricted to touch clients' money and to invest with them. However, when traders lose the money, they become equity of the broker and they can do with it whatever they please. That means even investing.
Account maintenance fees
For some binary brokers, additional sources of income may come from fees that are charged for account maintenance, which means deposits, withdrawals, etc. However, most binary options brokers do not demand these fees from their clients.
Inactive account fees
Some brokers charge inactive accounts with fees that usually move around 10$. As a non-active account, a broker generally considers an account on which no activity has been shown for 1 year. This time period may, however, vary, so if you plan to take a break, you should better find out beforehand after how long your account will be considered inactive.
Profit from premature buy-outs and rollovers
Most brokers also offer 2 additional tools that allow you to work with already closed trades. The first feature is a buyout, which allows you to sell the option back to the broker for a small fee. As with rollover, the function of this tool is probably clear – to extend your expiry time. From both of these tools, the broker gets a secondary profit. However, these features do not always have to make a profit for the broker. Let's look at the example, you invest 20$ in gold with the assumption that the price will go up. But after a while, you will notice that the price does not go upwards but that it is about to take a quick swim down. With this in mind, you decide to extend the expiration time in exchange for a small fee. Changing your expiration time will get you in the money scenario, saving you from a trade that would be otherwise unprofitable. As we can see in such a situation, the broker does not make money. But if you were to use this tool poorly, you would not only lose the investment you paid for opening the trade but also the fee for extending the expiry time.