Cryptocurrencies can be day traded, just like many other assets. However, the 5 cryptocurrencies that will be talked about here have peculiar characteristics which make them more amenable to be day traded than others. This article will, therefore, highlight the 5 best cryptos to day trade.

What is Day Trading?
Day trading is the practice of opening and closing trade positions in the financial markets within the course of a single trading day. For the purposes of time definition, a trading day starts from 10 pm GMT to 9.59pm GMT the next day. It is important to understand why this time definition is provided. Some financial markets such as the stock and commodity markets are not traded round-the-clock. However, the forex and cryptocurrency markets are 24-hour markets. The cryptocurrency market also takes this a step further by being the only financial market which is open all day, every day. So unlike other financial markets, you can day trade cryptos on a Saturday or even Sunday.
What Should You Consider When Day Trading?
There are several considerations to make when day trading cryptos. When it comes to choosing a crypto asset to day trade, you have to choose a cryptocurrency that can outperform the others in terms of price movements. But that's not the only criterion you should consider when choosing to day trade cryptocurrencies. The following criteria must be followed if you are to day trade efficiently and to a large extent, profitably.
1) Volatility

Volatility here refers to the degree to which the price of an asset will change within the course of the day. You need a cryptocurrency that has the ability to undergo rapid price changes, while maintaining a wide range of price movement in a day. Change in prices in your favour is what translates into profits. Low or no volatility means no money can be made. You need prices to change by a significant margin, with sufficient dips and rallies throughout the day to be able to profit from the price differentials between your entry price and exit price.

2) Liquidity

There must be a good trading volume on the cryptocurrency you want to day trade. Good trading volume (i.e. liquidity) will ensure that your orders can get filled at your preferred entry and exit prices. Furthermore, good liquidity will also reduce your transaction costs.

3) Low Transaction Costs

A day trader is going to take multiple trades in the course of a trading day. Therefore, you need not just good liquidity to keep the cost of trading down, but you also need to use a brokerage that offers reduced spreads/commissions on your preferred crypto assets.In the last week we updated our crypto brokerage comparison, so now you can see there also what fees each broker has.

4) Information Feeds

In the cryptocurrency markets, the news is everything, and cryptos respond ultra-fast to news in the marketplace. Unfortunately, there is no economic news calendar to follow as is the case in the forex market. Therefore, news about your favourite cryptos has to be sourced from unconventional sources. Twitter is a good place to get breaking news for crypto day trading.

5) Healthy Capital

You have to be well capitalized to effectively day trade cryptocurrencies, especially if you are trading leveraged crypto CFDs. This is because spreads on cryptocurrencies are generally higher than you will find for forex or commodity assets. You need enough capital to be able to withstand the sometimes bizarre price movements that occur intraday.
5 Best Cryptos to Day Trade
The 5 best cryptos to day trade are:
Bitcoin
Bitcoin Cash
Litecoin
Tron
Monero
Some of you may be surprised as to why Ethereum has been left off the list. Ethereum is off the list because it no longer has sufficient intraday volatility to support day trading. Furthermore, TRON is gradually taking over the dApps market and may be the preferred destination of dApps programmers and project owners heading into 2019.
The situation may however change, and we may be forced to update this list in the coming months. But for now, here are the 5 best cryptocurrencies to day trade.
Bitcoin
Bitcoin (BTC) is the number 1 crypto and is the most liquid of all cryptos, with high volatility. So it fits the profile of a cryptocurrency asset that can be day traded comfortably. On the 1-hour chart below, we see that prices have trended downwards for the day, dropping nearly $200. This price range will provide several opportunities to day trade.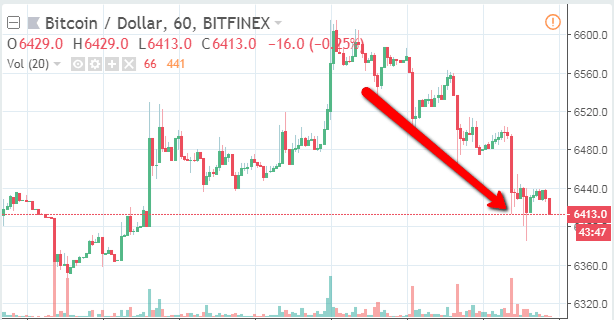 The daily range of BTC typically averages $50 – $100, with good intraday movement to the upside and downside.
Bitcoin Cash
Bitcoin Cash (BCH) is included in this list for 2 reasons. Firstly, it is a fork of Bitcoin and so shares in some of Bitcoin's characteristics. Price movements for BTC and BCH are therefore highly correlated. The second reason has to do with the impending hard fork which is being supported by Binance exchange. This has driven up volatility and trading volumes on BCH.
Litecoin
Litecoin (LTC) was created out of Bitcoin's source code and is also highly correlated to BTC prices. The chart below was taken at the same time as the BTC chart above, and we can see that even as BTC prices took a tumble on the day, LTC's price action followed suit.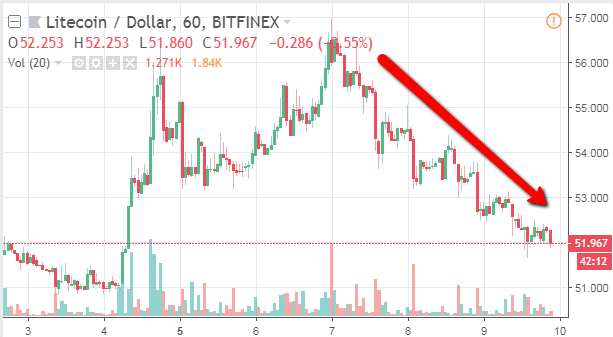 So it also has appreciable intraday volatility and trading volume to support day trading. Indeed, if a trader finds Bitcoin's transaction costs prohibitive, Litecoin can be traded as a ready alternative because of the high correlation.
TRON
Ever since the TRON Foundation launched its mainnet a few months ago, it has been signing up a number of dApps, and this has started to challenge Ethereum's dominance in this space. Expectedly, trading activity in TRON has picked up, especially on the back of comments accredited to TRON Foundation CEO on how his crypto would trump Ethereum on cost. Whether this deceptive marketing as claimed in some quarters, or a reflection of the true state of affairs, the market seems not to care. So TRON will provide day trading opportunities.
Monero
Monero tends to post good intraday price movements with a very healthy volume. Therefore, we consider this crypto worthy of making our list of 5 best cryptos to day trade.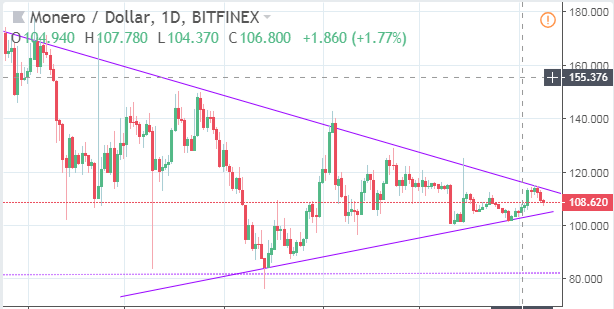 Conclusion
These 5 best cryptos to day trade will serve as the base assets for any trader that is serious about day trading the cryptocurrency market. In subsequent articles, we will discuss other aspects of cryptocurrency day trading which every day trader must be familiar with to have any chance at making money in this market.