12 Crypto Investment Tools You Should Use
News | February 21, 2023, 6:00 PM | The content is supplied by a Guest author
Cryptocurrency has taken the world by storm, and it's no secret that it's changing how we invest our money. But with so many coins, wallets, and exchanges out there, it can be overwhelming to navigate the crypto space. That's why we've compiled a list of five essential crypto investment tools that every newcomer should know about. These tools will help you stay informed, manage your investments, and make smarter decisions.
So, buckle up, grab your favorite beverage, and get ready to explore some crypto investment tools to invest like a pro!
What Is a Crypto Investment Tool?
A crypto investment tool is a software application designed to help cryptocurrency investors manage their investments, make informed decisions, and stay up-to-date with the latest market trends. Well, these tools can take many forms, from mobile apps and desktop software to online platforms and hardware devices.
To better understand what a crypto investment tool is, they can take the form of a crypto exchange, market data analyzer or incubator, portfolio performance monitor tool, or even a crypto wallet can be considered a crypto investment tool.
Why You Should Use Crypto Tools
You should use crypto investment tools for several reasons if you are interested in investing in cryptocurrencies. Further to the many other exciting features and purposes they have, these tools can be true guardian angels in your process of becoming a great investor, as these tools help you to:
Stay Informed (Market Data Analyzers) - The cryptocurrency market is highly volatile, and prices can fluctuate rapidly. Crypto investment tools provide real-time data and market analysis to help you make informed investment decisions.
Manage Your Investments (Portfolio Monitor Tools) - Some crypto investment tools allow you to monitor your portfolio, track your investments, and analyze your performance. This can help you to identify which assets are performing well and which ones are underperforming.
Secure Your Assets (Wallets or Exchanges) - Cryptocurrencies are precious assets, so they require a high level of security to protect them from theft or hacking. Crypto investment tools like hardware wallets and multi-factor authentication can help you to secure your assets and prevent unauthorized access.
Save Time (Exchanges) - Crypto investment tools can automate many investment tasks, such as buying and selling cryptocurrencies almost instantly. This can save you time and effort, allowing you to focus on other aspects of your life or business.
Access Advanced Features (Trading Bots) - Crypto investment tools often offer advanced features like trading bots, technical analysis tools, and alerts that can help you to make the most of your investments.
Best Crypto Investment Tools
In order to make your work easier and to offer you as many alternatives as possible, we have prepared three crypto investment tools to help you in distinct categories:
Best Crypto Market Data Tools
MarketCapOf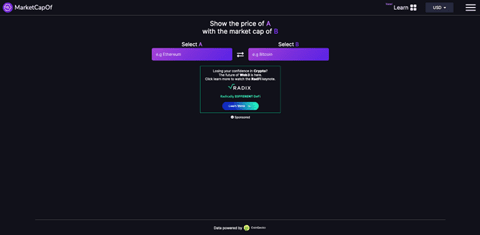 MarketCapOf.com is a comprehensive website that provides real-time market data and analysis for various cryptocurrencies. The site offers a user-friendly interface that allows investors to track the market capitalization and compare the market cap of different cryptocurrencies side-by-side. If you want to find out, for example, how much 1 ETH would have to cost to have the BTC market cap, MarketCapOf.com is the ideal tool to find out.
CoinMarketCap
CoinMarketCap.com is a leading cryptocurrency market data platform that provides real-time market data, insights, and analysis on thousands of cryptocurrencies. The site offers a comprehensive view of the cryptocurrency market, including price, market capitalization, trading volume, and other key metrics. So, CoinMarketCap.com is an essential resource for anyone looking to invest in cryptocurrencies or stay informed about the latest market trends.
CryptoCompare
CryptoCompare.com is a popular cryptocurrency data and analysis platform that offers a range of tools and features to help investors make informed decisions. The site provides real-time pricing data on thousands of cryptocurrencies, as well as market analysis and a great crypto mining profitability calculator. With its user-friendly interface and comprehensive features, CryptoCompare.com is a valuable resource for both new and experienced cryptocurrency investors.
Best Crypto Trading Bots Tools
Cryptohopper
Cryptohopper is a popular cloud-based automated crypto trading bot that allows users to manage all their crypto accounts in one place. It uses advanced algorithms to help users make intelligent trading decisions across over 15 different exchanges. The bot boasts features such as automated technical analysis, security protocols, and data privacy, all presented in an intuitive user interface.
The best part about Cryptohopper is that it's easy to set up and doesn't require any credit card information for new users. Also, all cloud storage services are hosted by the bot, which allows traders to paper trade without risking their money. While there are some limitations to the technical support and pricing, Cryptohopper still ranks as one of the best crypto bot trading options available.
Bitsgap
Bitsgap is a trading platform that offers an easy-to-use interface for hassle-free trading. It has a unique trading bot that can help you profit from every market move in small, consistent amounts across over 14 exchanges. The platform is secure and quick, with over 10,000 cryptocurrency trading pairings available. You can also manage your balance and track your transactions on your linked exchanges. Bitsgap uses RSA 2048 encryption, making it very secure, and employees can't access sensitive information.
3Commas
3Commas is a trading bot for cryptocurrencies that works with over 14 exchanges, offering dollar-cost averaging strategies and an integrated trading view. It is designed to help traders secure profit with minimal effort and has several attractive features, including the ability to copy settings used on other bots and balance portfolios by maintaining coin ratios. It can also help users make money in different market conditions. 3Commas offers four plans with varying features, and its bot is available for both iOS and Android. It is gaining popularity and is considered one of the best crypto trading bots.
Best Crypto Charting Tools
TradingView
TradingView is the most popular charting and technical analysis tool for traders in all markets. It has integrated with popular cryptocurrency exchanges and offers online charting tools for both free and pro users. A free account provides access to professional tools and is suitable for beginners to learn technical analysis, although it is limited to three technical indicators and overlays per chart.
Cryptowat.ch
Cryptowatch is a real-time crypto market platform founded in 2014 by Artur Sapek, which is an excellent alternative to TradingView. It was acquired by Kraken, a global digital asset exchange, in March 2017, and the platform provides traders with charts, order books, market data, and multi-exchange trading terminal features. Cryptowatch delivers cryptocurrency market data and charts for over 25 digital asset exchanges, covering over 4,000 different markets. The platform has a minimalist design and aims to provide traders with all the necessary tools to gain insights into market movements, different crypto asset pairs, and on-chain trading volumes.
Coinigy
Coinigy is a popular charting tool in the world of cryptocurrency that is bundled with many other features to help traders develop and execute their strategies. The tool uses custom data feeds to integrate closely with over 45 cryptocurrency exchanges, providing real-time market data and the ability to execute trade orders across exchanges.
Best Portfolio Tracking Tools
CoinStats
CoinStats is a cryptocurrency portfolio tracker with over one million users that allows you to track your assets across multiple wallets and exchanges from a single dashboard. CoinStats offers free portfolio tracking for up to 10 wallets and 1,000 transactions. You can also use the CoinStats wallet to buy, swap, and earn a yield on crypto via DeFi protocols directly from your CoinStats dashboard. CoinStats has also partnered with CoinLedger to provide in-app tax reporting capabilities, allowing users to sync their portfolios and quickly generate capital gains, losses, and income tax forms.
Kubera
Kubera is a portfolio tracker that helps investors track multiple assets, including cryptocurrencies and NFTs, in one place. With automatic and manual import options, users can import select exchanges and blockchains and manually add cryptocurrency holdings. Kubera's features also include the ability to track the value of assets such as cars and website domains and to find the highest-performing assets across your portfolio on a daily, monthly, and yearly basis. Although Kubera does not offer a free option, personal plans start at $150 a year.
Crypto Pro
Crypto Pro is an app designed for iPhone and Apple Watch users to track over 5,000 cryptocurrencies. It was initially launched in 2015 as a Bitcoin ticker for the Apple Watch. Today, Crypto Pro offers a variety of features, including portfolio tracking, news reading, and price alerts, and it can be used on both iOS and Android. Users can manually enter or automatically sync their data from 90+ exchanges and 180+ cryptocurrency wallets. The app also provides live price updates and ensures complete privacy by encrypting all user data locally on each device without any tracking solutions or user analytics.
Final Thoughts
The crypto planet can be daunting, but using crypto investment tools can help you manage investments, stay informed, and make smart decisions.  So, using at least one tool from each category we present can make your work easier, save time, advanced access features, and secure assets, making them a valuable resource for both new and experienced cryptocurrency investors, especially since some tools, like MarketCapOf.com, can be used for free.
Regulated Brokers
Ad Disclosure
?
The table below contains links to 3rd party websites of our top partners from whom we receive compensation at no additional cost to you.