The benefits of trading using MetaTrader 4
News | June 16, 2022, 12:01 PM | The content is supplied by a Guest author
MetaTrader 4 (MT4) is an extensive online trading platform that can be used for opening, closing, and managing trades. The platform has a wide variety of analytical tools, market indicators, graphs, and much more. The software was first developed in 2005 and is still incredibly popular - even though MT5 came out in 2010, many users are still using MT4 to because of how well it is made.
What is MetaTrader 4?
There are tons of trading platforms available on the market, but none of them has reached such popularity as MetaTrader 4. Even though many brokers have created their own platforms, they still often decide to support MT4. Some even provide a modified version of MT4, compiled with a set of plugins that further extend the functionality.
But before we move on to plugins and functionality beyond the base program, what can the base version achieve?
Who can benefit from using MetaTrader 4?
Traditionally, MetaTrader 4 has been the most popular among those interested in trading the forex market. With trading signals, trading robots, and a whole range of advanced tools for performing technical analysis, as well as the ability to write your own trading algorithms, MT4 creates a seamless environment for forex traders.
The platform can be used by both beginner and advanced day traders looking to make the most out of extensive tools for trading automation and building long-term strategy. The platform is free to use. Many popular trading companies such as CMC Markets offers its users the chance to download MetaTrader 4 and use its own platform.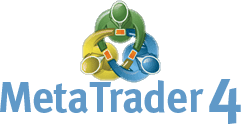 Key features
There are three trade execution modes available, two market orders, four pending orders, and two stop orders, along with a trailing stop. There's also the option to open a demo account for free to give you a chance to test the platform first.
The friendly interface makes it easy to use MT4, even though beginner traders might find the range of features intimidating at first. None of the advanced features are obligatory, and they provide a nice functionality extension as you learn more about trading.
If the basic functionality isn't enough for you, MetaTrader 4 makes use of the MQL4 programming language for creating plugins and extensions, which add additional features to the app. From risk management plugins to additional data feeds and negative balance protection extensions - there are tons to choose from, with most of the plugins being free to download and use. If you're tech savvy, you can even try creating your own - there's plenty of open-source libraries for MQL4 which can help.
Pros & Cons
MetaTrader 4 only takes a couple of minutes to download and install, after which it's ready to start trading with. It can be used on Windows, Linux, Mac, as well as iOS and Android. This makes MT4 extremely versatile and easy to deploy, making for a great trading experience whatever your device is and wherever you might be trading from.
The application itself is extremely lightweight and can run on virtually any device. Its minimalistic design has its merits - and the most important one is performance. Even though MT4 might not be as responsive as platforms dedicated for high-frequency trading, it should be more than enough for regular day trading.
One downside of MetaTrader 4 is that it's been primarily developed for Windows. Even though it is constantly being developed, MT4 versions for Mac and Linux may not perform as well as the Windows version.
Finally, we recommend using the actual application of MT4 instead of the MT4 web platform available in your browser. The web platform offers a reduced list of features and doesn't work quite as well with automation as the base software – however it is accessible from a variety of devices straight from your browser with no extra steps.
Regulated Brokers
Ad Disclosure
?
The table below contains links to 3rd party websites of our top partners from whom we receive compensation at no additional cost to you.