MARKETSX Review – What to expect from the broker
Markets.com decided to re-brand and changed its name to MARKETSX. Today, we will cover everything this new re-branded company has to offer.
MARKETSX is a CFD Broker and spread betting provider that features on its upgraded trading platform CFDs on Currencies, Shares, Indices, Commodities, Bonds, ETFs, Blends, and Ipos. The Markets group is regulated in the UK by the FCA, in Cyprus by the CySEC, in Africa by the FSCA, in Australia by the ASIC and in the British Virgin Islands by the FSC. The minimum spread is for EUR/USD 0.5 pips*, real trading is possible with a minimum deposit of $100. The MARKETSX website is available in English, German, Spanish, French, Portuguese, Dutch, Italian, Danish, Arabic.
What do we cover in our MARKETSX Review?
General Risk Warning: 74–89% of retail investor accounts lose money when trading CFDs. You should consider whether you understand how CFDs work and whether you can afford to take the high risk of losing your money.
Basic information about the broker
Website address: www.MARKETSX.com
Instruments: CFDs - Currencies, Shares, Indices, Commodities, Bonds, ETFs, Blends, and Ipos
Minimum deposit: $100 (accounts held in USD/EUR/GBP/DKK/NOK/SEK/PLN/CZK/AED)
Demo account: Yes, free of charge
Methods of deposit and withdrawal: Wire Transfer, Skrill, Neteller, Paypal, Credit and debit cards (Visa/MasterCard)
Additional payment methods include: Fast Bank Transfers (Envoy/WorldPay), Ideal, Sofort, Giropay,Multibanco. (availeble only in certain countries)
MARKETSX Trading Platform
MARKETSX provides to its traders' access to its own in-house built platform. The trading platform features a sophisticated system for both fundamental and technical analysis. For fundamental analysis, one can use the insights tab where are displayed all planned news events for the selected asset (screenshot no 1). For each event, it is possible to set a reminder which will inform you via an email before the news goes public.
For technical analysis, traders can use around 50 customizable indicators, various charting tools including trending, vertical, horizontal lines, measurement tools and a screenshot function. In total, there are 10 different time frames to choose from ranging from 1 minute to 1 month.
How to use the MARKETSX platform
[caption id="attachment_11166" align="alignleft" width="300"]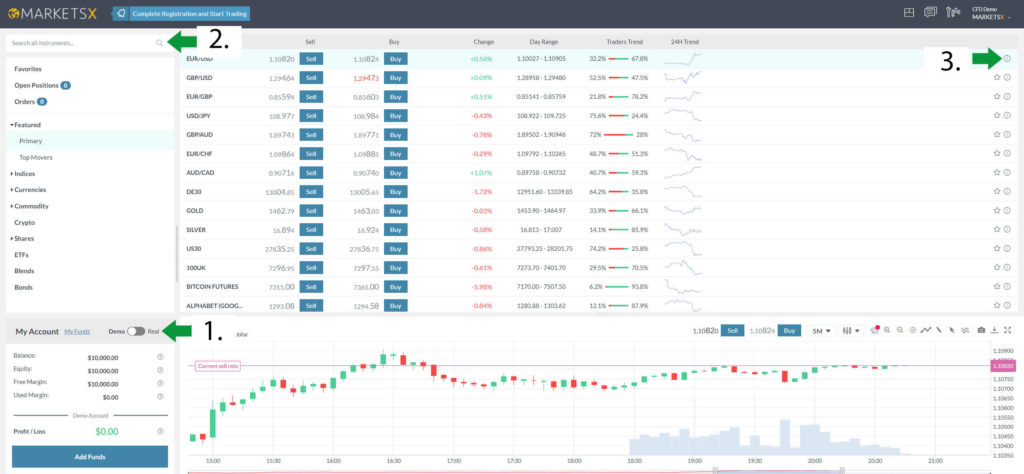 How to use the MARKETSX platform[/caption]
1# STEP
- To switch between
the demo
and real account, use the switch button in the left bottom tab
2# STEP
- To search for an asset you want to trade, use the search form in the top left corner.
3# STEP
- To find out more information (spreads, leverage, overnight funding, technical and fundamental analysis etc.), click the information icon next to your selected asset.
Once you click for more information, a new window will appear.
[caption id="attachment_11167" align="alignright" width="300"]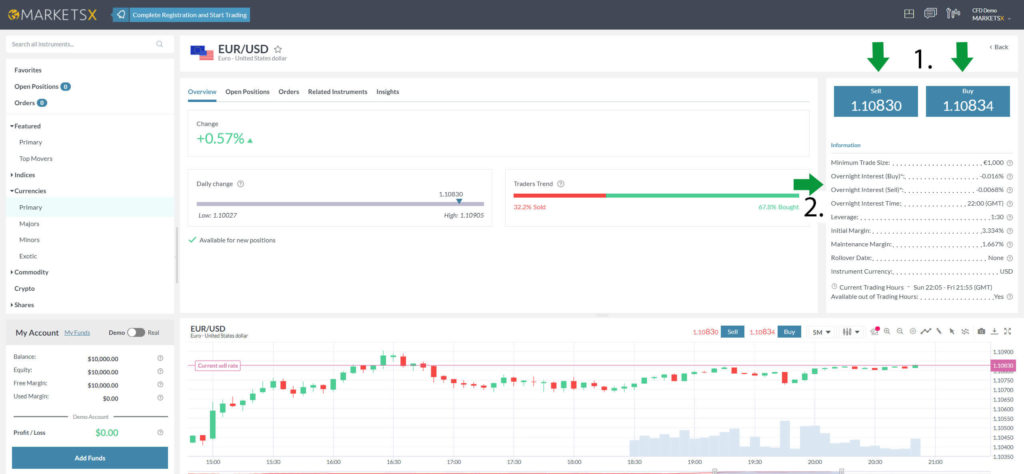 Asset information[/caption]
1# STEP
- Check what spread MARKETSX charges on your asset (The difference between ask and bid price). In our case, the spread for the EUR/USD pair is 0.4 pips*.
2# STEP
- If you want to stay in your trade overnight, check overnight funding fees. For buy position, the fee is in our case -0.016% and for sell position -0.0068%.*
Information about the spread and overnight fees was taken on 02.12.2019 at 20:40 GMT.
Available assets on the MARKETSX trading platform
MARKETSX features on its platform over 2 200 trading assets (CFDs), they cover these 8 asset classes: Currencies, Shares, Indices, Commodities, Bonds, ETFs, Blends, and Ipos.
Currencies: The platform provides access to 67 forex pairs that consist of major currency pairs like EUR/USD and GBP/USD as well as minor and exotic pairs.
Shares: There are over 1 000 shares from all corners of the world. We can find on the platform shares from the US, Australia, Europe as well as from Asia. Shares are possible to sort out by the company's base location (country) as well as by various sectors (financial, energy, basic materials etc.)
Indices: The platform features around 40 indices which include popular indices like the Germany 50, UK 100 or USA 500.
Commodities: Crude Oil, Gold, Platinum, Coffee, Rice and other 20 popular commodities are available on the MARKETSX platform for trading. They cover different types of commodities including: energies, base and precious metals as well as soft commodities.
Bonds: There are 5 Bonds on which you can speculate. 4 of them are governmental (GER 10Y Bond, US TBond 30Y, US TNote 10Y) and one of the available funds is - Gilt 10Y Bond (Luxurious Designer Label).
Etfs: The platforms features 52 exchange-traded funds (ETFs), among the most popular titles we can find the SPY fund (SPDR S&P 500 ETF) and XLF (Financial Select Sector SPDR Fund).
Blends: There 19 tradable Blends (Blends are CFDs which are organized by a common theme e.g. Cannabis Blend, CryptoBlend, Brexit Winners Blend, Trade War Losers Blend),
Ipos: No offerings available at the moment,
[caption id="attachment_11186" align="aligncenter" width="1024"]

Sorting out shares by sectors[/caption]
MARKETSX Fees (Spreads)
As any other CFD broker, MARKETSX charges a spread fee. For the most current spread charges, please visit the Markets.com website. Here is a spread comparison table that contrasts MARKETSX spreads with popular industry competitors.
| | | | | |
| --- | --- | --- | --- | --- |
| Asset | EUR/USD | USD/JPY | GBP/USD | AUD/USD |
| MARKETSX* | 0.5 | 0.7 | 0.9 | 0.7 |
| Pepperstone** | 1.0 | 1.0 | 1.0 | 1.0 |
| eToro** | 1.0 | 1.0 | 2.0 | 1.0 |
*Spreads recorded on 02.12.2019 at 23:15 GMT. Spread charges were taken from the website of the broker. **Minimum Spreads recorded on 18.8.2023 at 11:26 GMT from the website of the broker.
MARKETSX regulation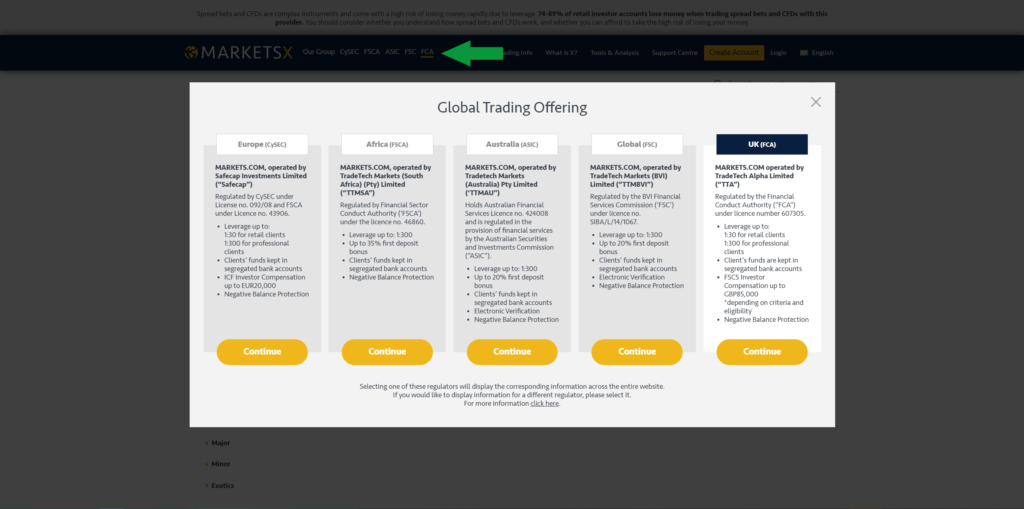 HYCM (Europe) Ltd
is authorized and regulated under the Cyprus Securities and Exchange Commission under license number 259/14.

Henyep Capital Markets (UK) Limited
is authorized and regulated under the Financial Conduct Authority with reference number 186171.

MARKETS.COM, operated by Tradetech Markets (Australia) Pty Limited
is authorized and regulated under the Australian Securities and Investments Commission under reference number 424008.
MARKETS.COM, operated by TradeTech Markets (BVI) Limited
is authorized and regulated by the BVI Financial Services Commission ('FSC') under licence no. SIBA/L/14/1067.

MARKETS.COM, operated by TradeTech Markets (South Africa) (Pty) Limited
is regulated by Financial Sector Conduct Authority ('FSCA') under the licence no. 46860.
The Markets group is regulated by 5 regulatory bodies. In the top menu, you can select under what regulation your account should be held. Each regulation provides you with different investor protection. The idea is that traders based in Europe should choose either the CySEC or FCA regulation. Traders from Australia the ASIC, traders from Africa the FSCA and traders from Asia the FSC regulation. You can notice on the screenshot above, that if you select one of the European regulations (the FCA or the CySEC), there is no trading bonus and the maximum leverage is 1:30, but there is the FSCS Investor Compensation up to EUR 20,000 (CySEC), GBP 85,000 (FCA). The other 3 regulations the ASIC, FSCA, and FSC offer deposit bonus (20-35% on the first deposit) and maximum leverage is up to: 1:300, but there is no investor compensation scheme in place.
All regulations provide Negative Balance Protection and guarantee that clients' funds are kept in segregated bank accounts. If you select one of the regulations, the MARKETSX broker redirects will display the corresponding information across the entire website. In the process, they will redirect you to one of the following subdomains.
global.markets.com - the FCA
uk.markets.com - the UK
za.markets.com - South Africa
markets.com - Europe
au.markets.com - Australia
Advantages and disadvantages
Every Broker has its pros and cons, let's have a look at the ones that elevate & denounce MARKETSX.
To sum up the MARKETSX Review
MARKETSX has a strong regulatory framework of 5 regulatory bodies. The broker features now modern, but a simple trading platform which can be tested on a free demo account. There are no commission fees and the spreads which MARKETSX charges are very competitive. The number of available assets exceeds the offer of most CFD brokers, we can find here even some special assets classes which are quite unique for MARKETSX (Blends, Ipos - which should be available pretty soon).
Taking all into consideration, the Markets' new coat in the form of re-branding the broker and upgrading the trading platform seem to be working very well for the company. MARKETSX is now definitely a broker on which you want to keep an eye on.
Your review can make a difference to other traders, please leave a comment if you have any personal experience with MARKETSX.
Regulated Brokers
Ad Disclosure
?
The table below contains links to 3rd party websites of our top partners from whom we receive compensation at no additional cost to you.