Is XRP a Good Investment? Analyzing the Latest Chart Data
The XRP price has more room to run – room for bullish XRP price prediction, but this crypto unicorn has plenty of irons in the fire. The coin has earned plaudits for its successful pivot from decentralized to centralized digital currencies. And XRP price has risen as a result.
But after the recent battles with the SEC and failure to detach from Bitcoin's hold on the market, many investors may be wondering: is XRP a good investment? While headline numbers have been impressive, should investors continue to buy XRP? Here's our answer and XRP news prediction.
Risk Warning: No one can predict prices of cryptocurrencies with total certainty, thus it is crucial to understand that the following price predictions serve merely as a suggestion of possible price development and are not intended to be used as investment advice.
Is XRP a Good Investment? - Introduction
At the time of writing this XRP price prediction, the coin was trading at $0.7236, according to data from CoinMarketCap. The market cap at this price level averaged around $33 billion, fully diluted to nearly $70 billion. Within these figures, the conclusion is that XRP is a good investment.
Security classification matters aside, if XRP caught your eye, it is largely due to its ability to provide fast, cheap, and convenient cross-border money transfers between banks.
XRP - Detailed Technical Analysis
Is XRP a good investment? Let's investigate, using XRP's current price. The internet is abuzz with influencers predicting when XRP will hit $1000 in the coming years. Rather than stick to the speculation, a careful analysis of the price chart will reveal the most likely XRP price prediction.
This token has suffered a fatal crash to a crucial support level. This downswing is trading within the swing low set in 2022. The weekly support level at $0.7154 has been a significant reason why XRP has failed to explore lower levels.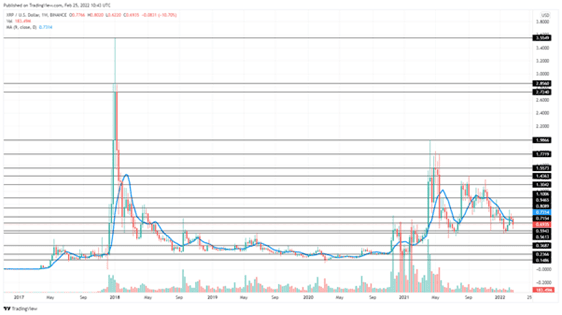 Interestingly, for our XRP price prediction, the decisive close preventing a crash to $0.3687 or lower gives bulls something to hold on to. In the future, investors can expect XRP to continue recovering and make a run for the recently flipped resistance barrier at $0.9465.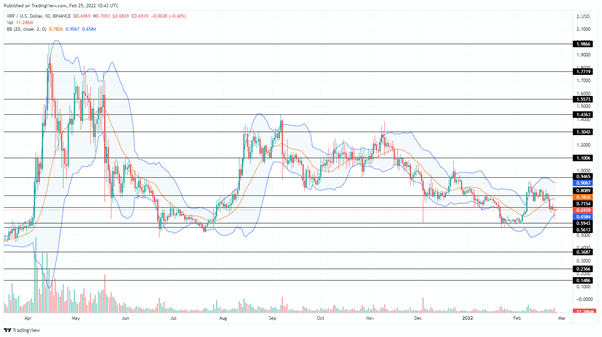 This formation signals that XRP will now likely witness one to six green candlesticks. Traders can, therefore, expect this cryptocurrency to make a run for the weekly resistance barrier at $0.8089 – a likely place for upside to be capped, and the ongoing consolidation phase will be exposed.
Analyzing the Data Charts
XRP has been trading uneventfully at around $1.1006. However, this neutral stance ended as the world ushered in a new year. The market mood has seen better days, and XRP has felt the burden of it. So far, XRP is trading at 20.4% of its all-time high at $3.4.
| | | | |
| --- | --- | --- | --- |
| Month | Open Price | Closing Price | Month High |
| January 2022 | $0.831281 | $0.619149 | $0.863558 |
| December 2021 | $0.998190 | $0.831163 | $1.018269 |
| November 2021 | $1.113153 | $0.998754 | $1.347662 |
| October 2021 | $0.953764 | $1.113247 | $1.227663 |
| September 2021 | $1.186915 | $0.952636 | $1.413767 |
| August 2021 | $0.745941 | $1.187593 | $1.349174 |
| July 2021 | $0.704785 | $0.747786 | $0.768149 |
If you want to buy this token, you would want to see the potential to recover the price set over 1500 days ago in early 2018. The current retest of vital support will likely result in a swift bounce that triggers a quick uptrend to find support above $1.1. This XRP price prediction enjoys the support of MA with a directional bias.
Is Investing in XRP Risky?
The pessimism that characterized the start of the SEC lawsuit is showing no signs of giving way to the optimism surrounding the strong fundamentals of XRP and Ripple's ecosystem. This fight is increasingly problematic even as Ripple CEO Brad Garlinghouse assures a conclusion soon.
The XRP news prediction is a solid win for Ripple in the SEC suit. In the meantime, sustaining an enterprise client base faces hurdles, the company's incredibly lucrative partnerships are at risk, and the reality is that Ripple needs to bring itself more in line with the law.
F.A.Q.
Will XRP Hit $1?
Perhaps, but not straight away. XRP will continue to take market share from SWIFT as part of more widespread usage of digital assets by financial institutions, making the often touted XRP price prediction of $1 by advocates a possibility.
After all, this cryptocurrency does not have the same criticism levied at Bitcoin applied to it. Besides, this digital asset is proven to imitate the performance of traditional cross-border payments to greater degrees of success. This forecast alone cannot be the sole reason why you should buy this token.
Is There any Chance for XRP to Go Up Soon?
Yes. XRP's price is just as likely to fall back down, as it is to continue climbing. The future of the coin is sure to include plenty of roller coaster rides, and cryptocurrency market experts say that's something long-term investors will have to continue dealing with.
So, XRP could be a good investment as you can see. The crypto continues to play within the confines of what has been deemed acceptable concerning the historical volatility of cryptocurrencies. Various experts advise that the best thing you can do is to invest and after that to have patience.
Where Can I Buy XRP?
XRP is listed in all the major cryptocurrency exchanges in the world. The coin can be exchanged for BTC in most exchanges, while others allow you to trade this altcoin for a stablecoin like USDT and BUSD or a traditional currency like USD.
One of the best overall exchanges where one can buy XRP Coinbase. If you are new to cryptocurrencies, you will be better off investing in XRP from eToro. For investors looking for a bargain, Robinhood allows you to buy the coin at no extra cost.
Is XRP a Good Investment - Conclusion
Expecting XRP to significantly outperform the market going forward, even with a bullish XRP news prediction, may be overly optimistic. The same goes for when XRP will hit $1. Instead, the token has appealed as a more conservative investment.
Those who have already taken a position in the cryptocurrency can look to its ongoing litigation with the SEC for a final answer to the question: is XRP a good investment? However, investors on the outside looking in may want to wait for more attractive entry points before buying XRP.
Regulated Brokers
Ad Disclosure
?
The table below contains links to 3rd party websites of our top partners from whom we receive compensation at no additional cost to you.