Best Traders To Copy On Etoro
There is no doubt that trading can be in the hands of a professional a highly profitable venture. With leverage, you can make a lot of money from a small capital. But trading has its inherent risk and you can lose a lot of money as well. It can be quite challenging, especially for beginner traders, to get substantial profits.
But here is good news. Etoro enables anyone to trade like a seasoned trader, thanks to their award-winning Copy Trader technology. Whether you are a beginner or don't have sufficient time to trade, you can automatically copy and replicate the trades of successful traders into your portfolio.
If you are looking to improve your trading results, you can connect, share and learn from millions of other traders. The platform shows risk scores, portfolios, and stats, allowing you to chat and discuss the benefits and strategies with seasoned traders and benefit from their knowledge. Whether you want to copy crypto or forex trades, you get anything you need.
Finding the best traders to copy is time-consuming. Fortunately, we have done all the work to make the process easy.
76% of retail CFD accounts lose money. Copy Trading does not amount to investment advice.
The value of your investments may go up or down. Your capital is at risk.
Best Traders To Copy on Etoro - The Overall category
Blue Screen Media ApS
Blue Screen Media ApS is controlled by Christian Jain, a Danish investor boasting over 15 years of trading and online marketing. Christan is a numbers and games enthusiast. This love is pronounced in his achievement as a former elite chess player and four times Danish scramble champion.
He focuses on finding the best opportunities in growth stocks, especially tech. He partly uses algorithms and leverages on keeping reasonably low risk. Christian recommends his copiers invest a minimum of $6000 for at least one year.
According to Etoro, Blue Screen Media has a return of 4.55% and is among the most copied traders with 20500 copiers. He trades majorly stocks, which comprise 65% of the portfolio. He also trades in crypto, ETFs, Commodities, and Indices.
In 2020, Jose made a return of 43.94%, while in 2021, the profits hit 35.26%. He has opened 214 trades with an average profit of 57.66% against an average loss of 18.13%.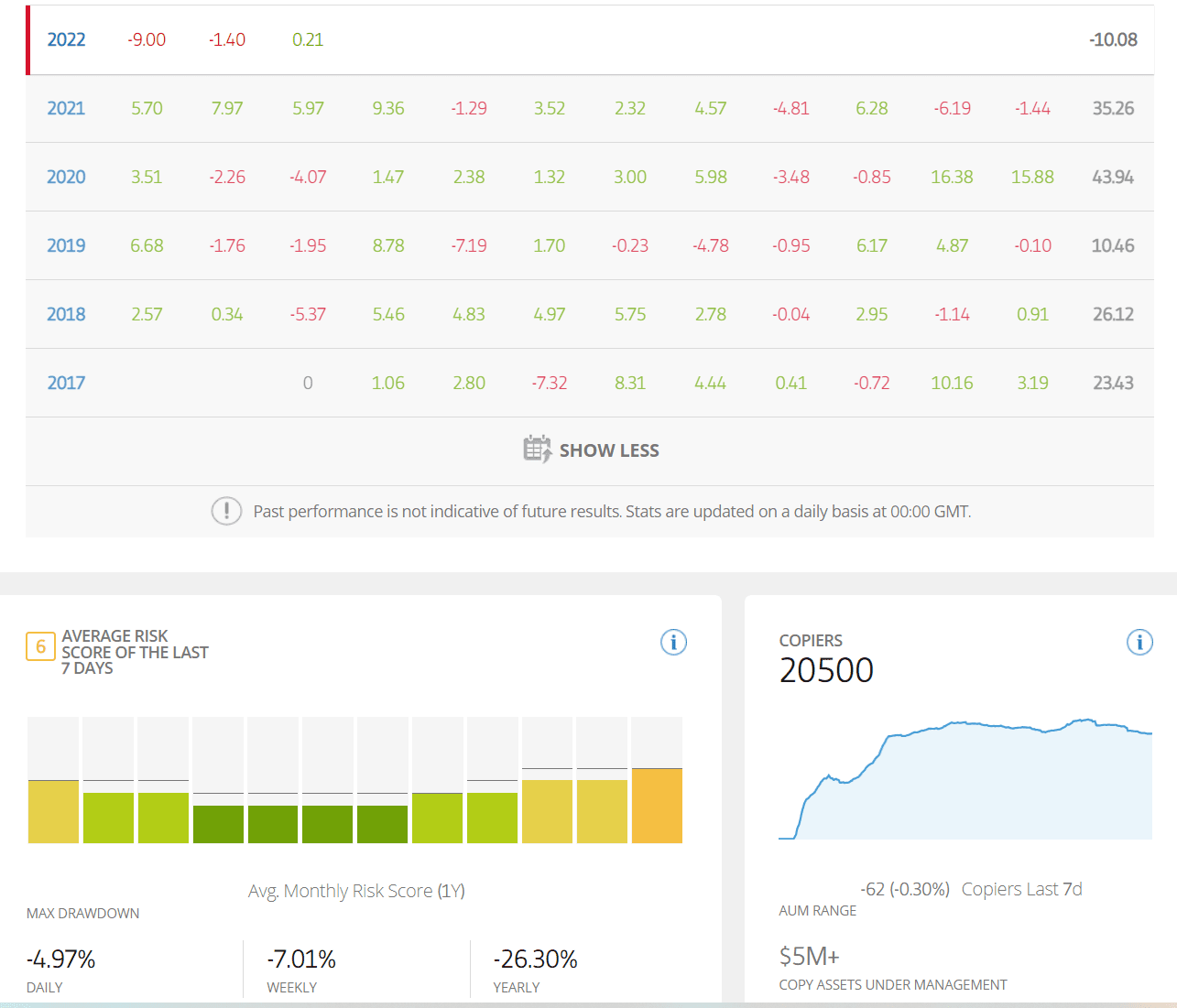 Zheng Bin
Zheng Bin is a Singapore-based trader and member of Mensa. He has been trading for over ten years and has three years of experience in investment banking. The Accounting graduate also holds a master's degree in finance, a banking diploma, and CISI levels 3 & 4. He uses ideas and research to trade Global macro opportunities.
To copy Zheng, the suggested minimum investment is $500 for six months. The serial investor currently has a 19.19% return and a relatively low-risk score of four. This explains why 9373 investors trust and copy his trades. In 2021, he made a whopping 71% profit and 68.70% the following year. Zheng trades crypto, stocks, ETFs, and currencies. He is more into digital currencies as 48% of his portfolio is in crypto. Zheng has attained an average profit of 278% against 23% losses.
Jose Angel Zabalegui Labarta
Also referred to as Analisisciclico, Jose has one of the best returns of 37.30%, which has led copiers to grow by 16% to reach 4894. In fact, 700 copiers have joined his team in the last seven days. His risk score is quite low at four points. He manages a relatively big portfolio worth $5 million in assets under management, with currencies taking the lion's share of the assets at 76%. He also trades indices, commodities, stocks, and ETFs. The recommended minimum trading amount is $500 for one year.
Jose has a wealth of trading experience spanning over four years at the Calyon financial trading desk. He has also served as manager and cofounder at 5 Internet and R&d startups. He holds a bachelor's degree in Business Administration and a CISI level 4 certificate in International Advanced Wealth Management.
Best Crypto Traders To Copy On eToro
DesLeeHL
When it comes to cryptocurrency trading profits, DesLeeHL is unmatched. With a modest risk score of 4, there is little chance that you could blow your account. The Ireland-based trader made an incredible 20.41% profit in 2020. He upped his game, making a jaw-dropping return of 23898% in 2021. In May alone, the return clocked 14700%.
Ivaylo Velichkov
Ivaylo Velichkov goes by the name Enigma for a good reason. The Bulgarian trader from Sofia invests in long-term stocks and ETFs. In 2020, his first year of offering copy trading, he made a 0.06% profit. Well, there is nothing to write home about that. However, in 2021, he made an impressive 579% return and is currently at 8% in just three months of 2022. In fact, 64% of his trades are profitable. The trader has invested 9% of his trades in crypto.
Christian Ariel Gauna Guerenu
Christian is an Argentine Industrial engineer with a passion for trading stocks. He is also a capital market graduate. His expertise and ten years of experience as a trader is reflected in good returns across different markets.
Christian mainly trades European stocks, but 36.40% of his portfolio is crypto. In 2020, he made 14% profits which increased to 27% in 2021. According to eToro data, 87% of Christian trades are profitable, explaining why 155 traders copy his investments.
Best Day Traders to Copy on eToro
Riccardo Gregori
Ricardo Gregori is an Italian trader with stocks, crypto, and ETFs investments. You need a minimum of $700 to copy his trades. With daily returns of 7.56%, you can rest assured of taking good fortune home. Fifty-seven investors copy his trade while over three thousand others follow him. A bulk of Ricardo's portfolio, 68%, is invested in ETFs, while stock investments take 31.43%. Crypto completes the rest of the portfolio. The seasoned investor has managed to maintain 62% profitable trades. The trader has made a whopping 14.71% and 19.16% profits in 2020 and 2021, respectively.
Vakhtang Mindiashvili
Trading under the SPX hedge fund, the Georgia-based trader maintains low drawdowns and aims for 20-30% profits. The trader uses an algorithm to choose stocks for investment. In 2020, he made a cool return of 18.16, and the profits increased slightly to 18.49% the following year. Vakhtang normally targets IT companies and has invested 63.77% in stocks, while ETFs take 33.56%. SPX hedge fund has a tantalizing daily return of 4.76%.
Pawel Lech Cylkowski
Pawel manages to make a 4.42% daily return using a smart Investing approach. A licensed security broker, Certified International Investment Analyst, and an Economics graduate from Warsaw school of economics, he boasts an annual 71.88% profits. Pawel has worked in sales and trading for 17 years. The suggested copy amount is $500 for a minimum of one year. He trades in stocks, indices, ETFs, Commodities, and Crypto.
Conclusion on the best traders on eToro
eToro is one of the best platforms for copy trading. It enables beginner traders to profit from the market as they learn the ropes. Similarly, busy traders without enough time to do their own analysis also benefit from copying profitable traders. The platform provides a variety of successful traders whether you want to copy short-term or long-term trades, stocks, or cryptos. Choose an investor who matches your investment goals.
76% of retail CFD accounts lose money.
eToro is a multi-asset platform which offers both investing in stocks and cryptoassets, as well as trading CFDs.
Please note that CFDs are complex instruments and come with a high risk of losing money rapidly due to leverage. 76% of retail investor accounts lose money when trading CFDs with this provider. You should consider whether you understand how CFDs work, and whether you can afford to take the high risk of losing your money.
Past performance is not an indication of future results. Trading history presented is less than 5 complete years and may not suffice as basis for investment decision.
Copy Trading does not amount to investment advice. The value of your investments may go up or down. Your capital is at risk.
Cryptoasset investing is highly volatile and unregulated in some EU countries. No consumer protection. Tax on profits may apply.
Don't invest unless you're prepared to lose all the money you invest. This is a high-risk investment and you should not expect to be protected if something goes wrong. Take 2 mins to learn more
eToro USA LLC does not offer CFDs and makes no representation and assumes no liability as to the accuracy or completeness of the content of this publication, which has been prepared by our partner utilizing publicly available non-entity specific information about eToro.
Regulated Brokers
Ad Disclosure
?
The table below contains links to 3rd party websites of our top partners from whom we receive compensation at no additional cost to you.