Future of Litecoin: Is LTC Pulling A Comeback?
News | March 22, 2023, 1:20 PM | The content is supplied by a Guest author
The popular Bitcoin alternative, Litecoin (LTC), is pulling a comeback after years of falling out of favor with investors. Are we looking at a fantastic opportunity to grab Litecoin tokens on the cheap before they start another dramatic climb? Let's find out.
Litecoin's blockchain system came to the market as the facilitator of payments via the internet. Others like Bitcoin served the same purpose, but this one had some additional pros. LTC reduced the confirmation time, increased the transaction speed, and brought other additional features to make the transactions easier to handle.
Background
Litecoin is an open-source, decentralized digital currency with a strong sustainability and innovative development track record. It was created by Charlie Lee in 2011 as an alternative to Bitcoin, offering faster transaction speeds and lower fees. In the decade since its launch, Litecoin has become one of the most popular cryptocurrencies, with millions of users and a market cap of over $7 billion.
The future of Litecoin looks bright. The blockchain technology that powers the network is becoming more secure and efficient, allowing for greater scalability and faster transaction times. Additionally, growing public awareness of cryptocurrency has led to increased acceptance of Litecoin, paving the way for more widespread adoption.
Soon, Litecoin will benefit from several technological advancements. The advancements could include upgrades that increase the confidentiality of transactions and include smart contract capability to the network, allowing for greater privacy and automation within its ecosystem. Additionally, the Lightning Network development significantly reduces transaction fees and speeds up processing times.
Litecoin Technical Analysis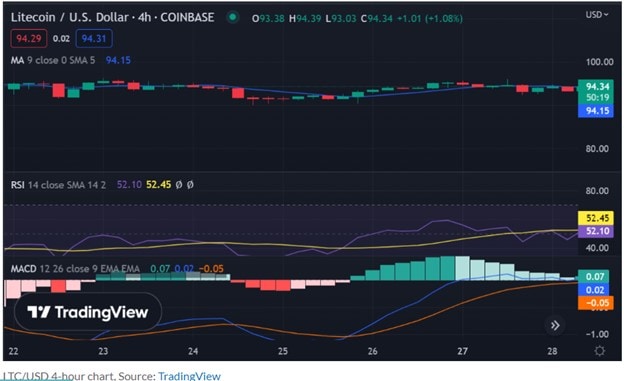 Litecoin price analysis shows that LTC is bearish and stuck inside a tight range, with key support at $90.00 and resistance at $95.00. The bulls have successfully defended the $90.00 support level, but they have been unable to break above the $95.00 resistance level. If bulls can break above this resistance, Litecoin could move higher and attempt to test the Fibonacci retracement levels of 50% and 61.8%. On the other hand, if bears remain in control, LTC could drop lower and test the $85.00 support level in the near term.
Reasons To Invest in Litecoin
Litecoin is one of the world's oldest and most popular cryptocurrencies, offering users a secure, low-cost way to send and receive payments. Since its launch in 2011, Litecoin has become an increasingly attractive investment option for novice and experienced investors. Here are some key advantages worth considering as part of your portfolio.
Open source
Investing in Litecoin has many advantages; one is that it is open-source. Open-source means anyone can view how it works, and individuals can change the protocol. These changes are typically done in response to shifts in the crypto market and requirements, so users get the most up-to-date features. In addition, being open-source allows Litecoin to implement new technology, including SegWit and the Lightning Network protocol.
Decentralized
Litecoin is popular among users who want an alternative to traditional fiat currencies to take advantage of its peer-to-peer aspect and decentralized structure. It allows users to process transactions without needing third-party intermediaries such as central banks or governmental bodies, allowing them more control over their funds. Furthermore, thanks to its global spread, no single region has too much power over the network. These features make it a well-liked option as it eliminates fees, makes prices more affordable, and reduces the possibility of market manipulation.
Fast
Litecoin, a popular cryptocurrency, has several advantages in investing. One of the most significant bonuses of using Litecoin is its speed – it is four times faster than Bitcoin.
The speed makes it a much more efficient option for processing payments, with Litecoin transactions completing in no more than 2.5 minutes, compared to at least 10 minutes for Bitcoin transactions. This improved speed can be particularly beneficial if you make significant and frequent investments, ensuring that your money moves quickly and securely into your account.
Scalability
Litecoin outshines most other cryptocurrencies when it comes to scalability. Its transaction speed is unparalleled, with the ability to process 56 transactions per second, which is significantly higher than the amounts that either Bitcoin or Ethereum can handle.
Fast transactions provide many advantages for users of Litecoin, such as shorter processing times and lower transaction fees. Moreover, this scalability gives peace of mind knowing that you will carry out your transactions quickly and securely. All in all, Litecoin is an appealing choice based on its scalability alone.
Regular improvements
Crypto degens commonly refer to Litecoin as "the silver to Bitcoin's gold," and with good measure. Unlike Bitcoin, Litecoin is a more flexible platform that has allowed for numerous improvements throughout the years. These technological advancements range from SegWit (Segregated Witness), which enables more transactions to fit into one space, to the Lightning Network protocol, which helps quickly streamline transactions on the blockchain. With these features, Litecoin is an up-and-coming cryptocurrency known for its speedy transactions and user-friendly platform.
Cap on Inflation
Litecoin has a unique feature that sets it apart from most cryptocurrencies. Unlike other inflationary proof-of-work coins, Litecoin's upper limit is 84 million coins. The limit eliminates the risk of inflation, and plenty of coins remain to invest. In addition, with its robust market presence in recent years, Litecoin offers relatively safe and promising returns for investors who want to ensure that a reliable asset backs their investments.
Dedicated team
Created by former Google employee Charlie Lee, Litecoin is a reliable cryptocurrency with the backing of a strong development team and companies looking to leverage its potential. Lee and his team regularly work on improving the wallet, implementing confidential transactions, and exploring potential partnerships. This ongoing effort has made it attractive to companies like Alba that plan to use Litecoin as a smart contract platform. As such, many people have chosen to invest in Litecoin to benefit from the opportunities it brings.
Litecoin Price Predictions
The world of cryptocurrencies is highly volatile and ever-changing. Despite this, Litecoin remains one of the most popular options for individual and institutional investors.
With its impressive transaction speed, scalability, regular updates, and cap on inflation, Litecoin offers a reliable investment opportunity with good returns. In this section, we will discuss Litecoin price predictions and explore whether or not it will likely increase in value over time.
Risk Warning: No one can predict prices of cryptocurrencies with total certainty, thus it is crucial to understand that the following price predictions serve merely as a suggestion of possible price development and are not intended to be used as investment advice.
Litecoin price prediction 2024
In the short term, making accurate predictions about Litecoin's price is difficult. However, looking further into the future, Litecoin could reach up to $234.84 per coin. It might average $201.02 and reach a minimum of $195.32. This prediction is based on Litecoin's current market capitalization is over $7 billion, and the currency is growing in popularity daily.
Litecoin price prediction 2026
Litecoin could reach up to $505.69 per coin. It could average $424.34 and reach a minimum of $412.31. Litecoin's blockchain technology has consistently shown improvement in areas such as scalability and transaction speeds. Moreover, with more companies and institutions choosing to invest in Litecoin as a secure asset, the currency demand will likely increase in the coming years.
Litecoin price prediction 2028
By 2028, Litecoin could reach up to $1,020.73 per coin. It could average $861.24 and reach a minimum of $836.88. With more people choosing to invest in cryptocurrencies as an alternative asset class, there will likely be an increased demand for Litecoin in the next few years. Cryptopolitan gives an accurate landscape for Litecoin's price growth.
Should You Buy Litecoin While It's Still Below $100?
Some analysts suggest that buying a few tokens at modest prices could lead to some serious gains once the frozen crypto market starts to heat up again. Consider what you've learned before making your move. Litecoin is an up-and-coming cryptocurrency offering a speedy and secure way to transact. Its dedicated development team, the cap on inflation, and scalability have earned the trust of individual and institutional investors.
Looking at current Litecoin price predictions, the currency could reach up to $1,020.73 per coin by 2028. However, the cryptocurrency market is highly volatile and ever-changing. With the proper knowledge and preparation, Litecoin could be an excellent option for investors looking for reliable returns.
Regulated Brokers
Ad Disclosure
?
The table below contains links to 3rd party websites of our top partners from whom we receive compensation at no additional cost to you.