CryptoPredictions.com – What to expect from their predictions
CryptoPredictions.com was founded this year, in 2021 and despite its relative youth, the website has already succeeded to bring quite a lot of attraction upon itself in the cryptocurrency world. That is why we will today take a look at the website that is by many already regarded as one of the best crypto prediction sites out there. So, let's get right on it.
(The whole article can be seen in the following video that has been created with Dukascopy TV collaboration.)
What is CryptoPredictions.com?
As the domain name suggests, CryptoPredictions.com is a website that provides cryptocurrency predictions. They do so for an impressive number of over 11 000 coins, you can find here basically all the coins that are listed on CoinGecko as CryptoPredictions states that they actually use a lot of their data when creating their predictions. According to the website, to forecast future price movements on crypto coins they use historical data such as exchange rates and market cap. What exact mathematical functions or formulas they use for calculations is not disclosed.
So, what are the main features of the website?
      The website provides weekly, monthly and yearly predictions (until 2025).
      They have forecasts for 11 000 + cryptocurrencies
      They update their predictions every 5 minutes (coins with market cap)
      All predictions are completely free, no subscription or registration is required
      They are transparent about what they provide, and they warn users on every corner that their visitors should do their own diligence before investing.
There are also some additional features that I haven't seen offered by any other popular site that provides crypto predictions (like WalletInvestor, LongForecasts, and not even by us at TradingBeasts yet), one of which being the currency converter. This feature might be fancied especially by crypto enthusiasts based outside of the US as it allows you to convert all predictions and market data from USD to 32 other currencies (including GBP, EUR, ZAR, CAD etc.), this tool can be found on a PC right next to the search bar (and on mobile once you click the 3 dots to see the website's menu).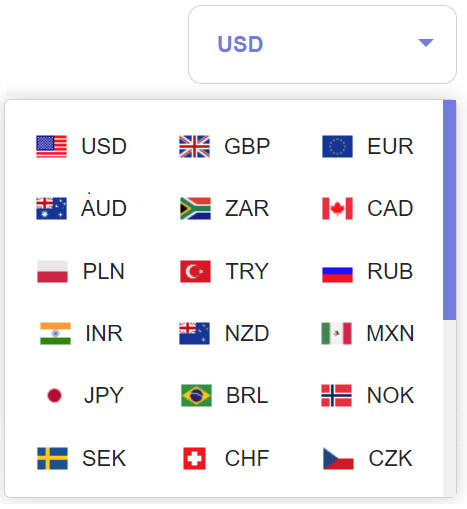 CryptoPredictions' prediction charts
One other worth-mentioning feature is that all pages with cryptocurrency forecasts have a prediction chart. This chart contains the predicted numbers that can be found on each prediction page. So if you check the average numbers for the upcoming months, they are reflected in the chart. The charts are a nice touch allowing users to better visualise a possible growth or decline of a cryptocurrency. Here is how they look like for a popular meme coin - Shiba Inu.

Let's talk numbers, how good or bad are their predictions?
All the available tools and fancy looking charts are great, but to determine how good a site that provides crypto predictions is, one needs to see what data they provide. After all, a good looking website is not worth a dime if it does not provide accurate predictions. So let's take a look at a couple of cryptos.
Bitcoin
For the end of 2021, the website predicts an average price of $58,617.698 with a maximum price of $73,272.122 and a minimum price of $49,825.043. In the years that follow - 2023, 2024, 2025 the BTC price is predicted to be in January worth on average $58,842.955, $47,314.249, $70,252.326, respectively.
Ethereum
For the end of 2021, the website predicts roughly the same average price as it is now - $4,080.593 with a maximum price of $5,100.741 and a minimum price of $3,468.504. In the upcoming years, the ETH price is predicted to be in January (2023, 2024, 2025) worth on average $4,505.116, $4,813.832, $5,031.119, respectively.
Cardano
For the end of 2021, the website forecasts for Cardano a growth of roughly 12%, with an average price being in the $2 territory and with a maximum predicted price of $2.502 and a minimum price of $1.701. In the upcoming years, Cardano is predicted to be in January (2023, 2024, 2025) worth on average $2.242, $2.402, $2.498, respectively.
Shiba Inu
Concerning Shiba Inu, the predicted price by the website is for the EOY $0.000065, which is significant growth from the current price of nearly 50%. In the upcoming years, SHIB is predicted to be in January (2023, 2024, 2025) worth on average $0.000080, $0.000098, $0.000115, respectively.
Solana
Solana is predicted by the website to drop to the 200 USD region. After this time period, a strong recovery is forecasted getting the Solana price to $259.123 by January 2023, to $328.779 by January 2024 and to $395.952 by January 2025 (average predicted prices).
Final note
Determining how accurate or realistic the CryptoPredictions' forecasts are is quite individual so I will leave the determination up to you. However, what is clear for everyone is that a new site that provides crypto predictions is in town to which it seems we ought to keep a close eye on.
Regulated Brokers
Ad Disclosure
?
The table below contains links to 3rd party websites of our top partners from whom we receive compensation at no additional cost to you.