Axie Infinity Arena Mode: Everything You Need To Know
News | April 04, 2022, 10:01 AM | The content is supplied by a Guest author
The NFT games became extremely popular in 2021 and are now gaining more fans every day, which we can see in the Axie Infinity case. The title has it all: cute creatures you're playing that represent NFTs, quite simple mechanics, exciting gameplay, and an opportunity to make pretty good money. What more could anyone want?
So, in this guide, we'll introduce you to Arena - a PvP mode, which presumably is the most effective way to Axie Infinity earn money. We're going to cover the basics of this activity so that you can have the whole picture of what awaits you there and be ready.
Arena Mode Explained
Quick reminder: Axie Infinity is a video game based on the Ethereum blockchain, which allows you to earn money by farming inner tokens called Smooth Love Potion (SLP) and trading them as well as your NFTs. But to start playing it, you should buy a team of three Axies. Otherwise, you won't be able to enter the Axie world.
The game has two modes - Adventure (PvE) and Arena (PvP) with the Axie Infinity MMR system with rating and leaderboard. While in the first mode, your trio is fighting against monsters, in another one, your pets counter other users' Axies. Obviously, your main goals are to defeat the enemies, increase Axie Infinity MMR ranking, and obtain SLP and rewards. By the way, if you're interested in Axie how to know MMR of your team or others, you may find it on the leaderboard or see it on the loading screen after every battle. So, what are the main features of these matches? Let's find out together.
Classes
Each creature belongs to one of 9 classes split into 3 groups:
Reptile, Plant, Dusk
Bird, Dawn, Bird, Aquatic
Beast, Mech, Bug
They have a rock-paper-scissors relationship between them, meaning that while one class can do additional damage to the second one, it may not have the same power over the third group. Here's a picture below to help you understand how it works in the Axie Infinity NFT game, which will come quite handy when you only start playing.
Cards
Moreover, each pet has a unique 4 cards, which means you have 12 in total for a team. Also, you may get 2 copies of the same unique card that leads you to possess 24 in a deck. The cards are essential as they determine how your Axies will perform in the battle.
At the start of each match, a player draws 6 random cards and then another three every turn. These can later be picked and played for pets in a fight. Each card has stats such as the amount of damage it deals, the shield, energy it costs, and either buff or debuff it applies to you or your opponent. Energy is a resource that you receive every match and can be used there. The cards consume it, so be careful when making a choice.
Statistics and mechanics
Furthermore, you should pay attention to Axies stats: Morale, Health, Skill, and Speed. The latter is crucial as it determines the turn your creature will take in a battle. Also, Skill may add a damage bonus when you use a combo of cards in a match. These play critical roles.
Another thing worth mentioning is the mechanic called Last Stand. It's a tricky thing that may appear when an Axie is about to die and give it another chance to play its cards. During the Last Stand, the creature is in flames, so you won't miss it.

To sum up, to reach an Axie high MMR, you need to have deep knowledge about Axies' classes, how they interact with each other, what stats your pets got, and how to understand which available cards are better for the attack. Plus, you have to learn how to calculate damage you're about to deal or receive and pay close attention to the opponent's game and cards as well. Besides, once you start to play being on Axie first MMR rank, which is 1200, and get used to all peculiarities, you'll learn what positions work better for you in a battle since it may also affect your chances of winning. Just remember - Axies always attack those who're close to them.
And don't forget - your primary goal is to make your way up to the high rating place to obtain as much SLP for winning as possible and alongside it other Axie Infinity MMR rewards.
Well, now you might be thinking - this is too much to wrap your head around, and it's hard to blame you because there is actually a lot to figure out and remember. And it obviously will take some time for you to get used to this mode and reach at least Axie 1800 MMR that guarantees you more SLP for a victory.
But what to do if you want to make money as soon as you join the game without wasting any time and resources? Your lifebuoy is the Axie scholarship program. What is it, and how does it work? We'll discuss it next.
Let Professionals Make Your Life Easier
As we found out, the game is not as easy as it seems. Besides the rules of Arena mode, there are many other things you should fully understand and practice to make a solid profit. Among those are:
PvE mode features
Daily quests completion subtleties
SLP farming
Axies' breeding
But instead of doing it yourself, you can join the Axie Infinity scholarship and entrust it to professional players who already know the game better than most users and are willing to take care of your account. These people are called scholars, and once you start work together, they'll become responsible for Axie management, which includes:
Handling your Axies
Partaking in PvE and PvP activities
Reaching higher Axie Infinity MMR per win
Daily 100+ tokens farming
Taking care of the whole breeding process
Finishing all everyday tasks
Assembling Axie 2000 MMR build if needed
In simple words, specialists will work hard on earning you tokens that you'll need to make money and create new Axies since the breeding cost Axie Infinity starts from 1800 SLP.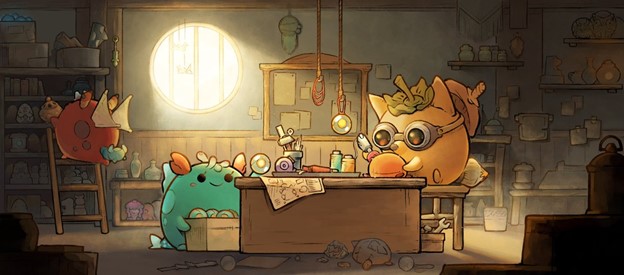 With that being said, let's think which scenario is better: the one where you have to figure out all game's features on your own and waste time on getting used to it, or the other, where you let PROs take over the hard work and earn more than you could imagine right from the start? We guess the second option looks more appealing to you, and that's understandable.
Well, why not give the scholarship a chance to show all its benefits to you then? No matter if you're new or an advanced player - there surely will be Axie Infinity Services that suit your needs. All you have to do is just try and see for yourself. So, don't waste any more time and get ready to make money the way you want to!
LFCarry.com
Regulated Brokers
Ad Disclosure
?
The table below contains links to 3rd party websites of our top partners from whom we receive compensation at no additional cost to you.