Philippines Traders Fair 2022
Traders Fair is a one-of-a-kind and well-planned series of events that has already wowed audiences in a number of nations. Everyone who is interested in learning about finance will find it simple to do so. You will constantly have access to a wealth of information, entertainment, and business opportunities.
It's exceedingly difficult to keep track of everything in the world of finance, where rules change virtually daily for a variety of reasons. You will get the opportunity to listen to several financial experts and leaders entirely free of charge during the Traders Fair event in Philippines. If you've ever wondered how to make a real profit from your trading and investing, this is the spot to learn about it. Don't let this opportunity pass you by.
It gives us great pleasure to announce that a few potential speakers will deliver their seminar speeches during the event. Having worked with incredible financial expert speakers such as Larry Collin, Celeste Rodriguez, Louis Teo, Cosmos Kairos and others. All of these speakers have a lot of experience in the financial industry. We have finally been able to meet them again in the expo after two years of silence.
Details of Philippines Traders Fair 2022 are as follows:Date:
21
st
May 2022
Time:
9:30 – 18:00
Venue:
Edsa Shangri-La, Manila
We are looking forward to seeing everyone again after a year-long Covid break. There will be safety protocols in place and the number of visitors will be dependent on the space at our sites so the public stays safe and healthy.
If you would like more information, please visit tradersfair.com. You may also contact FINEXPO through email info@finexpo.org or give us a call +357 95535475.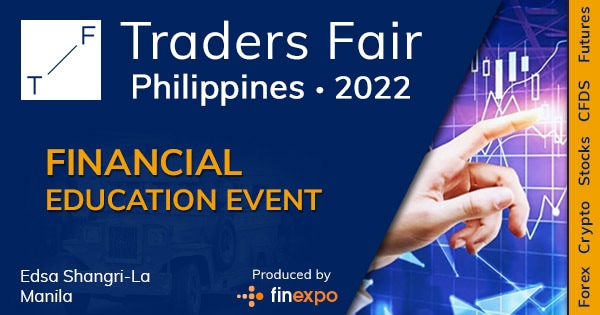 Join TRADERS FAIR in social networks:
https://www.facebook.com/TradersFair
https://www.instagram.com/tradersfair.asia
https://www.youtube.com/user/finexpo
Regulated Brokers
Ad Disclosure
?
The table below contains links to 3rd party websites of our top partners from whom we receive compensation at no additional cost to you.