Exnova Review - What to expect from the broker
This material is not intended for viewers from EEA countries. Binary options are not promoted or sold to retail EEA traders.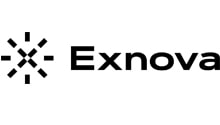 Exnova is a fairly new broker in the market having launched its services in 2021. Today, the broker boasts of being one of the best binary options and CFD providers in the world. The company promises its clients a powerful and intuitive platform that is suitable for both experienced and beginner traders.
[vc_empty_space height="29px"]
In this Exnova review, we are going to look at the features the broker offers to its clients to see what to expect from the broker. Specifically, we are going to look at the regulations, the fees involved when trading with this broker, and other trading conditions. Let's jump in.
Basic Information About Exnova
Website Address: https://exnova.org
Instruments: Binary and Digital Options, Cryptocurrencies, Forex, and CFDs on commodities and ETFs.
Minimum Deposit: $10.
Minimum Investment: $1.
Demo Account: Yes, with $10,000 virtual currency.
Trading Platform: Exnova.
Methods of Deposit and Withdrawal: MasterCard, Boleto Rapido, Perfect Money, PicPay, AdvCash, Bitcoin, Ethereum, and more.
Trading Platforms of Exnova
The trading platforms that a broker offers can be the feature that helps its clients stand out. With a fast and powerful trading platform, clients' orders are executed in mere milliseconds which gives them an advantage in the fast-moving markets. On the Exnova trading site, the only trading platform offered by the broker is its in-house-built Exnova trading platform.
The company promises that the Exnova trading platform is industry-standard and meets the needs of all kinds of traders. The platform is powerful with a plethora of trading tools to assist clients in their trading journey. This includes features to help traders manage their risks like stop loss, take profit, and trailing stop loss. Additionally, the platform comes with advanced charting tools, price movement alerts, and a smart newsfeed.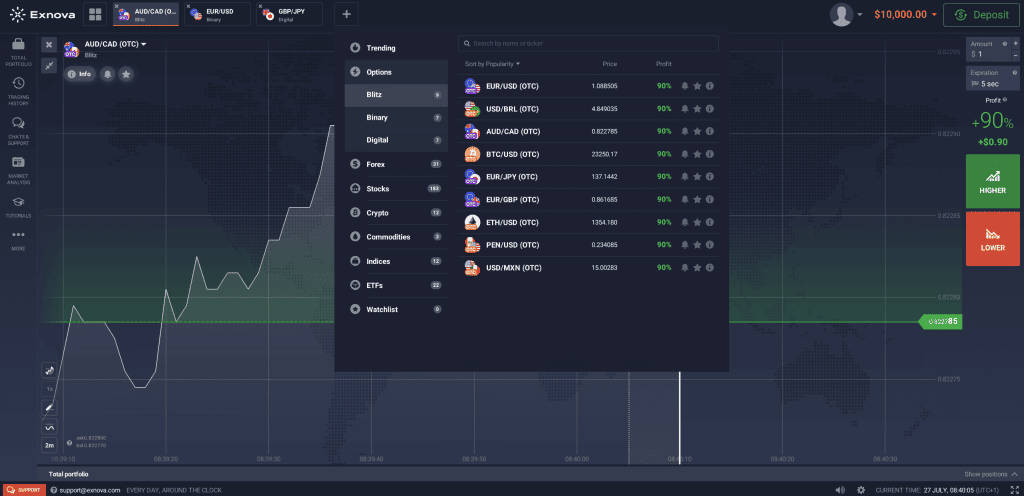 Further, clients have access to a massive trading community where they can discuss trading ideas and opportunities, as well as follow what other successful traders are doing. Through the Trader Sentiment and Community Live Deals features, traders can see where the money is flowing in the market and place orders accordingly.
Binary and Digital Options Trading on Exnova
There are many binary and digital options available for trading on the Exnova trading platform. The company boasts of being one of the best binary and digital options providers in the market. There are many popular trading assets in this category to invest in on Exnova. Notably, Exnova promises clients stunning profits when trading binary and digital options. According to its website, traders stand a chance of making up to 95% profits on Binary options and up to 900% profits on digital options (in case of a successful trade).
These are very attractive potential profits and they are well within industry standards. However, it is important for traders to understand the risks of trading binary and digital options. If the prices move in a direction opposite to what the trader predicted, they stand to lose their entire investment in the order. In short, with binary and digital options, you either win or lose everything on the order.
Other Assets Available on Exnova
In total, Exnova promises its clients more than 250 different trading assets on its broker site. While this is not the deepest collection of market instruments, it still provides clients with a great opportunity to diversify their portfolios. Here is a review of the trading instruments provided by Exnova:
Forex - There are 31 different trading currencies available for trading on the Exnova trading site. These include majors, minors, and some exotic currency pairs. Some of the currency pairs available for trading on this broker site include EURUSD, JPYUSD, CADCHF, EURGBP, and AUDCHF, among others.
Commodities - This broker also allows traders to invest in some select commodities including some precious metals like Gold and some energy products like crude oil.
Indices - Under this asset class, clients have a variety of options to choose from. They can invest in various global stock markets like NASDAQ, S&P 500, and FTSE 100, among others.
Cryptocurrencies - Exnova also allows its clients to trade various popular cryptocurrencies including Bitcoin, Ethereum, Dash, XRP, and Litecoin.
Exnova Fees and Spreads
Exnova charges three main types of trading fees when trading CFDs which include spreads, commissions, and spreads. The spreads on this broker site are industry standard starting from 1.0 pips for major currency pairs. The spreads go higher with less traded currency pairs like minors and exotics. The spreads are similarly low on other asset classes. When trading indices, the spreads can go as low as 1.0 pips on the US 500 index. On the other hand, the spreads on cryptocurrencies depend on the asset a client is trading and can go as low as 0.002 pips on Tron.
The commissions charged on this broker site depend on the account and the asset a client is trading. Further, the broker also charges swap fees on positions held overnight. The swap fees a client has to pay depend on the asset a client is trading and the size of the position held. The swap fees paid on this site range from 0.01% – 1.7%.
Exnova Demo Account
Many quality brokers in the market today understand the importance of providing a demo account to their clients. Demo accounts allow traders to test the quality of services offered by a broker without having to invest first. That way, they can invest knowing what to expect from the broker. Moreover, demo accounts help traders test out their trading strategies in a virtual environment before deploying them in the real market.
Luckily, Exnova provides its clients with a free demo account available to all traders. This account comes with $10,000 in virtual funds which is enough to test out the services of the broker. Sadly, the broker does not say how long the demo account lasts or whether clients can replenish virtual funds into the demo account. Nonetheless, it is a good thing that the demo account is available.
Exnova Education Section
An education section is one of the most important things a broker can provide to its clients. It arms both beginners and experienced traders with the information they need to succeed in the markets. Well, Exnova promises its clients several educational materials to give them a head start in the market. Specifically, Exnova's educational system is geared towards beginner traders.
The broker promises new traders free video tutorials to get them started on their trading journey. Additionally, the company provides step-by-step instructions and weekly newsletters. On top of all this, Exnova traders can gain insights from other traders using the community chat function. Evidently, traders have access to great resources on this broker site.
Exnova Credibility
To determine the credibility of a forex broker, we usually look at two main things. These include the company's regulatory status and the reviews from customers. The regulatory status is far more important as it paints a better picture of whether a company follows the financial laws of a country or not. Sadly, Exnova does not reveal its regulatory status on its website. As it stands, it is hard to confirm whether the broker has regulations in any jurisdiction.
On a positive note though, the company boasts a good rating on Trustpilot. The broker has a 4.4-star rating out of 5. For a company that has been in the market for a few years, this is a good rating to achieve. The majority of the clients that shared their views on the broker testified to receiving quality services. Moreover, the company replies to any issues posted on Trustpilot which is a good sign. It shows that the company is committed to addressing the problems that its clients face.
Closing Remarks
Exnova is a broker that recently entered the market but has quickly garnered a good reputation. The company specializes in providing access to binary and digital options alongside CFDs on a plethora of asset classes. The ability to diversify one's portfolio on a broker site is always a positive thing. This is probably one of the reasons why the company has great reviews from customers on Trustpilot.
Moreover, Exnova provides its clients with a smooth trading platform that is powerful and intuitive enough for both beginner and experienced traders. The fees for trading on this site are competitively low and most traders would afford them.
The financial products offered by the company carry a high level of risk and can result in the loss of all your funds.
You should never invest money that you cannot afford to lose.
Regulated Brokers
Ad Disclosure
?
The table below contains links to 3rd party websites of our top partners from whom we receive compensation at no additional cost to you.