Best Instant Execution Forex Brokers
The importance of fast order execution in financial markets cannot be overstated. The markets are moving very fast and prices update in mere seconds which can cause traders to miss out on potential profits. This is where instant execution forex brokers come in. Such brokers ensure that orders are filled instantly at the price ordered by the trader or not at all. Some brokers offer a requote if they cannot fill the order at the requested price.
Today, we're going to look at some of the best instant execution forex brokers in the market. We will look at their offerings and background information to see why they stand out among their competitors.
Exness
Exness has five main trading accounts for clients to choose from. These include two standard accounts and three professional accounts. Specifically, Exness offers instant execution on one professional account, the Pro account. This account requires a minimum deposit of $500 to start enjoying its features. This account comes with low spreads starting from 0.1 pips with zero commission.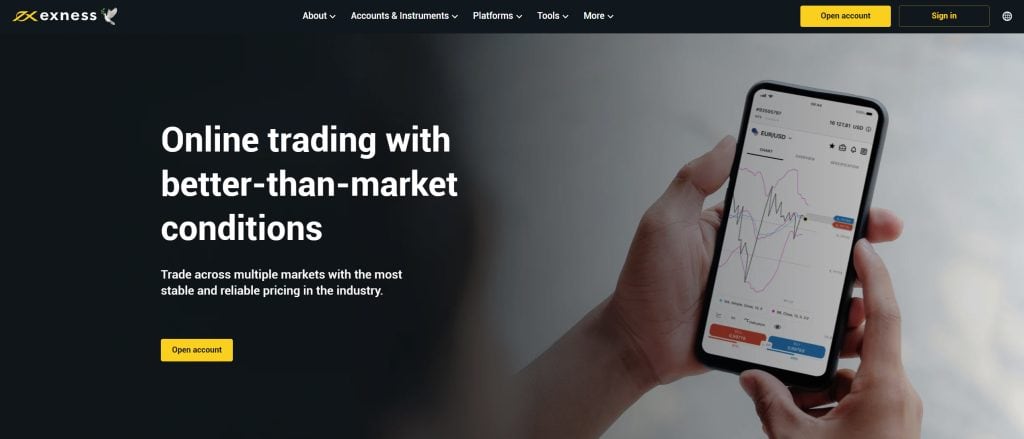 This account gives clients the opportunity to diversify their portfolios by investing in multiple market instruments. The markets available to clients on this account include forex, metals, energies, stocks, and indices. Traders can also trade crypto assets on this account with market execution. They can choose to trade using one of three main trading platforms which include MetaTrader 4, MetaTrader 5, and Exness Trader.
As we only present brokers regulated by reputable organizations, let's see how Exness is supervised. Well, this broker is under the regulation and supervision of the CySEC, the FCA, the FSA, the FSCA, and the FSC. While regulations alone are never enough, it is always better to trade with a broker that has several organizations keeping them in check.
Remember that forex and CFDs available at Exness are leveraged products and can result in the loss of your entire capital. Please ensure you fully understand the risks involved.
XTB
XTB has two main order execution styles on its trading platform which include market execution and instant execution. Among these, market execution guarantees clients execution rather than the ordered price. As such, this type of order execution executes orders instantly at the current best price that XTB can offer. On the other hand, Instant execution guarantees price rather than execution. Instant orders are executed at the price visible on the trading platform at the time the order is placed. Market execution is available only to Standard and Pro accounts while Instant execution is available to Basic and Old Standard accounts.
XTB features over 1,500 trading instruments from various asset classes for clients to invest in. On this broker site, clients can trade CFDs on 48 different currency pairs, indices, commodities, stocks, cryptos, and ETFs. Orders on these different market instruments are executed instantly using the company's proprietary trading platforms, xStation 5 and xStation Mobile.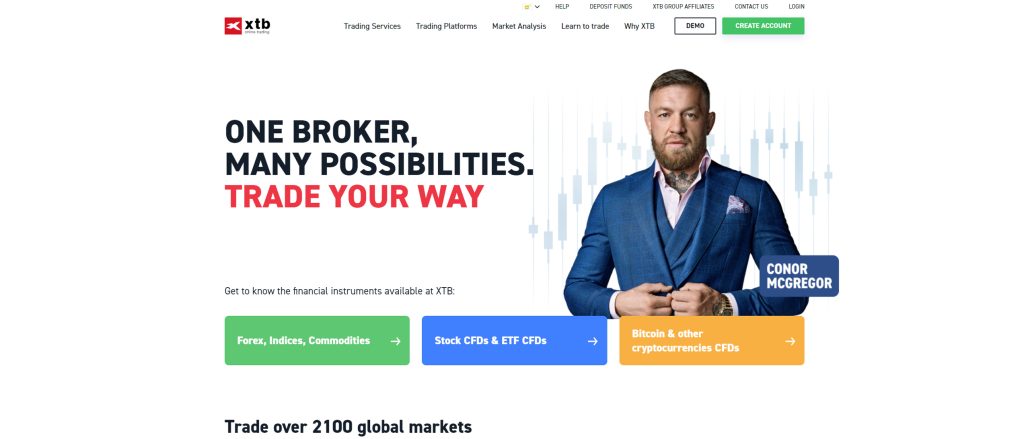 To close out on this broker, let's look at its regulatory status. This company is regulated by several regulators including the FCA in the UK, the CySEC in Cyprus, the KNF in Poland, and the FSCA in South Africa. Complying with the financial laws of various countries and receiving licenses from multiple jurisdictions shows that a company is willing to operate within legal limits.
82% of retail investor accounts lose money when trading CFDs with this provider.
FXTM
On FXTM, clients using the micro account enjoy the instant execution style for their orders. The minimum deposit for this account is $10 and clients get to trade in cents. However, only three markets are available to clients on this account. These include forex, metals, and commodities. While not a lot of markets are available, all of these markets have several assets under them and traders can still greatly diversify their portfolios.
The spreads on this account start from 1.5 pips upwards with no commissions paid. As expected, the most traded assets have the lowest spreads on this broker site. As such, these low spreads are mostly enjoyed on major currency pairs. Other currency pairs and assets can see higher spreads. The platforms available to trade with include the MT4 and the MT5.
Finally, FXTM has regulatory licenses from two of the best regulators in the market. This broker's activities are overseen by the FCA in the UK and the CySEC in Cyprus. These are strict regulators with stiff laws for brokers to follow before receiving a license.
HYCM
HYCM allows clients to place instant orders that execute on the price listed at the time of placing the order. If the price cannot be fulfilled as requested, the broker offers a requote to the client. The client can then decide whether they are willing to accept the new price.
On this trading platform, there are several markets investors can trade assets from. Investors can trade forex, stocks, indices, cryptocurrencies, and commodities. In total, this broker site offers more than 300 trading instruments. These assets are traded on two industry-standard platforms in MetaTrader 4 and MetaTrader 5.
Further, this broker offers different spread structures for different accounts clients can choose from. The Classic account has variable spreads as low as 1.2 pips for major currency pairs. The Fixed account has fixed spreads from as low as 1.5 pips upwards. Both of these accounts do not charge a commission when trading. However, the Raw account has raw spreads from as low as 0.1 pips and a low commission of $4 per round trip.
As we always mention the regulations of a broker, let's see how this broker is supervised. Well, this broker is regulated and authorized by the FCA, the CySEC, and the CIMA, which are reputable organizations in the market. The regulations by the FCA and the CySEC especially stand out.
Libertex
Libertex is another broker that offers instant execution method to its traders. With Libertex, clients can change the order execution-style on their MT4 platform. The company recommends clients select the instant execution style if the price is an important factor in their orders. This execution style offers traders requotes in the case that the broker cannot fill the order at the requested price. With market execution, on the other hand, orders are filled at the best price at the time of order completion.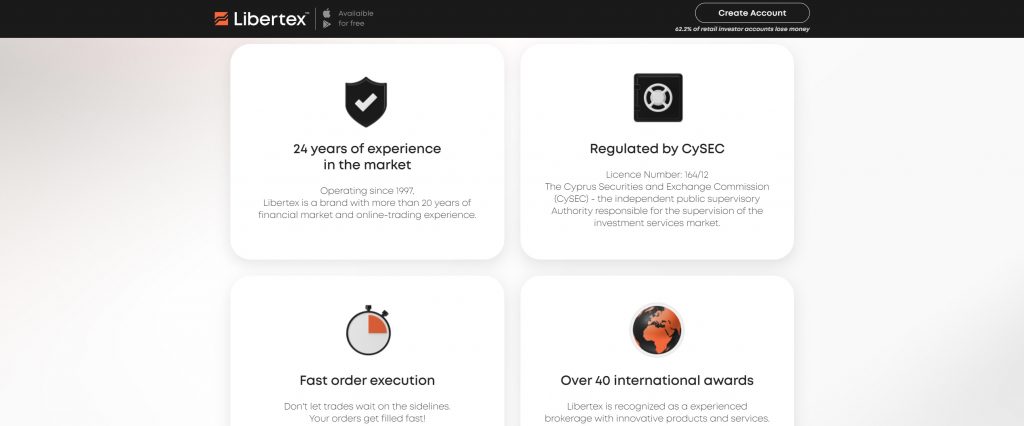 Some of the assets available for trading on Libertex include CFDs on forex, stocks, metals, oil and gas, ETFs, and cryptocurrencies. This is a diverse collection of market instruments that most traders will appreciate. The spreads on this trading platform can go as low as 1.0 pips for major currency pairs. However, they can go even lower starting from 0.0 pips for clients using professional accounts. These are also the people with access to trading without leverage.
Concerning the regulations of this broker, it is supervised by one of the best organizations in the world. Libertex operates following the strict laws of the CySEC in Cyprus. This regulation allows Libertex to operate in most jurisdictions within Europe.
InstaForex
InstaForex offers its clients four main trading accounts to choose from. All of these accounts offered by InstaForex have instant execution as the main type of order execution. Therefore, all the accounts offered by InstaForex guarantee clients prices rather than execution.
Notably, InstaForex features a wide variety of trading instruments. Clients can choose to invest in a variety of global markets including forex, shares, indices, metals, oil and gas, cryptocurrencies, instafutures, and commodity futures. Unfortunately, trading with this broker on its standard accounts features some high spreads starting from 3.0 pips for major currency pairs.
However, the broker also features two accounts with spreads starting from as low as 0.0 pips plus a commission fee of between 0.03% to 0.07%. Two of the accounts offered by InstaForex are cent accounts for traders who want to trade using small investments at a time. The platform available on all these accounts include MetaTrader 4, MetaTrader 5, Multiterminal, WebTrader, and InstaTick Trader.
Regarding its regulatory status, InstaForex is mainly regulated by the world-renowned CySEC based in Cyprus. This is one of the best regulators in the market whose license applies to most jurisdictions in Europe. Additionally, InstaForex has licenses from other less renowned regulators including the BVIFSC, the FSC, and SIBA.
FxPro
FxPro has regulations from the FCA and the CySEC, two of the best regulators in Europe and the world at large. Regulations alone are not enough and a broker still has to demonstrate that it can operate within legal limits. However, having licenses from these two organizations is a good sign. Moreover, the broker is also regulated by the FSCA.
FxPro has three main order execution styles, Instant order execution, Pending order execution, and Market order execution. The type of order execution a client can enjoy depends on the platform they are using. Notably, there are four main trading platforms on this broker site. These include MetaTrader 4, MetaTrader 5, cTrader, and FxPro Platform. Only MetaTrader 4 allows clients to use Instant Execution as the order execution type.
The charges that apply when trading depends on the account a trader is on. There are four main trading accounts to choose from which include the Standard account, the Pro account, the Raw+ account, and the Elite account. Both the Standard account and the Pro account are spread-based starting from 1.2 pips for the Standard account and 0.6 pips for the Pro account. The other two accounts feature both spreads starting from 0.0 pips and commissions starting from $3.5 per side. On these accounts, traders can buy and sell CFDs on forex, cryptocurrencies, metals, indices, futures, energy, and shares.
Closing Remarks
Financial markets are always moving fast. Prices update in mere seconds, and this can disrupt the trading strategy of an investor. With instant execution, traders are assured that orders will execute at the price they ordered. Instant execution guarantees clients prices rather than execution in the market. With this order execution style, some brokers will execute orders at the ordered price or not at all. On the other hand, some brokers will issue a requote if the price ordered cannot be filled.
While this type of order execution is attractive to some brokers, you still have to choose a reputable broker that offers this execution style. In this piece, we listed some brokers that offer this execution style, looked at their regulations, and mentioned the trading conditions they offer. While you do your research to pick your best choice, we believe that these are important factors to look at.
Regulated Brokers
Ad Disclosure
?
The table below contains links to 3rd party websites of our top partners from whom we receive compensation at no additional cost to you.