January 21, 2017
Posted by:

Michael

Category:

Binary brokers
It is unnecessary for every binary broker to use their own trading platform. There are several reasons why: the development of a trading platform is very expensive and it takes a lot of time to create a top notch environment for traders. Therefore, most brokers implement bestowed platforms which come from providers of trading platforms. They are designed to provide quality, safe and if possible modern setting for trading. Each broker uses a different trading platform, or they use the same, however with a different setting to precisely answer the needs of their particular types of traders. Here are the most widely used binary platforms in the industry.
SpotOption
One of the most well-known binary platform which was founded in 2008. Apart from offering typical High/low options, you will find at SpotOption also One touch options, 60-second options, Option builder along with ladder options. A broker can also activate the function of a forex trading, which is included in the base of the SpotOption platform. This trading platform consists mobile trading app for iPhone as well as for Android. In the past SpoOption was also used by a broker TopOption, therefore all the functions of the platform might be familiar to you (in case you used to trade at TopOption). The platform offers a highly user-friendly environment in which you can very easily navigate. Selection of the underlying assets is very nicely solved by dividing into individual sections. However, I can not overlook the lack of modern elements of the platform, which could beautifully revive the SpotOption platform.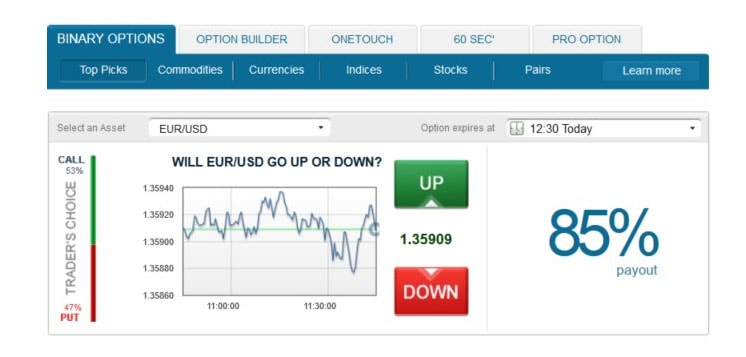 Design: 7/10
Functionality: 7/10
Mobile application: Yes
Number of assets: over 180
Advanced features: Rollover, Double-up, Buy-out
Platform offers: Regular high/low options, One touch, 60-seconds, Option builder, SpotFollow (social trading), SpotWiz (creating your own strategies)
Brokers using the SpotOption platform: Banc De Binary, Bull Binary, Finpari, Banc De Swiss, TopBinary, Exbino, 10 Trade.
TechFinancials
The second most used platform which binary brokers use is TechFinancials. The platform was founded just a year later than SpotOption, thus in 2009. It is the only binary platform provider which operates on the London Stock Exchange, therefore its shares can be traded by anyone (symbol: "TECH"). TechFinancials is easily adaptable to any region, thanks to a full translation of the platform into several languages. Navigation in the platform is very nicely solved, so even non-trading people (newbies) have no issues with it. You can always select an asset in the left menu, in the same time you can also straight away choose your expiration time. I would criticise the provider of the TechFinancial platform only for the fact that the charts are very basic and you can not add any indicator or modify timeframe on which you are looking at.

Design: 7/10
Functionality: 7/10
Mobile application: Yes
Number of assets: over 140
Advanced features: Rollover, Double-up
Platform offers: Classic high/low options, Touch/No touch, Boundary, ladder options, simplified Forex and CFD
Brokers using the TechFinancials platform: 24option, OptionFair, Boss Capital, Vantage FX, Optionsclick
MarketsPulse
Even the beginning of the trading platform provider MarketsPulse is dated to the year 2008. At this time we could have seen almost every month a new binary broker joining the market. MarketsPluse platform is popular amongst one of the largest brokers, such as the ETX Capital, or the Australian High / Low broker. MarketsPulse caught our attention with an innovative and very easy to use trading platform, that gives even a minimalist impression. Creators of the platform put most of the effort on the functionality over the modern design.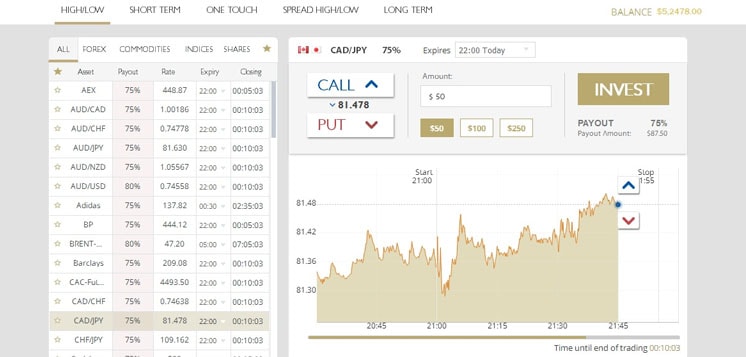 Design: 7,5/10
Functionality: 8/10
Mobile application: Yes
Number of assets: over 80
Platform offers: Classic high/low options, 60-seconds options, range high/low, One touch, Range ladder, Ladder options, One touch ladder options
Brokers using the MarketsPulse platform: ETX Capital, High/Low, FX trade, FXChoice
TradeSmarter
In 2008 we could also welcome on the market the TradeSmarter platform which offers a complete solution for brokers. They can activate: CRM system, web Wow trader and affiliate system. The latest version of the platform looks modern, but thankfully not at the expense of a simple orientation. The platform is programmed in HTML5, so traders can visit the TradeSmarter platform even from mobile devices without downloading any additional applications. TradeSmarter includes sophisticated social trading features which allow you to constantly monitor the activity of other traders. On the platform, you are able to watch several graphs at the same time, which is a lovely feature not offered by many other platform providers. The platform is very well adjustable to your needs, for instance, you can mark your favourite underlying assets by a star icon, all of the marked assets will be then displayed to you on the main page whenever you login to the platform. TradeSmarter platform is a handy solution for brokers which need multi-lingual versions of the site without sacrificing modern and safe solution for their traders.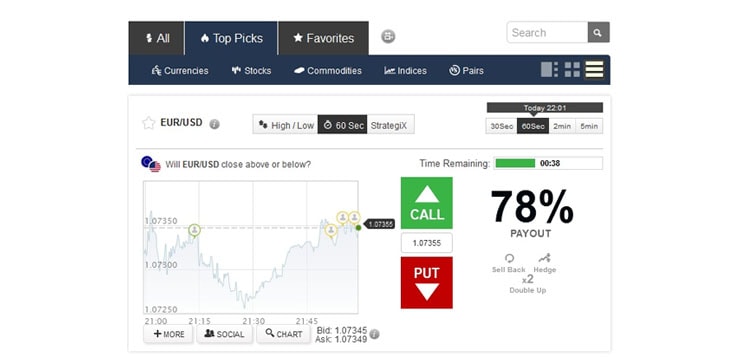 Design: 9/10
Functionality: 8/10
Mobile application: Yes
Number of assets: over 100
Advanced features: Rollover, Double-up, Buy-out
Platform offers: Classic high/low options, 60-seconds options, Touch/No touch options, range options
Brokers using the TradeSmarter platform: TopOption, BinaryBrokerZ a Prestige Option
IQ Option platform
Option IQ is one of the few brokers that uses its own trading platform. The outcome of this doing is astoundingly modern, but very clear and intuitive platform that is currently unmatched in the binary market. Working with charts at IQ Option is super easy and can be done even by newbies in the binary world. Timeframe charts can be changed as needed, and it is possible to add adjustable indicators or lines (trend, horizontal, Fibonacci) whenever you like. All assets are divided into two sections: Turbo (expirations up to 5 minutes) and to the classic options (binary). Selecting asset is very swift, either you search for the initial letters of the underlying asset you want to trade, or you mark it with a star icon. All assets marked by this icon will be always displayed to you at the beginning of turbo and binary sections. Platform clearly shows until when you can create certain trade and when created position will expire, all of this mentioned can be seen on the vertical line of the chart.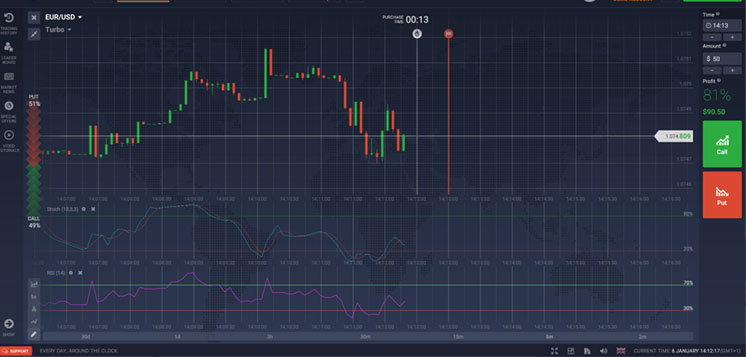 Design: 10/10
Functionality: 9/10
Mobile application: Yes
Number of assets: around 76
Advanced features: Buy-out
Platform offers: Classic high/low options, 60-seconds options
Brokers using the platform: IQ Option
StockPair platform
A second well-known broker that uses its own trading platform is StockPair. The main intention of this broker was to create a simple, clear and reliable trading platform. And they certainly achieved that. However, what we can not evaluate as a good achievement is overall feel and design of the platform. To me, it gives the feel of a not very thorough nor sophisticated environment for my trading. Working with graphs is very difficult and the default settings can not be changed, which means you can not change the timeframe nor you can add any indicator. Fortunately, it does not affect the overall functionality of the platform, which works very well and swiftly. As superior in comparison with other binary brokers we consider an expanded range of expiration times.
.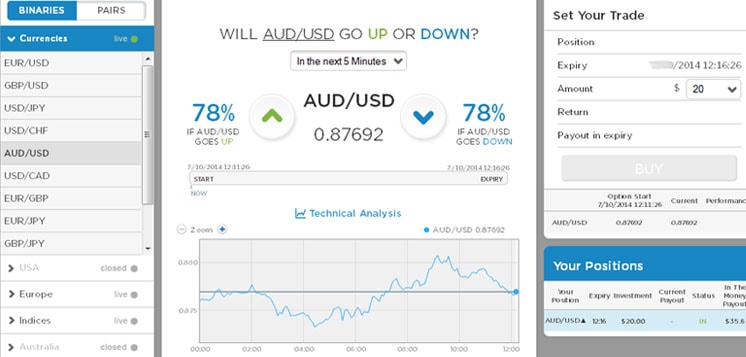 Design: 7/10
Functionality: 9/10
Mobile application: Yes
Number of assets: over 150
Advanced features: Buy-out
Platform offers: Classic high/low options, 60-seconds options, KIKO options
Brokers using the platform: StockPair
Trading platforms of binary brokers – summary
In this article, we focused on the most famous binary platform providers and their offer. Please note that some brokers have a tendency to migrate from one trading platform to another, this information is valid to January 21, 2016. For each of these platforms, the brokers can set their own settings, such as: how much revenue they offer on each underlying asset. Therefore it can not be said how big returns certain platform provider offers, that is determined by the brokers. Quality and safe trading platform that suits you is an essential element when it comes to choosing the right broker. However, we do not recommend selecting your broker based only on this fact, but also on the broker's reputation, revenues and overall offer (expiration times, demo account, etc.).
Hi, I'm Michael and my area of expertise is forex and cryptocurrency trading. I specialize in technical analysis, namely in chart pattern setups. I educate traders of all levels and I believe that prerequisite to successful active trading is always knowing risks of the game. My most current interest lays in cryptocurrencies, especially in Ethereum and in decentralized applications. I do not give investment advice, but for general inquiries please use the comment section under any article.