People who want to obtain Ethereum can either buy it, mine it or trade it. The biggest potential, however, it has is for traders who can take advantage of this extremely fast growing cryptocurrency in a favour of their trading account. Ethereum at Plus500 platform can be traded as a CFD instrument. Apart from Ethereum itself, you can trade there other cryptocurrencies: like Bitcoin, NEM, Ripple, Litecoin or Dash. With Plus500 you can use up to 1:30 financial leverage, which should provide you with more than enough additional capital to turnover your funds.
Last year the Ethereum price rose up by over 3 000%. At the beginning of 2017 one unit of this coin would cost you about 8 dollars. And now? Over 290 dollars! Ethereum is officially the second most popular cryptocurrency in the world, right after Bitcoin. And it managed to get there only in the time period of 2 years because ETH was first publicly presented in 2015. According to the director of Polychain Capital, who focuses on cryptocurrency, Ethereum becomes more likely even more popular than Bitcoin by the end of 2018. One unit of Bitcoin can be now obtained for 6 000+- dollars.
Ethereum on the Plus500 platform
In order to start trading Ethereum at Plus500.com, you need to do the following.
Create an account – Either a demo or a real account
Verify your account
In case you want to trade with real money, make a deposit (the minimum deposit is $100).
Open the Plus500 trading application, click the tab "trade" > Crypto currencies > Ethereum
Decide whether the price of Ethereum will rise or fall. With short position, you predict a decline in the price. With buy position (or sometimes called long) you assume that the price will go up.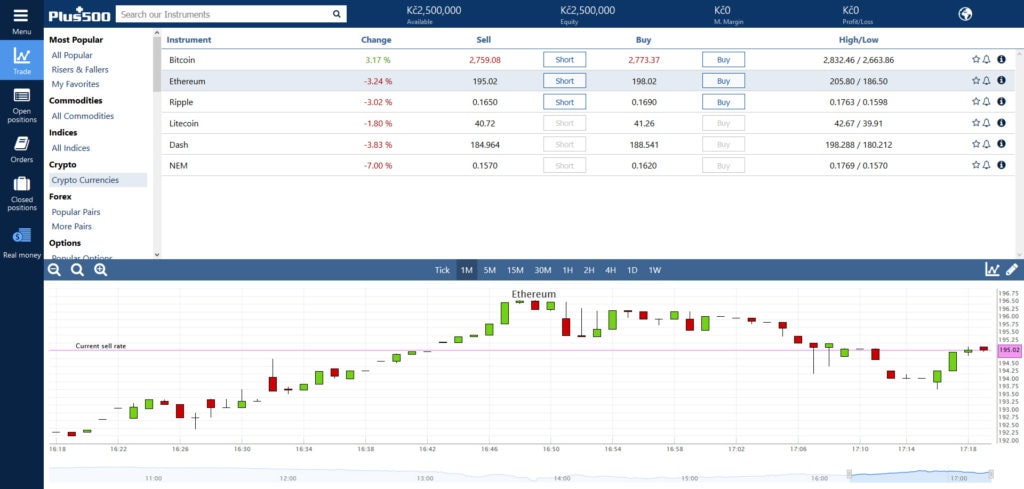 Now you are set and done. Please carefully monitor your trade and react to the price movement, you can freely use a stop loss or a take profit functions on the Plus500 platform. These two tools will close the trade for you once the price reaches a certain level which you have entered in the options of the trade.
Plus500 – Current chart of Ethereum
How to trade Ethereum
Ethereum at Plus500 is suitable for day traders as well as for long-term traders. Day traders can get into the trade, make a good amount of pips and get out. Volatile market is perfect for them, and with appropriate leverage the can turnover their capital rather swiftly. But they also need to be extra cautious with predicting the direction of the price. The fact that Ethereum market is highly volatile also proves its history in which the Ethereum price changed during a single day by an incredible 30%. On the other hand, long-term traders can see this as a smart trading opportunity of today which will bring them the desired fruits in the future to come. Just like it was brought to Bitcoin traders who decided to invest in the world's most popular cryptocurrency.
How Ethereum works?
Ethereum, just like Bitcoin is based on innovation blockchain technology. But unlike from Bitcoin, it does not have to be necessarily used just as an online payment platform. Its usage is much more extensive, Ethereum allows developers to build and create apps in the blockchain. Thereby they can potentially make from Ethereum even more valuable commodity
Apps which run on the Ethereum platform are fully decentralised. In other words, they can not be targeted by hackers or repressive governments. Applications run on the network by anyone, who is running the Ethereum software.
Main differences between Bitcoin and Ethereum
Ethereum has infinite supply – With Bitcoin, there will come a day when the BTC is mined out (This is expected to happen in 2040). But Ether does not have any maximal limits, supply is created by app developers and people who Ethereum mine.
Ethereum is more rapid – BTC transactions take about 10 minutes. However, transactions of Ether are proceeded only in 15 seconds, making the Ether and the market more liquid and volatile.
What I like about this cryptocurrency
Almost anyone nowadays knows about Bitcoin, but only a fraction of people know about Ethereum. It is only recently when Ethereum started to get a little bit more into people's awareness. The more people know about this currency the more people trade it. And with new investors and speculators on the market, the demand for this cryptocurrency raises. The fact that Ethereum really has a promising future can also suggest a list of companies that stay behind the world's second largest cryptocurrency in the whole world.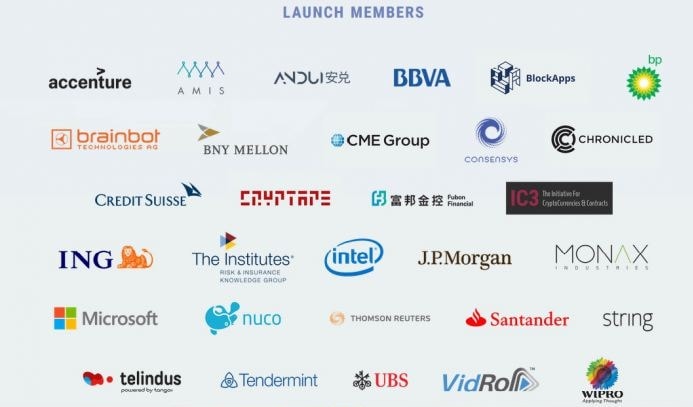 CFD Service. 80.6% lose money