June 1, 2018
Posted by:

Michael

Category:

Untrusted brokers/systems
Maximus Crypto Bot is an automated trading system that provides signals for cryptocurrencies as well as for forex. We are informed that it can predict both these market groups at the same. Which means it is possible to trade euro at the same time as Bitcoin. Allegedly the system was tested for the time period of 5 months on 1 000 trades, winning up to 93% of them. After reading this Maximus Crypto Bot review you should come to your own conclusion whether it is a scam or not. So, let's jump off with some hard facts about the system.
Maximus Crypto Bot – The introductory video
In the introductory video, we are informed how the system was created, how it works and why they give it for free. What interest us the most is how it should work because such an accuracy rate sounds really incredible. First of all, Maximus Crypto Bot ask us whether we know well-recognisable trading indicators: EMA, Bollinger band, Fibonacci, CCI and Stochastic. Most traders that already have at least some basic knowledge of trading know very likely most of them, but they also know how hard it is to combine them to find the perfect moment to invest. Maximus Crypto Bot claims that they managed to achieve such combination that has 93 % accuracy rate. I don't know how others see it, but it is very hard for me to imagine how all these 5 indicators could be combined all together at the same in such way that the system could provide working trading signals.
Who is featured in the introductory video?
You might have thought that the guy in the video is a trader who has good experience with the system….wrong. He is a paid actor that uses a demo account for simulation purposes only. So the fact that he tells you how great it is and that you should definitely try it is allegedly not an investment advice. At least their terms and conditions say that. If you do not trust me, just read them yourself.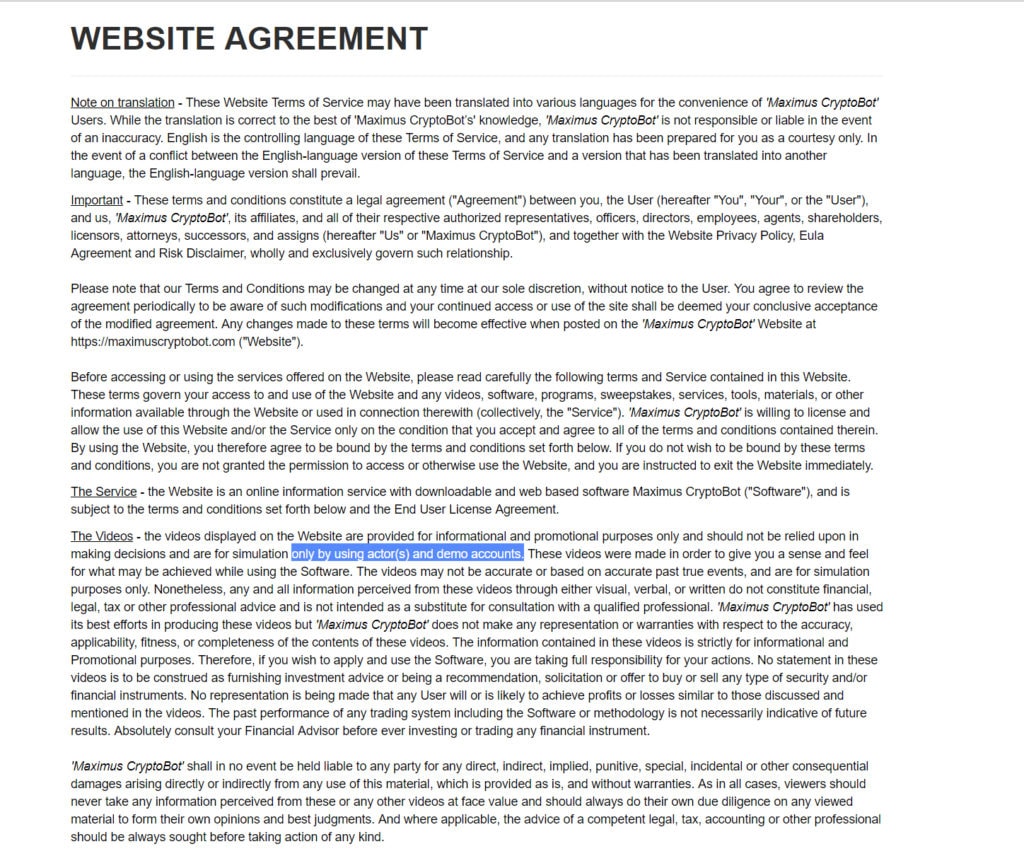 Maximus Crypto Bot Is free of charge
Most of the trading robots I see these days claim to be free of charge and one has to wonder why is that so. Obviously, the creator of the system doesn't hand it over for free. He receives money from companies that he promotes. But legit companies that are licensed in Europe by CySEC do not want to have anything to do with scam trading robots and signal providers. That is why most of such systems send their visitors to unregulated companies that are not overseen by a regulatory body and therefore they can basically do anything they like. When we want to use Maximus Crypto Bot, we are redirected to the Universe Markets company, which is an unregulated broker. The bot, however, wants to make you think that the only way how they make money is when you make money. They do that by saying that after 3 months the system will deduct 5% from all your profits. By doing so, they try to implement in your mind that the system is really profitable. Why would they otherwise say such information, right?…
Is Maximus Crypto Bot a scam or not?
Maximus Crypto Bot can trade on your behalf which means it is subjected to regulation. The system, however, is not regulated and therefore it illegally operates in most countries. On the website is no information who created the system nor who is the owner of the website. What we, however, found is that in the video is featured a paid actor, that has no experience with Maximus Crypto Bot. Now when you have the background information about the system you can decide for yourself whether Maximus Crypto Bot is a scam or not.
Average rating of the Maximus Crypto Bot system