Jak zainstalować wskaźniki, skrypty i szablony do MT4
Znalazłeś w internecie jakiś indykator, który nie znajduje się w podstawowym wyposażeniu MetaTraderu4? W tym artykule pokażemy w jaki sposób można go łatwo zainstalować oraz jak zainstalować skrypty i przygotowane szablony. Instalacja opisana w tym artykule będzie działać na wersji MT4 600 i wyższych. Jeżeli nie znasz wersji swojego MT4, znajdziesz ją pod Pomoc >> O programie. Numer wersji znajduje się w lewym dolnym rogu, jeżeli masz numer build większy niż 600, ta instalacja jest dla Ciebie.
Jak zainstalować dodatki
1. Otwórz MetaTrader 4
2. Kliknij na Plik i wybierz "otwórz folder danych" (jeżeli masz oprogramowanie po angielsku to File >> Open Data Folder)
3. Następnie otwórz folder MQL4 po czym pokażą się następujące foldery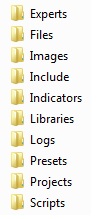 Każdy z tych folderów służy do czegoś innego, teraz pokaże Ci gdzie mają się znajdować poszczególne pliki.
EA pliki (ex4 or .mq4) przenieś do MQL4/Experts (automatyczne systemy handlowe itd.)
Twoje indykatory (ex4 or .mq4) włóż do MQL4/Indicators
Twoje pliki z skryptami (ex4 or .mq4) włóż do MQL4/Scripts
Twoje ustawienia EA (.set) włóż do MQL4/Presets
Biblioteki (dll) włóż do MQL4/Libraries
Szablony
nie można wkładać do folderu MQL4, to nie jest ich miejsce. Jeżeli masz ściągnięty jakiś szablon, musisz wrócić się krok do tyłu i włożyć go do folderu Templates, który znajduje się wyżej od folderu MQL4, tutaj możesz włożyć swoje pliki .tpl.
4. Po włożeniu indykatora, skryptu lub czegokolwiek innego restartuj MT4
5. Jak tylko zrestartujesz oprogramowanie, możesz włożyć indykator za pomocą Włóż >> Wskaźniki >> Własne, szablon włożysz za pomocą Wykresy >> Szablon >> Załadować szablon lub za pomocą szybkiego menu w górnym panelu.
Chcesz przeczytać więcej na temat MT4 i o tym jak go zainstalować? Kontynuuj do artykułu podstawy używania MetaTraderu 4.