March 2, 2019
Posted by:

Michael

Category:

Broker news
Industry's well-recognised broker, IQ Option, recently launched ETF trading. How is this instrument traded, for what type of investors it is and much more can be discovered from the following article.
What is an ETF?
An ETF is traded on stock exchanges and it is very similar to stock trading. The main difference between ETFs and conventional stock investing is that with ETFs we do not trade just one stock but rather a basket of different assets. That means that one ETF can be a group of 30  stocks, commodities, or bonds. They usually contain assets from the same category so one can decide to invest in an ETF that consists mainly of stocks from tech, biotechnology or other popular sectors. ETFs simply follow prices of all the assets in the basket and you make a profit if in overall the portfolio is doing well (if you bought the ETF). Because ETFs consist usually of giant companies, well known in the industry, they are often regarded as low-risk investments (in comparison to other financial instruments)
The difference between stock trading and ETFs
Example: Alex wants to buy shares of the Dow Jones Index. He can do that by buying shares of all 30 thirty companies that are listed on this index, paying for each the price for which one share can be bought (around 3700 dollars in total). Or alternatively, he can buy ETFs of this index that consists of all the 30 companies, without the hassle of buying each stock separately. He can also choose whatever investment he likes. So if the sector which Alex chooses experiences an overall growth, he makes a profit (if he bought the ETF).
What ETFs IQ Option currently features
On the IQ Option platform, we can currently invest in these two ETFs: PowerShares QQQ and S&P 500 but the broker promises to widely extend the offer in the recent future.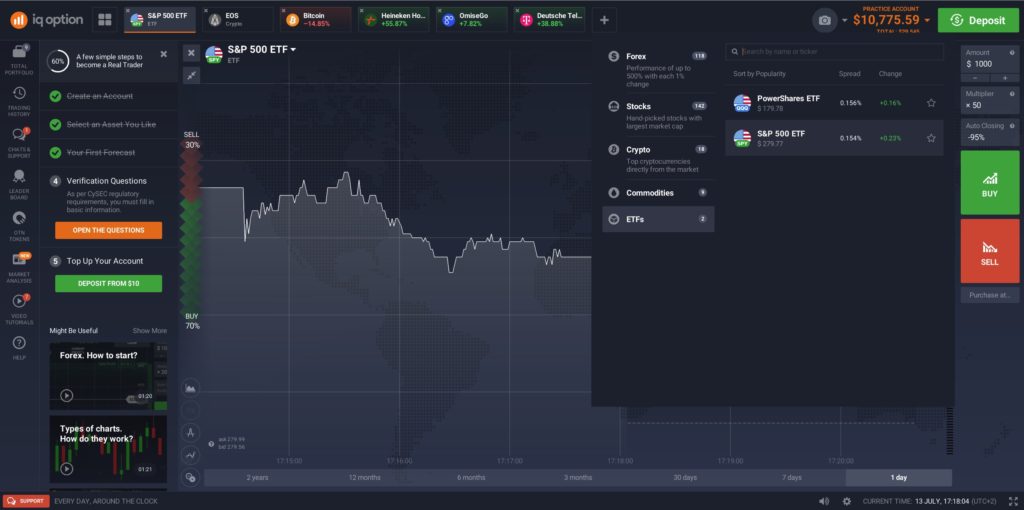 Update to 10.10.2018 – As of today, IQ Option features 25 ETFs
PowerShares QQQ
PowerShares QQQ is an ETF that follows one of the world's most popular index – The NASDAQ-100. This index is listed on the NASDAQ Exchange and consists of the 100 largest most actively traded U.S companies. PowerShares QQQ ETF contains mainly tech stocks. At the head of the index can be found giant corporations like Apple, Microsoft, Amazon, Facebook or Intel.
S&P 500
As the name of this ETF suggests, it consists of 500 companies which are regarded as one of the best representations of the U.S. stock market. The group of these stocks are a mix of all popular sectors like consumer discretionary, health care, real estate, tech, etc.
83% of retail CFD accounts lose money.