Popular broker IQ Option features cryptocurrency trading in its offer. Clients can trade either on a free demo account or on a real account from 10$. And because real trading is possible even with super small investments, traders are not required to buy the whole coins, but also only their portion. In exchange for 10$, it is for example currently possible to get 0.0023 of Bitcoin. Today we are going to have a closer look at what assets they have on the platform and what are the fees for cryptocurrency trading.
Risk warning: your capital might be at risk
OTN Tokens at IQ Option
IQ Option newly implemented distributing OTN tokens which you can receive by trading cryptocurrencies. OTN Tokens are received every Monday depending on your trading volume of cryptocurrencies in the past week, but if you have created at least one crypto trade, you will receive a small portion of them. They can be used for reducing commissions which broker charge on cryptocurrencies.
IQ Option – List of Cryptocurrencies that you can trade
IQ Option offers to trade 12 cryptocurrencies. Here is the list with basic information about them.
Bitcoin
This cryptocurrency probably needs no introduction. It is the first world's digital currency. BTC is labelled as the most popular digital currency in the world. The price of Bitcoin has been growing at an incredible speed since the beginning of the year. So it is no surprise that BTC at IQ Option is the most favourite cryptocurrency to trade.
Bitcoin Cash
Is a new cryptocurrency which was launched in August 2017. All investors who had Bitcoin at that time also received the same amount of BitCoin cash coins. This cryptocurrency instantly became a hit within a few moments. Now, it has one of the highest market capitalizations among cryptocurrencies.
Ethereum
ETH is the second most popular cryptocurrency in the world. Since January 2017, the value of Ethereum has risen over 2,000%. This cryptocurrency is directly as well as indirectly supported by huge corporations such as ING, Intel, Microsoft, or J.P. Morgan.
Ethereum Classic
Cryptocurrency Ethereum Classic is a continuation of the original and successful Ethereum blockchain.
Litecoin
LTC is one of the first altcoins, which is very similar to Bitcoin in many ways. In what Litecoin however differs is the time transaction process which is 4 times faster than the one that Bitcoin has. They also contradict the number of maximum coins that can be mined out (LTC can have 4 times more coins). LiteCoin is one of the world's 5 most popular cryptocurrencies.
Ripple
RPL can safely send any financial means worldwide for a cost price, no matter the size of the transaction. Cryptocurrency Ripple is used and supported by companies and banking institutions such as UniCredit, ReiseBank, Royal Bank of Canada. Ripple is even safer and cheaper than Bitcoin.
Dash
Also known as DarkCoin or XCoin is very similar to Bitcoin, but has a lot of additional advanced features. The two most important ones are instant transaction processing (InstantSend) and securing private transactions (InstantSend). Currently, it is one of the most popular Altcoins in which hundreds of thousands of people around the world invest and trade with.
NEM
This cryptocurrency was first publicly launched in March 2015. The NEM is, in some respects, very similar to BitCoin. But it also has many benefits, one of the most important ones is the processing time of one transaction. With BTC, you need to wait approximately 12 minutes to settle the payment, but with NEM only about 30 seconds. These two cryptocurrencies also greatly differ in transaction fees when sending the cryptocurrency. The average fee per transaction is for Bitcoin 5$, with NEM the fee is only about 10 cents for every sent 1,000$.
Other less popular cryptocurrencies offered at IQ Option are yet making their way to become as popular as their colleagues: Bitcoin Gold, IOTA, Zcash, Omisego, Qtum, Stellar, Tron
Spread on cryptocurrency transactions at IQ Option
IQ Option does not charge any fees for opening a crypto position apart from the spread. The spread that crypto brokers have is the difference between how much will one cryptocurrency coin cost you and for how much you can sell it back to the broker. How tight the spread is can be found in the main menu where you select the cryptocurrency which you want to trade. The spread is shown is in percentage numbers.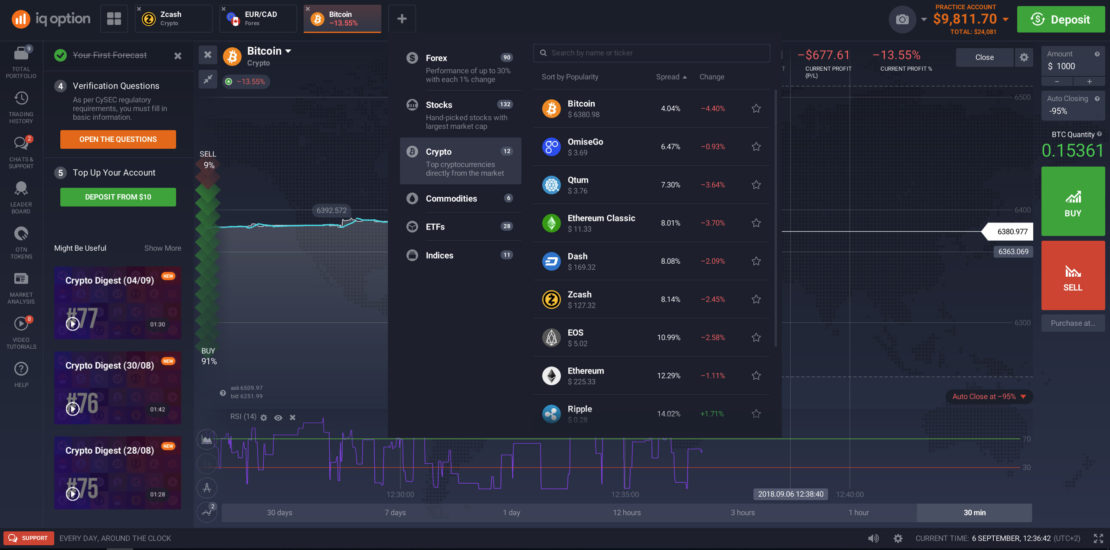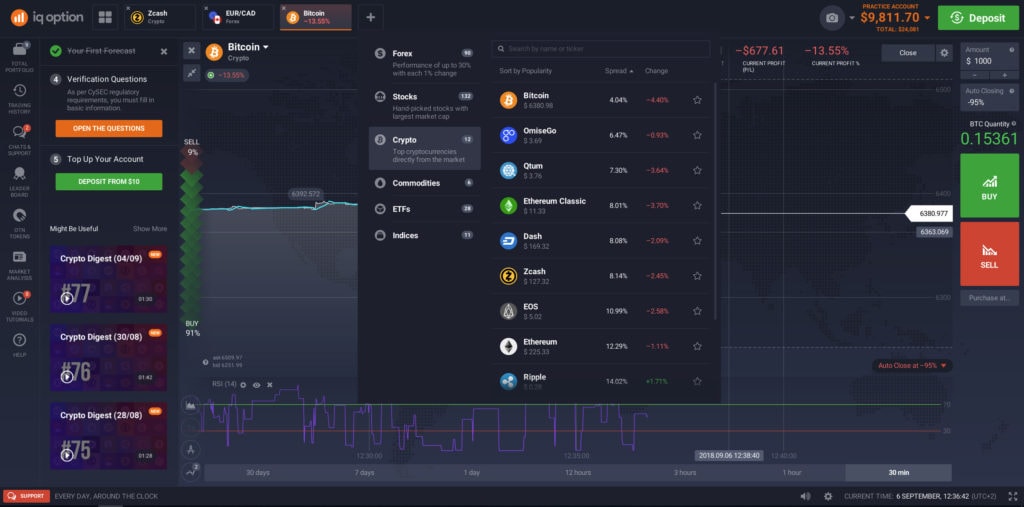 The data were taken on 06.09.2018, spreads may vary on different days.
Cryptocurrency calendar
IQ Option newly implemented crypto calendar to its platform. This feature will inform you about all upcoming events that could move with the prices of cryptocurrencies. Every real trader on the platform can also vote on the importance of the news. This means that you can also see, what significance other traders put to a piece of certain news.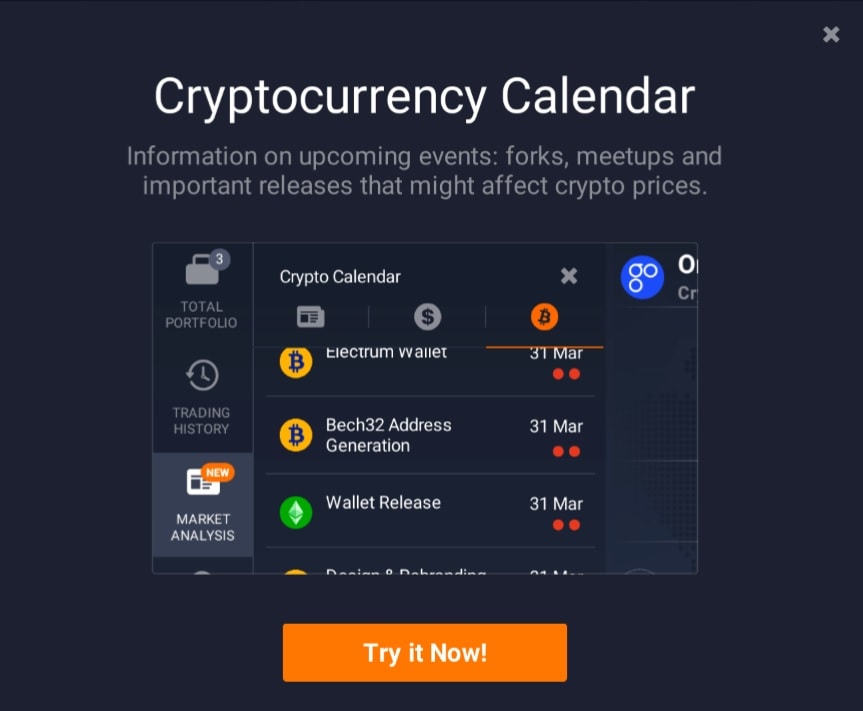 Stop your losses, fix your profits
Very well-known tools by CFD and Forex traders – Stop Loss (SL) and Take Profit (TP) are now featured on the IQ Option platform. Both of these tools will help you to manage your trades and their risks. SL will automatically close your trade when the price drops to a certain value that you set. TP will automatically close your trades when you make your desired profits. They can be set to a profit percentage, profit in money or asset price. These two tools are at IQ Option called "Position Auto Closing", and they can be found in the right menu.
Risk warning: your capital might be at risk