News | June 17, 2021, 21:26 AM | Sponsored post, PR announcement
A recent announcement by FX broker Eightcap states that one of the large-scale events in the online Forex and CFDs trading industries will take place this year – TraderFest 2021. Committed to providing outstanding service, Eightcap has partnered with BKForex and ForestParkFX to bring knowledge of financial markets to traders.
Joel Murphy, Eightcap CEO, said, 
We're excited to be involved in delivering the biggest retail trading event of the year. In uncertain times for financial markets, TraderFest gives retail traders the opportunity to hear directly from professional traders and leaders in the online trading space. We're excited to help share their experience, strategies, knowledge and insights for the trading year ahead."
Justin D. Hertzberg, Esq., CEO of ForestParkFX said, 
We have had the privilege of sponsoring the two prior TraderFest events, both of which were resounding successes.  The speaker lineup for this TraderFest event is the best one yet, with market experts from virtually every asset class coming together to share their views on the market and provide guidance in unprecedented times. I am looking forward to the event as a sponsor, but also as a trader trying to make sense of the markets."
Boris Schlossberg from BK Forex shared with us, 
I am thrilled to have 12 world class traders share their best ideas on strategy, psychology and tools at TraderFest 2021. This project has been a labor of love for me, and I hope retail traders enjoy it to the fullest".
The online trading event will take place on June 26-27 under the name "One Big Trade" and will be completely FREE of charge for anyone interested in learning more about the financial markets. Retail traders and experts will discuss Forex, Stocks, CFDs, and a number of other topics, unfolding little-known facts about the financial world. Over the span of two days, experienced traders and influential advisors will share their insights, trading strategies, and tools.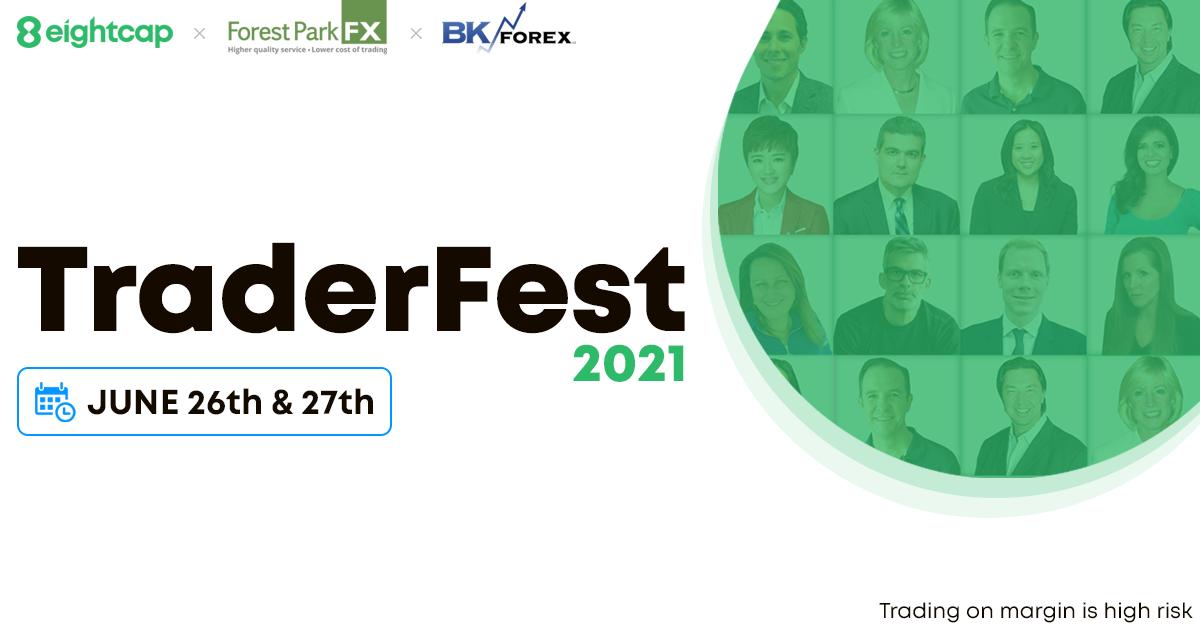 Linda Raschke, the Original Market Wizard, is one of the most renowned speakers at TraderFest 2021: "I am very excited to attend Traderfest2021 where I will share the one strategy that has helped me to beat the markets for the past 40 years".
Other proven professionals at Forex trading who will share tips and insights include Daniel Sinnig, Blake Morrow, Kiana Danial, Justin Hertzberg, Rob Booker, Tracy Shuchart @chigrl, and Mandi Rafsendjani. They will cover the six discussion panels during the first day of the event. The second part of the lineup includes Boris Schlossberg, Linda Raschke, Karen Foo, Kathy Lien, and Stuart McPhee, who will be Sunday's speakers. The moderation of the online event will be in the hands of Boris Schlossberg.
The FREE online trading event is open for registration, with further information available on www.traderfest2021.com. Schedule already full? Worry not, for Eightcap will record it all. After registering for the event, you gain lifetime access to every video, so you can watch them whenever you please.
About Eightcap
Eightcap is a renowned Forex broker, providing online trading services to clients from the whole world. Their CFDs on offer include: forex, indices, shares, commodities, and cryptocurrencies. As a multi-regulated company born in Melbourne, Australia, Eightcap is regulated by the Australian Securities and Investments Commission (ASIC) and the Vanuatu Financial Services Commission (VFSC).
During TraderFest, Eightcap's aim is to have trading experts' knowledge spread to a wider audience. Everyone who attends will learn from the best in a welcoming and friendly setting. For more information on the topics, the speakers, and the schedule, visit www.traderfest2021.com!