Before we start explaining how cryptocurrency taxation works in certain countries, I would like to make a disclaimer that I am no tax professional and all information in the post is purely educational in nature and not legal advice. You should consult your own tax, legal and accounting advisors before engaging in any transaction.

The cryptocurrency market is one of the areas where people make decent profits from their investments. That is the reason why many governments, especially in countries where there are high crypto-related activities, are devising ways to get a share of those profits. The decisive push for tax regulations came after the bullish explosion of Bitcoin in the 4th quarter of 2017.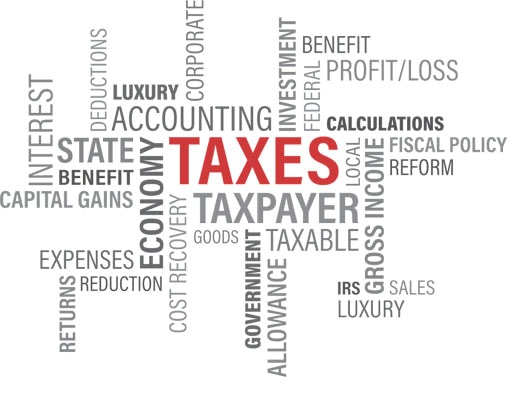 Most of the governments across the world, especially in regions where the cryptocurrency market is booming, are now enacting or have already passed tax policies enabling them to regulate and tax virtual currency profits. In countries such as the UK, Switzerland, and Germany, among others, cryptocurrency tax policies are already in place.
Although the new developments go against the ideas behind cryptocurrencies such as Bitcoin which stands for a decentralized and unregulated currency, it is still a highly potent revenue stream. With billions US dollars being pumped into this market and massive profits generated, it has slowly turned into a fertile ground for the taxman.
However, due to the complex, anonymous and hard to trace nature of the cryptos, taxing them can be a little bit tricky. That is why most countries create specific laws tailored to address cryptocurrency taxation. Methods of taxation differ from country to country. Some treat cryptos as assets while others categorize them as capital for easier taxation. For instance, in the UK, cryptocurrencies are categorized as working capital or investment. They are also considered as foreign currencies. In this article, we are going to look at the cryptocurrency taxation in selected countries. Continue reading to find out more about crypto taxation in different parts of the world.
United Kingdom
According to the HMRC, an income that is received from and any charges made in connection with activities involving cryptocurrencies are subject to the IT (income tax), CT (corporation tax), or CGT (capital gains tax) depending on the activities and the parties involved.  But whether the profit or gain is chargeable or any loss is allowable is determined on a case-by-case basis. That simply means that the tax rates as stipulated in the table below are dependent at the agency's discretion.
Under the current UK cryptocurrency tax regulation, the profit made by those who trade frequently is classified as working capital. In the case of working capital, the trader is liable to pay income tax. But not every crypto trader is affected by the income tax. Based on the income tax rate, traders that make anything below £11,850 are often tax-free. Here is how the UK tax band on cryptocurrency profits looks like:
| | |
| --- | --- |
| Income Range | Percentage |
| Between £o and £11,850 | Tax exempted |
| Between £11,851 and £46,350 | 20 percent tax |
| Between £46,351 and £150,000 | 40 percent tax |
| Above  £150,000 | 45 percent tax |
Figure 1. UK Cryptocurrency income Tax Band 2018
However, if you have a huge amount of money stashed in cryptocurrency but you do not trade frequently, then it is categorized as an investment. That means your cryptocurrency is taxed under the CGT (capital gains tax) provisions.
Fortunately, the majority of the UK traders are liable to pay capital gain tax since they invest in cryptocurrency rather than trade on a daily basis. The HMRC tax policy clearly states that "where an asset (including Bitcoin and other cryptocurrencies) is held as an investment — as opposed to being working capital in a trading activity — the presumption is that any profit or gain on its disposal will be charged to Capital Gains Tax." There are numerous benefits that come with being taxed on the basis of Capital Gain Tax over the income and corporation tax.
Check out this video about the taxation of cryptocurrencies in the UK:
United States
The US Internal Revenue Service (IRS) categorizes cryptocurrencies as property. Therefore, any profit that is made from trading cryptos is subject to capital gain tax. According to the guidance report by the IRS, all mined and received cryptocurrencies are part of the gross income and their value is determined based on the day they were received. In addition, crypto gifts and crypto-to-crypto swaps are also taxable events. To enforce the cryptocurrency tax regulation, the IRS has already approached Coinbase with a request for traders' data. Unfortunately, most exchanges do not issue the 1099 disclosure form which makes reporting of profits somewhat difficult.
Germany
The German Finance Ministry has categorized cryptocurrencies as private money, which is why the profits from the cryptocurrency trading are subject to capital gain tax. According to the Germany's tax policy, capital gain tax varies depending on various factors such as the volume of the investment. German cryptocurrency traders pay a 25 to 28 percent CGT rate. However, if the cryptos are held as assets for more than one year, they are tax-free. Therefore, you can avoid taxation in Germany if you keep your crypto coins as assets. Hold your coins and wait for them to appreciate and then sell them after one year.
India
India has one of the most vibrant cryptocurrency markets in Asia. However, the Indian tax law remains unclear on virtual currency investments despite various attempts to resolve the issue by the Reserve Bank of India (RBI). That said, it is still difficult to escape taxation in India as the law demands any form of income to be taxed.
Poland
Despite the Central Bank of Poland campaigns against the cryptocurrencies, the market has been thriving. That is why Polish legislators introduced a bill that should regulate the virtual currency market along with new regulations enabling taxation of profits from the cryptocurrency trading. With the new bill, the ministry of finance proposed that the profits derived from the cryptocurrency transactions should be treated as capital gains. Therefore, profits from cryptocurrency trading will be subject to capital gain tax at a flat rate of 19%.
Australia
Australia is one of the big economies that are going after traders making profits from cryptocurrency trading. The Australia Tax Office aka ATO tried to devise ways of tapping into this new stream of tax revenue. However, Bitcoin and other cryptocurrencies are not considered as money or foreign currency in Australia. They are regarded as assets. Therefore, traders in Australia are liable to pay capital gain tax which is applicable only after selling their crypto coins. However, traders are required to mention their crypto holdings as well when filing taxes. For companies, the CGT rate is 30% on the net capital gain (i.e., after the capital gain tax discount). For individuals, the rate of CGT is the same as that of income tax.
Conclusion
The above-mentioned countries are some of the biggest economies that have enacted or are in the process of enacting laws regulating the crypto market as well as enabling taxation of virtual currency trading profits. Other jurisdictions and big economies trying to tackle the taxation issues of the cryptocurrency market include Canada, Japan, South Korea, Russia, Switzerland, South Africa, Spain, France, and the Netherlands, among others. The aim of most governments is profiting from the expanding cryptocurrency market and trading activities. It is beyond doubt that with the continuing growth of the cryptocurrency market, we are bound to see more regulations and taxation attempts in no time.