Binary options are a type of online trading, where you as a trader predict thru web or mobile platform, whether the price of a certain underlying asset will go up or down. Under the term – underlying assets we have in mind stocks of major companies like Google, Microsoft, FB…, currency pairs, indexes and commodities (silver, oil, gold…). In case, that your prediction will be correct you earn fixed sum, which you are aware of even before placing an investment.In most cases, you will encounter with 70% to 92% from invested amount from one trade. So if I invest $50 I will have a profit of $35 – $46. To create one trade you can invest as small as $1. Beware, though at first glance it looks simple, binary options trading is not as easy as some portals may and do say. It is possible to make a lot of money, but it's also possible to lose a lot of it. An investor who does not have any previous experience with the market and does not plan to acquire them can expect a great loss. It is needed not to be naive – scams that promise "bulletproof systems that will make money in your sleep" are lurking at you on every corner.
TradingBeasts.com is a serious portal about Binary Options and Forex/CFD. We actively trade, write educational articles, news, we verify and compare brokerage companies and warn our readers about suspicious projects or scam marketing campaigns. We also have a list of good sources for further reading outside our website (books, tutorials, papers and films) and a list of helpful supportive tools.
---
Read and study with TradingBeasts.com:
---
How to trade binary options
In our first step, we choose an asset we want to trade. In our example, we chose the currency pair EUR/USD with 89% return from a successful trade. But you can choose any other underlying asset, the choice is totally up to you. There are about 200 underlying assets which we can trade, each asset has different profitability. In the second step, we decide, when our trade should end and evaluate. So if we want our trade to end in 30 minutes, then we select an expiration time of 30 minutes. Subsequently, we choose how much we want to invest in this particular trade, when we trade classic binary options we can invest only as little as $1.
Now we did get to the most important point, where we have to decide, whether the price of our option will go Up, or Down. When you trade classic binary options, only one of these three situations can occur. Either your trade will be successful and you receive a predetermined profit, which in our case will be $50 + $44.5 = $94.5, so our trade is "in the money". Or trade will end up unprofitable and we lose the amount we invested in this particular trade (but not more unlike from forex, when you don't set up a stop-loss).The third situation occurs very rarely and we can meet with it when the price doesn't change at all (price of the option when we entered the trade is the same as in the moment when the option expired) in this type of situation the investment goes back to the trader.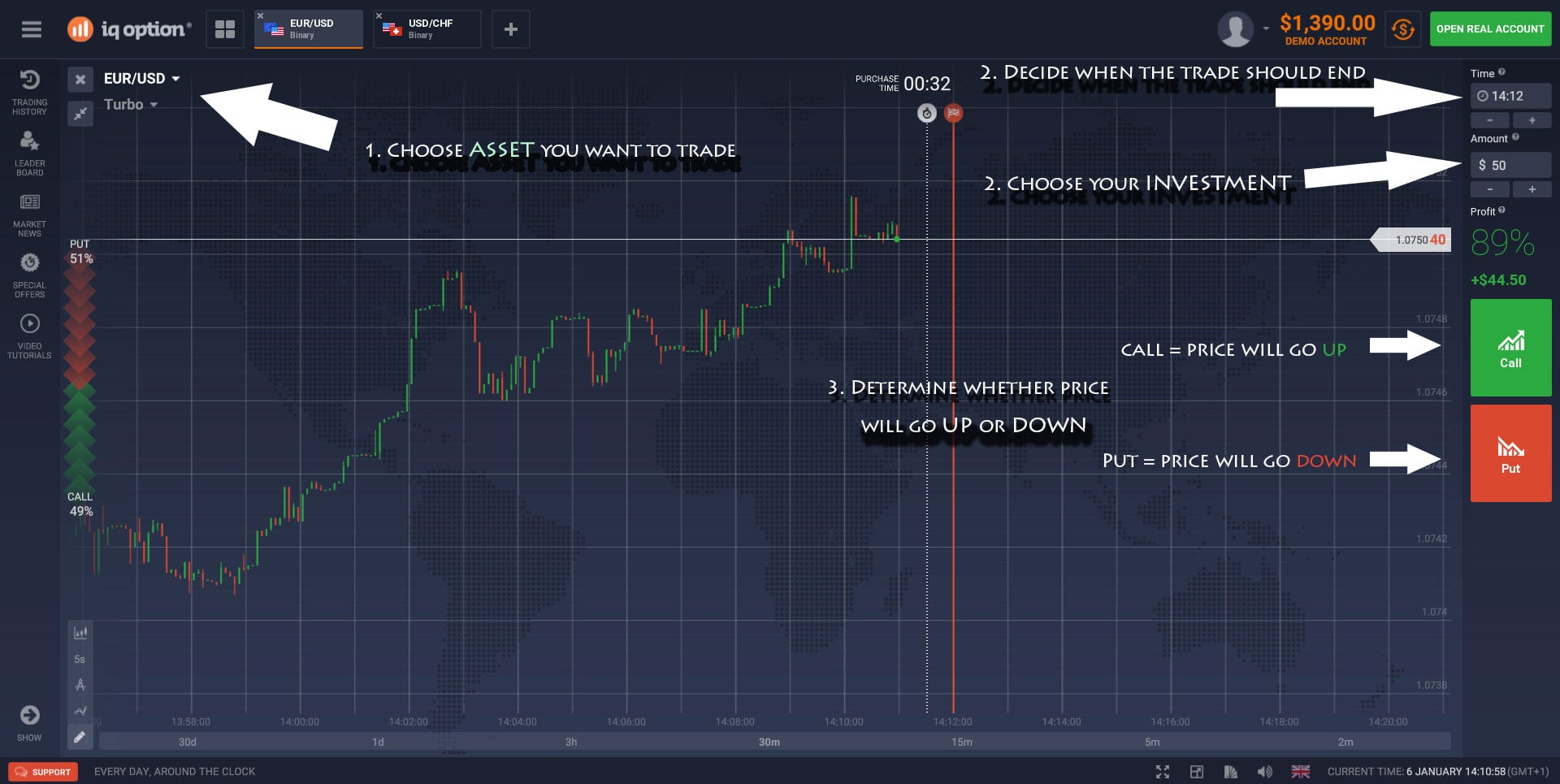 As you've probably noticed we get from our correct prediction only 89% extra money from the invested amount. So, you might ask "why should be then binary options such a good extra income?", when you don't even earn 100% from what you have invested. One of the main reasons is that because you can use binary strategies, which are capable of helping you to create a majority of successful trades. In practice, however, one can never predict all trades accurately. Without binary strategies would be however trading very risky and hazardous and it wouldn't have anything in common with meaningful and responsible investing.
What my profit will be like?
It depends entirely on you. With the right binary strategy, you can boost your capital even by 100% in a week. However, with a bad strategy or even without a strategy you can just as quickly lose it. The basis is to be as patient as possible and to hold to your selected strategy, which you know that works (for example from a demo account). Binary options trading is about a long-term profit and not about making one (or even a row of) successful or unsuccessful trade.
Is binary trading risky?
Any kind of trading or investing is risky and you have to count with that. If you enter the world of trading you should invest only such amounts that you can afford to lose. Some fraudulent servers (or even scams) may encourage you to borrow money from your friends or family members, if necessary because it is a guaranteed thing that your investment will return. But we are a serious portal and we most certainly do not advocate such a claim. Although binary options have a great advantage that the risk is eliminated only to your investment into the trade, we, binary traders still operate on a market, and there are no guarantees. The market is merciful only for those who are prepared and know the risks. For instance, traders who do not apply any trading strategy whatsoever will most likely end up in losing their capital.
How can I determine, whether the price will go Up or Down? – Binary strategies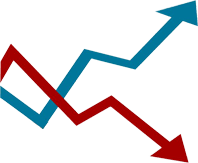 Some newbies try to do this by guessing and they usually determine the future price direction just according to the chart which is provided to them by the broker. I would not be afraid to state that such trades are completely random and made without using any strategy. But that is not the way we trade at TradingBeasts.com, we know that in order to become a successful trader who makes a long term profit you most certainly need binary strategies.
These strategies can significantly help you to increase your overall success rate. They also allow you to constantly improve because all the created trades have a meaning and they have been built based on a specific pattern. Which means you can repeat them, results which you are capable of repeating usually mean success.
Binary options and its advantages
A great advantage of binary options is that if the price changes only by a single pip to your direction, you receive a full profit from the trade. Let's look at an example. You entered a trade at a moment when the oil price was set up to a value of 1.5797 and you have selected the expiration time of 30 minutes and upwards direction. A 30-minute trade ended at the price 1.5798, thus it changed only by a one pip you will still secure for your correct prediction full profit from the trade. It is because in binary trading doesn't matter, how much the price changes, but if it changes in the direction you chose.
Is it possible to try out binary trading? (Risk-free) Demo account
For traders who do not have a lot of experience with trading (or none), the demo account is a perfect opportunity to try everything out without giving at stake your own money. The demo version works on entirely the same principle as a real account, the only thing which is different is that you are trading with imaginary chips. That means that you can not make any profit from trading on a demo account, but you also can't lose anything (apart from imaginary funds). Most brokers offer this practice account right after you load your real account with at least the minimum deposit. However, if your trading on demo account doesn't reach your expectations you can anytime withdraw the money you deposited into your real account (if you trade with a fair and a trusted broker). But we also know about brokers who do not require even initial deposit you can use the demo version freely with no obstacles. For more information read our separate article: free demo account for binary options
Where do we trade binary options?
TOP 5 Rated Regulated Brokers
Term "broker" was already mentioned in this article, but who this broker really is? A binary broker is a company that arranges the transaction between a buyer and a seller. It is basically a place where you can trade. Every broker has a web platform, so no downloading is needed. There are dozens of brokers or even a hundreds of them. And if you are looking for a reliable and a trustworthy broker who cares about their traders you need to look for certain aspects. One of them is a broker's credibility, that can be gained by a reputation among traders and by licenses. A licence is obtained by a broker in exchange for a large fee to the regulatory authorities. These authorities are responsible for a constant supervision over the broker and over all their actions.
In Europe, the two most reliable regulatory authorities are CySEC (Cyprus Securities and Exchange Commission) and FCA (Financial Conduct Authority). In Australie, it is – ASIC (Australian Securities and Investments Commission). These authorities can be contacted in case of any problem with the broker. They will try to solve the problem or even make a compensation.
Apart from a credibility, we should focus on payouts, minimum deposit and minimum investment. We should also find out whether our broker provides a demo account if we plan on using it. Traders who do not speak English can also appreciate a trading platform and a customer support in their native language. On our website, you may find many brokerages reviews, but currently, we mostly recommend just two brokers, mainly for their credibility and offer: IQ Option and BDSwiss. Both of them have their own advantages which can be found in separate reviews.
---
All recommended brokers went thru our testing process. In a 3 month period, we act as a regular trader and we actively create trades as any other trader. If we find out any problem with the broker, we mark him as "not recommended" or even as a "scam". The fact that a broker makes it to the selection of recommended brokers does not necessarily mean that it will stay there forever. In case that the broker is not capable of maintaining high-quality services as on the beginning, we reduce the rating of the broker on the website or we even completely remove it from the list of our recommended brokers.
---